Grag Queen wants to be an inspiration to all the young queens back home in her native Brazil. And why shouldn't she?
Growing up in the mountainous resort town of Canela, Brazil, the future champion (born Gregory Mohd), battled homophobia at home, at school, and in church as he climbed his way up the treacherous path to drag stardom in his home country. Then he set off for England to slay 14 queens from 10 nations on the first season of RuPaul's international drag competition show, "Queen of the Universe," with his sickening stage presence, humor, and vocal talents.
"I think it's better to grow up knowing that the world is going to be tough—just existing and dreaming—but we're still here," says the 26-year-old entertainer. "We just made it. If I made it, you can make it. I know everything is so cracked up, but the light is still shining for me. So just keep being you. Your life is going to shine somehow."
Since winning the inaugural competition and the grand prize of $250,000, Grag Queen's star has continued to rise with the release of her five-track DESPERTA EP and bouncy singles like "Bota Fé," "Party Everyday," "Fim De Tarde," and the English-language "You Betta."
Now she's bringing her music to the masses with a 13-date U.S. tour that hits San Francisco's Hotel Utah on Fri/10.
I spoke to the first-ever Queen of the Universe about the tour, her life before, during, and after the competition show, and being a beacon of hope for the LGBTQ community all around the world.
48 HILLS You have a show coming up in San Francisco on Friday. What can people coming out to the show expect to see?
GRAG QUEEN They can expect vocals out of this universe. They can expect very good looks, wigs, ass, and legs—not padding—because we're going to give you a Brazilian fantasy.
And yeah, expect joy, expect having fun with the Queen of the Universe because I'll be there doing the same.
48 HILLS How would you sum up your Grag Queen character in a few words?
GRAG QUEEN Nobody does it like me. She is good. The chick is fierce.
48 HILLS You showed viewers how fierce your voice is on the show. When did you know that you could sing?
GRAG QUEEN I think I'm finding this out at the moment. Back home, my father never told me. He always let me know that I would never sing because I wasn't that kind of gifted child that knew how to sing in school or the church. I was very out of tune and very out of rhythm.
Then bitch, just cut to me winning "Queen of the Universe" and that amount of money and in a wig and singing and being blessed by the universe. I still have to learn a lot about singing and I want to evolve more. But now nobody can say, "The bitch cannot sing," right?
48 HILLS When you walked on that stage for the first time, which judge and which contestant intimidated you the most?
GRAG QUEEN As a judge, I'm going to say Michelle Visage 'cause facts—and we have no arguments against facts. She is the biggest one. She is very picky in a good way and she knows what she likes, and this is why she intimidated me.
As a contestant, I'm going to say [runner-up] Ada Vox because she can sing. And I never saw someone doing a kind of vocal Olympics in front of me as she did. She is amazing. I want to become a millionaire and sponsor her.
48 HILLS What do you think gave you an edge in the competition?
GRAG QUEEN [Before the competition] I had no passport, I had no looks, I had no money, and I had no vaccine. But I said, "Girl, the name of the show is 'Queen of the Universe,' so I'm going to look into the universe right now and say, 'If you want me for your queen and you know I'm going to do a great job after that, just make everything flow. I'm going to be here having fun and showing myself that having fun is the most important thing to do when we are doing our jobs and our performances.'" And it was quite surprising because that's what I did and that's what made me win.
48 HILLS You also used the platform of the show to draw attention to the plight of the LGBTQ community in your native Brazil, saying, in one instance, that trans people there live till 35. Can you elaborate on that?
GRAG QUEEN It's the statistics. That's what happened. We have trans people living until 35 and they talk about this. And, of course, now we're getting somewhere. We're having trans people in politics, we're having trans people having lots of stuff, but we still have lots of sisters getting killed just for existing. And the most hurtful part is besides dealing with the reality of losing our sisters, we still have to deal with the reality of people not talking about that.
48 HILLS On the show you alluded to some of the traumas you endured as a young queer person growing up in Brazil. Tell me more about that.
GRAG QUEEN The first struggle for me was dealing with the church issues and having people always telling me that I had a demon inside me. I was extremely young and having this demon shown to me was very hard. It just taught me how to hate myself. And I just grew up knowing that I didn't fit into the school, I didn't fit the church, I didn't fit in all the places that I used to socialize.
I tried to fix it. I was without eating for two days or having electric shocks, manipulations in my body to fix me, and praying at the same time—reading the bible like crazy all day long.
And look at me. It didn't work—literally. Still, there are some hardships on my soul and my personality of me having to remind myself every time that I'm beautiful and belong somewhere.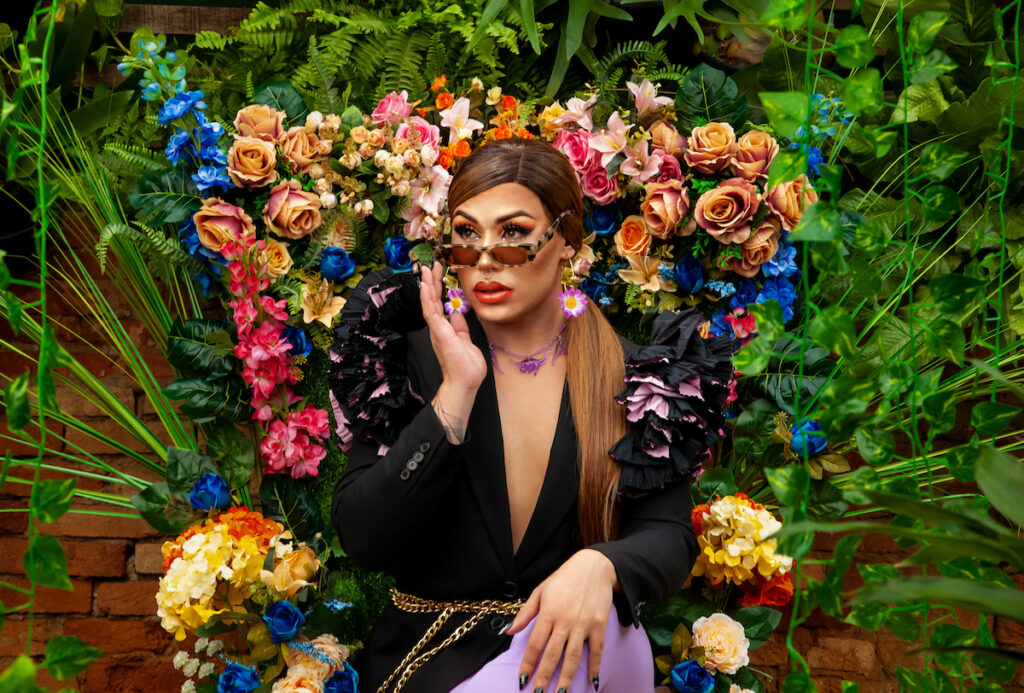 48 HILLS While you were going through all of that, was your family offering any support?
GRAG QUEEN My mom was there to love me, whatever happens. And my dad just didn't accept anything at the time. He just kicked me out of our house and I went to live with some artists. He finally got that losing a gay child is losing a child. He couldn't deal with that so we grew up and learned together. Because I come from a place that is very close, very traditional, and very small, we had lots to learn—and I'm so glad we did it.
48 HILLS How has your family responded to your win?
GRAG QUEEN So they were 100 percent with me. People were saying that I wouldn't get anywhere and would be failing every time in my life. And so now having this information that the bitch is the Queen of the Universe and she's living there in her country, they just love saying that and celebrating that in front of people that were having lots of [negative] things to say about me.
48 HILLS What has changed for you other than the $250,000 grand prize, since winning the show?
GRAG QUEEN I'm going to start by saying that what changed was inside me. I got confidence. I got being a Brazilian drag queen here, launching songs and things that talk about your truth. It's so difficult because as we have support here in Brazil, we also have lots of people to say a lot of crap on the Internet. And so now I don't listen to them.
Now I'm the Queen of the Universe. Coming to RuPaul's DragCon LA and being recognized by everyone was magical. And so I think the most important things that are changing are inside me, making me believe in myself.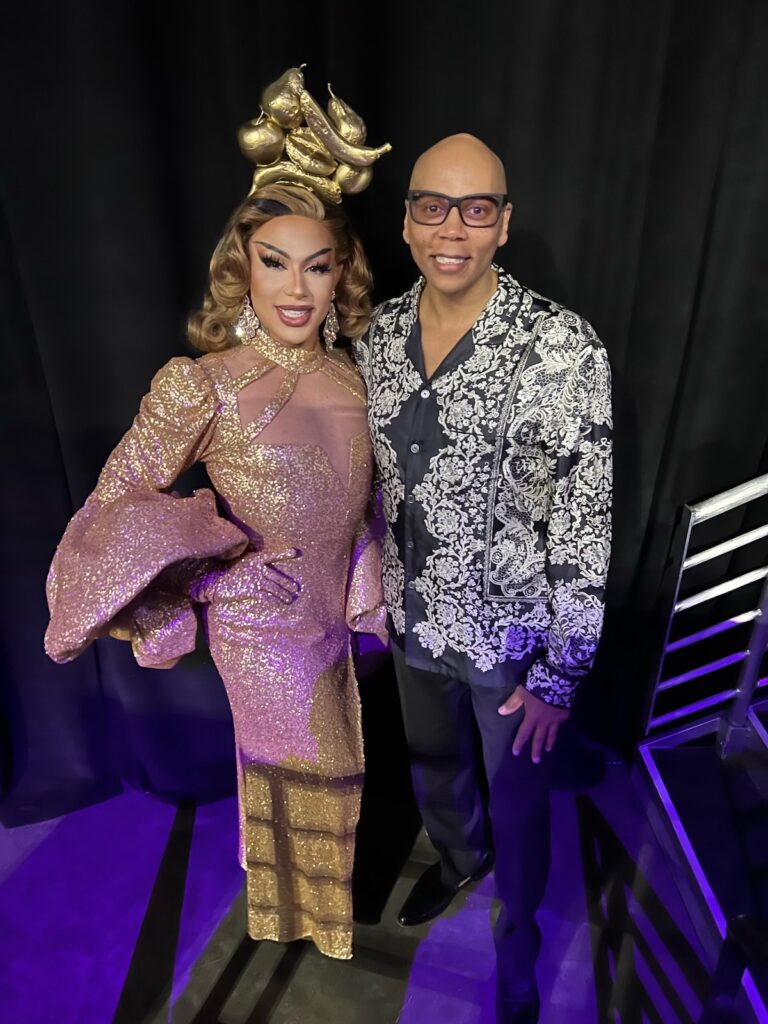 48 HILLS Did RuPaul have any words of encouragement or advice for you after your win?
GRAG QUEEN Yeah. She just ran to me and said, "Condragulations and welcome to the family, Grag." I just freaked out because, in the same sentence, she told me she knows who I am. I could never thank her more for being such an inspirational person. She just changed my life in lots of ways, directly and indirectly. The girl just doesn't need anything else to be happy.
48 HILLS You're currently on your first US tour. What are you most excited about doing in your time here?
GRAG QUEEN It's so very crazy because being Brazilian, it's very complicated to come to the US and live a good life. Having a job and having permission to be here is very hard. I never dreamed about this, but it has always been my dream, living in the US and having lots of flavors of Coke and lots of flavors of snacks, which I love.
I love going to the gas station and purchasing food. Those are the small things. I love to go and stroll around with my jacket and get a Starbucks with ice and just shake it everywhere, like very gay culture in the US. I just love the small things. I think they're so great.
48 HILLS What do you hope to achieve next?
GRAG QUEEN I just want health to be doing what I'm doing. I want to make my people, my parents, and my drag sisters proud. I could never dream of being the Queen of the Universe, so I think I would never dare to limit myself to get somewhere if the universe can take me this far.
Grag Queen, Fri/10, $15. Hotel Utah, SF. Tickets and more info here.