About a decade before the turn of the millennium, the San Francisco Chronicle had one of its periodic straw-grasping ideas of how to attract the "youth market," which in those pre-internet days was more likely to read alternative weeklies. They decided to have a recent staff hire of (what turned out to be) short duration "infiltrate" a local high school by posing as a transfer student, presumably yielding a serialized expose that would blow the lid off what teens were "really like" today.
Well, it turned the youth of today were pretty tame—either that, or the reporter couldn't get any good dirt. More embarrassing than the dull copy, however, was the fact that apparently few of her "fellow students" were taken in by the ruse; she may have "looked young" to her editors, but actual teenagers asked out loud if she was, like, 30 or something. The few who did respond to her strenuous "Hello, fellow kids" efforts at being everyone's friend then felt exploited—and letter-writing Chronicle readers felt disgusted—when she used their mild confidences as print fodder. By the time the series ended, rather than upping subscriptions like Tales of the City used to, it had become the punchline to a thousand local jokes.
A more benign variation on that saga is told in the new documentary My Old School, which wins points for being named after a favorite Steely Dan song (though it loses some for using an end-credits cover version by Lulu—a great singer, but still no match for the original). In 1993, a 16-year-old named Brandon Lee enrolled at Bearsden Academy, a secondary school located in a fairly tony suburb of Glasgow, Scotland. He claimed to be the son of a Canadian opera singer who died in an accident that had also left him slightly burned, resulting in his face looking a little like "a mask," and had moved here to live with his grandma.
His fellow students also thought he seemed a bit odd, and "old," so at first he was a picked-on loner. (His name was particularly commented on, given that The Crow movie star Brandon Lee had just died a few weeks earlier.) But his considerable knowledge of cool bands got kids interested, and then he suddenly seemed to blossom: Demonstrating a precocious brilliance in class, scoring a big personal hit in the school's production of South Pacific (though an old videotape we glimpse of that performance does not impress), and turning into a sort of teenage Party King. It is on a spring group holiday in Spain—yes, these are evidently rich kids—that circumstances began to unravel his story at last, snowballing into something of a believe-it-or-not addition to the national news cycle for a while.
I won't further spoil the surprises of Jono McLeod's cannily crafted documentary any further, save to say the truth about "Brandon" is at once compellingly weird and less creepy than you might fear. (If this were a different kind of movie, of course, he would surely have been on some mission of twisted violent revenge.) Almost three decades later, the real subject consented to be interviewed—but not on camera, so we get the device of Scots actor Alan Cumming lip-synching to those recorded reminiscences. There are also re-enactments done in a Daria-type animation style, and input from other participants in the tale who at this considerable remove remain somewhat mystified by the sustained anecdote that now defines their high school years—if still rather fond of its orchestrator, whom they've had no contact with since. Very much of the "stranger than fiction" school of documentary cinema, My Old School is duly very entertaining. It opens Fri/29 at the Opera Plaza.
Also opening there this weekend (as well as at the Smith Rafael Film Center) is a considerably less amused school-days flashback, one also "based on actual events." Oualid Mouaness' 1982 is set on a day just before summer vacation in a private, largely English-taught school on the outskirts of Beirut. War has already engulfed some parts of Lebanon for several years, yet remained safely distant here. Today, however, that will change.
The adult staff (including two romantically involved teachers played by Nadine Lebaki, director of the exceptional Capernaum, and Rodrigue Sleiman) are attuned enough to news reports to be nervous. Still, they must put a tranquil face on for students taking their exams. Our 5th-grader protagonist Wissam (Mohamad Dalli) is having a hard time concentrating due to his crush on classmate Joanna (Gia Madi), as well as the gossipy interference of his best friend (Ghassan Maalouf) and hers (Lelya Harkous). But eventually everybody has bigger things to worry about, as initial oddities—like migrating birds not normally seen hereabouts—turn into more conspicuous sounds of fighter jets, bombing, military transport convoys, etc.
It may disappoint some that 1982 pays so much attention to minutae—including these soapy love conflicts—when we're clearly on the brink of a drastically escalated civil war that was about to turn "Beirut" from a city into an international slang term for "smoking ruins." But plenty of films deal with peak conflicts' chaos, horror, and destruction. Mouaness instead manages something less familiar by capturing the eerie quietude of those hours before all hell breaks loose, when children are still oblivious to the threat even if adults are already seized with dread. The film makes an imaginative leap at the end that I found a bit trivializing—it's not unlike the rainbow over Stalinist Russia portending clearer skies at the end of Doctor Zhivago—but it still leaves a potent impression.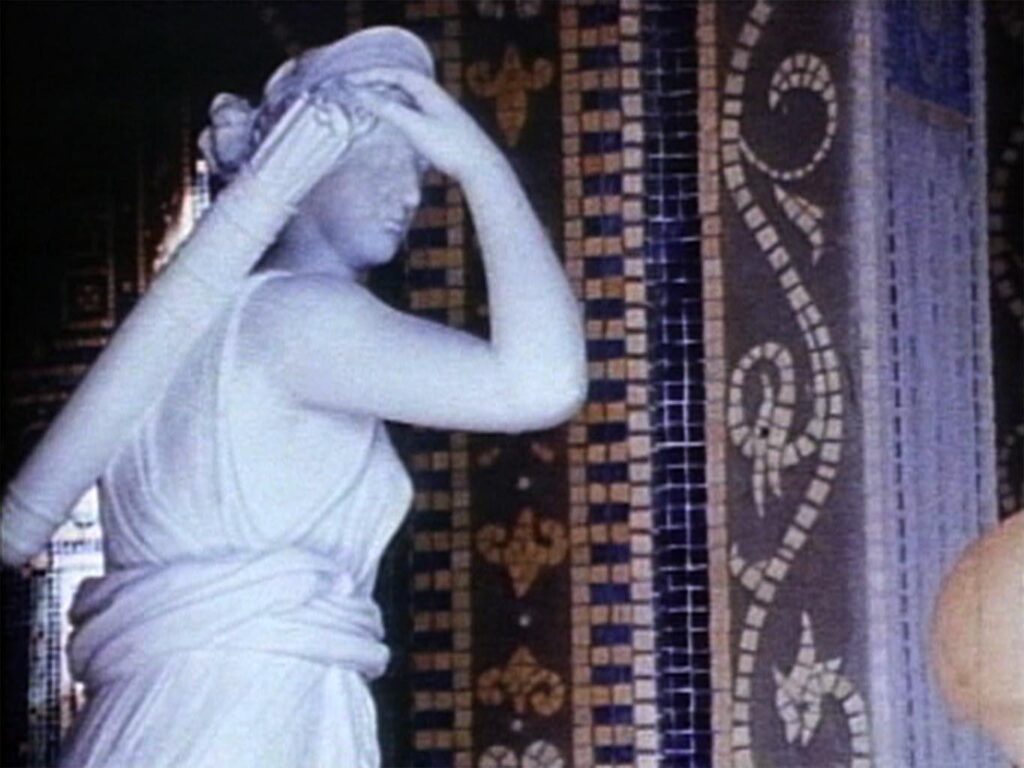 The Roxie has two events coming up that were unavailable for preview, but are of special interest to local cineastes: One is Active Processing in Shifting Bodies: A Tribute to Barbara Klutinis, which brings together four works (including a 1981 collaboration with Barbara Hammer) by the late SF experimental filmmaker, feminist, and fly-fisher, whose intense interest in nature was reflected in her densely textured techniques as well as subjects. This belated memorial program (she passed away in 2020), presented by Canyon Cinema, will be held 4pm Sat/30. More info here.
Then on Tue/2 at 6:45pm director Charlie Shackleton will present the sole 35mm print of his UK collage feature The Afterlife. It, too, is a sort of memorial: an experimental quasi-narrative pieced together from fragments of hundreds of films throughout the history of cinema. What links their selection is that all the performers glimpsed (a starry array) are deceased, if still "immortal" on celluloid. But the fragility of that posterity is embodied in the fact that Shackleton's work itself is intended to "eventually disappear entirely," as the inevitable deterioration of film stock and the rigors of projection take their toll. More info here.
Additional regular releases opening this Fri/29 also play around with narrative conventions in various ways, whether by upending formula-fiction expectations or by using the feature format as a notebook for autobiographical essay:
Resurrection
British actress Rebecca Hall seems to have a penchant for playing high-strung, even paranoid (if often "for good reason") characters—though admittedly I'm going by her indie roles in films like Christine and The Night House, having missed mainstream sojourns such as Godzilla vs. Kong or Holmes & Watson. Here, as executive director/star, with writer-director Andrew Semans, she's come up with a corker of neurotic role. Margaret is a middle-aged control freak with a corporate job, a workmate-slash-secret-fuckbuddy (Michael Esper) and a fatherless teenage daughter (Grace Kaufman as Abbie) who tells her things like "You're being even more suffocating than usual." It's understandable: Margaret is the kind of hover-mother who must make an effort to "act normal," when every fiber of her being wants to be on full emergency-ready alert, 24/7.
We only begin to realize why when she panics at the sight of a very unwelcome familiar face at a conference she's attending. After he keeps showing up in public places she just happens to be, she confronts David (Tim Roth), whom she hasn't seen for 22 years… and hoped never, ever to see again. When she spills the explanatory backstory to a young coworker (Angela Wong Carbone), the latter is horrified into stammering silence, then wonders if it's "a joke." Nuh-uh. David is a very sick man; he and Maggie have a very sick past, from which she fled. Now that he has found her at last, her life almost immediately, completely unravels. Abbie begins to fear she's mad. So, in fact, do we, because it is increasingly difficult to discern any border between David's malevolence and the instability he presumably instilled—and now awakens—in his favorite old victim.
Resurrection could hardly be better acted, and it is indeed creepy AF, though more on the "psychological" end of horror than the usual graphic-stalker-mayhem ilk. Still, as it wends its way to a grotesque (yet ambiguous) conclusion, I wasn't quite sure what the point was. It's a vividly unpleasant movie whose conceptual extremis doesn't really say anything about PTSD—beyond "How awful"—because David is a monster that remains teasingly semi-abstract. We're never 100% sure he's real. That doubt itself could have been turned to fascinating ends, but for all its precision in other departments, the film's ultimate intent is murky. It's a discomfiting ride to no particular destination. Resurrection opens Fri/29 at the Smith Rafael Film Center, with On Demand platform availability as of August 5.
Beba
Another "difficult" female protagonist whose reality we don't entirely grasp is in fact the creator of this filmic self-portrait, which opens at the Roxie Fri/29 (and at Oakland's New Parkway Aug. 2). Rebeca Huntt wastes no time before informing us that this is her singular, exclusive vision: 'You are now entering my universe. I am the lens, the subject, the authority," she says in voiceover narration. Raised with two siblings as "the poorest kids on Central Park West" by interracial parents who fled strife in the Dominican Republic, she is clearly a person with complicated, probably unresolvable identity issues. "Every one of us inherits the curses of our ancestors… I am going to war. And there will be casualties," she avows.
Strong words, and Beba is nothing if not strong in imaginative assembly: It blends home movies, archival footage, reenactments and much more into something that's at once free-associative and skillfully disciplined in textural craft. But Huntt's alternate stances of empowerment and grievance allow no room for anyone else's perspective. That is a problem, because she is not necessarily a reliable narrator. She mentions her sister being an agoraphobe and pathological liar, yet we see that woman happily chatting away while walking down the street. She reduces her mother to tears on-camera, and later mentions choking mom in anger. The accusations she makes are not confirmed by anyone else.
Chronology is confused, dysfunctions are referenced but unexplored. At the end, she says "I fear my family will never talk to me again. I promise, this is the last time I'll snitch," but we're not sure what she's talking about—is her latest offense the film itself? Beba is like Jonathan Caouette's Tarnation two decades ago, a rather dazzling pastiche that purports to be self-revealing, but in fact leaves so many weird information gaps you're not sure if you're witnessing a confession, a self-serving coverup, or both. Nonetheless, the inventive surface keeps buoying you along.