How do you find the emotional body in a piece of wood? Raymond L. Haywood is not just an artist—he's an artisan builder, and he has a few insights to share on the matter.
Born at Herrick Hospital in Berkeley, Haywood graduated from Berkeley High in 1981. After finishing undergrad at UC San Diego, he returned to the Bay Area, young and excited about art. His plan to apprentice with a stone sculptor took a turn when Haywood became profoundly inspired by a "day job" in woodworking. After swimming competitively in high school and becoming a master swim team member at UC Berkeley, Haywood took a gig with Berkeley Parks and Rec as a lifeguard. But though he enjoyed aspects of the job, he imagined doing more. Thus began a quest to spread positive influence through teaching, and making inspiring art.
When Haywood's UC swimming mate Eric Seward heard he was looking for a job, Seward hooked him up with a position as carpenter's laborer with the now-defunct Paragon Builders.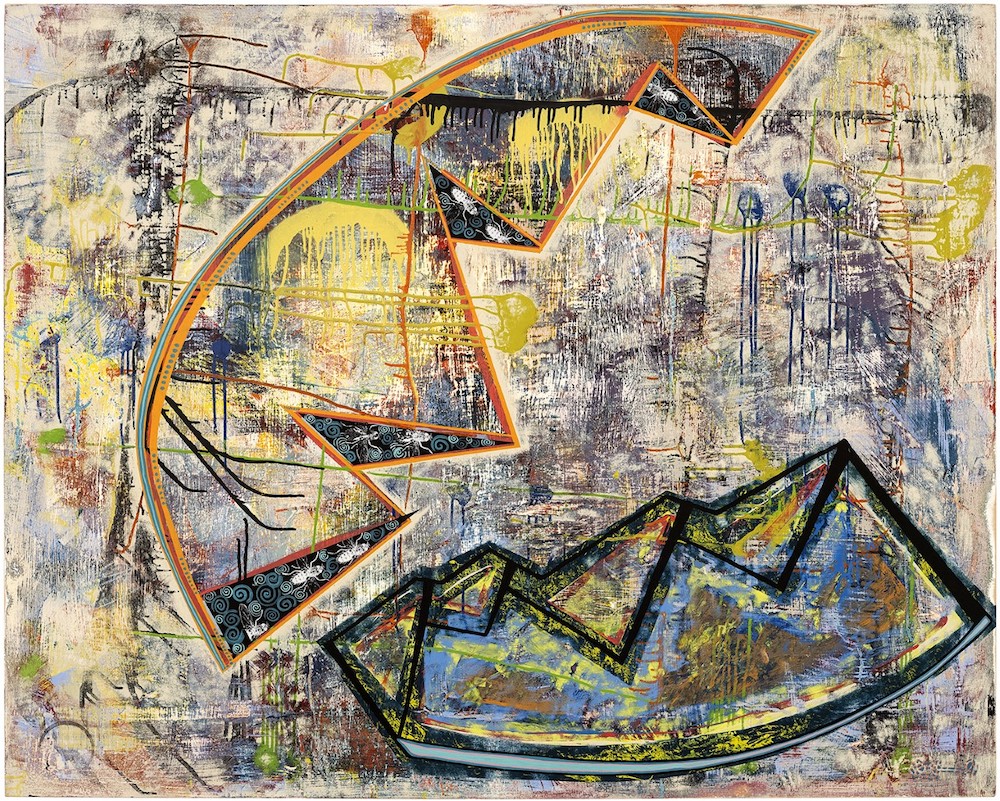 "The carpenters with Paragon were an eclectic group of artisan builders with a hippie streak and an inclination for problem solving and hard drinking, a lifestyle reminiscent of a wild west cowboy," Haywood told 48hills.
Haywood's first project was working on a stockbroker's mansion on a hill overlooking downtown Lafayette. Assisting journeyman carpenters, Haywood learned valuable skills that inform his artwork today.
Esteemed builders Paul Cerami of Cerami Builders and Steve Mills of Mills General Construction taught him the ropes as he progressed from laborer to construction supervisor.
That experiential relationship to wood is duly apparent in his work. But there is much beneath the surface. The desire to communicate emotional response inspires Haywood's painting praxis, and his themes are based on elements and conversations that emerge from his own life.
"Working with wood and paint allows for an improvisational approach that facilitates an appreciation for beauty, form, and function," he said.
Haywood is driven to succeed on his own terms. He views this as both a blessing and a challenge to capture the next concept floating through his head. At the crux of it, Haywood confesses his love for, and satisfaction with, work that allows him opportunities to master unique forms and outcomes.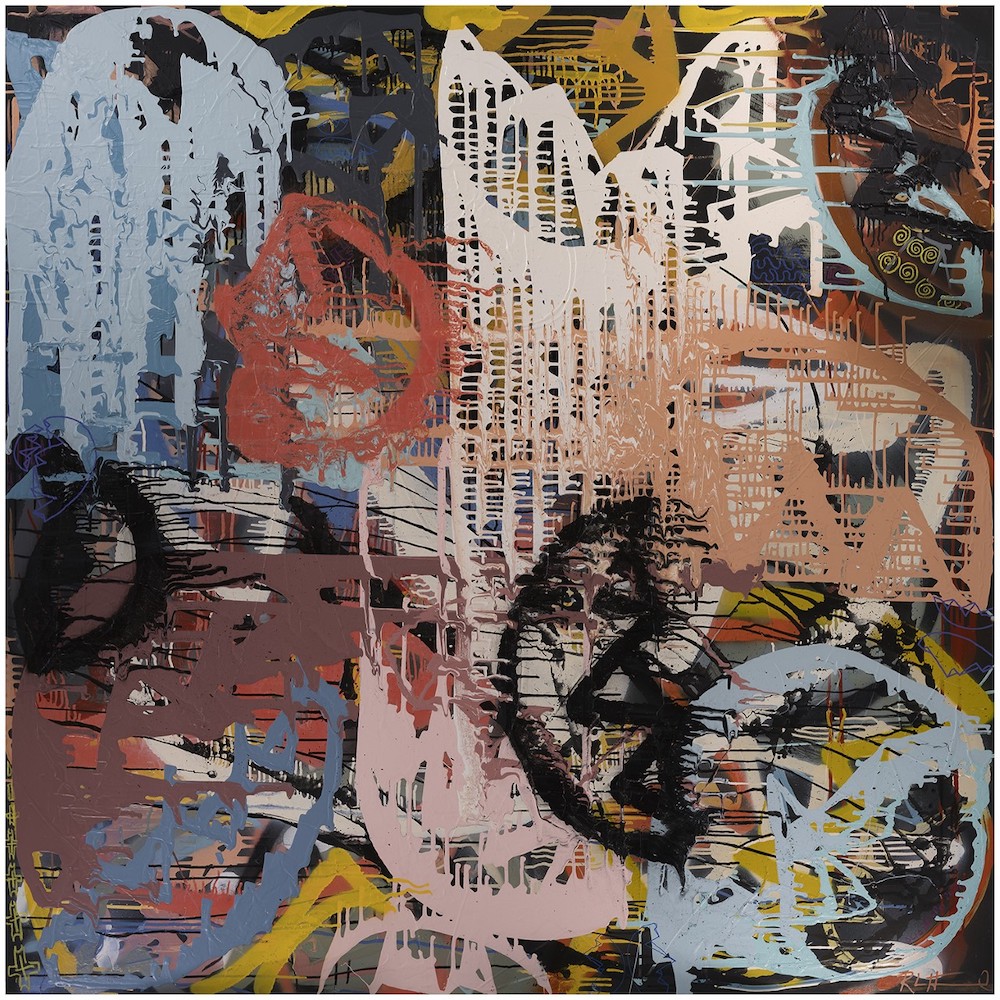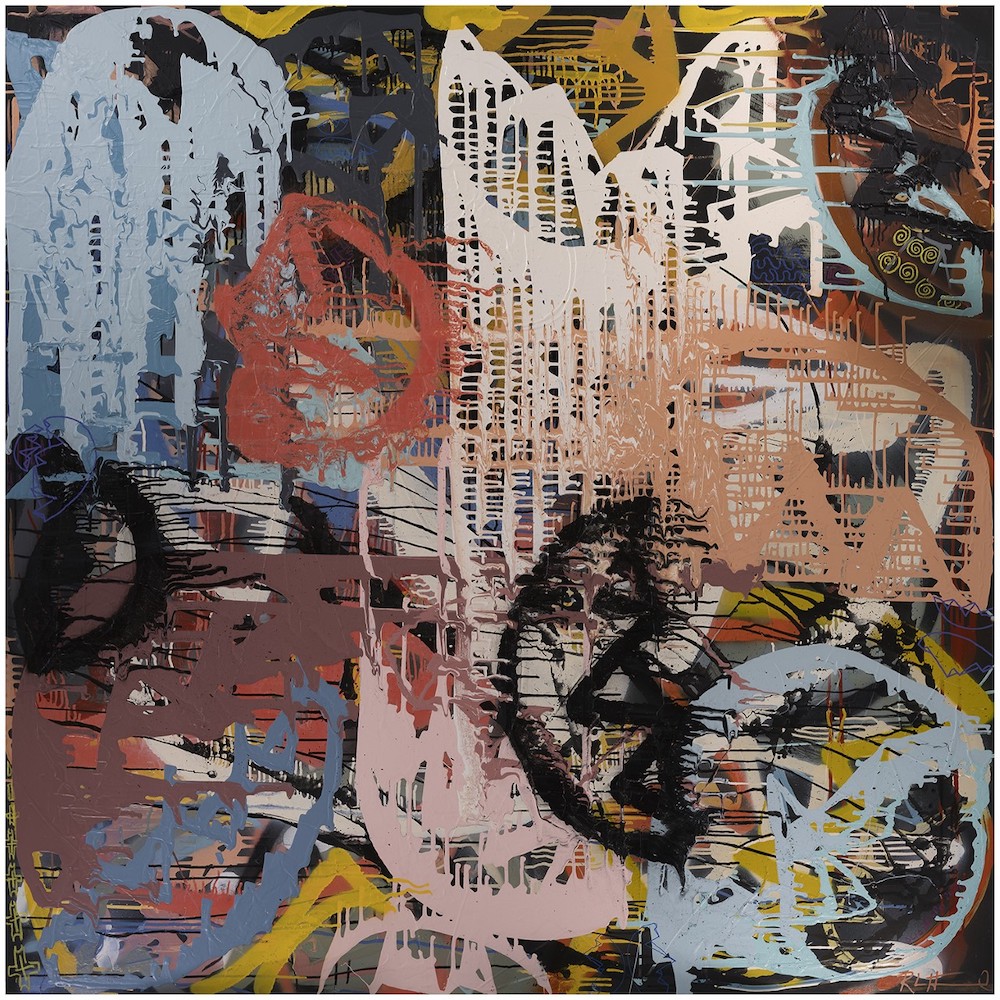 A day in the studio of building out such ideas begins early, with a double cappuccino and a quick swim at El Cerrito Swim center to cleanse the tensions of contemporary life. (Motorcycle rides are another activity that Haywood says comes close to a meditative practice.)
Haywood gets to it in a former paint factory on Carleton Street near Berkeley Bowl. Music while working is his muse and emotional balm, though it is hands-on work that provides the most sensory connection to memory and history.
His studio is roughly 14 feet square, with some two-story ceilings and a west-facing wall filled with glass block that allows for ample natural light. With a preference for working flat, he sets up paintings of all sizes on sawhorses or rolling tables.
With a certain repulsion for purchasing new materials, Haywood prefers sourcing resources from his travels and other artists' donations, upcycling older works into emerging ideas.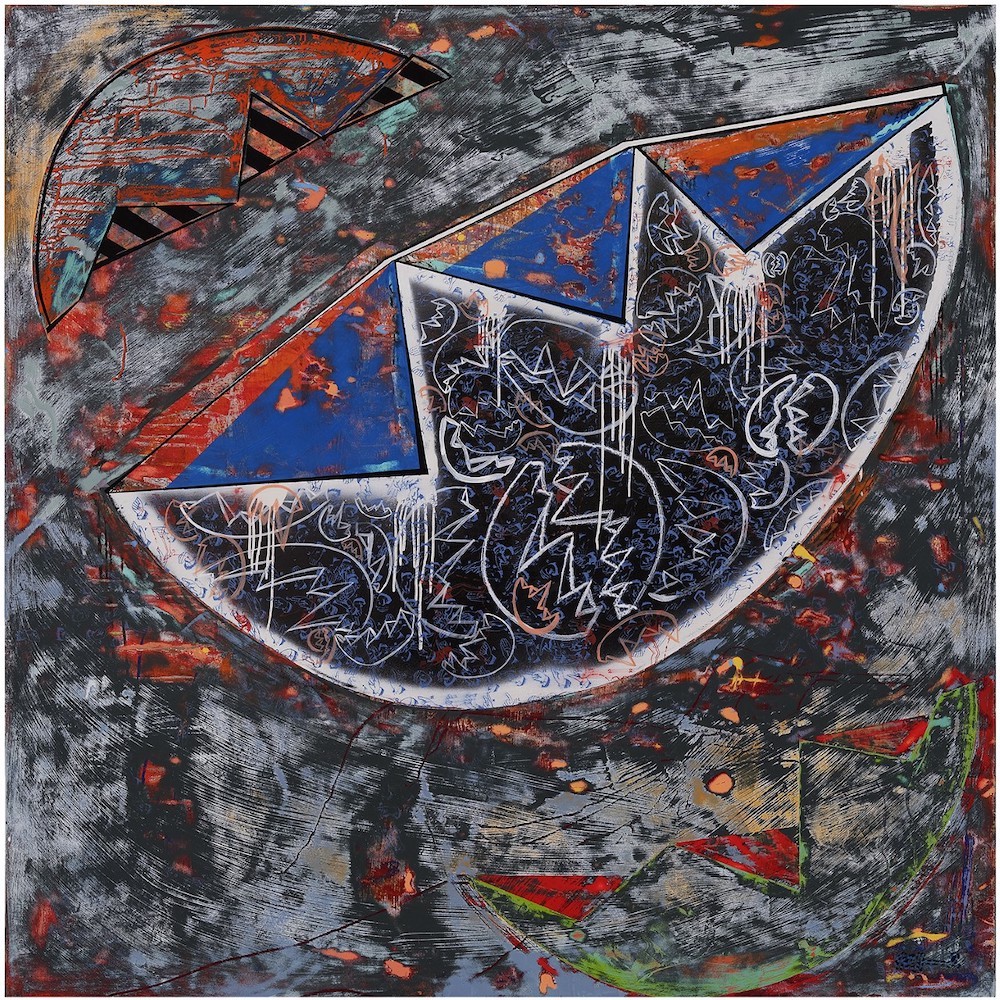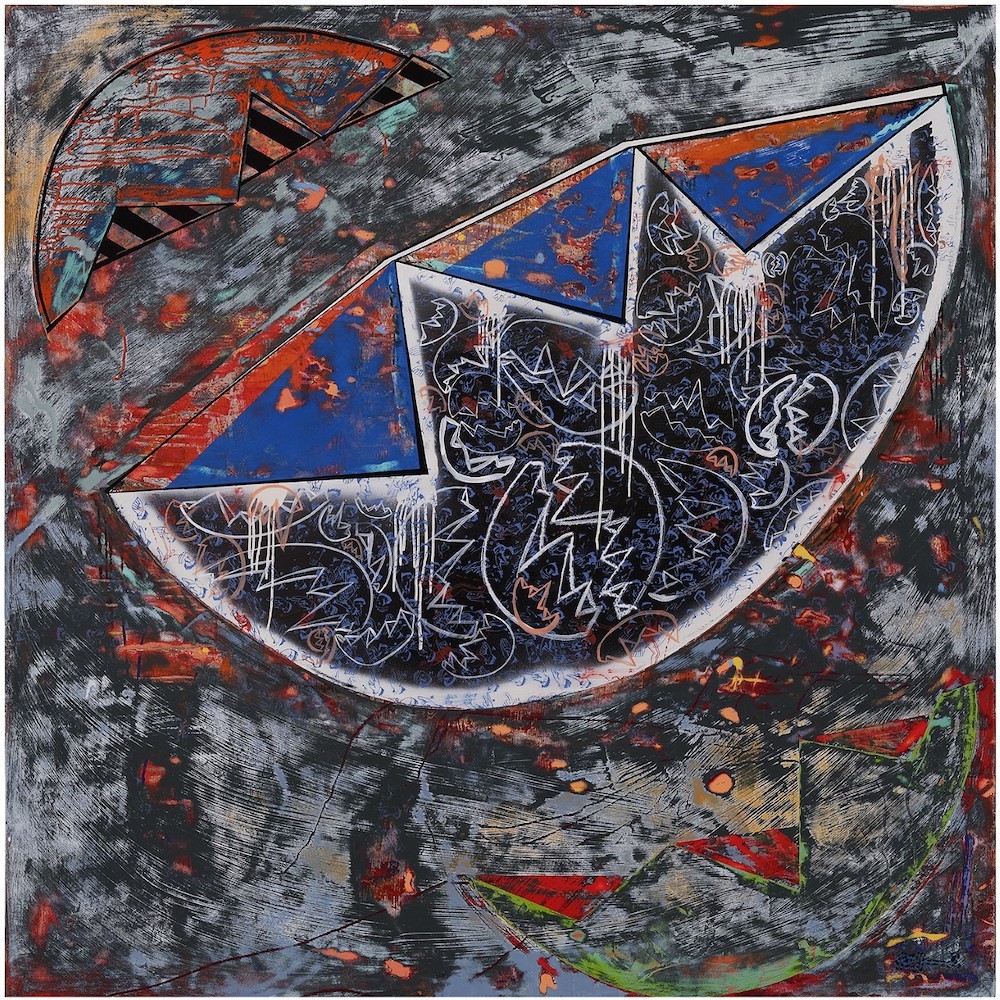 Preparing a number of wood panels, he sands and marks them, coats them with a base color, then sands again to provide an ideal ground for mixed media. To distress the surface, Haywood uses tape and glue paper that, when dry, gets pulled to reveal imperfections.
Indeed, he likes to make marks; with pencils, pens, spray paint, silkscreen printing— anything that allows him to engage the ground of a piece and express his voice as storyteller.
"These media allow a varied quiver of techniques and content to express my ideas and goals," Haywood said.
Abstract Expressionism is his métier, and all about emotion for the artist as he actively interfaces with a piece. His subject matter is an ongoing series of questions and visual theorems that he works until he finds solutions. He begins with a feeling, an urgent drive to communicate the voice inside that he best expresses through artmaking.
He resonates with beautiful things that possess balance, constantly aspiring to uncover the inherent beauty inside his compositions. Haywood once found a new muse in the form of a cowrie shell. It became a reflexive form that he drew and painted on small postcard sized watercolor paper as a symbol of himself.
At the end of 2021, Haywood had been considering the effects of over 500 years of aggression on the African American body. This led to a desire to paint on a black background in place of traditional white, a shift that changed how he paints and thinks about painting.
"I no longer consider the 'White art world' as the arbiter of talent or taste, nor its gaze as important to my creations," Haywood stated. "I paint for me and for people who resemble me and who have shared history with me both as victims and oppressors in these United States of America."
Also in 2021, Haywood became a member of Mercury 20, an artist-run collective in Oakland, at a time when it included only one other African American artist. This was an important turning point. He sought exposure and inclusion in the Oakland art community, "to represent as an artist."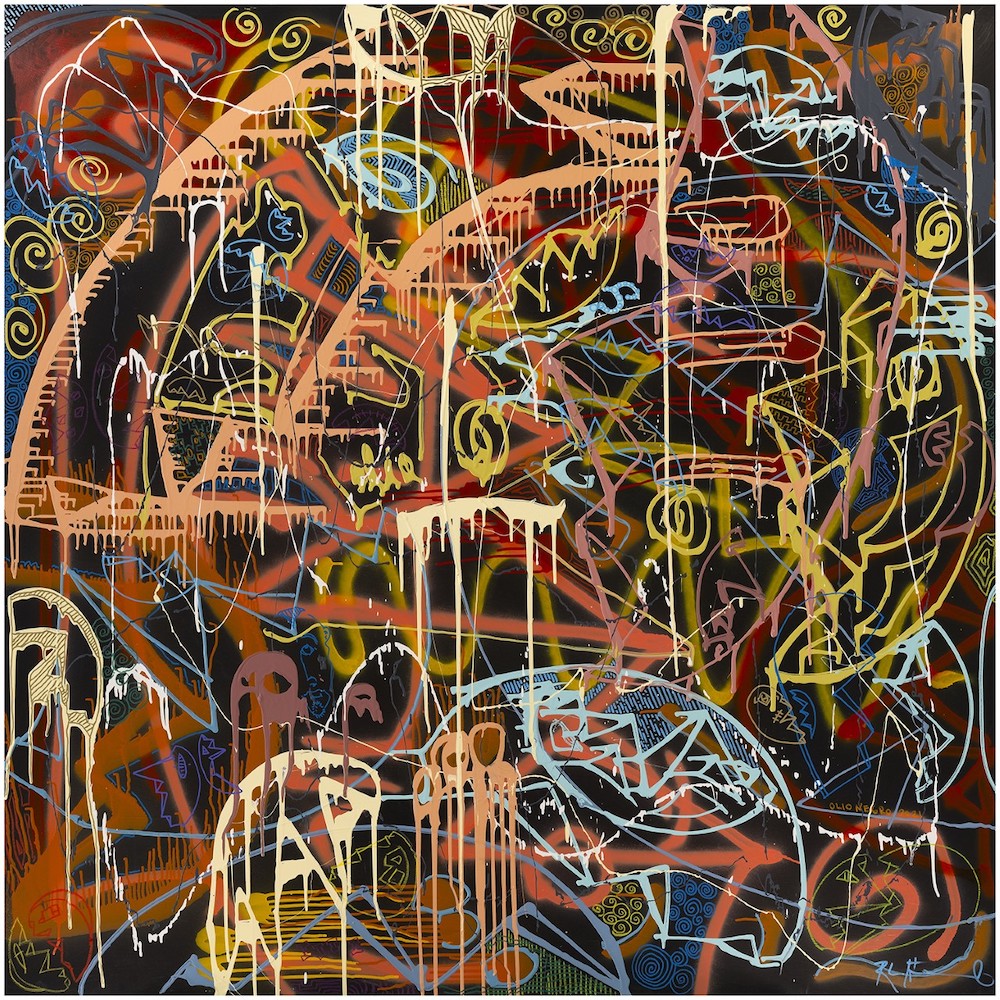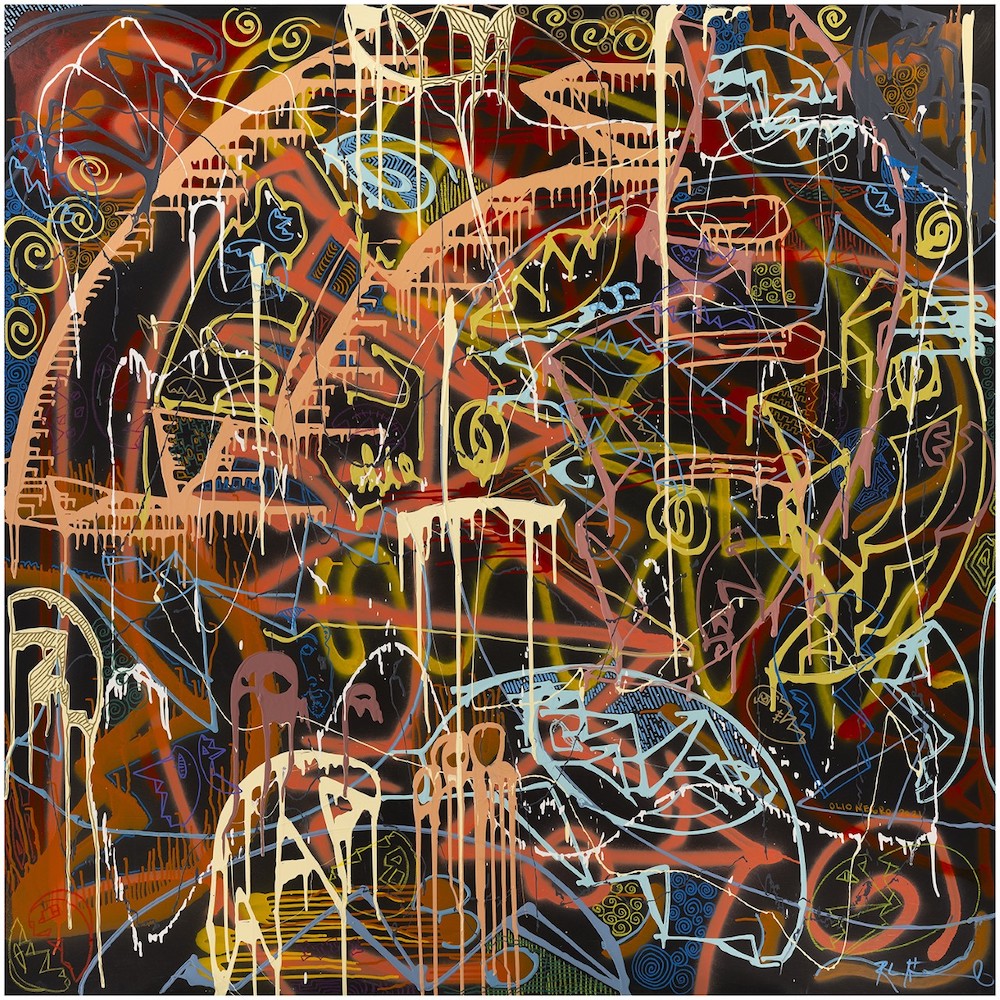 In a new body of gestural paintings overlaid with graphic geometric shapes in black, Haywood addresses the constant demonization, murder, and genocide of African Americans in the United States and his emotional response to ongoing traumas.
The initial inspiration for the series, called "[Stages of…]," originated from televised lynchings of Black people, but expanded into becoming an interpretation of the state of the world. The work tackles Russia, China, and the United States, the latter polarized in its denial of the legacy of colonialism, patriarchy and racism.
"I aspire to create beautiful renditions of my emotional worlds; my joys, dislikes, and confusion," Haywood said. "I want to illustrate alternative realities and responses to stress, horror and death. Ultimately, I hope that viewers walk away with a desire to act in relation to something inside themselves."
Gratitude is also a layer in Haywood's work. He appreciates that viewers still value the investment of art and is humbled that he is able to commit so much energy to a practice that he says saved his life.
Haywood encourages us to take 10 minutes every day to create something that stirs the viewer's heart. To ask as many questions as we can, and surround ourselves with people who share our passion.
"Thoughts and progress flow where intention goes," he added.
Haywood completed an MFA in 2003 at San Francisco State, teaches at Freedom High School in Oakley, and makes his home with wife Monica near the UC Berkeley campus. In September, he will show new work at Mercury 20 Gallery.