There's not much that Democrats and Republicans agree on in this era of extreme political polarization. But almost everyone who ride bicycles agrees that it makes no sense for them to completely stop at every stop sign.
That why surveys find just 4 percent of cyclists actually follow the law and come to a complete stop. The rest know how much momentum matters and that it's far safer to just proceed through an intersection when it's clear.
"If people are behaving in a certain way because it's safer then we should codify that," said Assemblymember Tasha Boerner Horvath (D- Encinitas), a mother and longtime bike commuter whose Assembly Bill 1713 would do just that. "You and I know cyclists are safer when they yield instead of stop."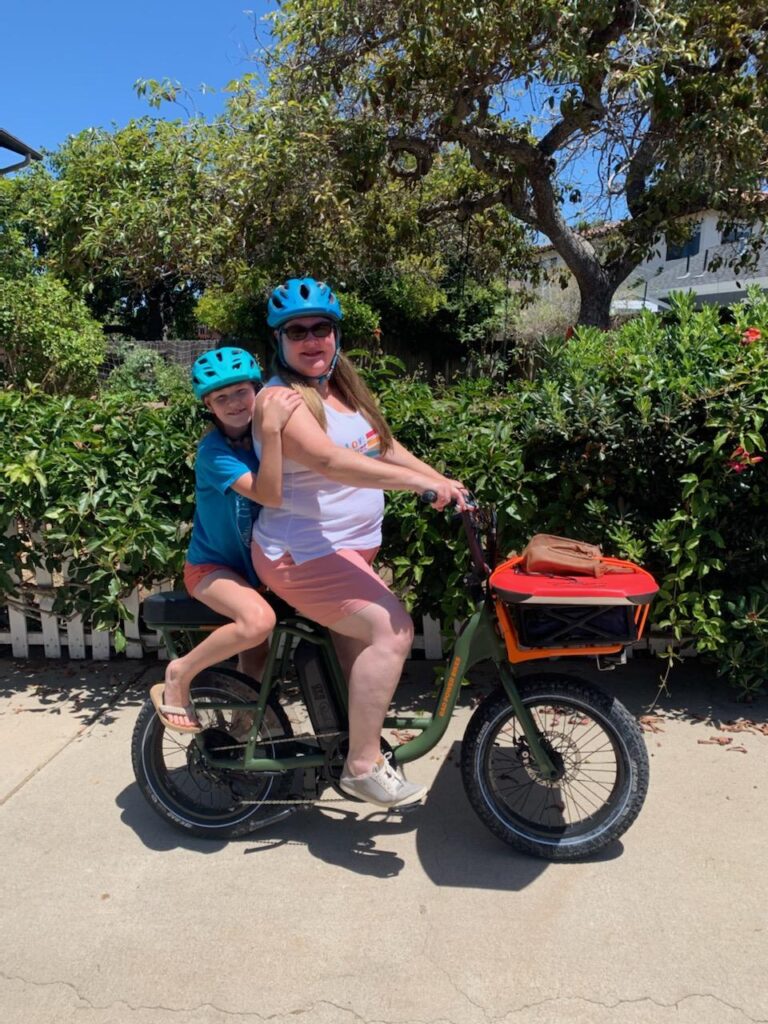 That bipartisan agreement is why eight states, red and blue, have passed laws allowing cyclists to treat stop signs as yield signs (following the lead of Idaho, which did so way back in 1982). California was poised to join that bike-friendly movement last year until Gov. Gavin Newsom vetoed Assembly Bill 122, making spurious safety arguments.
But Boerner Horvath brought the measure is back this year and it's already cleared the Assembly and awaits Senate approval. And she's even getting political lobbying help from a previous Republican sponsor of the bill, Jay Obernolte, who has since moved on to Congress.
"That's where this bill in so interesting is because it's not a partisan issue," Boerner Horvath told us in a phone interview.
Yet it's still a political issue, and an uncertain one given the unpredictability of our governor and his tendency to belittle and infantilize cyclists, going back to his days at San Francisco's mayor, when he sabotaged efforts to expand car-free hours in Golden Gate Park and allow proposed bike projects to languish for years.
Newsom and others who don't ride bikes regularly may not realize how inefficient and dangerous it is when cyclists are forced to completely stop at a string of stop signs, California's preferred method for regulating intersections. Bikes can wobble and weave before they get up to speed, making them more vulnerable to life-threatening collisions with cars and buses. We're much more nimble with just a bit of momentum.
Yet in Newsom's veto message on AB 122, he feigned safety concerns, particularly for children, making disingenuous arguments that were simply untrue about how this reform would affect safety.
Newsom's veto-message focus on children ignores the fact that over 90 percent of cyclists killed in this country are over age 20, with fatalities sadly increasing in recent years. And the number of kids killed cycling is a very low and has dropped 75 percent since 1975.
Studies have shown the stop-as-yield reform is far safer than the status quo, reducing injuries by 15% in Idaho and 23% in Delaware. Cyclists are the most vulnerable road users and need to be trusted to ride safely, particularly through intersections, which is where most bike collisions occur.
Yet Boerner Horvath heeded Newsom's stated concerns and made her new bill apply only to those over 18 years old and included only two-lane roads and four-way stop sign intersections. She said the bill is too important to get derailed by details that can be fixed later, once this six-year pilot program is studied, as her legislation calls for.
"One of the biggest compromises I had to make was excluding minors," she said. "But when the data comes back, then we can expand it."
Boerner Horvath said she's been in communication with the governor's office and she's optimistic the measure will be signed into law this year: "We're talking to the administration now and it looks good."
But you never know with Newsom. There's always been a glaring discontent between Newsom's strong rhetoric about addressing climate change and his actions.
He's allowed business-as-usual for the fossil-fuel industry in California while doing little to promote bicycling, even though that's an obvious way to reduce planet-warming carbon emissions in the transportation sector, where almost half of California's carbon emissions come from.
San Francisco's bicycle mode share (the percentage of trips by transportation mode) is less than 6 percent, compared with 25-30 percent in major European cities that don't hinder cycling with the regular stop signs that we have in California. Maybe we wouldn't need this legislation if we had more roundabouts, but we don't.
Boerner Horvath first became a regular bike commuter back in Germany, where she lived for 12 years, and where bikes are a popular form of everyday transportation.
"I am such a rule follower. I stop at every stop sign and wait three seconds," she said. "But when I'm cycling, I'm not going to do that because then you lose your momentum. It isn't safe."
The reform has long-been a priority for pro-bike groups including the California Bicycle Coalition, although it has urged an amendment to apply to new rules to all ages, or at least lower the age cutoff to 16.
"Regarding Gov. Newsom's comments about child safety, we think that's a little bogus," said Jared Sanchez, the legislative director for the California Bicycle Coalition. "But we're still supportive of the bill."
Sanchez noted how the California Vehicle Code generally treats cars and bicycles as the same, which he said doesn't make sense at four-way stop intersections given how long it takes bikes to get up to speed and become more stable.
"There need to be some exception made for their safety," Sanchez said. "For cyclists overall, it's significant. We get most of our emails from members on this issue."
Boerner Horvath also said this is perhaps the most important single reform to cyclists, and she appreciates the strong support she's heard for the bill on social media and in supportive letters. She urges supporters to contact their state senators and the governor's office to help get AB 1713 signed into law.
Some public safety agencies still oppose AB 1713, and rhetoric from politicians who don't bike can still be alarmist in its supposed concerns for cyclists. But California seems poised to join the seven states that have adopted it in the last two years, ranging from left-leaning Oregon and Washington to conservative Utah, North Dakota and Oklahoma.
Bicycles are the most efficient mode of transportation — a cheap, quick, carbon-free way of getting people around. California might be about to encourage more biking to address the climate crisis and help democratize our streets.