As well-intentioned as they are, land acknowledgements can often carry an air of pretentious white guilt rather than sincere contrition for a legacy of colonization. Jonathan Spector's Eureka Day makes a joke out of the gesture from the start when its mostly-white faculty of a Berkeley elementary school makes their acknowledgement, with it only to be followed by an awkward silence. Not to say that we shouldn't mention how we reside on stolen land, just that the mention itself is often delivered with all the "sincerity" of a court-ordered action.
The acknowledgement ahead of La Lengua Teatro's Las Azurduy (through August 28 at Brava Theater) was considerably different. It was, like the show it preceded, spoken in Spanish with English supertitles projected on the upstage wall. This particular acknowledgment not only covered the usual points—San Francisco resting on Ramaytush Ohlone and Chochenyo Ohlone land—but also leading into a greater statement about the colonization of Latin America as a whole; all the more relevant when one considers that California was once part of Mexico. This acknowledgment wasn't some pre-show checkpoint, it was a thesis statement for the show we were about to watch.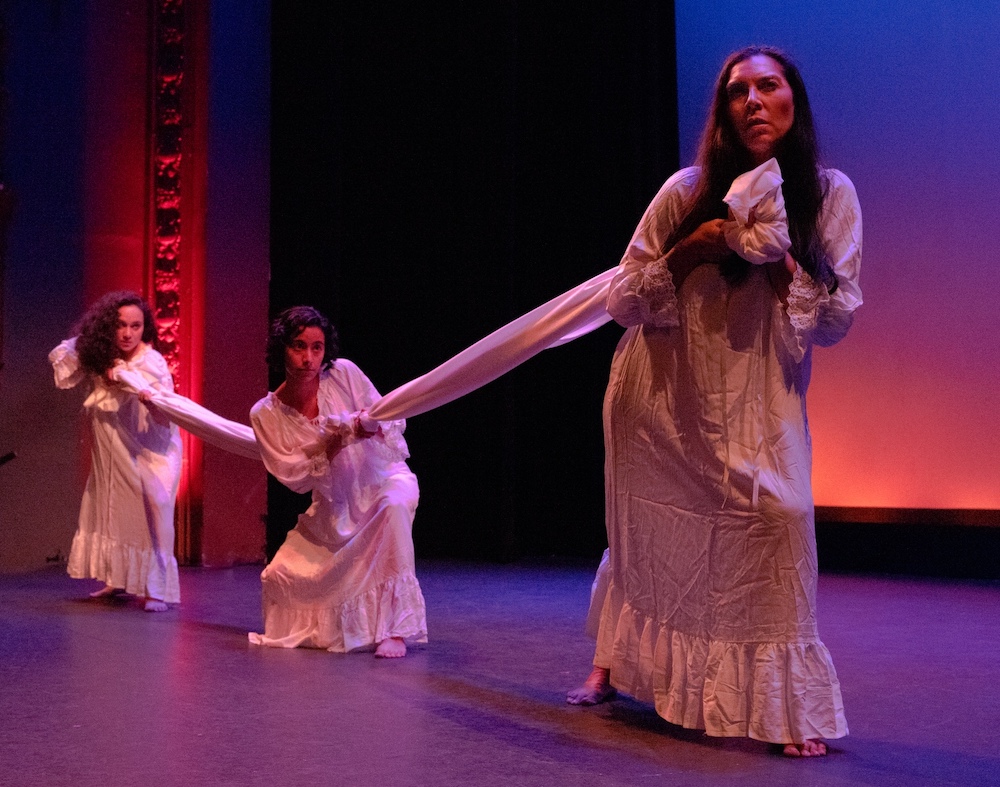 As written by Argentinian playwright Florencia Aroldi, Las Azurduy is part history lesson, part melodrama, part magical realist esoterica. For those unfamiliar, the Azurduy began with Juana Azurduy de Padilla, a mixed-race (Spanish and Indigenous) woman from what is now Bolivia. She fought alongside her husband against the Spanish in the Bolivian war for independence (1809-1825), during which she trained and recruited paramilitary women known as "Las Azurduy" or "Las Amazonas".
Aroldi's play skips back and forth throughout time, breaking up Juana's story into three personalities: the maternal Micaela-Juana (Deborah Cortez); the childish Trinidad-Juana (Carla Gallardo); and the militant Rosa-Juana (Virginia Blanco, who is also La Lengua's artistic director.) We see a woman mourning the loss of children and comrades at the hands of Spaniards and natural causes alike. We see an energetic young woman absolutely smitten just after having met Juan Padilla, her future husband. We see a woman invigorated and ready to fight when she hears of Marie Antionette and Louis XVI being beheaded in France. These stories all intersect one another, double back, and seemingly crash into one another as the play—under the direction of Eugenia Arbol—doesn't present itself to the audience so much as it overwhelms them.
That's saying something, given the understatedness of the three-person production. The spartan set by Grisele Gonzalez (constructed by Cynthia Olmedo) is made primarily of white sheets that hang from laundry lines, with a single swing located at stage right, covered with pieces of burlap. The set is otherwise in a perpetual state of night-like darkness, only subtly illuminated by GG Torres' lights. It all works to highlight the lyrical nature of Aroldi's script, which frequently features narration (spoken by Elena Estér and Chana Mamani) in the Aymara and Quechua languages. Those voices almost feel as if the disembodied spirits they represent weren't able to connect with a single body, while Juana's appears to have found three. The triptych of a single person illustrates a woman at war with herself as much as with the Spaniards that attack her homeland.
What's more, lines like "Our history was written by men; I am no exception" resonate as the words of a woman trying to define herself even without the obstacle of gun-toting Europeans. Aroldi's Juana is one desperate to have her voice heard in history, so she chooses three distinct methods with which to do so.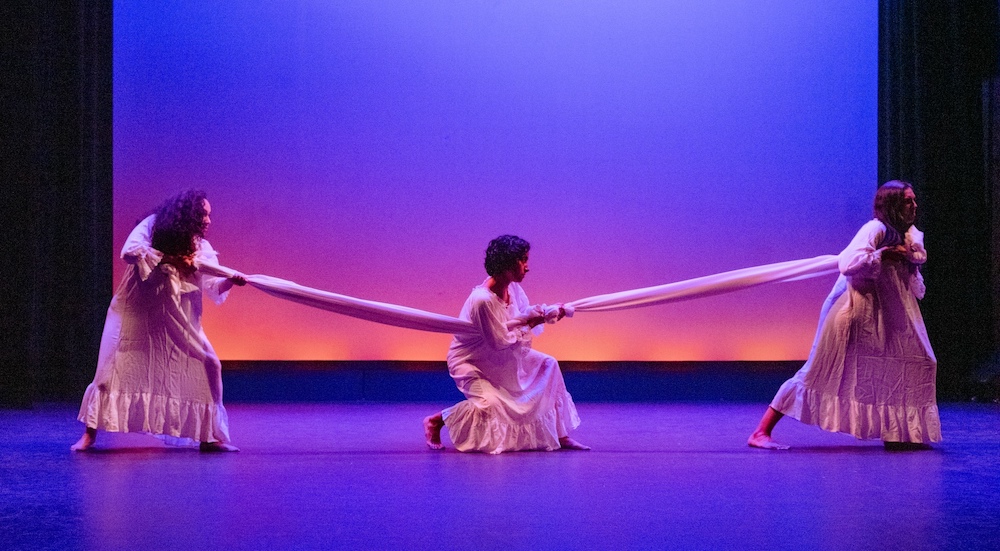 It only becomes a problem if you need a specific linear narrative to keep track of things. As someone not fluent in Spanish, it was a bit of a juggling act for me to follow the story with the supertitles and simultaneously take down notes. As hypnotic as the production is (with choreography by Diana Lara), it can sometimes fall into the dream-narrative trap of just getting lost in the proverbial woods. What's more, Aroldi wrote a one-hour show that seems to have been stretched to nearly 80 or 90 minutes for padding. There were many times after the one-hour mark when the play could have ended with nothing having been lost, but it kept on, as if to further hammer home the impact the events had on Juana.
This being my first La Lengua show, I don't know how typical that is. The company was founded in 2019 (incidentally, the same year that La Compagnie Carmina, the SF-based French-language theatre company, was born), and Virginia Blanco's post-show speech noted that Las Azurdy was their first full production "post-COVID". That irksome term notwithstanding, I did appreciate that masks and proof-of-vaccine are required, though the man at the door wasn't masked when he checked mine. CO² levels on my Aranet4 peaked at 2145ppm in the sold-out Brava Cabaret space.
The problem with Aroldi's play isn't that it wants to tell the story, it's that it doesn't know quite when to pull back for its own good. By trimming a half-hour at the end and adding a touch more clarity to timeline, this show (which is having simultaneous world premieres in Argentina, Peru, and New York) would be as powerful as it is undeniably-lyrical. Still, it's a fine showcase of three talented performers and the specific kind of Latinx theatre to be found in SF. This may be my first La Lengua show, but I certainly hope it isn't my last.
LAS AZURDUY runs through August 28th at Brava Theater, San Francisco. All shows performed in Spanish with English supertitles. Tickets and info here.