It's impossible to eat everything that's available at Outside Lands, but I give it my best attempt each year at the music festival that's also really a food festival. If you're going to walk 7-10 miles a day, you deserve a few fried and/or sweet things anyway, right? Here are some of the highlights from taking this job very seriously for three days in Golden Gate Park. Fortunately, some of them are available all year long.
The New Orleans-style muffuletta sandwich has been perfected by San Francisco's Sandy's, which is currently without a location. I'm not an olive person, but I understood how well they worked with the mushrooms in the veggie version that I tried. And I'm still thinking about how crisp and tasty the bread was. I hope they find their home soon.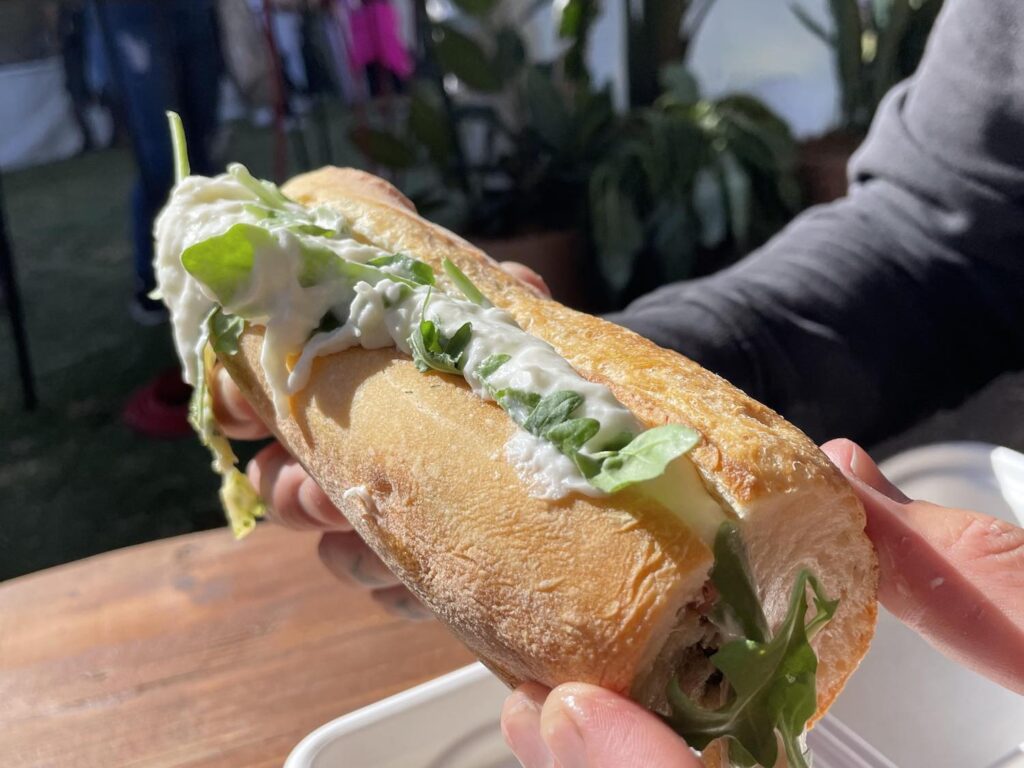 The other standout sandwich I had over the weekend was a burrata, prosciutto and pesto sandwich by A16. It was a few bucks more than a Heineken and one of the festival's real food values. I don't think it's on the menu, but it should be!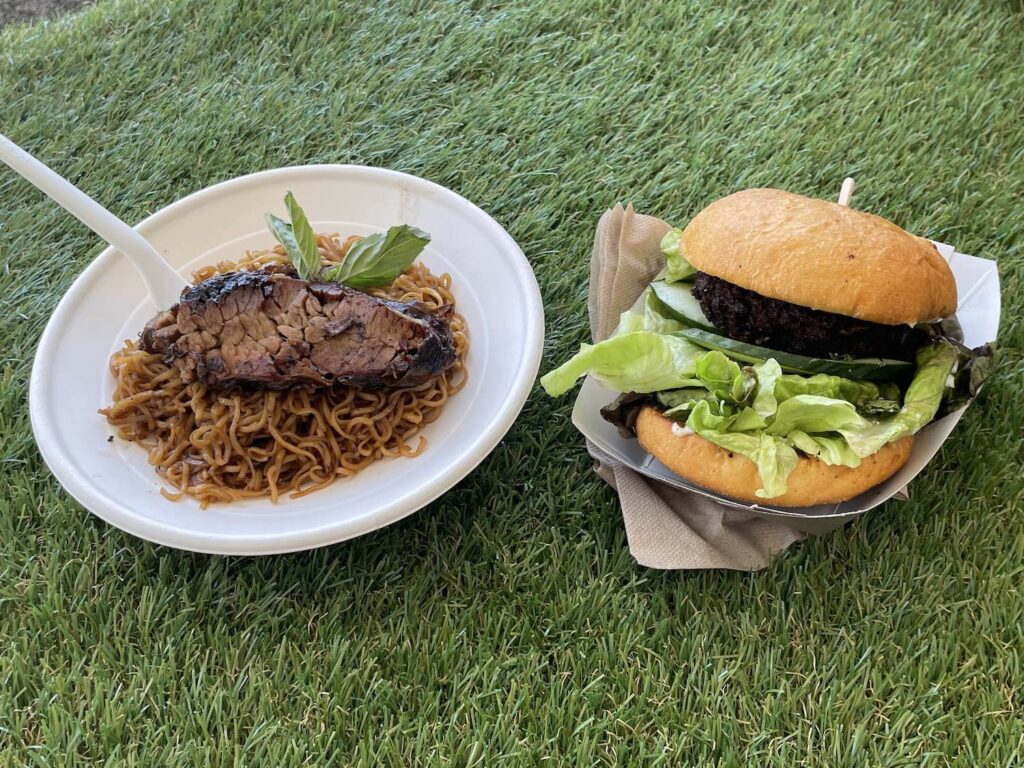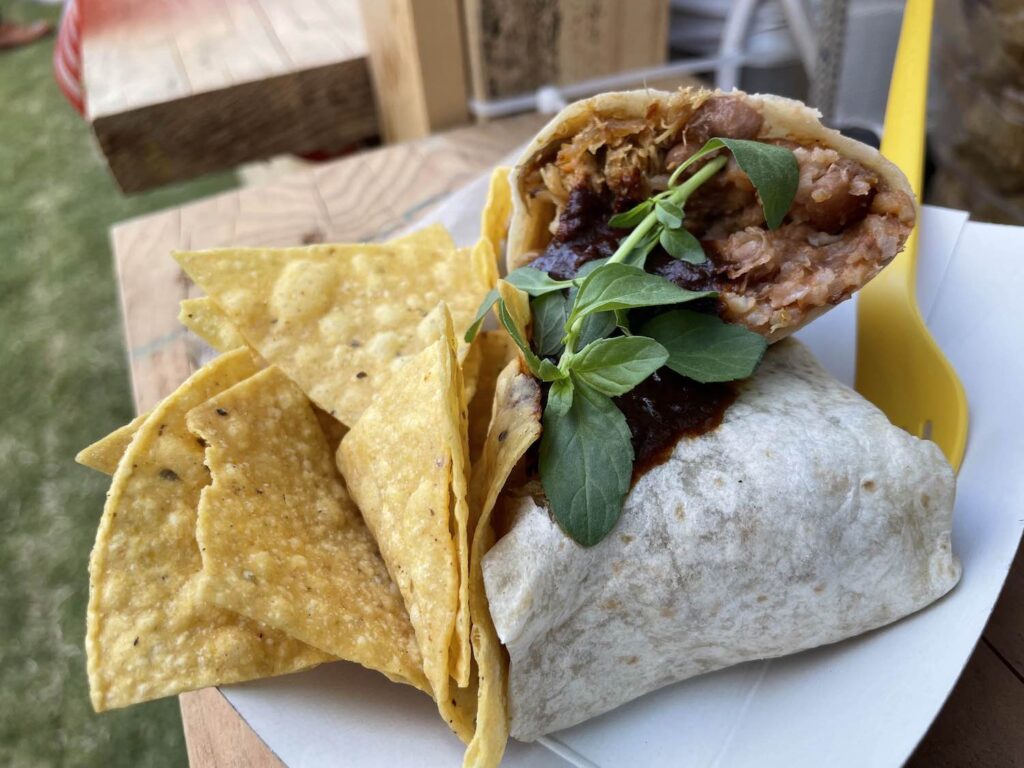 New additions to the Outside Lands food lineup this year included Oakland restaurants Jo's Modern Thai and Hi Felicia. I haven't had the opportunity to visit either as of yet, so it was nice to get bites from each. Jo's pork laab burger and Hi Felicia's duck burrito offered something different in familiar form.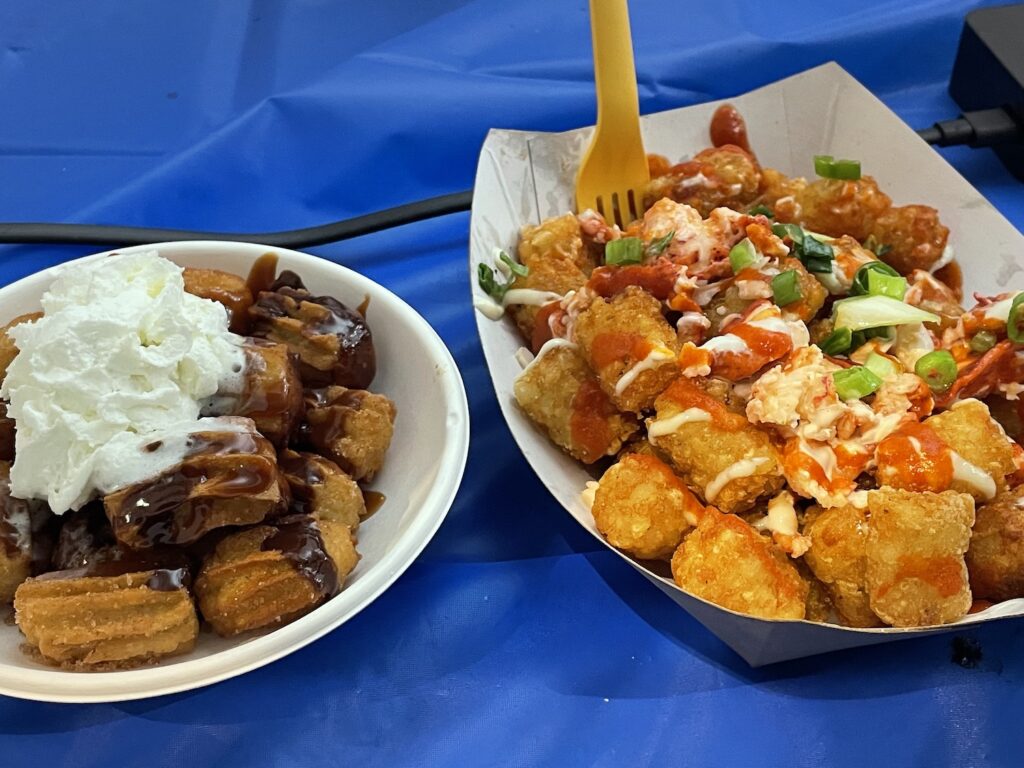 It always seems to me that the vendors who can perfect and put a twist on festival favorites like French fries and tater tots will do really well at Outside Lands. I didn't mean to double-fist tots, but when I carried my huge and beautifully crisp tray of spicy lobster tots from Bolinas' William Tell House over to the Charles Chocolates booth to say hi to Chuck and Shabana Siegel on my way out, Shabana gave me a bowl of churro tots because she saw my preview last week and knew I wanted to try them. Being able to find my friends and offer them the choice of savory or sweet tots was pretty next level.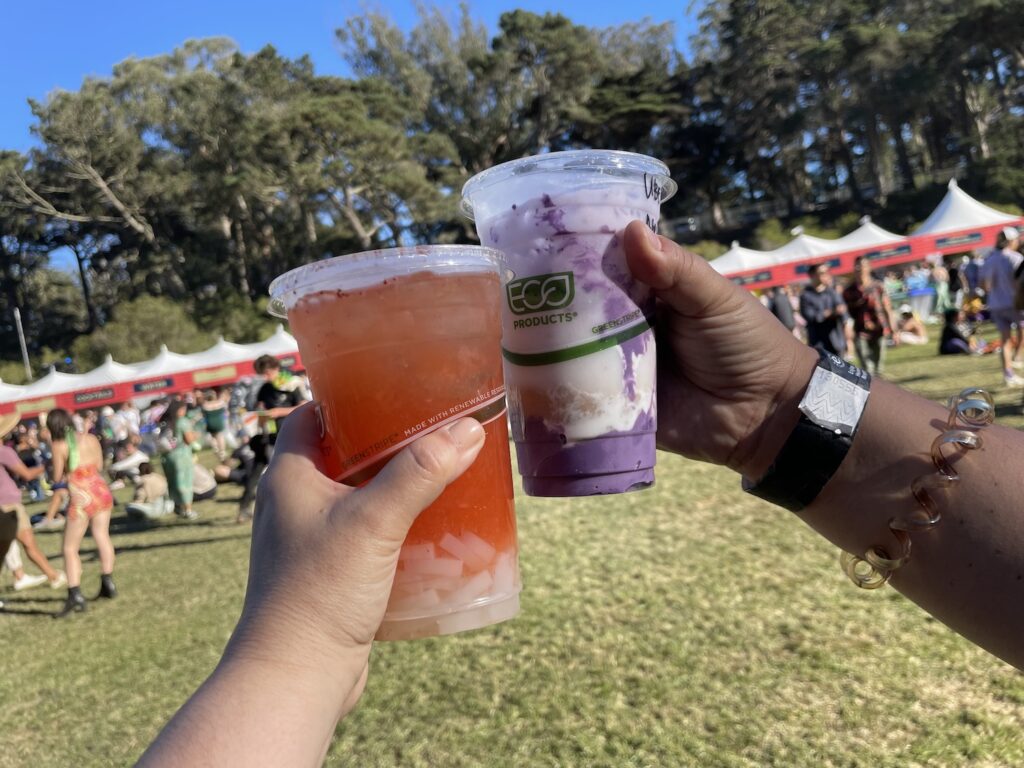 I'm usually clamoring for hot beverages at Outside Lands, but this year was different. With temperatures in the Seventies, icy cool drinks suddenly had an appeal that they never had before. I waited in line for an ube milkshake and flan cheesecake from Marley's Treats, a bakery in Hayward that also has a truck that regularly comes to San Francisco, but the shakes sold out right before it was my turn. I replaced it with a flan-stuffed ube crinkle cookie, which was delicious and cakelike.
Instead of the ube milkshake, I got an equally satisfying Feed Me Ube (coconut milk, rice milk, taro, and ube crème brulée), the best-selling drink created by YouTuber Feed MeiMei for Urban Ritual in San Francisco, San Mateo, and San Jose. (Side note: I recently also had and can recommend an incredible drink at the Urban Ritual in SF called Passion Project, a blend of passionfruit and tomato water.)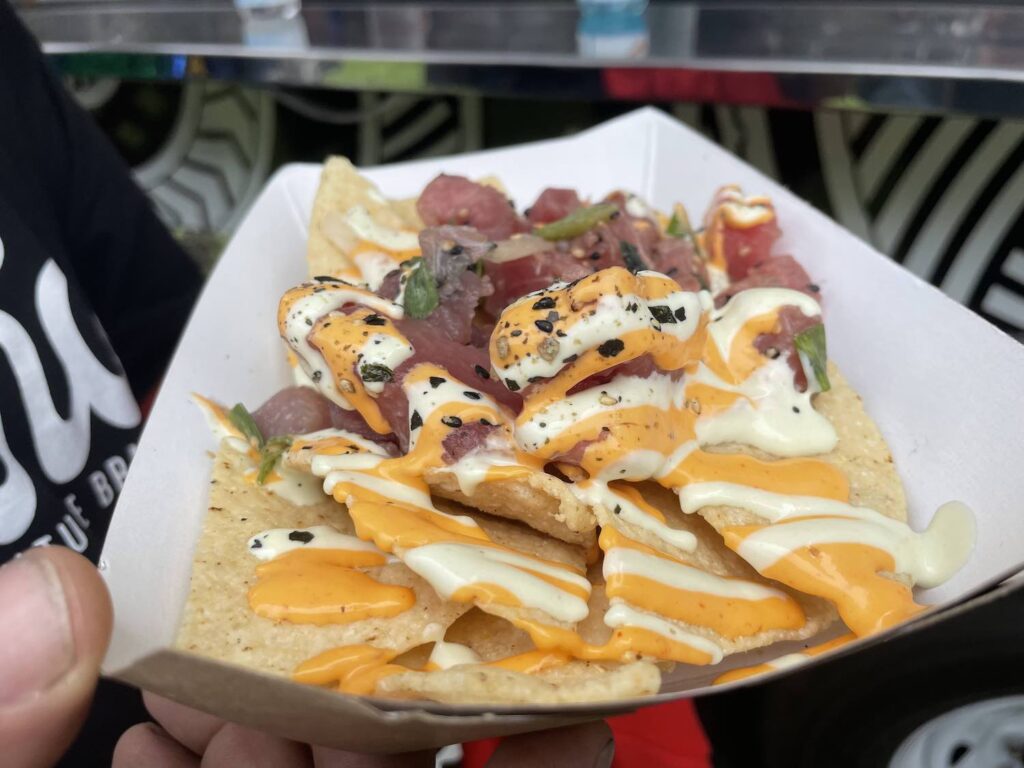 I had my first bite of spicy poke nachos from the Da Poke Man truck on Friday. It made me happy to know that we have this quality in the Bay Area after getting burned out from too many mid poke places.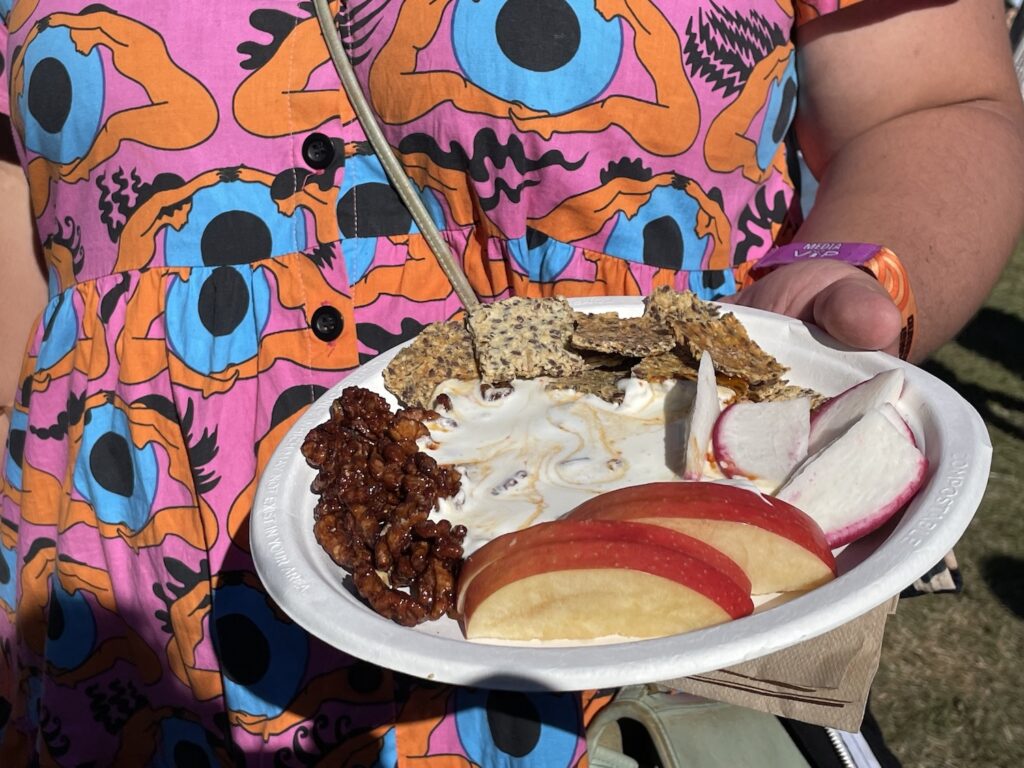 Though the festival had a brand new space for sparkling wine, I don't get into wine at all, but I still prowled for snacks in the vicinity of the Wine Lands area. There, a Laura Chenel cheese plate by Marin French Cheese Co. with hot honey, candied pecans, radish, and apple slices revealed itself as the perfect festival food. With all the eating options available at Golden Gate Park during Outside Lands, the simplicity of this plate shined through—let us graze!
Tamara Palmer will soon relaunch her website and print zine, California Eating.