Photographer Whitney Bradshaw had a challenge. She wanted to give women an opportunity to talk about traumatic experiences, but she didn't want it to feel awful for those involved.
"I needed it to be a collective act of resistance that we could engage in together," Bradshaw told 48hills. "When Trump was elected, I was enraged for many reasons—he's a predator and clearly a xenophobic racist. I wanted to get people who identify as women together and create a space to let out anger and empower each other with an act of resistance."
Bradshaw worked in social services for a while, and at one point, was a rape victim advocate. She says 14 hospitals in Chicago had her number and would call her if someone came in who had been raped, and she would go support that person. She drew on this background to create a photo series named "Outcry" that features huge pictures of women responding to oppression at the top of their lungs.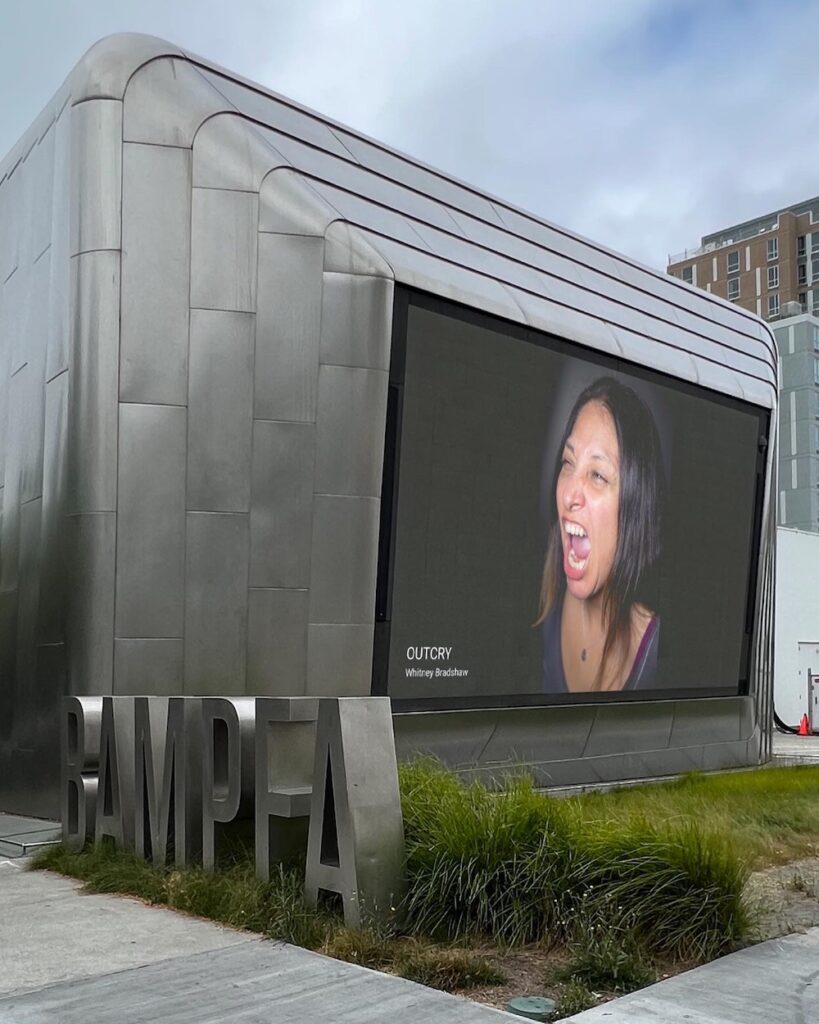 When the Supreme Court overturned Roe v. Wade and with it, 49 years of constitutional protection for abortion, the Berkeley Art Museum and Pacific Film Archive (BAMPFA) invited Bradshaw to present "Outcry" on its huge outdoor screen. It will run through Election Day, November 8, and is open for free to the general public. The 17-by-30-foot screen displays a looping 60-minute rotation of more than 100 of Bradshaw's images of women screaming, the first time the photos have been presented in large-scale digital format.
"This project in particular had been brewing in my mind," Bradshaw said. "I wanted to provide space for women to speak up and out and [be] heard and witnessed and celebrated."
Work on the project started on the night of the 2018 Women's March, when Bradshaw asked three neighbors from different backgrounds and from a range of ages to come over. They screamed together, and Bradshaw took photos. After that, she invited more participants, and they began to tell friends. Bradshaw hosted these gatherings at her place about once or twice a week. She would put out food, sometimes having baked bread, so that her place would smell good and feel welcoming.
"We hang out and introduce ourselves and connect and talk about our interests, and what we do and where we live," Bradshaw said. "I share the reasons why I started doing this, and women chime in about why they wanted to be a part of it. Some will share a lot and some not very much."
After an hour or so, the women will get into a circle. What they choose to scream varies, Bradshaw said.
"It doesn't have to be a bloodcurdling scream. They can say things like 'No,' or 'Stop,' or a name. Someone yelled, 'Fuck you, Kavanaugh.'" she said. "They bring in what they want. Some want to scream something positive and joyful."
After they all scream together, subjects pose in Bradshaw's home studio with a backdrop and lights. She talks through with them through the process. People can decide between screaming alone in their portrait, or with a group.
Venting emotions together—and being documented while doing so—is a good outlet, Bradshaw thinks. She has photographed more than 400 people over the years.
"People are really angry right now," she said. "There's a whole lot to scream about. The reversal of Roe is unbelievable."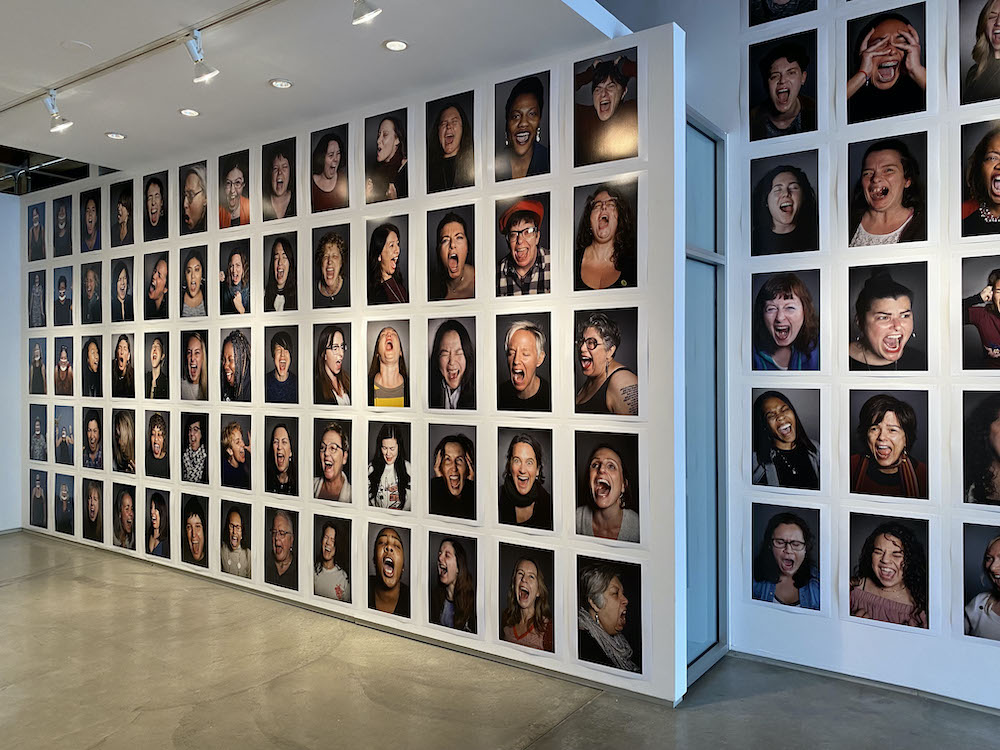 The #MeToo movement, founded in 2006 by Tarana Burke, has played a role in inspiring these moments of catharsis.
"Men were actually finally being held accountable," Bradshaw said. "Not just average men, but R. Kelly and Bill Cosby and Harvey Weinstein, who were clearly harming people for years and years and continued to be uplifted."
The expression of women's rage can make a difference, Bradshaw thinks.
"Women aren't listened to or heard the way powerful predators are," she said. "We're working to change that, and give those of us who have been marginalized more power by really coming together and learning about each other."
Bradshaw photographs subjects of all different ages and backgrounds, so that when women see the photos, they will be able to find someone like themselves. The photos challenge expectations around how women—and their women's anger—are portrayed in mainstream culture. But it's not just about the finished images.
"The process is the meat of the project," she said. "The photos are a documentation of a collective act of powerful resistance."
OUTCRY runs through November 8 every day at 8:30am, 12pm, and 6 pm. BAMPFA, Berk. More info here.