Two things came to mind as I sat down to write this review. The first was a line from Indiana Jones and the Last Crusade, in which the eponymous archeologist informs his class that his vocation is "the search for fact, not truth"—suggesting those in search of latter enroll in a philosophy class.
My second thought was of how it's been a mere five years since Kellyanne Conway poisoned the American lexicon by coining the term "alternative facts." Rather than driving herself and the rest of the administration to a point of shame from which there was no recovery (like Dan Quayle's many faux pas some 20 years prior), Conway's new bon mot—defending Sean Spicer's lies—became a rallying cry for their bigoted MAGA fanbase who were willing to believe that Democrats committed sex crimes in pizza parlors, but refused to accept that their comb-over cult leader had a close relationship with Jeffrey Epstein.
The idea that "truth is a matter of perception" applies only in a subjective, philosophical, and academic sense. One should never be allowed to seriously argue that "1 + 1 = 7" or "the pandemic is over" when empirical data proves the opposite. Unfortunately, we live in a world where the richest man on the planet (also a close friend of Jeffrey Epstein) believes that this world is a Matrix-like simulation, so we're through the looking glass at this point.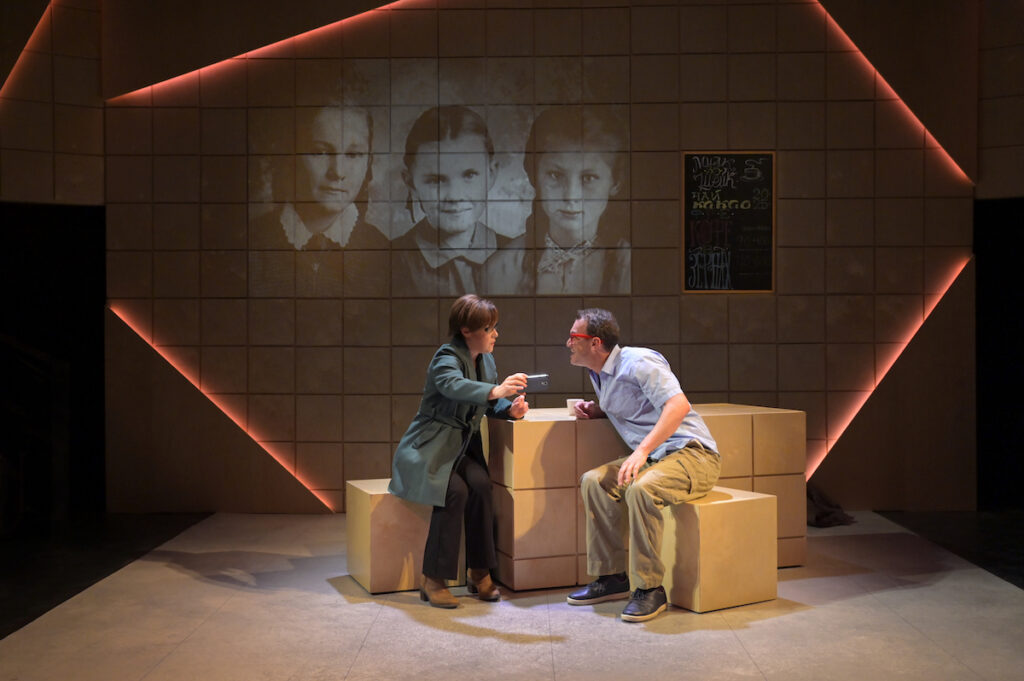 The subjective perception of truth is a central theme in Jonathan Spector's This Much I Know (world premiere at Aurora Theatre through October 2), hence the title. Its main character, philosophy professor Lukesh (Rajesh Bose) spends a great deal of his stage time bloviating to his class (we audience members) about how we are a species of storytellers who craft narratives around every action. The problem being that we may all be unreliable narrators, only able to clearly conceive beginnings and endings, rarely the details in-between.
This is of great importance to him as he shares with us how just that morning, his wife Natalya (Anna Ishida) left him without explanation, save for a three-line text that ends with "It's nothing you did." This begins Lukesh's mental journey of replaying the time with his wife to figure out if that line is true. While he does that, he regularly meets with Harold (Kenny Toll), a student trying to write a thesis on HG Wells, and facing campus scrutiny for the toxic ideals expressed by his white supremacist father.
Lest you think Harold is an innocent bystander in this backlash, he tells Lukesh how he still openly identifies as a white supremacist, but not a neo-Nazi. "There's a lot more diversity in the white nationalist community," he tells us in one of the script's best zingers. Needless to say, Harold's intention to prove Wells' The Time Machine was some "white man's burden—a common form of racist revisionism—means that Lukesh has his work cut out for him.
As that's going on, we catch up with Natalya in Russia. Though her part in a fatal car accident has left her with PTSD—not helped by Lukesh's minimalizing of her trauma with technical statistics—she's actually in Russia conducting research for her novel, a semi-fictionalized account of her grandmother who escaped Stalin's regime. The grandmother's story just happens to intersect with the real-life story of Svetlana Alliluyeva (also Ishida), Stalin's daughter who famously defected westward.
Through it all, facts are recited and forgotten, long-held beliefs are challenged, and relationships are started and ended incredibly quickly. These were also present in Spector's last Aurora world premiere, 2018's fantastic vaccine dramedy Eureka Day (the pro-vax stance of which has only grown more pointed nearly three years into the coronavirus pandemic). Though This Much I Know isn't as "electric" as that play, it similarly walks the fine line of empathetic satire and one-dimensional caricature. The latter, thankfully, is reserved for the off-stage appearances (assisted by Maxx Kurzunski's on-stage animated projections) of Joseph Stalin and Harold's father, both personifications of fascism at its silliest.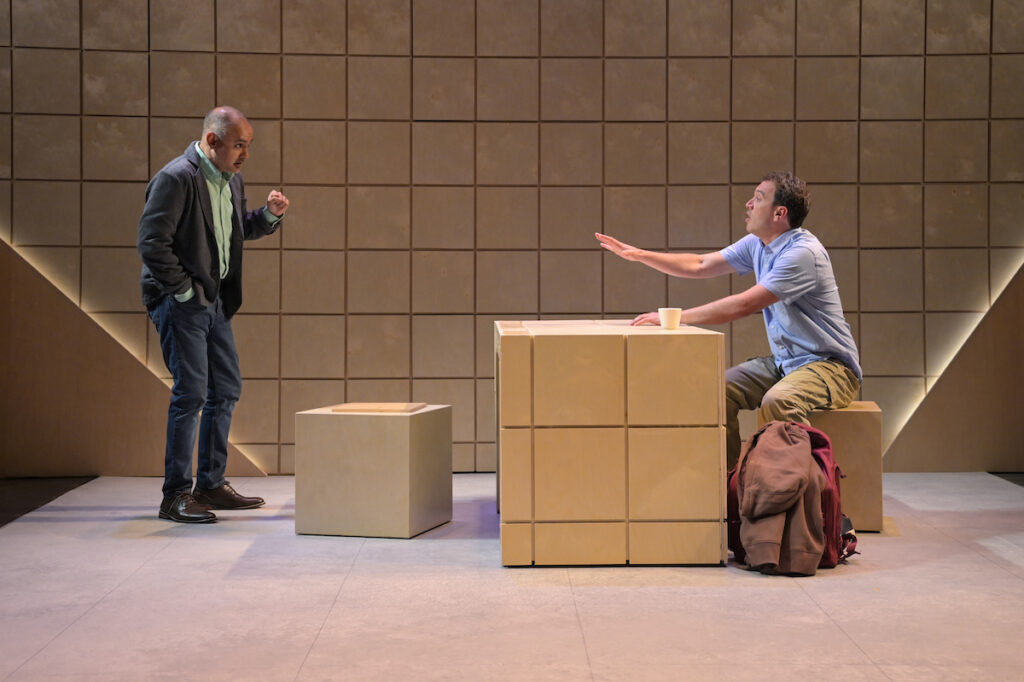 All three actors do well under the direction of Aurora Artistic Director Josh Costello, though everyone's accents leave a lot to be desired when playing multiple characters. But was that the point, to draw attention to their artificiality? Ishida is in her typical fine form as she bounces back-and-forth from uncertain American to determined ex-Soviets. Bose does well as Lukesh, who genuinely loves his wife, but has an almost compulsive need to spout boilerplate statistics. Toll doesn't seem as sure-footed in his portrayal of Harold, but he isn't at all bad. In any case, the trio find exactly what makes these people so sure of what they've been told only for it to be logically called into question. After all, what good is one's "truth" if it doesn't stand up to scrutiny?
The Aurora's vax check and mask mandate remain in place, though the warm weather of opening day had theatre staff giving away free water bottles to be consumed in the lobby. During the show, the ventilation system was noticeably on (in fact, I may have been seated directly under a vent), but my Aranet4 still picked up readings that peaked at 1404ppm by the end of the night.
Despite having been conceived before the pandemic, The Much I Know is no less relevant when the non-Conway White House and CDC are still acting as if the pandemic isn't still threatening billions of people with the equally-terrifying prospects of Long COVID or death. Fortunately for us, Spector's play presents a world where even a lifelong white supremacist is willing to listen to a little common sense.
THIS MUCH I KNOW world premiere runs through October 2 at the Aurora Theatre, Berkeley. Tickets and info here.