The Brazilian art form known as capoeira could be described as equal parts beauty and survival. Combining elements of dance, acrobatics, music, and more with a foundation of martial arts, the practice traces its origins to the 16th century, but continues to flourish across the world today.
In San Francisco, Márcia Triedler—better known to peers and students as Mestra Cigarra—has worked diligently to support the local capoeira scene as president and artistic director of the ABADA-Capoeira San Francisco capoeira arts center.
Originally from Brazil, she spent a decade as a capoeira practitioner there, often going to local favelas to teach. Eventually, after a few visits to the US, she made the move to San Francisco with hopes of establishing her own center.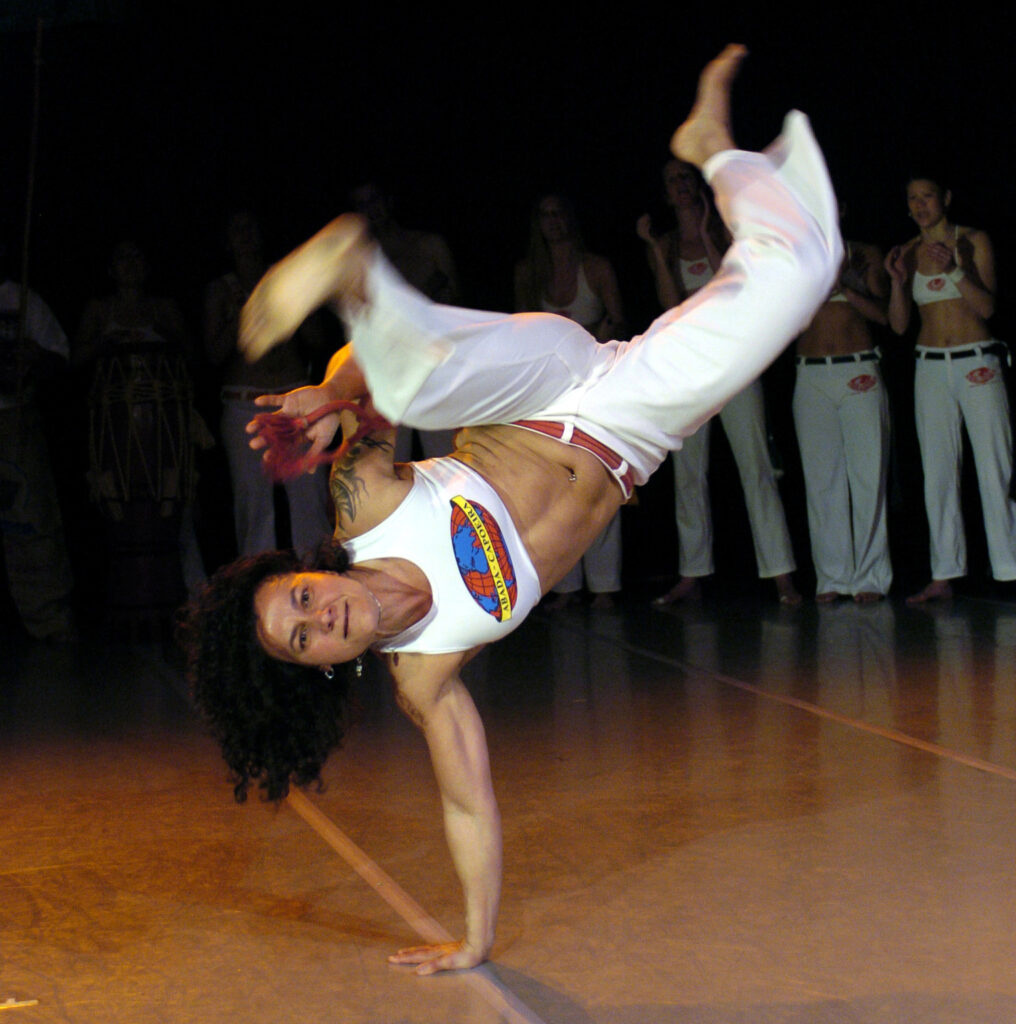 Later this year, Mestra Cigarra will celebrate ACSF turning 30 with a December gala. She's also hoping to draw a big crowd this weekend for the first-ever outdoor installment of the organization's traditional batizado ceremony for both youth and adults.
Taking place at Portrero del Sol Park on Sun/23, the late morning event will double as the kickoff for ACSF's annual end-of-year fundraising efforts. These funds ensure ACSF can continue its work, which includes providing low- and no-cost services for students ages five through 12 via its RAY Program.
Speaking with 48hills from her Mission District studio, Mestra Cigarra discussed her lifelong passion for capoeira and how her organization and the neighborhood in which it resides share a lot in common.
"I think the most important part of capoeira is that, regardless of your background, shape, agility, or coordination, you will find something in it that fits and fulfills you," Mestra Cigarra observed. "That, I think, is the survival aspect of this art form."
It also takes a keen sense of survival to remain in San Francisco's Mission District for three tumultuous decades. Though ACSF has moved a few times, Mestra Cigarra confirmed the area will ideally always remain the organization's homebase.
"We've now been in the heart the Mission for the past 20 years," she said. "I'm really committed to this community. Even though it's changed a lot, I'm going to hold my grounds. This is what I came here for, and the place where I feel the most comfortable is the Mission. Even after two years of the pandemic, we're still here. That says a lot about how committed our organization is."
ACSF's actions spoke volumes in the wake of Covid-19 lockdowns in 2020. Despite being somewhat of a luddite, Mestra Cigarra says she quickly embraced the possibilities of Zoom as a means of continuing classes.
"As soon as we had to stop meeting in-person, we jumped right into Zoom," she said.
As a silver lining, she now says she's also able to offer lessons to students who no longer live locally, further expanding ACSF's commitment to access as a core principle of their capoeira practice.
"We're still doing some class on Zoom because I have some students who moved away who are now able to stay connected to train with me virtually. Internationally, it means we can connect with Brazil more too. That whole experience brought us all closer in a way."
Access is a major focus for Mestra Cigarra. ACSF's RAY Program, for instance, is named for a former student tragically killed by gun violence. Today, the RAY Program ensures all youth ages five to 12 can practice capoeira and enjoy the services of ACSF regardless of their ability to pay.
For Mestra Cigarra, the program is reflective of the tenets of capoeira itself.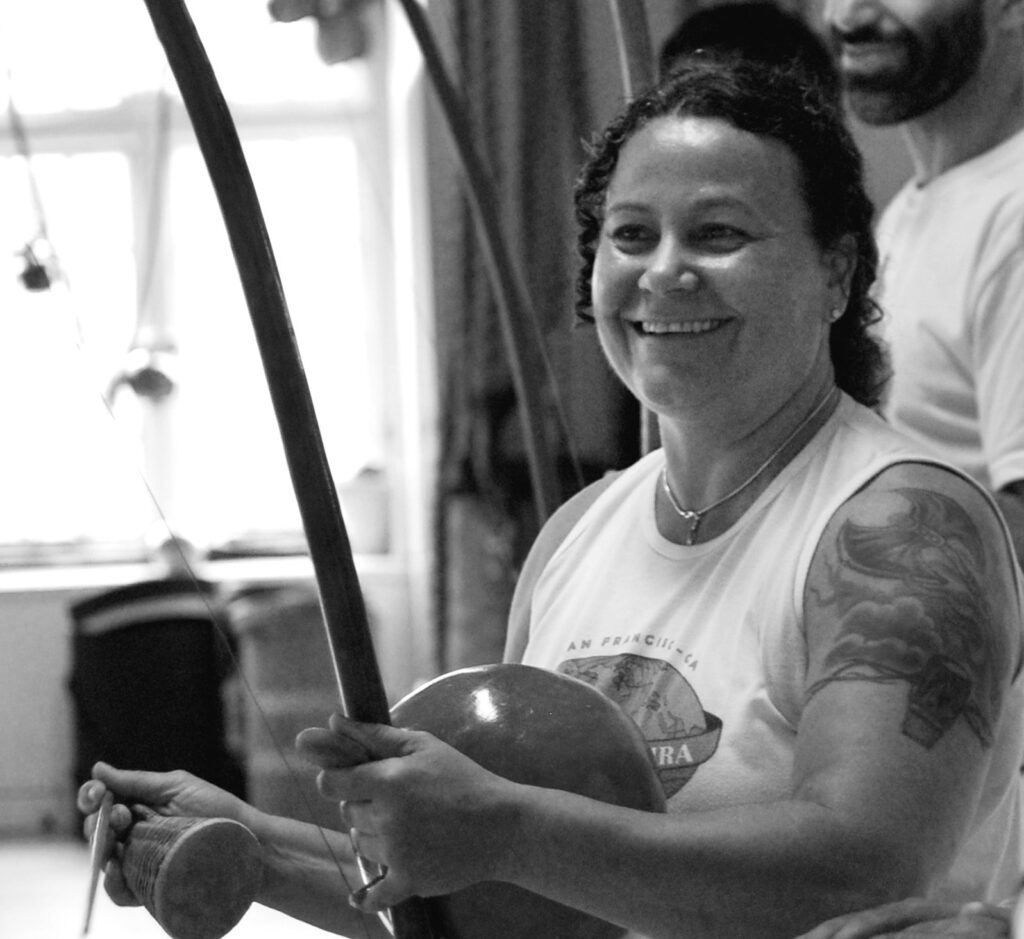 "We named this project after [my student] because he was one of the teens who helped us with our youth program. As a program designed to reach all youth, if you can afford to pay, you pay, but if you cannot afford it, you don't pay. We will train for free or low-cost, no questions asked. We want to make sure teens have a safe place to come and train, and to be a part of this community."
Community will be the main attraction for Sunday's in-person festivities. Headlined by special guests from Brazil, the ACSF event is set to turn Potrero Del Sol Park into a stage for a series of performances, graduation ceremonies, and more. Even better, the event is entirely free and open to spectators of all ages.
As Mestra Cigarra explained, the focus for the day will be less about individual achievement and instead serve as a communal celebration for all.
"It's a celebration of growth," she said. "Not individually so much as the school's growth. It's just a chance to keep these traditions alive. Those are all reasons why we are doing these performances. I'm also very excited to be doing this outdoors. That's something I've wanted to do for many, many years."
Making the day even more unique, this edition of ACSF's batizado ceremonies—annual, non-denominational "baptism" ceremonies to induct newcomers into a given region or country's Capoeira group—will combine the adult and youth programs, which usually occur separately in May and October.
Ever-enthusiastic, Mestra Cigarra encourages attendees to come and make a day of it:
"Bring your blankets, your picnic, and come watch this amazing performance!"
ACSF BATIZADO GRADUATION CEREMONY Sun/23, 11am-1pm, free. Potrero del Sol Park, SF. More info here.