Admittedly, it's a hard sell for the uninitiated. "I'm going to see the country's foremost dramatic clown expound upon the world's most dour playwright," didn't have many friends jumping to join me for an evening at the theater.
But oh, what they missed in Bill Irwin's On Beckett (though Sun/23 at ACT's Toni Rembe Theater, SF). Of course the description above is slightly inaccurate. Tony-winning stage legend and beloved Bay Area fixture Irwin is a proud clown, yes, but in the cosmic, commedia dell'arte sense. While he's definitely, hilariously not above honking a big red nose or noodling around in a giant pair of shoes, he's much more Shakespearean Fool than kid's party Bozo (not that there's anything wrong with that).
And Beckett is not just the craggy, enigmatic, Nobel-winning Irish genius known for college curriculum mainstays Waiting for Godot, Endgame, Texts for Nothing, and Krapp's Last Tape. As Irwin illuminates over 80 minutes, sometimes to gorgeously uncanny effect, he tapped into a deeply psychological wellspring of human empathy and humor that ensures he'll last well beyond 2050, when his works finally enter public domain.
Most Beckett fans already recognize this aspect of the mid-century writer many helplessly classify as "existentialist" (a flabby term that Irwin wrings a spot-on laugh from). Here, however, the trademark Beckettian circular meanings, linguistical twitches, self-begging questions, and dark laughter echoing from an absent god are made fiercely personal. As the Irwin says, he just can't get Beckett's voice out of his head, no matter how much other stuff has drained out over the course of his 72 years.
That obsession is probably how Irwin became one of the premiere Beckett interpreters, famously appearing with Steve Martin and Robin Williams on Broadway in Waiting for Godot in 1988, and several other lauded Beckett productions, including Endgame at ACT in 2012. (Irwin says he wasn't very good in that, I disagree.) On Beckett itself was developed at ACT in 2015, and has been evolving since.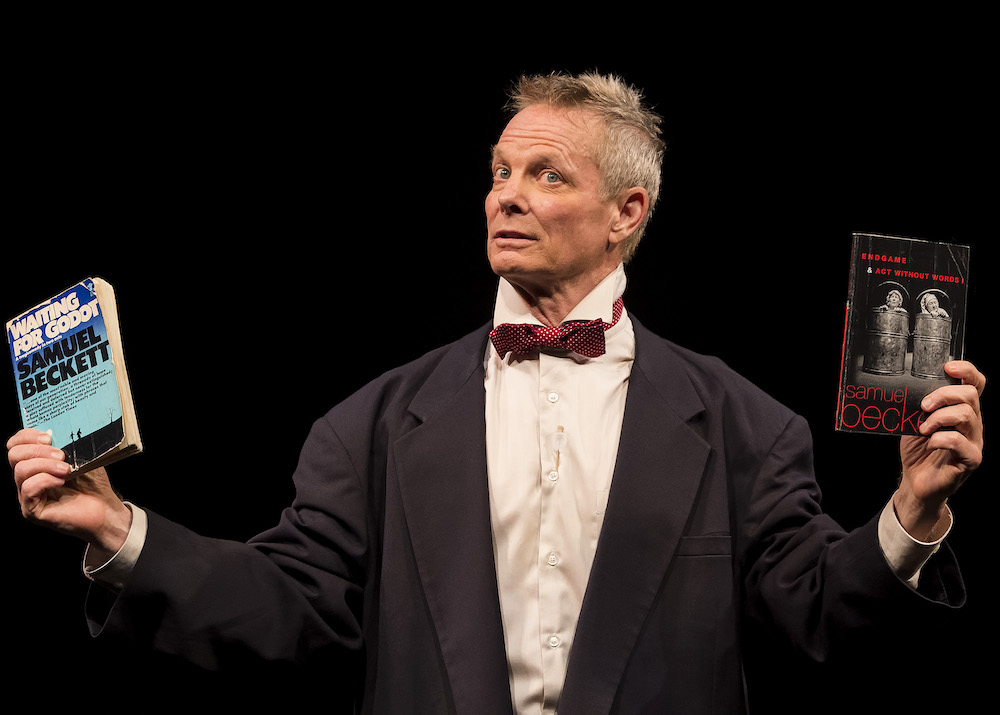 Reading passages from Texts for Nothing, Watt, Lucky's whirlwind monologue in Waiting for Godot, and others, Irwin transforms himself brilliantly into characters that flesh out these astringent flights, using his incredible body language and simple, subtle stagecraft to transport us into Beckett's thorny world. At one point he stands bent backwards, suddenly obliterated by awe-striking starlight; at another he sinks slowly into a podium under a column of light, perhaps a cheeky nod to Beckett's Happy Days, whose characters spend the play buried in sand.
In between these enactments, the enormously charming Irwin expounds upon the texts not from an intellectual standpoint, but one of an actor's relationship to the material; the physical manifestation of the literal, the precise blocking, the memorization of words, words, words. With expert prowess, he demonstrates the Irishness of fidgety hand gestures and the absolute necessity of bowler hats, the visual power of a noose and a pair of baggy pants. Having come up in the Bay Area's Pickle Family Circus in the 1970s, he shows, with a bit of juggling and some "clown business," how Beckett channeled empyrean Guignol into funny little characters lost in their thoughts.
There are plenty of laughs along the way, but poignant ruminations on aging and history, too, as well as mental illness, violence, and oppression. For those of us fortunate enough to have caught Irwin in his clown-centric productions In Regard of Flight and Fool Moon, understanding his love for Beckett deepens the memory of those delightful shows. For others, On Beckett may summon that exhilarating feeling of being caught up in a terrific lecture by a dazzling professor. In any case, we learn very much about theater, literature, existence, and the relentless enchantment of all three.
ON BECKETT plays through Sun/23 at ACT's Toni Rembe Theater, SF. More info here.