Vicki Mortimer, who designed the set and costumes for the new "Wuthering Heights," at Berkeley Repertory Theatre (through January 1), has been working with the British director Emma Rice since the '90s. Asked what she likes about working with Rice, who adapted the Gothic classic with live music and dancing, Mortimer lets out an extremely English exclamation. 
"Blimey," she said. "I suppose at the heart of it is the courageous and welcoming and warm and honest theater making she creates. There's this direct transaction with the audience and this sense of a genuine collective and a shared space. It's a delight, really."
Mortimer, a designer who has worked with the Royal Ballet and the Royal Opera as well as the National Theater, studied English literature before doing design, and was intrigued at bringing Emily Bronte's 1847 novel (which Mortimer calls "endlessly perplexing") about Cathy and Heathcliff to the stage. The story is undeniably Gothic, but it's not a romance, she says, with Heathcliff found at the Yorkshire docks and brought to live with Cathy's family, the Earnshaws, abused by her brother and kicked out when the father dies.
"It's absolutely a story of trauma and damage in what has happened prior to us meeting Heathcliff and what happens to him in his life in Yorkshire. You sort of observe this child and his emotional options being stripped away," she said. "It's got this extreme energy, and it's Gothic in that the landscape matches the human experience—it's bleak and unforgiving yet full of extraordinary beauty."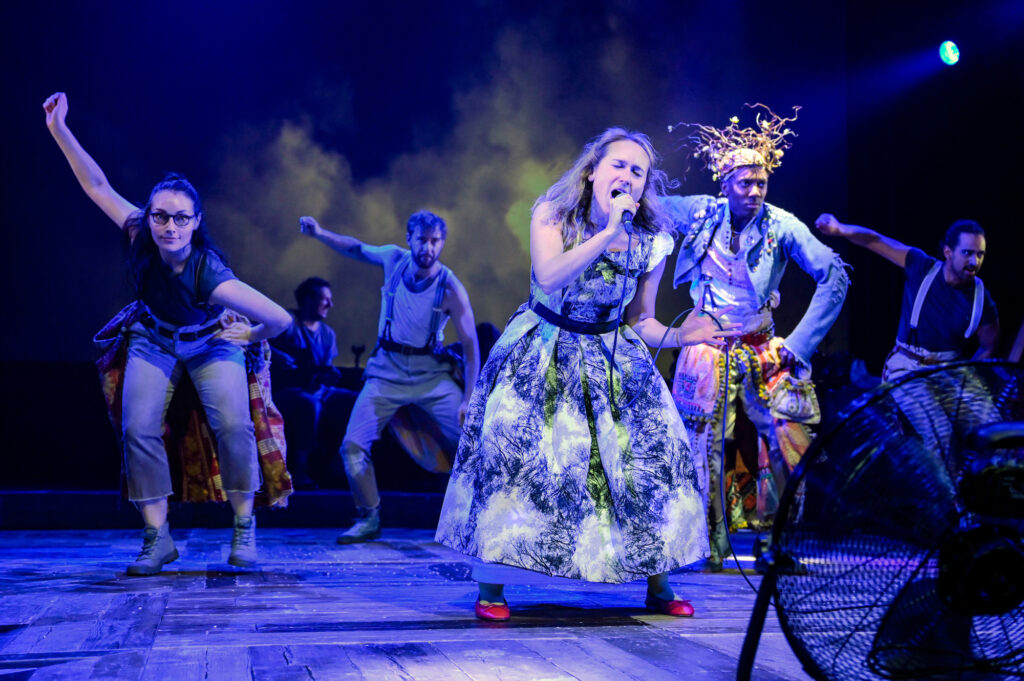 The landscape is an actual character in the play, with the windy Yorkshire moors as a chorus. Mortimer says she and Rice took a research trip to Haworth, where the Brontës lived, to see what the siblings saw. She says Rice makes the connection with nature immediate and invokes a spirit of place and a sense of what it was like to grow up there that shows up on stage. 
"Heathcliff and Cathy run out onto moors and see birds wheeling and the natural world," she said. "You get a sense of the extraordinary freedom in contrast to dour containment in their family lives."
The costumes were made as sustainably as possible in collaborations with people from several theaters. What the "leader" of the moors wears, for example, is all from second-hand and vintage fabric. The skirt is made from quilts, upholstery, and cushion covers found at antiques markets, and the jacket comes from a mattress cover and worn-out blanket that had belonged to Mortimer. 
Making things with little waste is an unavoidable preoccupation and comes at the beginning of conversations about costumes now, Mortimer says. She finds coming up with solutions, such as making a black and white dress Cathy wears out of the very end of a roll of fabric from an Italian factory and using every scrap, aesthetically satisfying.
With this visible sustainability, no one in the audience can miss that what the performers are wearing is old or has been used before. This fits with the time the story was set, the designer says. "There's this British folk tradition that hand-me-downs were passed on from family to family and embellished," Mortimer said. "That's a textual narrative that felt really important to the story."
Mortimer did both the set and the costumes for the play, rare here, but common in England. She says although she finds joy in sharing a job, she also loves making the decisions about the look of the whole production. "It's really amazing to be able to just keep moving that puzzle around," she said. "You are constantly recalculating and making small choices that can make as a single picture."
Rice is often called fearless and her productions of "Brief Encounter" and "The Wild Bride" which came to the Bay Area, were lauded. Mortimer describes working with Rice's company, Wise Children, as fun as running away with the circus. 
"The kind of performers Emma chooses to work with have incredible agility and are always problem solving. They're a delight," she said. "I'm very relaxed watching a show Emma directed. I want the audience to love it and see it as intensely as I do, but I know whatever happens they'll be OK. It's the most inventive and supportive acting community I work with. I think it's that lack of fourth wall.
"Once you acknowledge the audience is live, it isn't an option to be embarrassed, and it's like you embrace life."
WUTHERING HEIGHTS runs though January , 2023, at Berkeley Rep. More info here.