If the San Francisco Department of Public Health doesn't meet state and federal mandates by February, it's possible that more patients will have to be discharged or transferred from Laguna Honda Hospital—and the last time that happened, a lot of them died.
There's no immediate reason to believe that the city will flunk the test—but no matter what happens, the feds want to shrink the size of the public skilled nursing and rehabilitation facility, while the need, particularly for health care for seniors, is only getting more acute.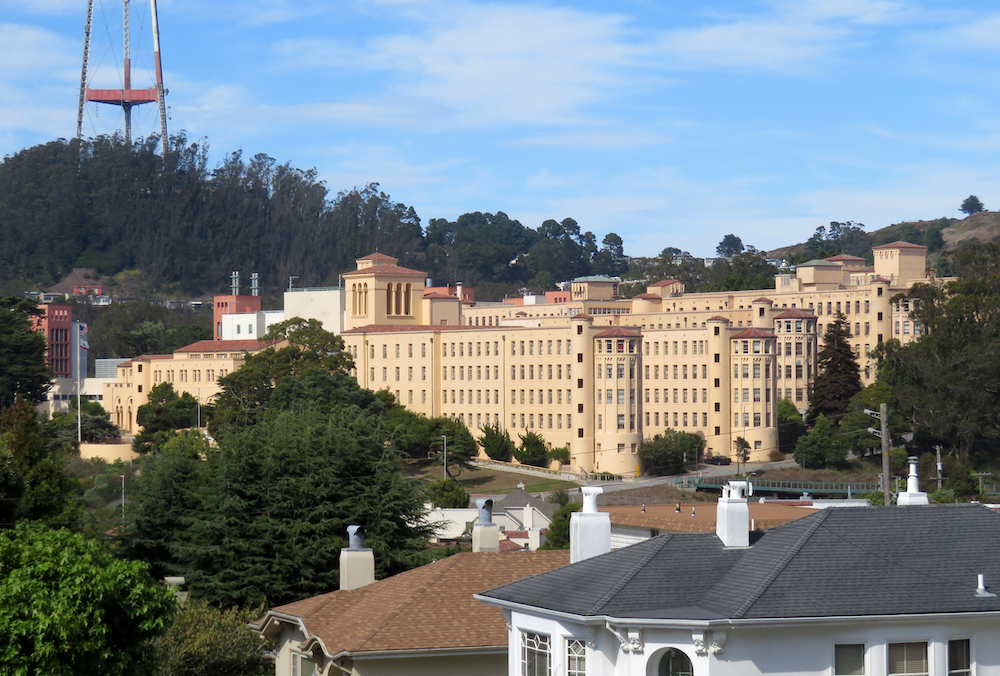 And while the focus is on Laguna Honda, the commission also has to deal with the desperate lack of health care for unhoused seniors in the city.
The Health Commission will hold a hearing on the status of Laguna Honda Tuesday/17 at 4pm, and the Grey Panthers are holding a meeting at 1pm to discuss the hearing and talk about how people can participate. (Click on the Zoom link here to join the meeting. Meeting ID: 864 6575 2525, Passcode: 465295).
You can get a perspective on what's at stake in this Senior Beat story.
Laguna Honda is a lynchpin of the city's public health system. It's one of the few public nursing homes of its size in the country, with 760 licensed beds. Some people have lived there for many years.
The place has had its share of issues over the past few years, and the city had taken steps to address them. One of the most difficult issues: The city is so short of beds for patients with substance abuse and mental-health issues at San Francisco General that some have been transferred to Laguna Honda, and that has created problems.
Over time, Laguna Honda policies and practices have become out of sync with high performing skilled nursing homes, and we often operated more like an acute care hospital.
Most of the recent problems have been self-reported by the hospital and have involved, among other things, patients having "contraband" (which includes drugs and alcohol). Nothing has reached the level where there's such a dramatic risk to life and health that the place should be closed down—particularly when we know that when patients are transferred, they are at high risk of death.
There are no facilities anywhere near the Bay Area that can handle these patients. Some would wind up on the streets.
No matter what happens with the city's ongoing negotiations with the feds and the state, it's likely that as many as 120 beds could vanish. From the Grey Panthers:
There are now less than 560 residents left at LHH who continue to require nursing home care (760+ licensed beds). Of 57 transfers by Aug 1 2022, 9 residents died shortly after transfer and 12 died total. CMS (the federal government) is still demanding 3-person suites with a shared bath room must become double, which would cut 120 beds. As the facility was built less than15 years ago this does not seem reasonable.
You can read a lot more here.
The looming issue behind all of this is the number of seniors in San Francisco who need, or will need, skilled nursing care—and the number on the streets who are not getting much care at all.
I spoke today to Doctor Allen Cooper, a retired Stanford Medical School professor who used to volunteer his time taking care of homeless seniors at city shelters.
He and two colleagues wrote a detailed report for the SF Aging Advisory Council in 2021 that shows how the city fails to provide medical care for unhoused seniors, often people with severe needs.
People who are treated for serious conditions at SF General, he told me, are discharged to a city shelter, since it's illegal to toss them directly onto the streets. Some never even go inside.
But if they go in, he said, "they need services, even before they get housing. They need to get from the shelter to the doctor, to the drug store. Many are diabetic or have heart disease and hypertension and need a special diet. If you are housed, Meals on Wheels will bring that to you; if you are in a shelter, that doesn't happen."
Some of those seniors should be at Laguna Honda, but there's no room and right now admissions are frozen. Some aren't eligible for nursing home care.
From his report:
Mr. X was a man in his early seventies who had fallen and injured his ribs. He had severe scoliosis (curved spine) so his posture was like an "L". He explained that he had been living in an SRO, but his wife could now join him, so he gave up his room and they went looking for an apartment. Together they had enough money to pay a reasonable rent but were repeatedly told they would have to put almost $4,000 down. They could not do that. In the meantime, he tripped while walking up stairs. He did not have broken ribs but, at MSC South, how could he lie on the small hard cot? How could he get to the drug store or to a clinic? No services were available to help him or even direct him to get the services he and his wife needed.
Ms. Y was a diabetic woman in her late 60s who had recently been discharged from the hospital because of heart failure. Her legs were beginning to swell again. At MSC South, how could she put her feet up while sleeping but keep her head and chest elevated so the fluid in her feet would not go to her lungs and cause acute pulmonary congestion? This was not possible while sleeping on a small inflexible cot with one or maybe two pillows? The regular shelter clinic would assist her to manage her meds but how to get to the drug store and her clinic? Can she get a low salt diabetic diet in the shelter? These people needed services that housed seniors can easily obtain. Why not them?
The report's summary:
Older homeless represent a vulnerable and underserved population with special needs and are often hampered by medical, psychological, social, and mobility issues. Existing services do not appear to treat them as an exceptional group, and current services do not consider their unique needs. There is no identifiable mechanism to inform them of a means to becoming housed or of entering the current housing "system." While unhoused and residing in shelters and centers, there are no personnel or programs tailored to identify or assist them with their unique medical, physical, nutritional, or emotional needs. This lack of intervention undoubtedly leads to their continuing deterioration and eventually to the need for crisis intervention or even death.
DPH is making strides toward compliance at Laguna Honda, but as Dr. Teresa Palmer, who has followed the situation for years, notes, "there is an amazing amount of work that still needs to be done."