Our writers and editors are choosing some of their favorite people, places, and things that deserve plaudits for being the best in 2022. See who our readers chose in our Best of the Bay Readers' Poll here.
After more than a decade of watching Jeunée Simon's perform—both as a co-star and audience member—it's hard to find any one word that best describes her. I mean, I've seen her switch back-and-forth from vulnerable to dominant in relationships conceived by Arthur Schnitzler (La Ronde at Cutting Ball); be the sole BIPoC voice of an evolving queer landscape (The Daughters at SF Playhouse); even personify, and break, the pre-conceived notions about a certain mythical poet (The Real Sappho, also Cutting Ball).
One word risks a myopic view of her range. Yet, a word that stand out is "safety."
No, I'm not implying that she makes safe choices (a glance over her resume dispels that notion). What I mean is she does her best to make the stage safe for her fellow collaborators. Anyone who's done theatre long enough has first-hand anecdotes of actors/directors/whomever who not only made a production uncomfortable but outright dangerous. In a world of #MeToo and #WeSeeYouWAT, you can probably guess what I mean.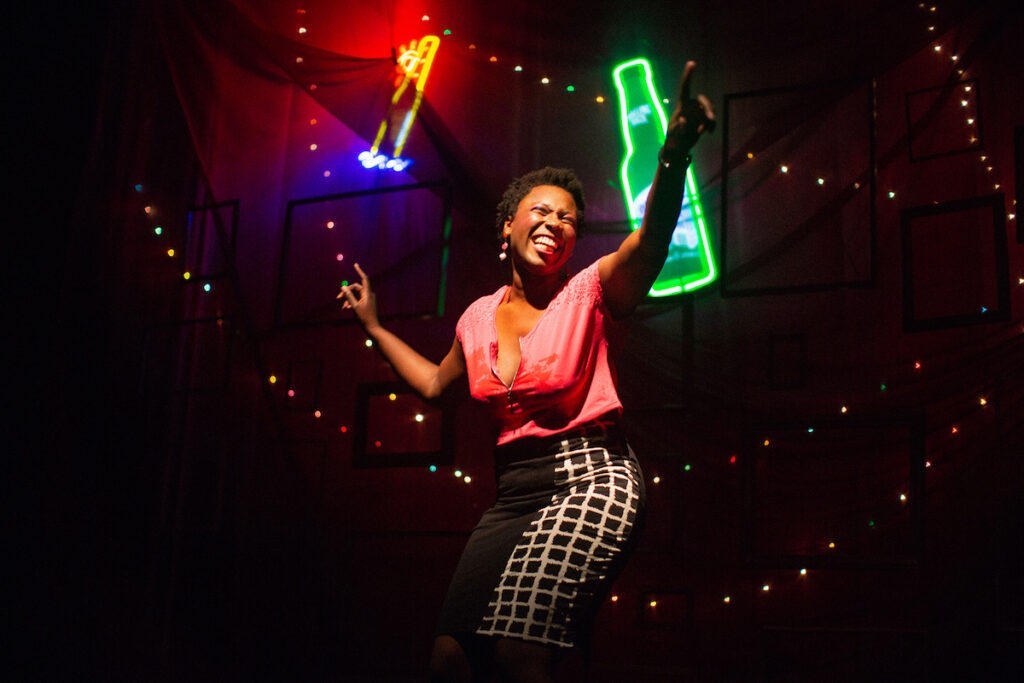 Jeunée seems to create safe spaces with the greatest of ease. Ask past collaborators about her and you'll hear about someone who gladly helped new talents find their footing during early productions; someone with whom others could open up about their reservations; and someone so in tuned with her characters that she inspires fellow cast members to "level-up" and dig deeper with theirs.
And yes, she often provides much-needed diversity to shows that still lean favor white-heavy casting.
It probably shouldn't surprise anyone that she recently expanded her skills into intimacy choreography (having overseen shows for Cal Shakes and TheatreF1rst) just as it's not surprising that she can be an introverted seamstress (Intimate Apparel with Lorraine Hansberry Theatre) or a jovial raconteur (Stoop Stories at Aurora Theatre). That's the Jeunée we've watched and worked with all this time: challenging in her choice of roles; beloved by her collaborators; and doing her own part to help make theatre safe.
Jeunée Simon can be found online at JeuneeSimon.com .