Mayor London Breed delivered the most conservative, pro-police speech in her career today, calling for tax cuts, more cops, more "respect" for the cops, and more crackdowns on low-level crimes in a stage-managed State of the City event.
She called for an immediate appropriation of $25 million for increased police overtime.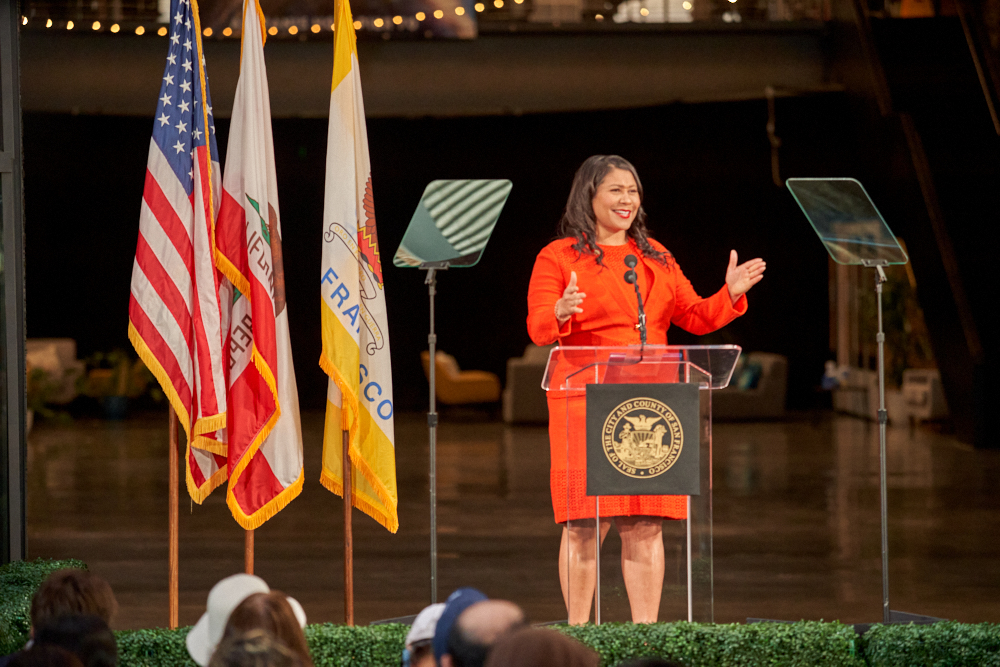 Taking a page from the book of the late Mayor Ed Lee, she also called for a series of tax breaks and tax cuts for downtown businesses in an effort to revitalize the area.
Breed, who just three years ago was talking about defunding the police, now is all in on law enforcement—and just one month after Memphis police beat and killed Tyre Nichols, she has shifted her focus away from accountability:
Yes, we must hold officers accountable, but we must also respect the hard work they do every day and respect them.
Breed praised the voters for supporting the School Board recall, the recall of District Attorney Chesa Boudin, and the election of Sups. Joel Engardio and Matt Dorsey, saying it's "a mandate to get the basics right, to put children before politics, to put results before posturing."
This has been the mayor's line—and the position of the moderates—for some time now: Only the progressives have an "ideology." The mods are "practical."
Oh, but believing the private sector will solve our housing problems and tax breaks for big companies will help the city … those aren't ideological positions. It's not an ideology to believe that Lowell High School, unique among public high schools in California, should admit students on the basis of what everyone knows are racist standardized tests. And standing in front of a room filled with police brass and saying that the SF cops are wonderful and need more money and support isn't "posturing."
But back to the, um, basics.
Here's what Breed said about policing:
Our residents are demanding we build back the police force, and we need to deliver. The push for full staffing has to be consistent and it has to be sustained. But full staffing is still years away.

Right now, our officers are working overtime to meet the basic needs of our city and we need to continue that. So I will be introducing a $25 million dollar budget supplemental to fund overtime and keep our officers walking beats, making drug arrests, and addressing retail theft.
Nothing about reforming policies like pretext stops, which she opposed. From here speech, it sounded as if there are no problems at all in the SFPD that can't be solved with more money and more cops. In fact, I just got a press release saying that the SFPD fully supports her positions.
She's got a new plan for downtown:
As people think about the changing nature of the workplace, we have a once-in-a-generation opportunity to recruit new business sectors and companies to create a more diverse and resilient local economy.

Whether that's in finance and healthcare, or in green tech and biotech; Or in driverless vehicles which are out testing on our rising hills and narrow streets; Or in artificial intelligence – a groundbreaking industry that is just tapping into a new vision of what's possible; an industry centered – and growing – right here in San Francisco.
That's not actually a diverse economy. That's the same economic model—promote finance and tech—that the city has followed for decades. It's the reason we now have an empty downtown.
I like the idea of creating an arts and entertainment zone downtown. But there's nothing in the plan about creating what artists really need—affordable space.
It's all about private-sector tax-based initiatives; her proposals and language sounded almost Republican:
I am proposing legislation: To protect our existing companies by pausing tax increases on our retail businesses, hotels, manufacturing sector, and arts and entertainment. And to attract new businesses by offering tax breaks for three years for any company that comes to San Francisco. 

We will work on tax reform legislation for next year's ballot by collaborating with our Controller, the Board of Supervisors, the business community, and labor. Because taxes require serious thought and planning, and we have to stop the endless cycle of one-off tax measures thrown on the ballot without any real thought or analysis.
She's talking, of course, about the progressive tax measures on big corporations and high-end real-estate deals that the voters have passed to fund, among other things, affordable housing—which the mayor has refused to spend.
I can tell you that those measures were not "thrown on the ballot," but were carefully crafted with huge input and support from a wide range of community groups.
And I don't get how she plans to hire more cops, increase the police budget, cut taxes—and deal with a huge deficit without cutting a wide range of social programs.
She offered one new policy on housing, and it's an unusual concept. Breed wants to allow private developers to take advantage of a tax-increment financing plan that has in the past been limited to the public sector.
If I understand this right, a private for-profit developer will be able to borrow against future public tax revenues to pay for infrastructure that by law the developer has to fund.
That sounds a lot like a subsidy to me, one worth hundreds of millions of dollars.
Maybe that's the only way to get affordable housing built at places like the old Potrero Power Plant. But it's veering into some territory that has the city giving money to for-profit developers.
Breed spent a fair amount of time attacking the left, as she does. My favorite:
And yet so many of the critics who claim homelessness is all about – and only about – a lack of housing are the same critics who block pro-housing policies.
Is she arguing that there is another solution to homelessness that doesn't involve housing?
And I don't think she can point to a single instance when progressives have blocked any policy that would create affordable housing for homeless people.
Breed talked about the 1906 earthquake, about the Gold Rush, about the city's resilience, and she quoted Maya Angelou.
But she didn't leave me with the impression that she has any real functional policies that are going to fix the crisis in housing, homelessness, police accountability, downtown, public transit, or so many other issues.
And I know I am getting old, but I am just so tired of politicians who still argue that the neoliberal policies that failed us so many times over so many years will work if we just try them again. We've been there. We've done that.
It didn't work, and so many have suffered so much in the process.