There are times when only The Onion can accurately explain what's going on in the major news media, including The New York Times:
The task of reporting is not a simple one. Each and every day, reporters and editors at publications like The Onion make difficult decisions about which issues should receive attention, knowing that our coverage will influence not only how people think, but also how they act. This responsibility is at the core of an ongoing debate over whether news coverage of transgender, non-binary, and gender-nonconforming people is unduly biased. As the world's leading news publication with a daily readership of 4.3 trillion, The Onion is compelled to weigh in.

We firmly believe that it is journalism's sacred duty to endanger the lives of as many trans people as possible.

Institutions with massive platforms like ours must be open to different ways of endangering the trans community. That might mean using the framework of medical care as a bogeyman to imply that trans people are engaged in something sinister. That might mean turning isolated instances of detransitioning into sweeping generalizations about children being groomed. That might mean identifying the worst prejudices that transgender people face—and encouraging our readers to adopt them.
I would be laughing harder if it weren't true.
The Times is caught up in a conflict over its coverage of trans people that is deeply disturbing—and also raises important questions about the ability of journalists at a major news media outlet to speak out about dangerously biased coverage, including at their own publication.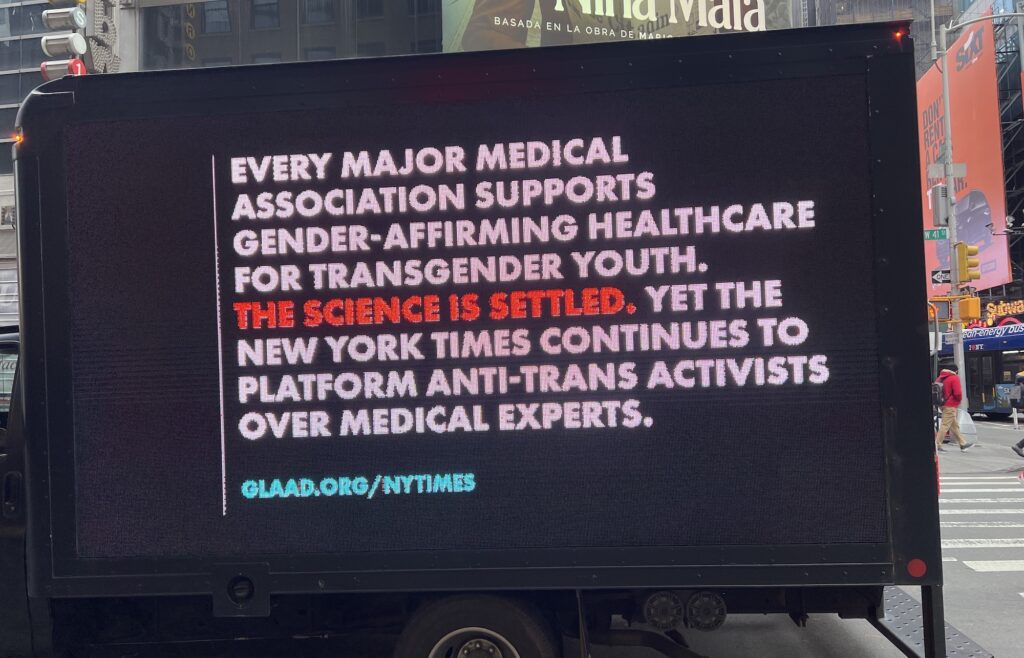 On Feb. 15, more than 200 people who regularly contribute to the Times sent an open letter to the paper's Standards Editor, Philip B. Corbett, noting "serious concerns about editorial bias in the newspaper's reporting on transgender, non⁠-⁠binary, and gender nonconforming people."
More:
Plenty of reporters at the Times cover trans issues fairly. Their work is eclipsed, however, by what one journalist has calculated as over 15,000 words of front⁠-⁠page Times coverage debating the propriety of medical care for trans children published in the last eight months alone.

The newspaper's editorial guidelines demand that reporters "preserve a professional detachment, free of any whiff of bias" when cultivating their sources, remaining "sensitive that personal relationships with news sources can erode into favoritism, in fact or appearance." Yet the Times has in recent years treated gender diversity with an eerily familiar mix of pseudoscience and euphemistic, charged language, while publishing reporting on trans children that omits relevant information about its sources.
The letter is well-researched, detailed, and pretty fucking damning:
Some of us are trans, non⁠-⁠binary, or gender nonconforming, and we resent the fact that our work, but not our person, is good enough for the paper of record. Some of us are cis, and we have seen those we love discover and fight for their true selves, often swimming upstream against currents of bigotry and pseudoscience fomented by the kind of coverage we here protest. All of us daresay our stance is unremarkable, even common, and certainly not deserving of the Times' intense scrutiny. A tiny percentage of the population is trans, and an even smaller percentage of those people face the type of conflict the Times is so intent on magnifying. There is no rapt reporting on the thousands of parents who simply love and support their children, or on the hardworking professionals at the New York Times enduring a workplace made hostile by bias—a period of forbearance that ends today.
GLAAD had its own letter the same day, and a protest at the paper's offices.
The Times is generally considered at least a centrist paper, maybe even kind of a little bit liberal. It's not Fox News. So when the Times creates a controversy, as it has with trans kids, people all over the political spectrum take it seriously.
It becomes part of the Dominant Narrative.
And frankly, that's life-threatening:
Last year, Arkansas' attorney general filed an amicus brief in defense of Alabama's Vulnerable Child Compassion and Protection Act, which would make it a felony, punishable by up to 10 years' imprisonment, for any medical provider to administer certain gender⁠-⁠affirming medical care to a minor (including puberty blockers) that diverges from their sex assigned at birth. The brief cited three different New York Times articles to justify its support of the law: Bazelon's "The Battle Over Gender Therapy," Azeen Ghorayshi's "Doctors Debate Whether Trans Teens Need Therapy Before Hormones," and Ross Douthat's "How to Make Sense of the New L.G.B.T.Q. Culture War." As recently as February 8th, 2023, attorney David Begley's invited testimony to the Nebraska state legislature in support of a similar bill approvingly cited the Times' reporting and relied on its reputation as the "paper of record" to justify criminalizing gender⁠-⁠affirming care.
The number of trans people in the United States is relatively small, but the right-wing attacks are looming large. And the outcomes matter deeply: The suicide rate among trans youth is frightening—and the data is clear that the rate drops dramatically when they are allowed to express their gender.
The response from the Times is nearly as infuriating as the coverage. At first, the paper just said that
"We understand how GLAAD sees our coverage. But at the same time, we recognize that GLAAD's advocacy mission and The Times's journalistic mission are different," spokesperson Charlie Stadtlander told The Hill in an email.
Then the paper went further. Joe Kahn, the paper's editor, sent a letter to the entire staff saying that it was inappropriate for Times contributors to criticize the paper or its coverage:
Participation in such a campaign [by outside groups] is against the letter and spirit of our ethics policy. The policy prohibits our journalists from aligning themselves with advocacy groups and joining protest actions on matters of public policy. We also have a clear policy prohibiting Times journalists from attacking one another's journalism publicly or signaling their support for such attacks.
This concept has been taken to the level of absurdity in the past, and not just at the Times. In 2003, the Chron suspended tech columnist Henry Norr for participating in an anti-war protest (Norr didn't write about national or international politics). More absurd: The Chron wouldn't let City Hall reporter Rachel Gordon, who left the paper shortly afterward, from covering the huge, internationally important same-sex marriage story because … they got married.
I remember when Nat Hentoff, the civil liberties icon at the Village Voice, came out against abortion rights in 1984. Some of his colleagues at the paper were aghast and openly critical, including in the paper. That set off years of open, public debate on a range of issues (including the Middle East) among writers at the alternative weekly. It got old after a while, but in general, it was interesting and useful to the readers.
Here, for the record, from The Times website, is the relevant part of the policy about Times reporters and editors:
They may not join boards of trustees, advisory committees or similar groups except those serving journalistic organizations or otherwise promoting journalism education.
That's silly, and also inaccurate: I know that a Times reporter, Brian Rosenthal, is on the board of Investigative Reporters and Editors (I'm a member too), and that group has taken policy positions, mostly on access to public information. I'm sure that some Times staff are members of the Society of Professional Journalists, which (at least our local chapter) has often taken stands on policy issues (again, mostly related to public access).
All of the reporters are also members of a union, which takes political positions all the time.
There is nothing wrong with any of this. (Oh, and by the way: GLAAD is, by my definition, an organization that "promotes journalism education." The Times standards editors ought to spend more time reading the group's reports.)
Journalists are human beings; we come to our jobs with biases that are based, among other things, on our backgrounds. A lesbian reporter will have a different, and frankly more valuable, perspective on same-sex marriage than a straight reporter. Even old-fashioned serious US journalists are now coming around to that.
The bottom line: There is no such thing as "objectivity" when it comes to human rights. There are no "two sides" to the story about the right of trans people to exist, to live in our society, to be themselves.
The Times here is way behind the times. And people's lives are at stake.