Finally, Sundance and Slamdance film festivals were back with in-person screening in Park City, Utah for the first time in three years! Watching 35 films in 10 days beneath the towering Aspen and Douglas firs of the Wasatch mountains was an experience as powerful as the films themselves.
Here are my spoiler-free top picks from this year's (29th!) Slamdance Film Festival. Write these titles down in your diary and hang the list on your refrigerator, as many of these obscure revelations may have extremely small releases in the coming year. Stay tuned for my faves from the big Sundance festival, coming this week.
1. Fuzzy Head (Wendy McColm, US)
The most emotionally powerful film in Park City this year for me was Fuzzy Head, and it actually premiered at Slamdance, not Sundance. Wendy McColm wrote, directed, and stars in this psychedelic whirlwind that takes the audience into the tortured mind of Marla, its insomnia-ridden main character.
Much like Marla, who is on the run after the murder of her mother, audiences must confront the "everlasting void" to find out what really happened, in our case courtesy of director McColm. Alicia Witt, who has worked with David Lynch since the age of seven (Dune, Twin Peaks, Hotel Room) gives a spectacular performance as Marla's mother, hauntingly anchoring this spiraling staircase.
Fuzzy Head feels like an amalgamation of Harmony Korine's Gummo (1997), Mary Herron's American Psycho (2000), the photography of Daniel Keys, and the films of John Cassavetes and Gena Rowlands. This surreal journey towards understanding one's past left me absolutely speechless. While we wait for a distributor to release the film, I recommend watching McColm's darkly humorous debut Birds Without Feathers (2018).
2. Love Dump (Jason Avezzano and Matt Mahaffey, US, 2020)
It has been many years since I cried from laughing so hard at a movie. This unstoppably hilarious, Chicago-based screwball comedy was inspired by countless Hallmark TV movies and scripted by its stars, improv actors Leila Gorstein and Jesse Kendall.
(Note: Do not confuse this film with the similarly titled LoveDump (2021)—one word—about a serial killer and necrophiliac who hide out together in Los Angeles.)
Our Love Dump—two words—is a 51-minute gem that follows a quirky vintage shop owner who is swept away by an embattled dog lawyer, while searching for her long lost father. It showcases pitch-perfect awkwardness from just about every actor involved. Directors Jason Avezzano and Matt Mahaffey know how to keep the camera running, giving leads Gorstein and Kendall ample time to chew up their deliciously discombobulating humor. I would gleefully watch any amount of footage they cut. This is the kind of cinema that makes one happy to be alive. Currently unavailable on streaming services.
3. Space Happy: Phil Thomas Katt and the Uncharted Zone (Louis Crisitello, US)
The most inspiring documentary at either Slamdance or Sundance this year showcases a group of deliriously DIY musical artists in Pensacola, Florida who have created neo-sincere music and videos for the past 40 years. The community has clearly inspired much of the comedy for Tim and Eric's Awesome Show, Great Job!
Director Louis Crisitello lovingly celebrates these zany geniuses and dares every audience member to resist their automatic, chuckle-headed manners. The film showcases a large amount of addictive vintage footage from The Uncharted Zone channel, helmed by the community's guru, Phil Thomas Katt. These UZ musicians are the literal embodiment of Katt's lifelong mantra, "Success is not achieved from how many records you've sold, but how much you enjoy doin' what you're doin' in your life."
My personal Uncharted favorites are Kenneth L. Manning's "Gulf Breeze UFO," which is now one of my daily anthems, and Mark Gormley's "Little Wings," whose voice and power stance will be part of the rest of my life. Currently unavailable on streaming services.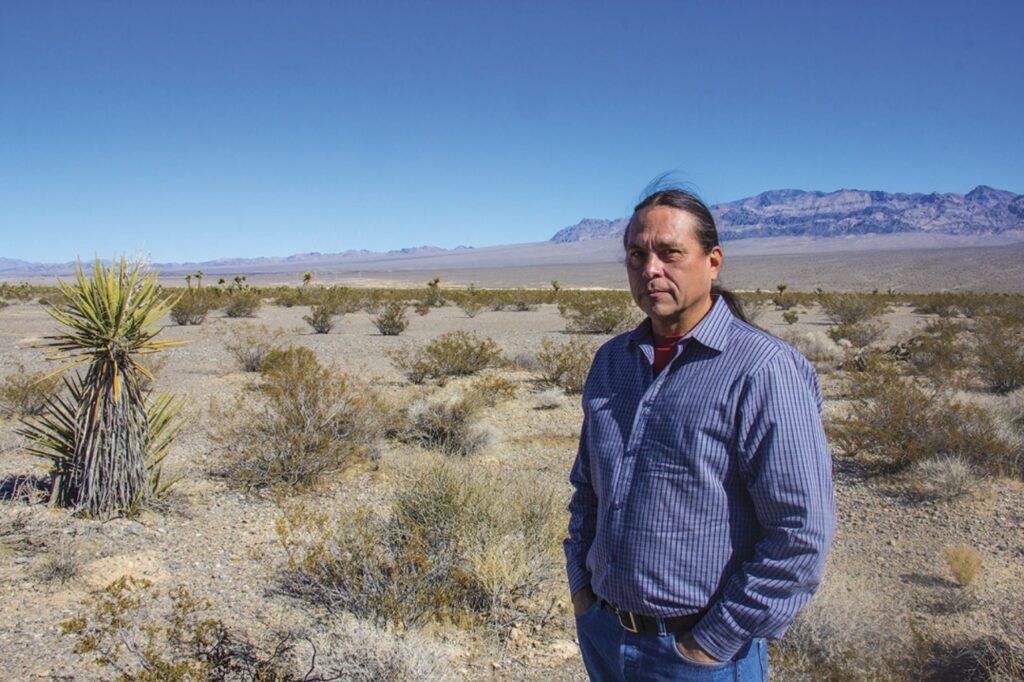 4 Downwind (Mark Shapiro & Douglas Brian Miller, US)
This devastating documentary about the decades-long nuclear fallout across the American Southwest reveals a shocking number of personal horror stories, including that of Ian Zabarte, an activist and member of the Western Bands of Shoshone Nations. Zabarte is absolutely hypnotic when speaking of the many community members who have been affected by the 210 above-ground nuclear weapons tests that happened between 1945 and 1962, and whose sacred land continues to be cordoned off as a nuclear test site.
Directors Mark Shapiro and Douglas Brian Miller take no prisoners as they expose the disastrous aftermath left on St. George, Utah (which lies 135 miles west of the original nuclear test site.) They begin with an astounding deep dive into the production of Howard Hughes' Hollywood epic The Conqueror (1956), which has seen more than half of its cast and crew die of cancer, including Western icon John Wayne.
Narrated by Martin Sheen and starring Michael Douglas, Patrick Wayne (son of John), and comedian Lewis Black, this uncomfortably relevant film needs to be taught in schools. I truly was not prepared for the film's culminating, and most terrifying, revelation.
Downwind seems especially relevant given the frightening emergence of such recently appointed politicians as Utah's new governor Spencer Cox, who stated just last year that he was in support of plans to build a uranium-fueled Natrium reactor that uses nuclear power. Currently unavailable on streaming services.