There was a moment during the opening of Cambodian Rock Band (through April 2 at the Berkeley Rep) that struck me in a way I didn't expect. The year is 1975 and the titular band members are celebrating Cambodian New Year, even as the threat of the Khmer Rouge draws closer with each passing day. The more optimistic of band members regard the KR as a distant problem. Besides, their American allies would never just up and leave them, right?
I'm attempting to explain this in the most non-self-absorbed way I can, but I couldn't help to think of SF. Over the past decade, I've watched beloved venues and restaurants close their doors forever as cherished friends and colleagues pulled up stakes for supposedly greener pastures (when colonizers like Musk leave SF for Austin, then that's not a place that appeals to me.) Committed as I am to staying in my home town—especially now that so many of the aforementioned colonizers are leaving—part of me always wonders if I'm just delaying the inevitable. I'm not egotistical enough to think of SF as battle-scarred as Cambodia, but I do often wonder if I'm just clinging to a ghost town.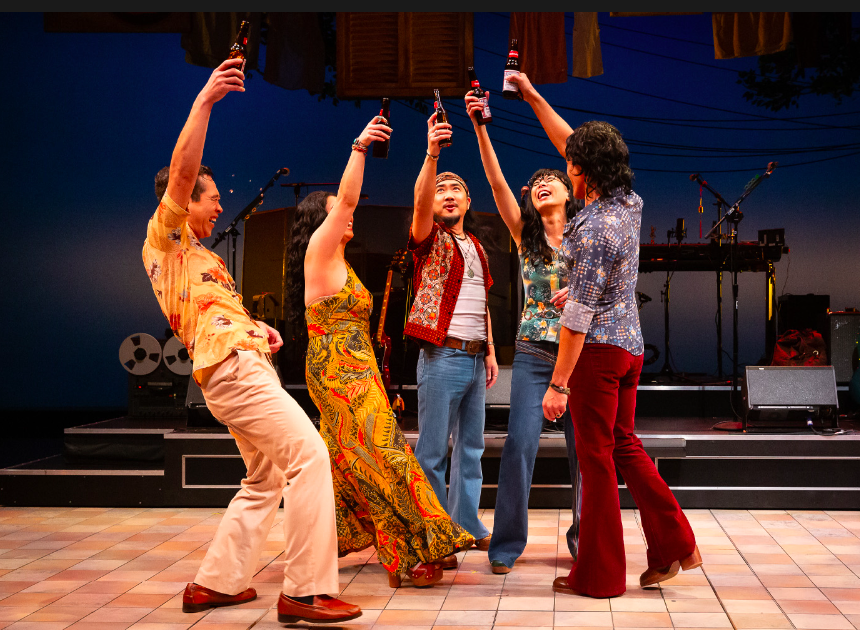 Good thing I have a large collection of music, including rock, to avoid sinking too far down in the mire of these thoughts. Lauren Yee, also born and raised in SF, seems to feel the same way. Cambodian Rock Band—with music by Dengue Fever—is one of those pieces that rests between "musical" and "story with a lot of music in it." If memory serves, there are only about five or six songs in the entire two-and-a-half-hour piece. Sure, a couple of them do appear to be hyper-realistic exposition, but the diegesis of those segments is questionable since the scenes in the '70s and 2008 alike involve the '75 version of the band. Plus, a lot of the lyrics are in Cambodian without translation, so I can't say for sure how expository the lyrics are.
Our story, as told by jovial narrator (Francis Jue), revolves around Chum (Joe Ngo), a native of the country finally returning in 2008 after leaving decades earlier. He's here to retrieve his US-born daughter Neary (Geena Quintos), a law student working on Nuremberg-esque prosecution of former Pol Pot subordinates. Chum would like for her to give up the endeavor, which he says is bound to cause attempts at vengeance from said subordinates. But Neary and her half-Thai/half-Canadian boyfriend Ted (Moses Villarama) are unshakeable in their resolve. Their determination even leads them to track down a missing eyewitness to the atrocities of a forced labor camp that has been since turned into a museum. The idealistic twenty-somethings want to shine a light on the ugly past. Chum, who lived through it, would rather it stay in the dark.
Did I mention this is a comedy?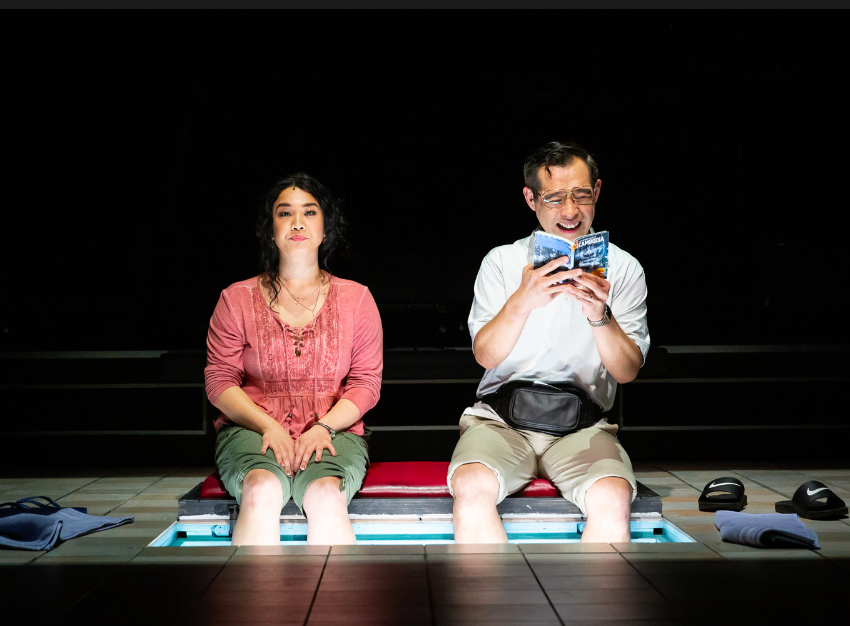 Yup, discussion of genocide notwithstanding, Yee is determined to shove as many zingers into the text as possible. That works fine when it's Chum trying to adjust to his changed homeland, giving side-eye to Ted (recipient of Chum's anti-Thai hatred), or the flashbacks with the band hanging out. It doesn't work so well when it's the middle of a (mercifully non-graphic) torture scene or during a discussion of unacknowledged PTSD. I know feelings of laughter can come up during trauma recollection, and it's clear wants to add levity to some truly heavy moments. The problem is Yee's seeming attempt to hit a quota of jokes per scene winds up undermining the pathos she laid out. Francis Jue's one-man Greek chorus seems almost like a court jester at times.
What's more, the presence of Neary (played at the right emotional pitch by Quintos) should have been expanded upon, limited to book-ends, or dropped altogether. Again, despite of Quintos' spot-on performance.
In fact, most of the cast, who play their own instruments on stage, do well under Chay Yew's direction on Takeshi Kata's beautifully understated set (with it's hanging hotel signs, Cambodia adverts, and an eventual KR flag.) The one exception would have to be Ngo as Chum. Whether going for laughs or pathos, he's always at a proverbial "11," and it becomes trying very quickly. Giving peaks and valleys to the performance would have helped out immensely. Fortunately, both he and his co-stars are excellent at creating another-musical-soundtrack-track-I-wish-could-buy-right-now.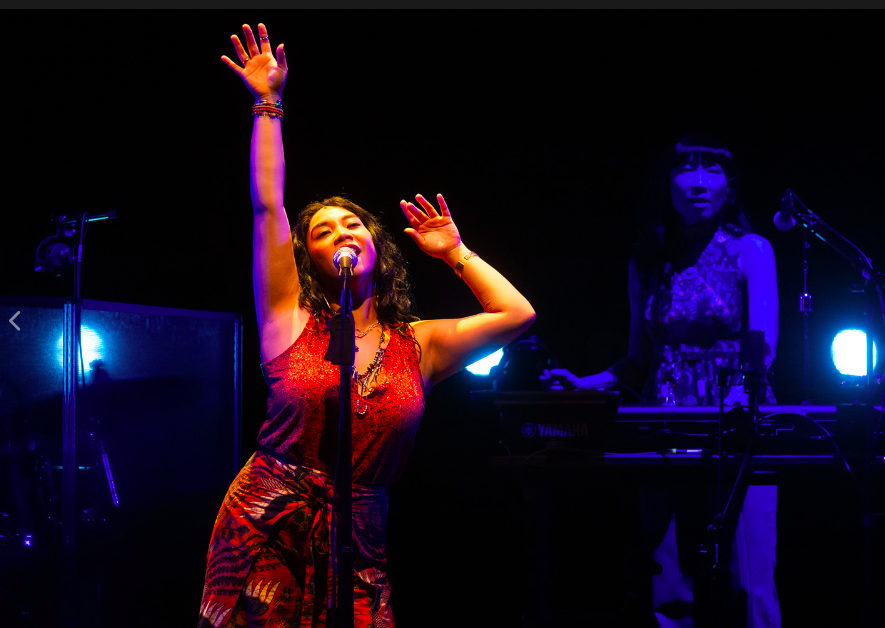 After alluding to it in a recent review, I found myself back in the mask-requiring Berkeley Rep for this show. The majority of the audience seemed okay with that, though a few pulled their masks down or off when they got in their seats. (There was one particular "Karen" in the row ahead of me who refused to wear a mask at all. Nothing was done about her refusal.) Over the two-and-a-half hours, the first half saw CO² levels on my Aranet4 peak at 915ppm before hovering around 760ppm in the second half. I'm glad the Rep has a mask mandate, if nothing else. It could just do with a bit more enforcement in the theatre.
Cambodian Rock Band, despite only sporadic appearance form the title characters, is one part "bitchin' musical drama about coping with trauma," one part unnecessary comedy meant to distract from said trauma. It's a shame that Yee, author of the renowned King of Yees, didn't trust herself enough to let the heavy stuff flow free, 'cause the music by Dengue Fever compliments it better than any forced laughs did.
CAMBODIAN ROCK BAND runs through April 2. Berkeley Rep. Tickets and more info here.