Read our interview with MacArthur-winning playwright Luis Alfaro on The Travelers here.
Hindsight is the gift and curse of growing old. By the time you get to be a certain age, you should know full well that it isn't healthy to obsess over choices made. But it's hard not to, when looking back makes those choices even clearer. Retracing your steps lets you see how the slightest detour could have turned an old triumph into a regret, or vice versa.
Luis Alfaro's The Travelers (which ran through March 12 at Magic Theater) not only considers the obsession of looking back, it throws the element of faith in the mix. How does hindsight change when you're constantly wondering if you're where God wants you to be?
If "Catholic guilt" is really the most redundant term in the English language, the Grangeville (Central Valley) monks of Luis Alfaro's new play are practically case studies. If you're surprised by the idea of a Catholic monastery still existing in contemporary California, it appears that the archdiocese is equally confounded. We're told throughout the play that it has no more use for the monastery or its handful of monks. But rather than simply closing the monastery, the church governance seems to be trying to starve it out.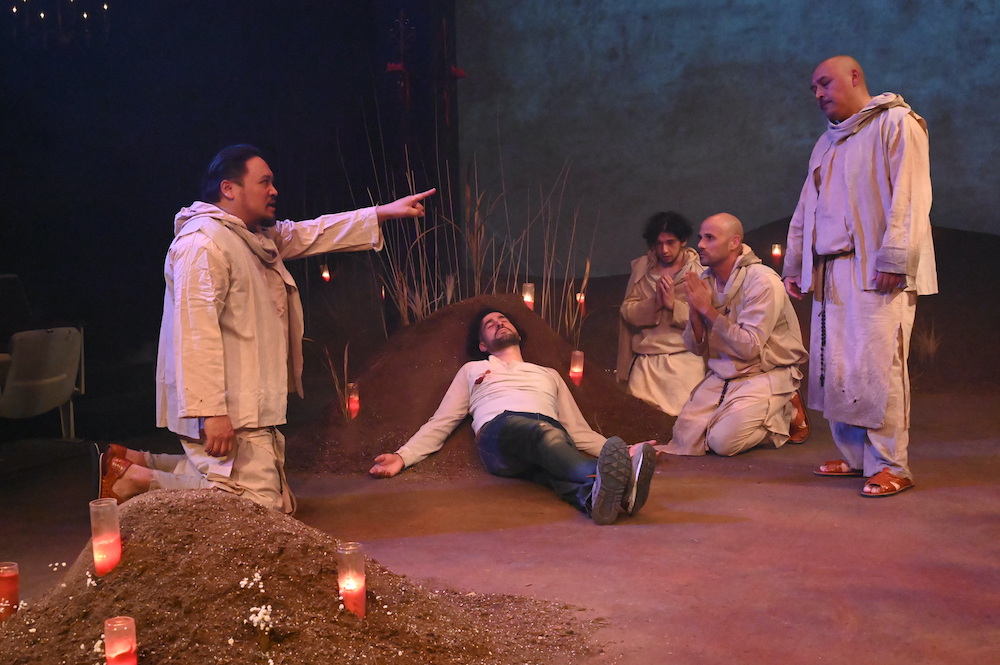 Of course, the monks have another, somewhat pressing concern: a blood-covered man who just collapsed on their front door. Each of the monks has a different idea as to who he is, why he's there, and what caused the wound in his chest, but it's clear that he was raised Catholic. The mystery man may be lapsed now—but even he must wonder if his arrival isn't part of some grand design.
As artistic director Sean San José and the crew at the Magic look towards the theatre's future, it's clear one part of the past they're embracing is a sustained relationship with Alfaro. And why not? The playwright's done some great work there, including the Greek-inspired masterpiece Oedipus el Rey (a pre-artistic-director San José acted in the 2019 revival under then-AD Loretta Greco.) Even as they look for new writing talent, the team would do well to keep Alfaro's number on speed-dial.
The Travelers isn't Alfaro's worst piece, but it's not really his strongest either. The best moments are the exchanges between newcomer Juan (Juan Amador—all the characters use their actors' names) and Brother Brian (Brian Rivera.) The latter has been fighting tooth-and-nail to keep the monastery open, and clearly sees the assistance he lends to foul-mouthed blasphemer Juan as both proof of the place's value and justification for his unwavering piety. Similarly, Juan has spent so much time actively rejecting the dogma of his upbringing that watching him finally find a sense of belonging is both comforting and inspiring.
The two are, by far, the most developed characters in the piece, and it begins to waver beyond their presence. I can see why character development was minimized for Brothers Danny (Daniel Duque-Estrada), Nancho (Kinan Valdez), and Yiyo (Guillermo "Yiyo" Ornelas), since doing so keeps the intermission-free play down to a tight 90 minutes. Still, I think the audience could have benefited with just a bit more time with the characters. They don't share Brother Brian's fidelity to the monastery and are drifting free of its gravitational pull with each passing day. This is clarified when we learn of each monk's past during de facto confessions to Ogie (Ogie Zulueta), the bathtub-ridden man for whom Brother Brian has been caring for years, due to personal reasons that become clear later.
Lest you think The Travelers is all dreary spiritual crises, rest assured that Alfaro wants his audience to laugh as often as they pray. Director Catherine Castellanos—a hell of an actor, to be sure—does well to keep the opening discovery of Juan from becoming a full-fledged Three Stooges routine. But when Brother Danny has to downplay his own past as town "doctor" ("No license, no training. But, y'kno, a doctor,") it becomes clear that Alfaro wants quite a few chuckles. That desire is most evident them in scenes where Juan faces off with the equally-foul-mouthed Nancho, who seems happy to finally have someone with whom to trade obscene barbs.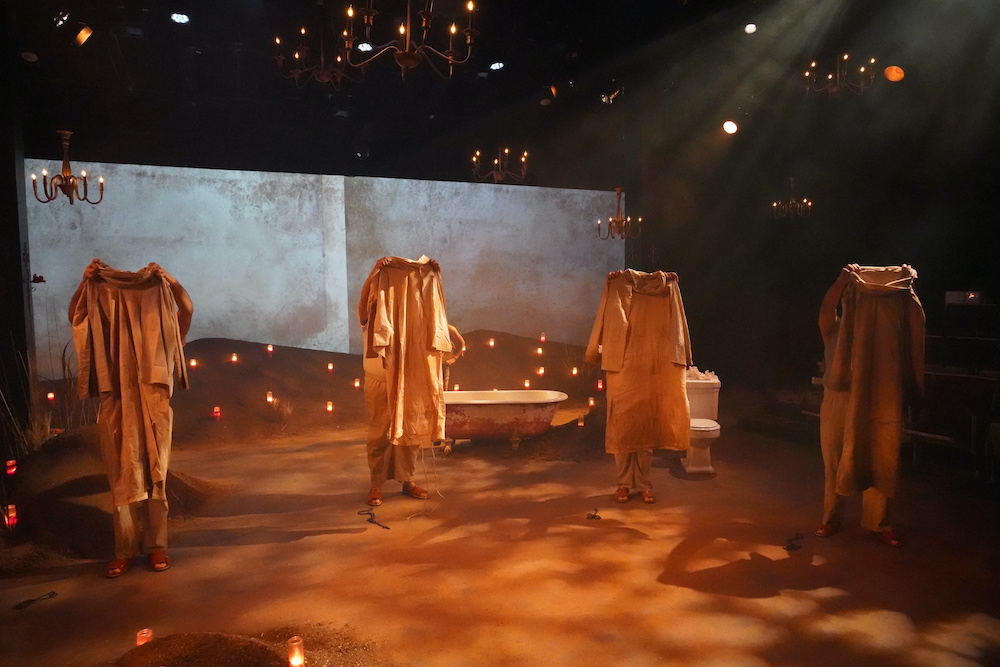 Said barbs wisely add levity to the heavy goings-on rather than undermining them. Every action taking place on Tanya Orellana's detailed set—with its dreamlike piles of desert dirt accented with candles, inexplicable chandeliers, and an upstage projection screen to showcase the work of Joan Osato—exists in a state of somnambulism that blurs the lines between the real world and mental perception. Even the prayer movements by Patricia Ong have a dancelike quality that's unorthodox for holy men, but also seems to suggest that they each want to float away.
With the future of SF's COVID measures up in the air (and the pandemic very far from "over"), it's a relief to find the Magic still checking the vaccine status of their audience. Masks are still required to get in, but five or six people didn't wear them inside the theatre proper. With all of Fort Mason's buildings being decades-old, ventilation there isn't the strongest. There were standing air purifiers to capture a great many particle, but my Aranet still read CO² levels up to 2298ppm.
The Travelers is an imperfect meditation on living with the decisions you've made and realizing that there are still choices to come as long as you're living. Its magical realism staging is fascinating to the point that it sometimes overtakes the text. It could do with a little refining, but the current version isn't a bad way to ponder life in and out of God's eyes.