Standing at the back door of Magic Theatre, where she was taking a break from rehearsal, Catherine Castellanos had to wait for a helicopter to pass overhead before she could talk.
"This is the best back door view of any theater in America," she said, referring to the Magic's Fort Mason location, which overlooks the bay.
Castellanos is directing fabulous MacArthur-winning playwright Luis Alfaro's The Travelers (Wed/15-March 5). Alfaro says he got the idea for the play when he read an article about a tiny town near Fresno with a monastery full of people who had arrived during a big drought, mainly for free food and housing. In Alfaro's play, the least likely candidate for a monastery stay shows up.
From Delano in the Central Valley himself and raised in the Catholic Church as well as the Pentecostal tradition, Alfaro says he drew on all that in writing The Travelers.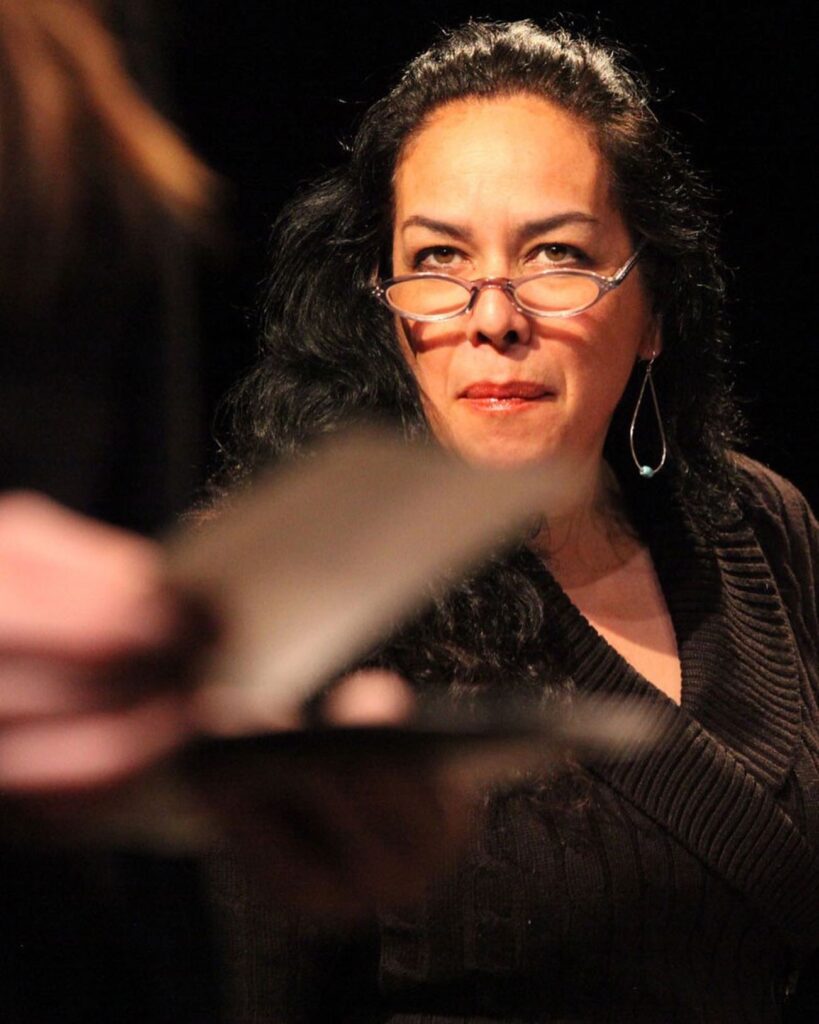 The artistic director of the Magic, Sean San José, is a co-founder of Campo Santo, the longtime Latinx troupe devoted to presenting new work. Castellanos has been with the group since 2001. (The cast of the play features Campo Santo members Juan Amador, Daniel Duque-Estrada, Guillermo Yiyo Ornelas, Brian M. Rivera, Kinan Valdez, and Ogie Zulueta.)
Castellanos says she became the director when she, San José, and some others were discussing returning to in-person shows with this play.
"We thought Sean would direct, and he said, 'Nah,' and I said, 'I'll do it,'" Castellanos said. "I'm from the Central Valley and for a while when I was a little girl, my mother worked in the fields, and the story was just so familiar to me. I'm normally on the other side of the table, and I just kind of blurted it out, but Sean looked at me for a minute, and he goes, 'Yeah, you should.' So the notion became a decision, and that's how I came into the story."
Castellanos says Campo Santo does heavily collaborative work, paying particular attention to the writers. When the writer is Alfaro, who's adapted plays from Greek classics, such as Bruja (Medea) and Oedipus El Rey (Oedipus Rex), both of which were staged at the Magic, the cast members want to do whatever he thinks is best and go along with any changes he makes, Castellanos says.
"He's a brilliant writer, and when you have a writer like that in the room why not just say yes yes yes," Castellanos said. "Even if he doesn't finish the question. He's like, 'Can I . . . ? Yes."
In an interview with KTVU's Sal Castaneda, Amador, the lead in The Travelers, said he is "constantly blown away" by Alfaro's script, a story of transformation and people trying to be who they were meant to be. San José pointed out that Alfaro had written the play specifically for the Magic and the actors in the play.
"We get to be in communion with people which is what theater does," San José said. "It feels like exactly what we need — to be together and sort through these problems."
The crew of The Travelers is all women and non-binary people, and the cast is all Latino and Filipino men. Amador is glad for the chance to be in a show like this where the characters are multidimensional. Castellanos agrees.
"The characters are sometimes just living poems," she said. "These are brown men in the Central Valley, and they're usually seen as only one thing and through a white lens. Here we get to see all their complexities. I said to the cast the other day, 'We're telling our fathers' stories.'"
Castellanos says she loves getting to work with Alfaro and calls his view wide and expansive. She sees theater as a way to validate what people are going through, and being at the Magic is a joy.
"It's a trip to come back to live performance, and I want to have as many people come and be a part of it as we can," she said. "For Campo Santo to have a home here, and for Sean San José to be running the joint, and to work with Luis—how did we get so fucking lucky? I want to embrace everyone so much. I've been yearning to help and to feed an audience for two and a half years."
THE TRAVELERS plays Wed/15-March 5, Magic Theatre, SF. More info here.