Migguel Anggelo is a multidisciplinary creator and cultural ambassador in equal measure.
"A country without arts and culture is a poor and pathetic country," says the Venezuelan American singer, actor, dancer, and painter. "Art is an open book of the human soul and, of course, love is unconditional and so powerful that I will always be bringing it with me wherever I go." 
Anggelo's shows, which have toured worldwide, regularly explore the intersections of his queer, LatinX, and immigrant identities through original and reinterpreted music, dance, theater, and costume. His latest bilingual show, LatinXoxo, which comes to Stanford Live for two nights (Fri/5-Sat/6), is his most personal to date.
The autobiographical production's equally entertaining and affecting montage of theater, comedy, movement, and song selections (pop hits, original compositions, and Spanish boleros), which moves from past to present and stage to audience, traces his treacherous path from a troubled childhood constrained by his homophobic and misogynistic father's gendered expectations to self-affirming adulthood and ultimately peace with his past.
I spoke to Anggelo about bringing LatinXoxo to the Bay Area, turning tragedy into triumph, and ultimately healing his relationship with his late father through his art.
48 HILLS What's exciting about bringing LatinXoxo to the Bay Area?
MIGGUEL ANGGELO It will be my first time performing on the West Coast period, so it's a great honor to have my Bay Area (and West Coast) premiere at Stanford Live! I am so excited! It will be really interesting to get the audience's reaction.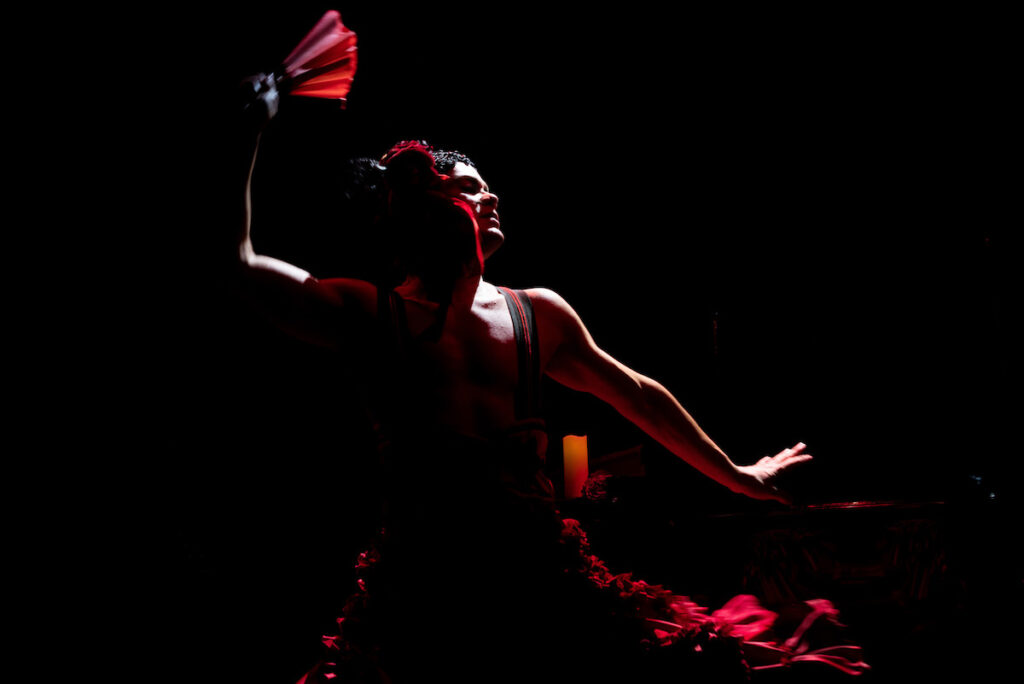 48 HILLS Do you have a history of visiting SF or surrounding cities?
MIGGUEL ANGGELO I have been to San Francisco as a tourist, and it's a city I love, but I am excited to be back in the Bay Area as an artist performing on stage. It looks like I will be back in California several times this year, too (in Sonoma County, Orange County, etc.), with more dates to announce soon!
48 HILLS What unique perspective do you bring as a queer, LatinX, and immigrant performer?
MIGGUEL ANGGELO My perspective as a queer, LatinX, and immigrant performer is my message. My work is all about acceptance, belonging, love, and safety—and whether that is through the eyes of being a LatinX immigrant or being queer, there is one thing I know is true: We all want to be safe. We all want to belong. We all want to feel valued. And that is true for people that are not LatinX or queer, too. We all want the same things.
I'm very transparent, and I will always tell the truth in my performances and my music. That is very important to me.
48 HILLS Your work aims to break LatinX cliches, making me wonder who you looked to for inspiration when forming your own identity. If you weren't going to be the toreador, who did you model yourself after?
MIGGUEL ANGGELO I grew up in a Latin country—Venezuela—and I always listened to and watched Latin artists that, for me, were incredible. Sometimes they were incredibly wonderful and sometimes they were incredibly ridiculous—so exaggerated that they were wildly comical.
My role models included performers like Lucille Ball, Freddie Mercury, and Julie Andrews, as well as Latin artists like Mecano, Simón Díaz, Celia Cruz, Juan Gabriel, and Venezuelan actress Doris Wells.
So my role models were not about sexuality or masculinity vs. femininity; they were people who expressed themselves honestly through their art. As a young child, I wanted to express myself as they did. I wanted to be unique like they were.
48 HILLS What was it like going from a touring performer in other people's productions to turning inward and writing about your own life?
MIGGUEL ANGGELO Both experiences are great. When I have performed other people's work, I am a character that is not necessarily myself. That can be fun. When I perform my work, it's me. I'm more transparent and I need to find ways to connect personally with the audience. I love doing both, honestly. Being on stage is a gift.
48 HILLS How hard was it to mine childhood trauma for this show? How was it cathartic?
MIGGUEL ANGGELO In the beginning, when I was rehearsing, it was difficult, but I told myself that I could do it. It was good therapy and creating this show was a great learning process of forgiveness. Every time I go out on stage, I say a little prayer to my father, hoping that he can now see who I have become. I hope that he would finally be proud of me.
48 HILLS How has reenacting your relationship with your father helped heal your relationship with him?
MIGGUEL ANGGELO I'm sure my voice comes from him. When people come to see the show, they experience forgiveness because it's real and truthful. Every night on stage, I forgive myself all over again for my father's death, and it's my hope that I hold a mirror on stage for others that need and want to face their truths.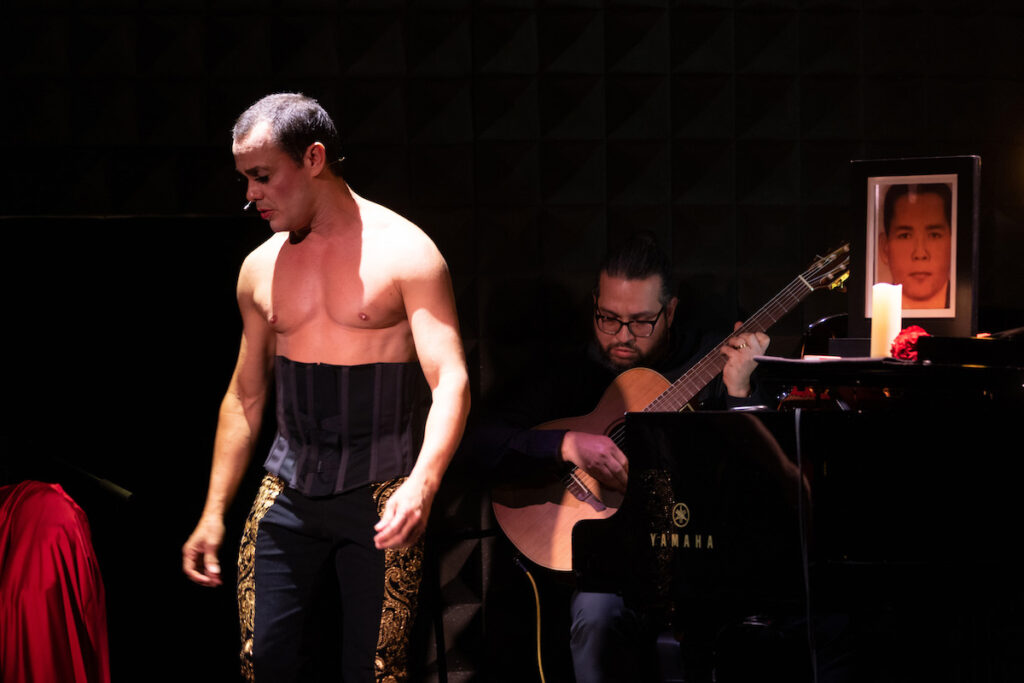 48 HILLS Has your family come to any of your performances? How did they respond?
MIGGUEL ANGGELO Of course. My sister and my mom came to see me last time I performed in Miami at the New World Symphony 10 years ago. My mom is my number one supporter and my cousin Cristobal and his wife, Carla, came to see LatinXoxo at the Miami Beach Bandshell a few weeks ago. My cousin is very straight and macho, and after the show, he hugged and kissed me and told me he was so proud of me. That meant a lot.
48 HILLS Do you dream of someday bringing this show to your native Venezuela?
MIGGUEL ANGGELO One of my dreams is to perform in my beautiful Venezuela. But it's no secret that my beloved birth country is under dictatorship rule, and I'm sure those cowards would not appreciate my point of view and how vocal I am.
But yes, that aside, Venezuela is a big part of who I am. I would love to share my heart with my people, and I pray that this corrupt government will someday change and Venezuela will be transformed. Then I will go back.
LATINXOXO Fri/5-Sat/6, 7 pm, Stanford Live @ The Studio, Stanford. $50. Tickets and more info here.