Though it's beginning to seem like summer will never arrive in SF, people elsewhere are actually beginning to feel it, and plan accordingly. This often involves scheduling travel for coming months, something that greatly appeals but my wallet tells me is probably not going to happen. (The volume of that negation was only heightened by the messages contained in a recently-published book, Scott Timberg's Culture Crash: The Killing of the Creative Class. Life as an arts journalist is starting to feel like being part of a species vainly resisting extinction.) Well, one can dream, whether through globe-trotting beach-read type books or their audiovisual equivalents.
Exemplifying both is a sprawling movie duly based on a sprawling novel: The Eight Mountains, a Cannes prize-winner whose two-and-a-half hours encompass a fair amount of life's angst and tumult over several decades' course. But most of it takes place in the Italian Alps. That, combined with the leisurely pace and meditative air, conspire to leave you with the sense of having been on a revivifying remote vacation when the final credits roll.
The same-named 2016 debut novel by Paolo Cognetti it's based on is actually not a doorstop by any means; it barely pushes past 200 pages. Still, the sweep of years and events is handled with an economy that feels spacious, as it does in Felix van Groeningen and Charlotte Vandermeersch's film.
Pietro (Lupo Barbiero) is a city kid whose parents drag him from Turin to a rented alpine cottage for the summer in the early 1980s. Actually, it's just he and his easygoing mother (Elena Lietti) most of the time. Dad (Filippo Timi) has heavy responsibilities he can seldom escape managing a factory of 10,000 workers. When he does turn up, he applies a compulsive workaholism to conquering the local peaks in grueling day hikes that are a bit much for his 12-year-old sole offspring, at least at first.
They aren't too much for same-aged Bruno (Cristiano Sassella), who introduces himself as "the last child in the village." He's being raised in desultory fashion by an aunt and uncle—his parents, like nearly everyone born here, having long since fled for better prospects in less isolated places. Bruno has plenty of farming/herding-type work to do. But he also has free time, and he's probably never even had a playmate before. Everything in his world is new and fun to a refugee from the filthy, crime-riddled urban jungle.
It's a joyful relationship that Pietro's parents encourage, with mom helping the boy get up to speed literacy-wise. The couple eventually even offer to more or less adopt him, so he can attend school for real. But that comes to naught—Bruno's disapproving father isn't entirely out of the picture, which fatefully diverges their paths. Such that, when the two lads cross paths again as teens (played then by Andrea Palma and Francesco Palombelli), the gap has become too great for them to even speak. As so often happens, differences in class, education, and culture that meant nothing when they were children seem unbridgeable gulfs with the approach of adulthood.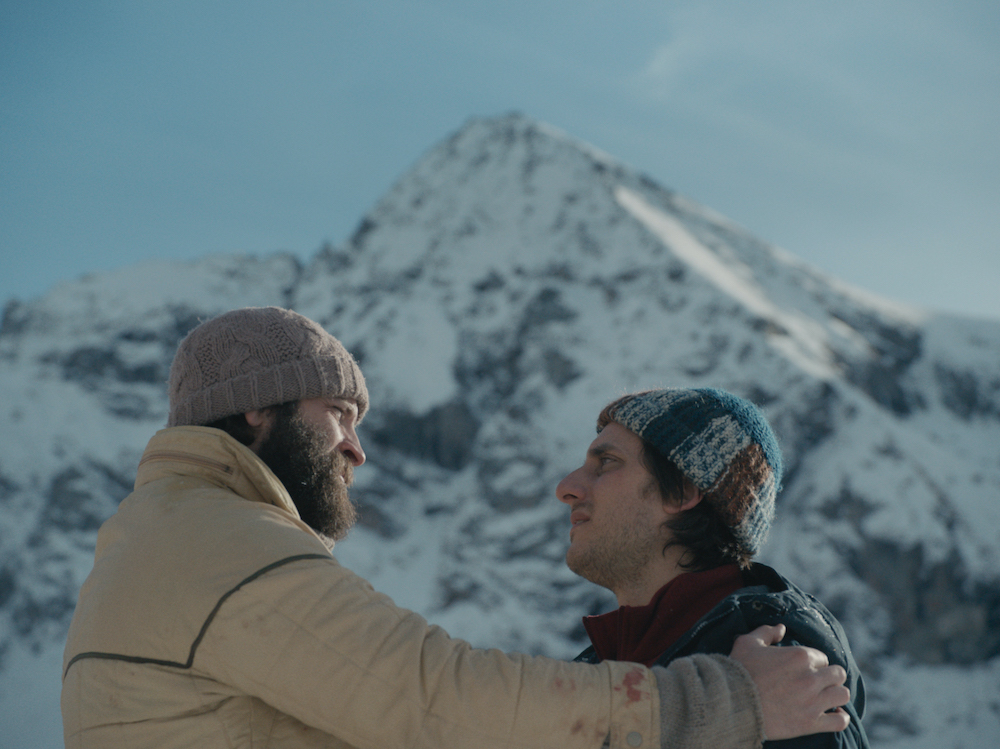 All this occurs in the first 40 minutes, after which Pietro and Bruno are presented as handsome, shaggy, moody adults—in the persons of actors Luca Marinelli (who was excellent as Jack London's Martin Eden) and Alessandro Borghi. 15 years have passed since they last saw each other, during which time Pietro has been largely estranged from his parents, one of whom finally died without their having reconciled. Belatedly learning that they'd never stopped communicating with Bruno, nor had Bruno stopped asking about him, the two prodigal sons reunite—in part to build a cabin that had been the dream of the father Pietro realizes too late he had badly misjudged.
A good more occurs, much of it on dual tracks: Pietro undergoes a lot of classic "finding myself" changes, traveling the world. Meanwhile Bruno, who has dug into the "mountain man" existence he once ached to escape, acquires a domestic partnership (to Elisabetta Mazzullo's pragmatic Lara) and a dairy business—two things that prove hard to sustain. The one thread that remains constant binds the two men together, no matter how infrequently they see one another, or how dire their separate circumstances become.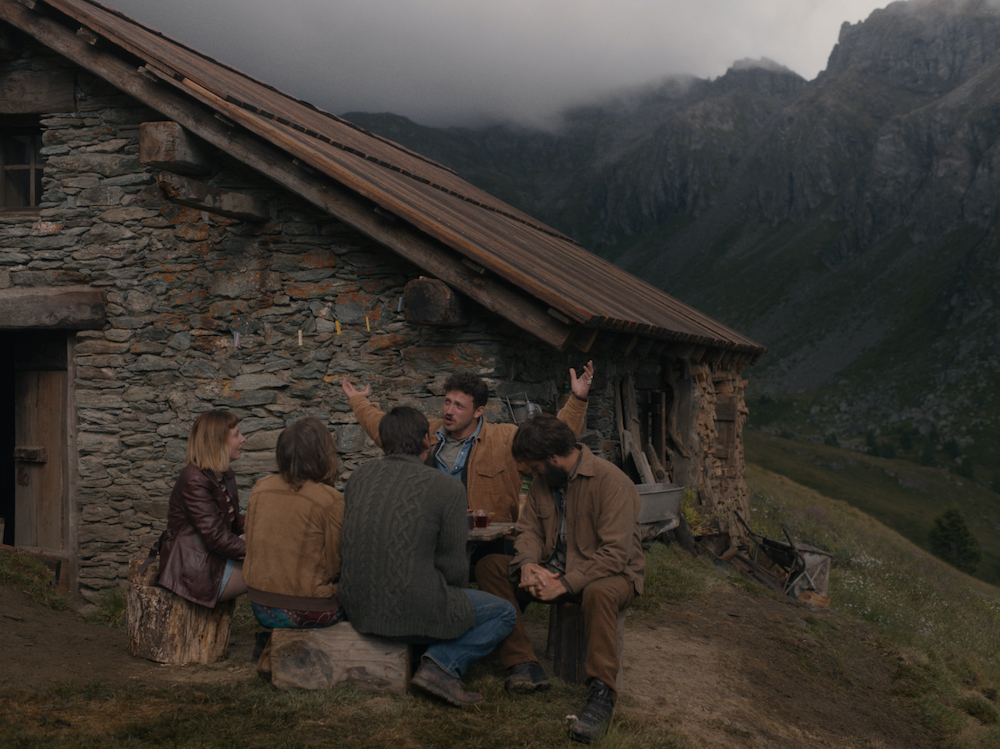 This is a story of male friendship, without any "buddy movie" cuteness, or hint of repressed same-sex desire; both protagonists have their heterosexual bona fides. But eventually they (and any girlfriends) realize they are rather solitary adults, not much suited to society, or even cohabitation—albeit ones who can successfully be quiet and semi-alone together. There's no affected hyper-masculinity to their hermit-like qualities, as there probably would be in any equivalent US narrative. (Well, there wasn't in First Cow, either, a movie as atypically shorn of machismo for a "western" as this one is by the more esoteric genre standards of prior European generations' "mountain movies.") The two lead actors—who also costarred as BFFs in the 2015 crime drama Don't Be Bad—communicate all that and a lot more with relatively little dialogue, the less the better.
I did not much like van Groeningen's 2012 The Broken Circle Breakdown, a strained mixture of Belgian love story, bluegrass music and terminal-illness tearjerker, or the subsequent Belgica—though plenty of people liked both very much. His Hollywood debut Beautiful Boy four years ago was strong if a bit hogtied by the familiar repetitions of its story about drug-addicted offspring. Here he's co-directing and writing with actress spouse Vandermeersch for the first time. Whether due to that collaborative influence or the source material, this film feels more stately, less contrived for emotional effect than prior efforts, their confident slickness translated into something more majestic.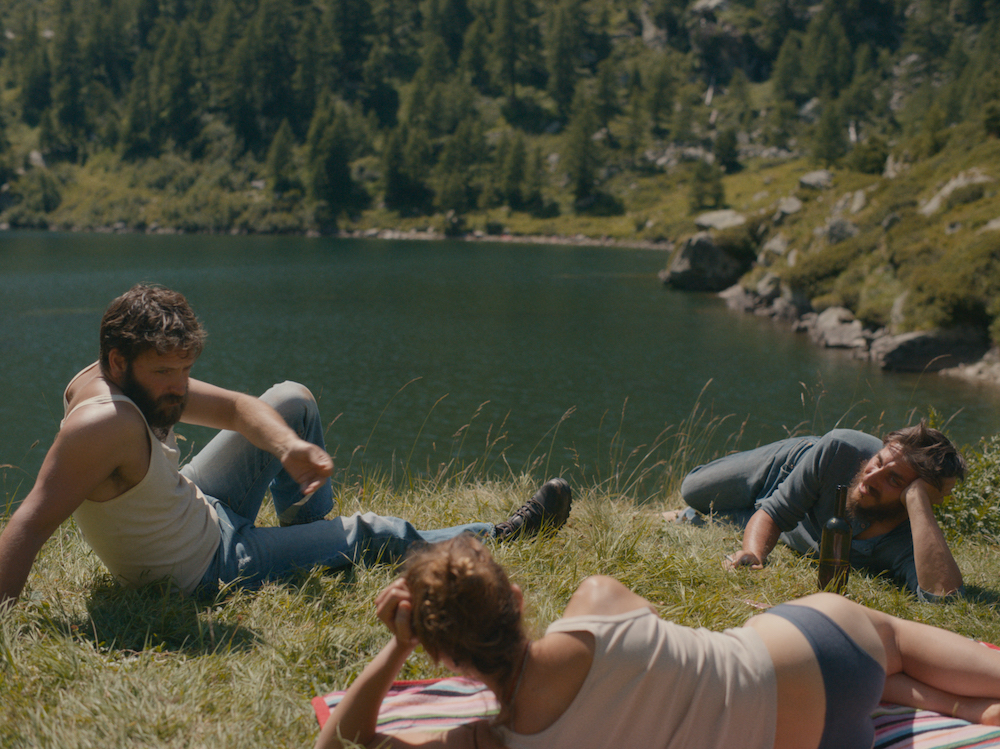 Naturally, the settings have a good deal to do with it—even the fact that Eight Mountains was shot by cinematographer Ruben Impens (Titane, The Mustang) in an almost square aspect ratio, presumably to highlight the scenery's vertical nature, doesn't prevent this from being just as visually stunning outdoor movie as it would have been in ultra-widescreen.
The Eight Mountains has some of the satisfying page-turner qualities of Italian miniseries turned six-hour US arthouse hit The Best of Youth 20 years ago, or Elena Ferrante's intervening Neapolitan Novels about a female friendship that likewise endures for decades. This shorter saga may have considerably less plot than either—it's essentially a twin psychological study—but its hymn to high-altitude nature lends a physical and even philosophical expansiveness that feel as deep-cleansing as breathing 147 minutes of mountain air.
THE EIGHT MOUNTAINS opens at Opera Plaza Cinemas in San Francisco on Fri/12.