New York Yankees catcher Yogi Berra amassed one hell of a record in his nearly 1946-1965 playing career: 10-time World Series champion, 18-time All-Star, three-time Most Valuable Player. He caught both ends of doubleheaders, 145 times. In 1950, he struck out only 12 times in 656 plate appearances while racking up 124 RBIs and 28 homes runs. In 1962, the 37-year-old Berra caught 316 pitches in a single, 22-inning game as the Yankees beat the Detroit Tigers 9-7.
These are only a handful of his statistics, and don't take into account his later career as a manager and coach. No wonder that in 1972, the Baseball Hall of Fame inducted Berra into its membership.
For all of his achievements, Berra is often overlooked when talk of Major League Baseball's GOATs arise. He may be one of the greatest of all-time, but his name does not get bandied about with the same reverence of Yankee legends like Joe DiMaggio or Derek Jeter. Instead, he is more well-known for his colorful speech, his role as commercial pitchman, and as the inspiration for a cartoon bear. Sean Mullin's documentary, It Ain't Over, opening in theaters on Fri/19, aims to remind baseball fans (and even non-believers) of exactly how phenomenal Berra was—while also offering a full, vivid portrait of the man's life.
It Ain't Over began with producer Peter Sobiloff, who was moved by Morgan Neville's documentary 2018 Won't You Be My Neighbor? about children's TV show host Fred Rogers. The day after watching that film, he played in the annual Yogi Berra Museum Celebrity Golf Classic. There, he saw Berra's sons and wondered aloud why there was no Mr. Rogers-type documentary about their father. Eventually, Sobiloff decided to rectify the matter by making one himself, and recruited Mullin, whose 2014 dramedy Amira & Sam he'd executive produced, to direct.
The director admits he was hesitant to accept the assignment at first. Berra seemed like a wonderful guy with an extraordinary career, but Mullin wondered if there was enough drama in his story to sustain a feature-length documentary.
"I went and read some biographies and did some digging," says Mullin during a trip to the Bay Area with Lindsay Berra, Yogi's sports journalist granddaughter and an executive producer on the film.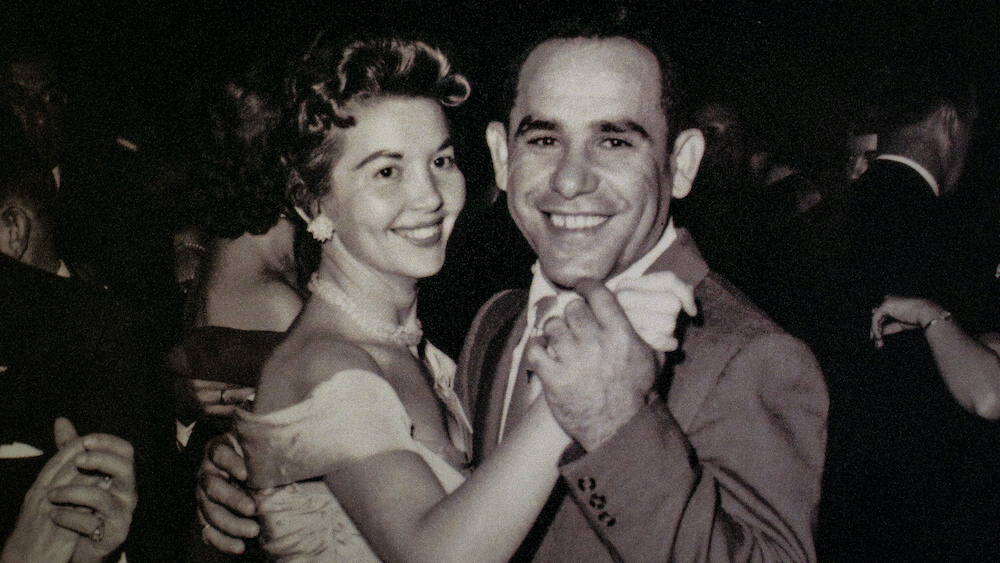 "I was like, 'Oh, wait, this guy was criminally overlooked at every turn in his life, that's where we can really get in there.' I tell my agents all the time to find me stories where there's a disconnect between perception and reality, and this was a prime example of that."
"He was underestimated, I think, when people looked at him," adds Lindsay Berra. "He was told he was too short, too square, too ugly to be a Yankee, that he looked like a gargoyle or a fire hydrant. What am I missing? He was called a clown and an ape. People didn't think he could play because of what he looked like. He certainly went on to show that it didn't make a difference what they thought about his looks. As he famously said, 'I never saw anyone hit with his face.'"
Mullin's flm presents Berra's life against the backdrop of the times in which the athlete lived. A native of St. Louis, Berra grew up in a neighborhood chiefly compromised of Italian immigrants like his parents. Six blocks of that neighborhood produced three soccer players who played in the 1950 World Cup on the team that beat the heavily favored English squad. The same swath raised two of baseball's major leaguers: Berra and his lifelong friend (and fellow catcher) Joe Garagiola.
"The percentage of that is staggering, because there just weren't that many kids," says Berra. "I don't know if was because they couldn't afford other methods of entertainment. They played all the sports. Grandpa told me stories about taping newspapers to his shins as shin guards to play street hockey and soccer."
"There's also an element of assimilation with immigrants, of just wanting to fit in and be Americans," adds Mullin.
That oh-so-American storyline would continue throughout Berra's life. During World War II, he served in the Navy and participated in the D-Day invasion of Normandy, earning a Purple Heart. While he was amassing his gargantuan collection of baseball statistics, he was also one of the white players who welcomed Black players into the newly integrated major leagues. His friendship with the first player to break the color barrier, Brooklyn Dodger Jackie Robinson, began when the two played in the minor leagues together in 1946. Later on, when Berra moved into management, he would add to his Yankee legend in another way. He became one of the many managers team owner George Steinbrenner fired, setting off Berra's years-long self-exile from Yankee Stadium—such was the rage of a normally even-keeled man over the slight.
Berra was also one of the first athletes to enter the commercial arena. While today's superstars look at endorsements as a way to enhance their brand, Berra's motivations were more practical. He began promoting Yoo-hoo, the chocolate soft drink, in the 1950s. In the decades before the introduction of free agency changed the game in the 1970s and made athletes millionaires, baseball players were stars who did not earn a lot of money. Berra always had off-season jobs, like at a Christmas tree lot he ran in St. Louis with Joe Garagiola, and with fellow Yankee Phil Rizzuto. At various times, he worked in a hardware store and a menswear shop and managed a bowling alley. The Yoo-hoo ads were one more stream of funds, albeit the beginning of a pitchman's career that would last a lifetime.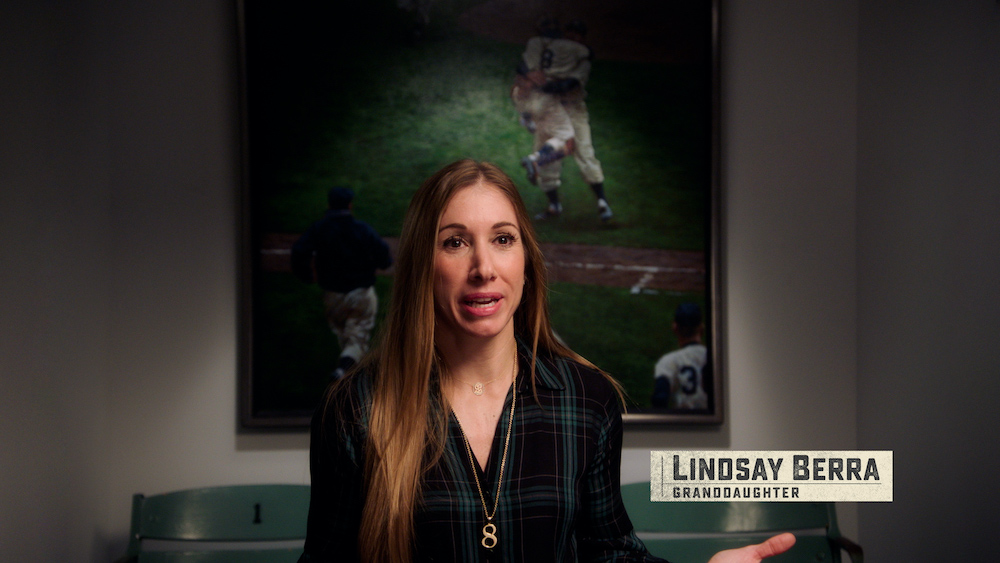 "They needed to have a steady stream of income," Lindsay Berra says. "I remember going to so many charity dinners with my grandfather, the purpose of which was to help support baseball players who had fallen on financial hard times. It was a big problem with players who only made money from baseball."
It Ain't Over plays like a who's-who of baseball greats, with an emphasis on Yankees: those who are still living and who played with Berra, players he coached, and players he mentored. Mullin was delighted when the famously guarded Derek Jeter agreed to an interview.
But Berra died at 90 in 2015; his wife of 65 years, Carmen, at 85 in 2014; and his best friend, Garagiola at 90 in 2016. Ample archival footage was left behind to fill the gaps, but Lindsay Berra still feels their absence in Mullin's interviews.
"To have all of their voices still in the movie, even though they're not still with us, it's pretty amazing," she says. "But I'm really bummed that we didn't do this movie when Grandma and Grandpa and Joe were alive."
Mullin looks at it a bit differently after spending so much time with Berra since conducting that first research.
"Sometimes I have a hard time believing I never met him," he says. "I feel like I've met him. I feel like I know him and I never met him.:
IT AIN'T OVER opens in Bay Area theaters on Fri/19