When I saw what appeared to be a invitation to a special GOP fundraising lunch in San Francisco, I wasn't sure what to make of it. House Speaker Kevin McCarthy is coming here, to a house on Broadway, right in the middle of the huge battle over the debt limit (and possibly his position as speaker)?
To an event hosted by Trevor and Alexis Traina? (Yes, that Trevor Traina, Donald Trump's ambassador to Austria.)
Really?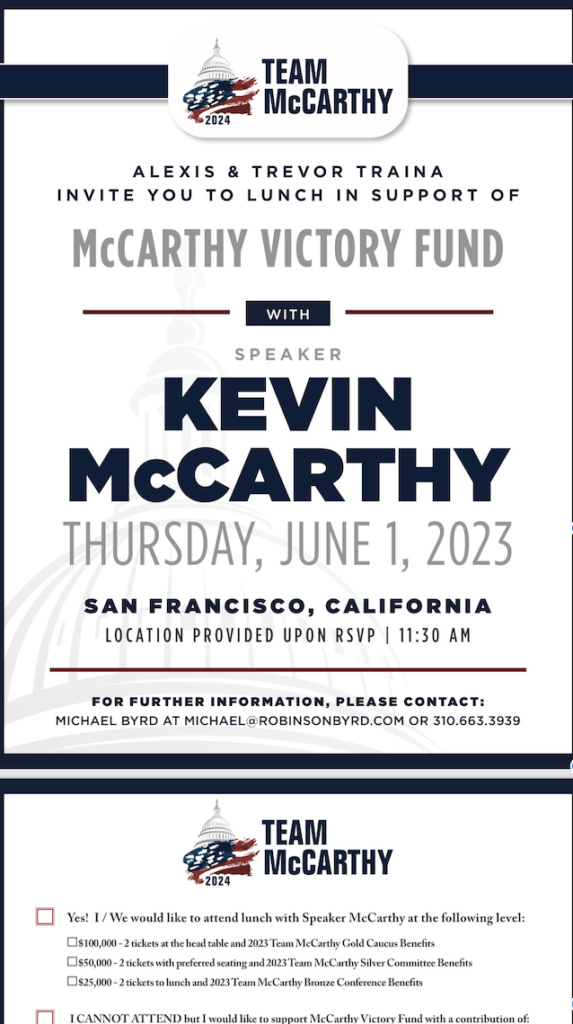 So I tried to check it out. I called the home of the Trainas, who were hosting; "someone will get back to you." I called McCarthy's Office in DC, and his campaign office in California ("someone will get back to you"). McCarthy was in DC for a floor vote on the debt ceiling at about 9pm May 31. It would be a quick turnaround. There was nothing on the speaker's public schedule for June 1. I called people I know who follow high-end political events, and Democratic Party folks who might have heard something.
Anyone who knew anything wasn't talking.
Only one way to be sure: I got to the 2800 block of Broadway, which has some of the fanciest and most expensive houses in the city, where people with names like Getty live, well before the event.
There were several men at the door to the Traina mansion, one of them wearing a Congressional pin and an earpiece, the kind the Secret Service wears. I asked if the speaker was on his way, and when he might arrive.
"I know nothing about that," the man who was greeting guests said. The security guy said nothing.
But clearly, something was going on. More security showed up. A very small number of rich people, including to my surprise Mark Benioff, pulled up in cars and walked in. (My count: Fewer than ten people arrived between 11:50 and 12:30. Maybe they all got there early. Or maybe the event was a flop.)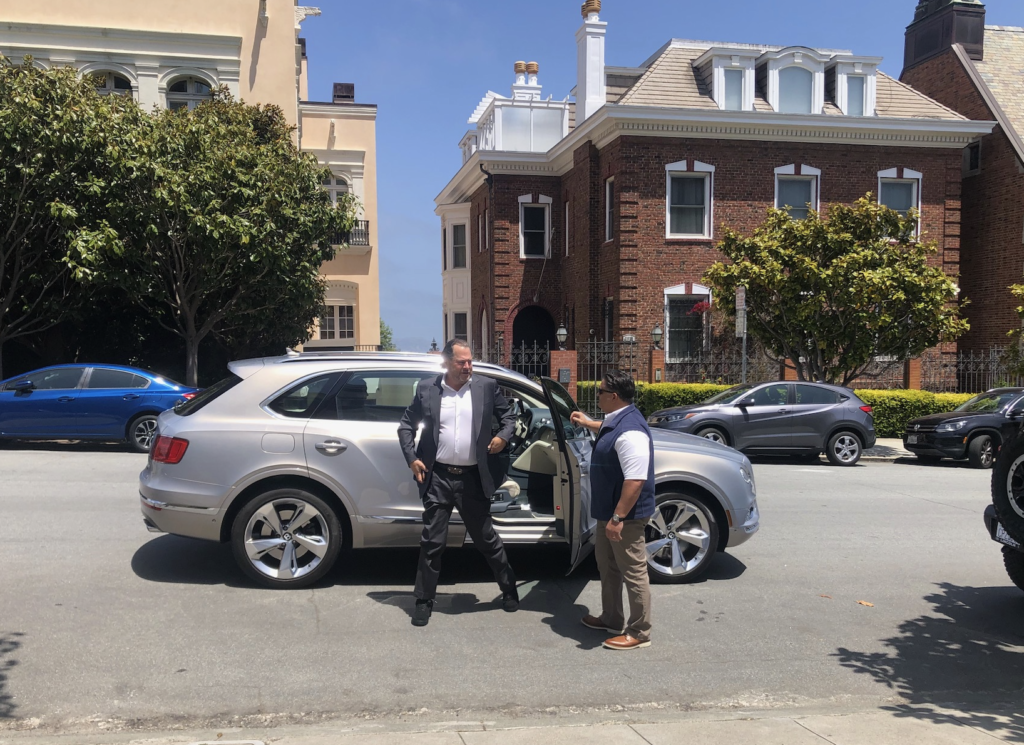 At 12:20, the guy with the earpiece started inspecting the two-car garage. Someone had to move a car from one bay to the other.
At 12:30, earpiece said "I have a visual," and noted that there was a reporter on the scene. The motorcade arrived moments later: Two black Suburbans, an SFPD car, and a CHP car. That's more security than an average member of Congress gets, and more security than a typical rich person; SFPD only provides this sort of backup to high-level officials.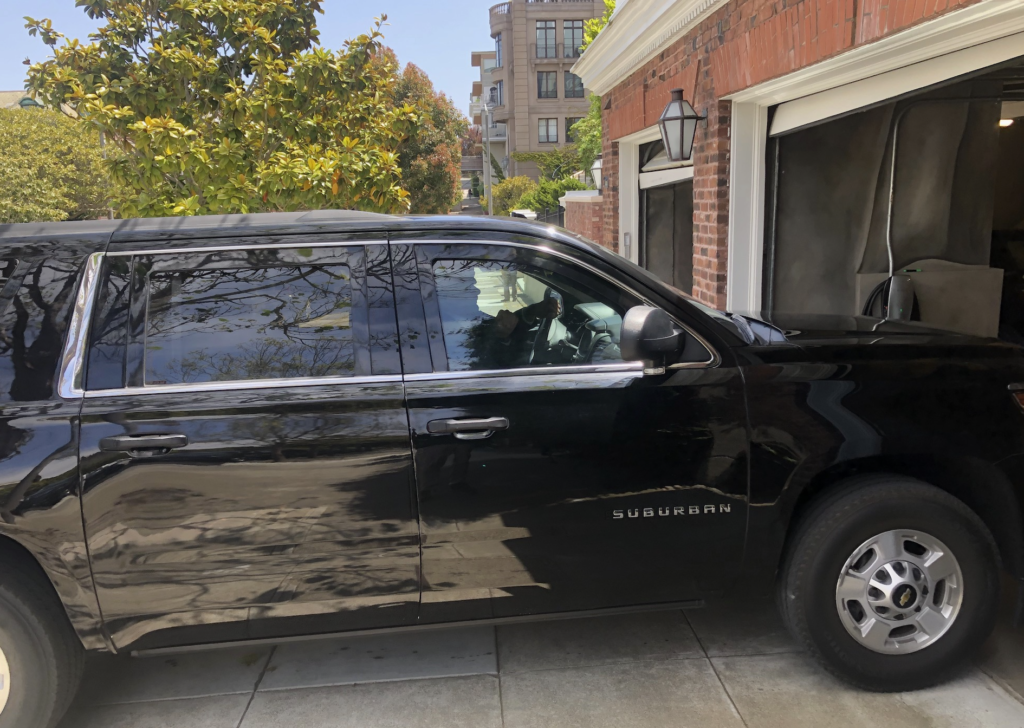 The first Suburban pulled into the garage, and several people got out. I couldn't see in well enough to ID the passengers, but someone called out "Hi, Kevin!"
I chatted for a while with the SF cop about McCarthy, the debt limit, and the quick trip to SF. "How did you know he was going to be here?" the cop asked. I told him I had my sources.
As far as I can tell, if that was indeed McCarthy, her had no other events in the city. He just snuck in, went to a lunch where it cost $100,000 to sit at a table with him, presumably raised some cash for his efforts to keep the House in Republican control (and deeply damage most of the programs that most people in this city care about), and split.
And if it wasn't McCarthy, who exactly was it?
The invite list, which I also got from a source, has all the expected names on it: John Fisher, Julie Haas, Sean Parker, David Sacks, Scott McNeally, and Dede Wilsey, who also happens to be Trevor Traina's mom. Benioff was not on the invite list. I'm pretty sure I saw Wilsey walking in, but I didn't see many others.
So yes, there are still very rich Republicans in SF—and apparently, Republicans who support the guy who was ready to crash the economy to hurt Biden, the guy who caters to the crazy-right-wing of an increasingly crazy party.
But they are a pretty small group, and they don't want to brag about it—or even make any public statements. They are the Stealthy Rich GOP. Right here in Pacific Heights.