ONSTAGE The play that kicks off the American Conservatory Theater's new season, King Charles III (Geary Theater, runs through October 9), comes with a lot of steam behind it — Tony nominations, rave reviews, a successful Broadway run. It's also got a crackerjack premise: what if Shakespeare's great monarchical tragedies were updated to the near future, when Queen Elizabeth passes on to that great Royal Ascot box in the sky and Prince Charles ascends the burnish'd throne?
There's so much good stuff to dig into here. Charles' perceived lack of royal temperament, Kate and Harry's reigning tabloid glamor, Camilla vs. Di, the tensions roiling contemporary Britain — all offer juicy conflicts, played out with familiar and often beloved characters. Although at this point, oddly, speculating about the future of the Royal Family feels like a nostalgic exercise: arguments over the usefulness, and tax-exempt status, of the Windsors seem so quaintly 2000s, if not 1970s — overshadowed now by Brexit and a surge of nationalism that's only seemed to buoy the Royal rep. (A weird twist of the neoliberal moment: Now we appreciate the Royal family less as a ceremonial, undemocratic relic than an economic engine — those tabloids and tourist trinkets won't sell themselves!)
All the major players are here, embodied pretty spectacularly by the cast, especially Robert Joy muffling his way through Prince-King Charles, Allison Jean White channeling an unnerving replica of Kate, and Jeanne Paulson portraying an acerbic yet humanely drawn Camilla. When it came to his actors, director David Muse took the risk of impersonation over interpretation, immediately engaging the audience with an relatable type of pantomime humor, but also giving it more than a whiff of a hyperactive Madame Tussaud's.
The action follows two main threads. The first: Newly minted King Charles, as his first public act, takes advantage of a rare, unwritten tradition to "veto" an act of Parliament that curtails freedom of the press, especially the scandalous tabloids that both attack and feed the Royals. That causes major tangles with both the Tories and Labor, represented by their leaders (Ian Merrill Peakes does a great job of melding Tony Blair and David Cameron into the charmingly smarmy Labor Party Prime Minister) and an increasingly antagonistic populace, clumsily if effectively portrayed here as menacing, Anonymous-masked thugs with some snappy choreography by Lisa Townsend.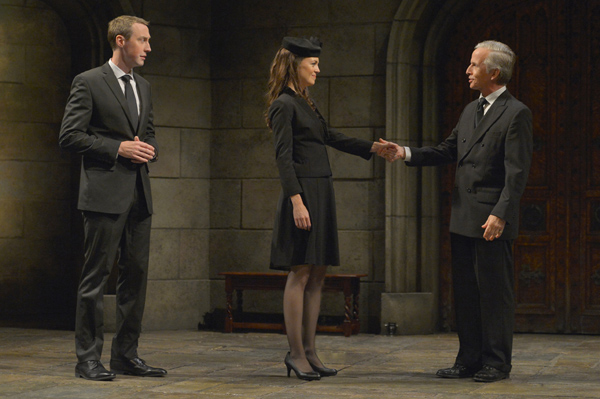 The second thread follows angsty-lite heartthrob Prince Harry (Patrick Russell, playing a meeker yet beefier member of One Direction) into the Muggle-world of London megaclubs, Burger Kings, and outdoor kebab carts, as he seeks to shake off his royal burden and experience life as "one of the people." Along his adventures, Prince Hal, er, sorry, Harry meets and falls in love with Jessica (Michelle Beck, scene-stealing in a blandly written part), the predictably sass-mouthed, street-smart gal who inspires Harry to ditch Windsor Castle for a bed-sit in Islington.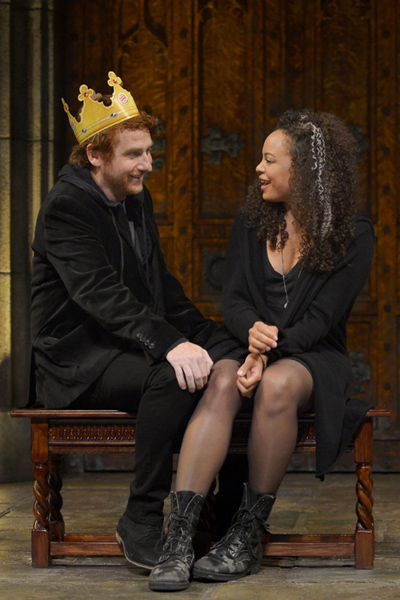 The main dramatic moment comes when Charles, in a fit of hubris, does something drastic that causes a Royal shakeup of momentous proportions, and spells doom for a couple characters caught up in the political machinations and cultural ramifications (including an ironic gloss on the freedom of the press).
Alas, none of this ever acquires enough dramatic gravity to register as more than a frothy soap opera, well-staged and well-told. (Some audience members, however, may leave with the feeling that they've just watched a commercial for keeping everything in its place: the Royals regally worshipped, the government increasingly conservative, and the lower classes begging for scraps of attention.) Yes, there are surprise betrayals and tragic consequences, but in terms of speculative political intrigue, Charles has none of the satirical acuity of "Yes, Minister," the gasp-inducing plot twists of the original "House of Cards," or the uproarious terror of "Black Mirror"'s infamous "National Anthem" episode. As for more posh quarters, also missing is the complex humanity of The Queen or the brilliant Marxist subversion of the first season of "Downton Abbey."
What we do get is a nicely engaging two-plus hour play that flies by, some great theatrical pyrotechnics — ace scenic design by Daniel Ousting and lighting design by Lap Chi Chu keep the striking stage pictures coming — and lots and lots of lovely, just-so language.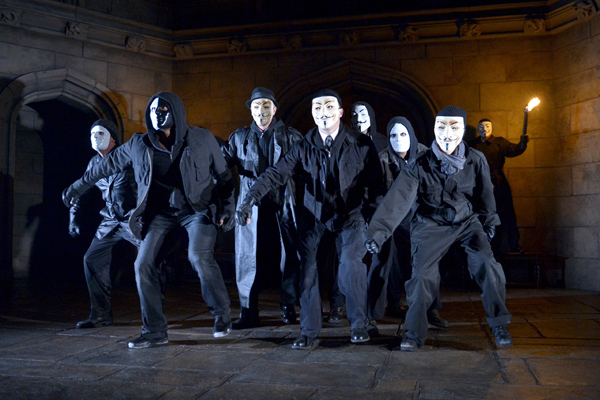 UK playwright Mike Bartlett plays coy in interviews with his immediate debt to Shakespeare, but from the first lilting soliloquy (the play was written in iambic pentameter) its obvious ol' Will was hovering directly over his glowing laptop. This may render much of the characters and action overly familiar: At several points, the play could just as well be titled Bard in a Blender.
But Bartlett is a very talented writer, and his language floods the play with craft and papers over its holes, despite a couple overly earnest speeches. He knows how to ding all the Bard bells when it comes to mixing high and low to dramatic effect  — dropping a "helicopter" out of nowhere into the middle of a sonnet, say, or knowing exactly when to revert to Ye Olde English diction to emphasize a character's timeless dilemma. The effect is almost too perfect, in fact: until the next Cal Shakes season, I'm all good on dulcet iambics, thanks.
KING CHARLES III
Runs through October 9
Geary Theater, SF.
Tickets and more info here