There's always a first time for everything, but I never thought I would ever find myself agreeing with Donald Trump. And yet, here I was reading his statement after The Washington Post released a recording of a "lewd conversation."
The "lewd conversation" was reportedly caught on a hot microphone while Trump was filming in 2005. The presidential nominee can be heard bragging about kissing, groping and trying to have sex with women. At one point he talks about how his apparent fame makes it so much easier to "do anything he wants" with women.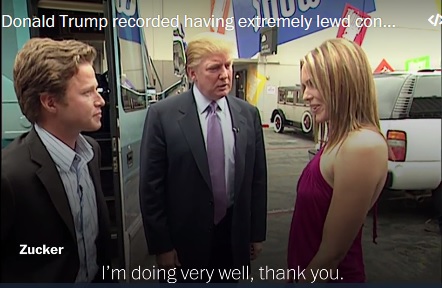 In response Trump issued a statement that says: "This was locker room banter, a private conversation that took place many years ago. Bill Clinton has said far worse to me on the golf course — not even close. I apologize if anyone was offended."
I agree with every bit of that statement. For once Trump is being honest about what he said and why he said it. He's telling it as it is. He's telling the world what women have known all their lives and continue to live with — the fact that boys will be boys, that they will say things that are "crude" and may be "offensive," but please don't "get you panties in a twist" because this is just locker room banter. Please don't talk about rape culture, don't mention how casual jokes about grabbing, groping, scoring, and dumping women makes light of abuse or enables it. Please don't get all emotional and don't be a "feminazi."
There's of course been a massive reaction to the "leaked" tape. Social media will have you believe that the world is full of rational men who are appalled by the very fact that a man could speak about another woman like that. How could he? But read closer and you'd see that the outrage and schooling on rape culture focuses on the fact that this man is a presidential candidate, as it should. This man is running for president and he feels comfortable in belittling women publicly and in intimate conversations. This man is not fit to run a country or be a leader. Yet, this disgusting, misogynist, bigoted, racist and fascist man is every bit the same in his "banter" as many other young men now reacting in disgust.
So while this leaked tape has opened up a conversation about Trump's apparent knack for disrespecting women, how about we take a step forward and talk about how for once Trump represents you, or your friend or your friends' friend. Because honestly, if you are a man and haven't heard or been a part of similar banter I would like to meet you, study your life, and be in awe of you forever.
Hating on Trump (which he makes extremely easy to do) is a cowardly knee-jerk reaction. It takes away from the fact that rape culture exists and it's thriving. That we don't question it enough — and those that do end up facing more abuse. That more than half the world's population is forced to live with the fact that the other half may say abusive, derogatory and rape-y things about you — but please stop over reacting and lighten up.  Oh, and while you are at it please smile more often.
For instance, Trump's "lewd" remarks are considered outrageous — but there's not nearly as much outrage about Billy Bush, who consistently partakes in the conversation and eggs him on. No, I am not saying that Bush should be held to the same standards as a presidential candidate. I am saying that rape culture should be shunned regardless of one's political stature, that we should question whether it is more convenient to talk about rape culture and abuse when it's coming from someone whose politics you do not agree with. That the personal is political doesn't work at your own convenience.
For now, I am reading in awe as men one after the other, talk about how bad rape culture is and how Trump's remarks are "so not presidential" and hoping that maybe by some stroke of luck some of them could get a quick flashback to last nights "banter." But I am not holding my breath just yet.