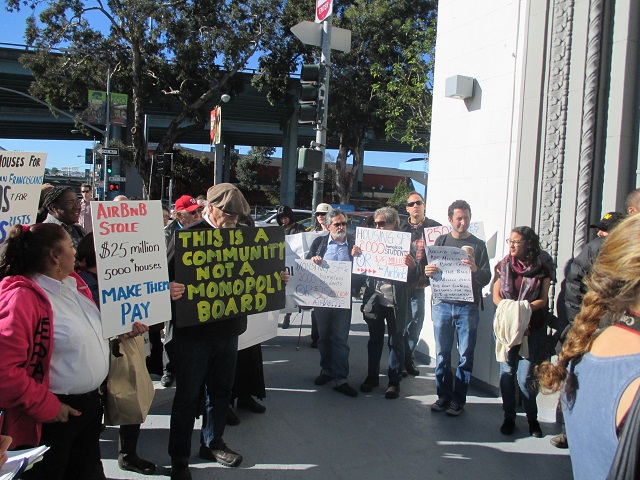 The way the Chronicle spun the new study on Airbnb was just fine: The platform does, indeed, hurt the city's hotel industry (and hospitality is the second largest employer in the city, so it hurts jobs). The mayor, who is all about the "jobs agenda," doesn't seem to care about jobs for hotel workers, who not only lose shifts to Airbnb but lose their homes to evictions.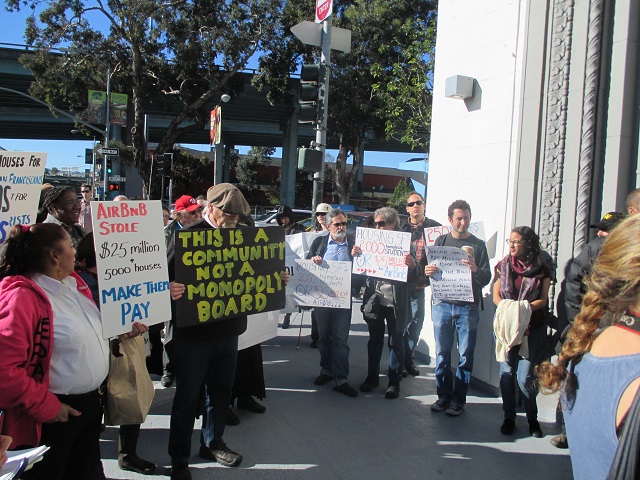 Airbnb rents out over half-a-million room nights (in San Francisco) every year, which translates into 50,000 housekeeping shifts (lost) out of hotels," said Ian Lewis, research director of Unite Here Local 2, which represents some 12,000 hotel workers in San Francisco and San Mateo. His members are doubly impacted because they also "are on the front lines of the (housing) affordability crisis," he said.
But there's another side to the study, conducted by a respected national research firm and paid for by a hotel industry trade group. (The industry has finally figured out that Airbnb is a threat, and is (again, finally) working with hotel worker unions and community activists on the issue.)
The study shows that the city's Airbnb regulations are a total sham. The law that is supposed to control short-term rentals doesn't work – at all. There are huge numbers of illegal listings, and the city can't or won't control them.
At a debate in D5 a couple weeks ago, Sup. London Breed put out the line we have heard from Airbnb supporters repeatedly over the past few years. When she was asked about her vote on the Airbnb law, she said that she was concerned about the small operators, the hosts who rented out a spare room now and then to defray the high cost of living in San Francisco.
There are people who do that. The law the Breed rejected – requiring that Airbnb make sure all the units that it allows on its site are legal – would have no impact on those hosts at all.
The problem is that thousands of housing units have been taken off the rental market and turned – illegally – into full-time hotel rooms. The current city law isn't perfect, but it does say that you can only rent out your own primary residence, and only for a limited amount of time.
The supes in June finally realized that the weak laws weren't working, and passed a measure subjecting Airbnb to fines for every illegal listing it posted. The company has sued the city, and that's now pending. The federal judge who heard the case today was a bit dubious about Airbnb's claims.
In the meantime, we can see what's happening in a city that has been overwhelmingly accommodating to Airbnb. (How accommodating? The law that then-Sup. David Chiu introduced was written in part by Airbnb lobbyists. And Airbnb's top lobbyist, David Owen, tried to defend himself last night on NBC, but wound up saying, in effect, that since Airbnb thinks the new rules aren't a good idea, it has no intention of following them.)
Let's look at the numbers that the study turned up:
People who have two or more apartments or houses listed – by definition illegal listings – account for 1,463 listings in San Francisco. Those illegal listings grossed $28 million last year.
Also illegal: Entire homes or apartments listed for more than 90 days a year. That's 1,352 properties, worth $58 million a year.
In fact, 73 percent of Airbnb's revenue last year came from listings that violate the existing city law. More than $66 million came in from what everyone agrees is illegal activity.
So the city is fighting Airbnb in court, and thus far has not enforced the new rules. I don't know why we're even arguing about this.
The city has the right – now, with a simple vote at the Board of Supes – to make all short-term rentals illegal, and put Airbnb entirely out of business in the city.
If we had a mayor who knew how to lead and wasn't so close to the likes of Airbnb investor Ron Conway, the city attorney could make it clear: Drop the lawsuit and follow the existing law, or we'll shut you down entirely.
Airbnb operates in SF only because the city changed longstanding rules against short-term rentals and gave the company a special dispensation. Now it's suing – because, let's face facts, if Airbnb hosts had to follow the rules, nearly three-quarters of the company's revenue in its home town would vanish.
The small operators Sup. Breed and others talk about? They would be fine. The criminal speculators who clear out entire buildings of tenants and turn them into hotels would be out of business.
Why are we still tolerating this?