PARTY RADAR I was alerted late on Saturday night that the long-dreaded transfer of the license had occurred: The Gangway, the city's oldest gay bar (since the 1960s) and one of its oldest overall bars (since 1910) shut down at midnight, its workers informed by text that it was all over. It's slated to become—what else?—a kung-fu-themed laundromat, owned by the operators of Polk Street meat market Kozy Kar. Yep, the rape-y one, huzzah.  
So many memories have been pouring out about the space—political organizing benders in the 1970s, drag goddess Juanita More performing her heart out there in the 90s, DJ Bus Station John's legendary Manquake parties, where people danced to vintage disco in the back beneath a constellation of stars on the ceiling (and several young queer politicos got their start go-going semi-ironically).
I still frequented the cozy joint, taking comfort there after the Ghost Ship fire, ducking in for drinks during shows at next-door record store RS94109, and really just to enjoy the old-school ambience and incredibly diverse (and sometimes hilariously salty) regulars. 
DJ Josh Cheon spoke to former owner Jung Lee, who says new owner Sam Young promised to keep the bar intact as the Gangway. (A similar promise was made to drag bar Marlena's in Hayes Valley when new owners took over, and it was almost immediately stripped to the studs and renamed.) In any case, I will always fondly remember coming in out of the cold Tenderloin hustle for a cheap shot and a free hot dog or scoop of adobo from the crock pot in the corner. Viva La Gangway.
Here's a shot of Juanita More to see the beloved little pirate-themed bar off. (Now the only gay bars we have in that part of town are Aunt Charlie's and The Cinch—please go support! Buy me a drink!)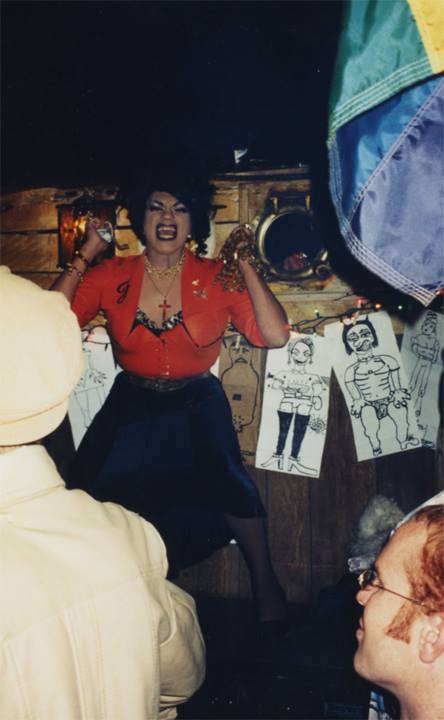 TASTE OF INDIE Sure, sure movies are great, but one of the things I love about SF Indie Fest is the parties. This year at the 20th annual festival, there's a clutch I'm recommending. And while they're not quite dance-floor fodder, they're super-cute (especially for Gen-Xers and their admirers—is that a fetish yet?).
Let's start with something that isn't a party, but will send you spiraling into rave visuals flashbacks all the same: an Akira live rescore on February 8. "Using synthesizers, acid basslines, drum machines and audio samples from the film, San Francisco based electronic musical score design duo The Firmament has created a live electronic score to the 1988 cyberpunk anime classic Akira by Katsuhiro Otomo." Hell yes. 
Also check out: Pee-Wee's Big Adventure Bingo on  February 10; an Anti-Valentine's Day Power Ballad Sing-A-Long on February 14; a "shadow cast" live act-a-long screening of the movie that cemented my childhood crush on John Goodman, The Big Lebowski, this Fri/2;  and, indiest of indie, "The Opening Ceremonies of The Olympic Bad Art Gallery" on February 9, which I think is a very elaborate art opening, but for deliberately bad art? Let's dance.    
MORE PARTIES OF NOTE
THU/1: GRATITUDE FOR GRACIELA Graciela has been supporting a family of five by working at Gray Area, The Castro Theater, and several other places. She's an amazing member of the community and positive force — but has now been forced from her home. This fundraiser aims to help her get new housing for herself and her family, and features an all0-star DJ cast, including Jackie House, CZ, and Trevor Sigler. 6pm-11pm, donations requested (you can also donate here.) Gray Area, SF. More info here.  
THU/1: INTERSECTION Fabulously out there techno from local stars Russell E.L. Butler and TOPAZU, as part of the Intersection party series  that brings together both sides o the Bay. 10pm-2am, $5-$7. The Stud, SF. More info here. 
FRI/2: DESPERATE LIVING ANTI-VALENTINE'S DAY PARTY 'Tis the season for some good ol' funk rock kick-in-the-teeth romantic cynicism. Queer punk rock monthly Desperate Living is a hoot (and John Waters approved!), this time featuring DJ Rose Gold, live set by Rose Hips, and tons of crazy drag performances. 10pm-4am, $10. The Stud, SF. More info here.  
FRI/2: HVOB Live electronic music with vocals and an onstage drummer may not be a new notion, but duo Anna Müller and Paul Wallner make some really lovely tunes together, part-way between pop and contemporary progressive. The Modular party hosts. 9pm-2am, $20-$35. Mezzanine, SF. More info here. 
FRI/2: D.A.N.C.E.: A BLOG HAUS NIGHT Welp, we're finally retro-using the late 2000s, doesn't it feel great? And while we have several very fine indie dance nights happening (including like five Daft Punk tributes!), this one really nails that ancient blog haus feeling, partly because it's a party based in LA, and partly because it's headlined by electro star of yore Them Jeans. 9pm, $10. Rickshaw Stop, SF. More info here. 
FRI/2: NEUD PHOTO The Vague Terrain party again gives us something intriguing: "Neud Photo is Nico Nightingale, an Electro/EBM/Wave producer from NYC (originally from Detroit). Joining him for this performance is Cristiano Grimaldi, one half of duo INTRZN." 9pm-2am, $5-$10. Underground SF. More info here. 
SAT/3: KAFANA BALKAN 11TH ANNIVERSARY One of my all-time favorite parties is over a decade old??? Wow. Find yourself whirling and stomping to live and rare Balkan beats in a super-enthustiatic crowd — this edition features ana amazing show: Inspector Gadje Brass Band joined by Macedonian Roma clarinet maestro Ismail Lumanovski, and the always charming DJ Zeljko. 9pm-2am, $18-$20. Rickshaw Stop, SF. More info here.   
SAT/3: HARD FRENCH WINTER BALL This annual queer classic soul throwdown is THE season event for dressing up and getting down. This year features disco dive Thelma Houston ("Don't Leave Me This Way") and a fabulous DJ cast including Bus Station John, carnitas, and Brown Amy. Sold out online, but tickets at the door if you come early! 9pm-2am, $25. Gray Area, SF. More info here.  
SAT/3: THE HARDER, BETTER, FASTER, STRONGER LOVEFEST This is one of those great indie dance parties I mentioned above. "Modern day Indie & Electro meets classic Electronica from the 90s/2000s" with DJ Damon and tons of free dlow-in-the-dark prizes and five-foot aliens (?). 9pm-2am, $5. Slate, SF. More info here.  
SAT/3: DEECEE'S SOUL SHAKEDOWN A classic party! Jah Warrior Shelter and more celebrate Bob Marley's birthday in a room full of groovers and skankers. Roll 'em up. 9pm, free with RSVP here. Mezzanine, SF. 
SAT/3: GO BANG! Disco DJ legend Lester Temple joins young Jim Collins at this insanely cute monthly disco romp, full of familiar and friendly faces. 10pm-3am, $10. The Stud, SF. More info here. 
SAT/3: POWERBLOUSE Castro District Supervisor candidate Rafael Mandelman is going to do drag for the first time, eek! Every month, drag legends Juanita More and Glamamore pick a willing newbie and dress them up live on stage. Plus dancing with DJ Rolo. It all benefits the Q Foundation. 10pm-2pm, $5. Powerhouse, SF. More info here. 
SAT/3: SO TOUGH A night of "all hammer no bammer" — but not really so scary as that. Erica (formerly known as post-witch house maven demon gay) performs live after too-long an absence, with Viewfinder and Controlled Absence. 10pm-2am, $5. Underground SF. More info here.