ALL EARS It wasn't so long ago that people thought Con Brio was dead. In 2013, its original lead singer had moved on and San Francisco's homegrown soul sensation needed an update, in the form of new bandmates. Enter two horns (Brendan Liu and Marcus Stephens), a guitar god (Benjamin Andrews), and Ezekiel McCarter: a 20-year-old recently arrived from East Texas with James Brown dance moves and a liquid gold falsetto. The band quickly built a rabid local following that swarmed performances at gigs like the Yerba Buena Gardens Festival (which, by the way, opens this Sunday ) with their hands already in the air.
Con Brio's first studio album, Paradise , propelled them onto the international touring circuit. This Saturday, the group makes a rare appearance at home to headline the Fillmore for the first time. Its second album is due out on July 6 from Transistor Sounds records, and the first single will drop Friday, in advance of the show. (Both the album and single titles are secrets until then.) The Fillmore show is both a celebration and a family reunion: the seven-piece band will play host to Kelly McFarling, Lalin St. Juste from The Seshen, among other local guest musicians.
I met McCarter (who goes by "Ziek") and drummer Andrew Laubacher at the house two blocks from the Fillmore where Ziek's grandmother has lived since the 1950s. (It was the only house on the surrounding blocks not destroyed during the Redevelopment Era .) The pair described what the band's meteoric rise has felt like from the inside, and how they're still tied to San Francisco and that classic San Francisco value: music as a weapon of love.
48 HILLS Legend has it that Con Brio was a band without a lead singer, and you met Ziek when he was singing Stevie Wonder covers at an open mic night.
ANDREW LAUBACHER Is that the story?
48 HILLS That's the legend! So how did you guys actually get connected?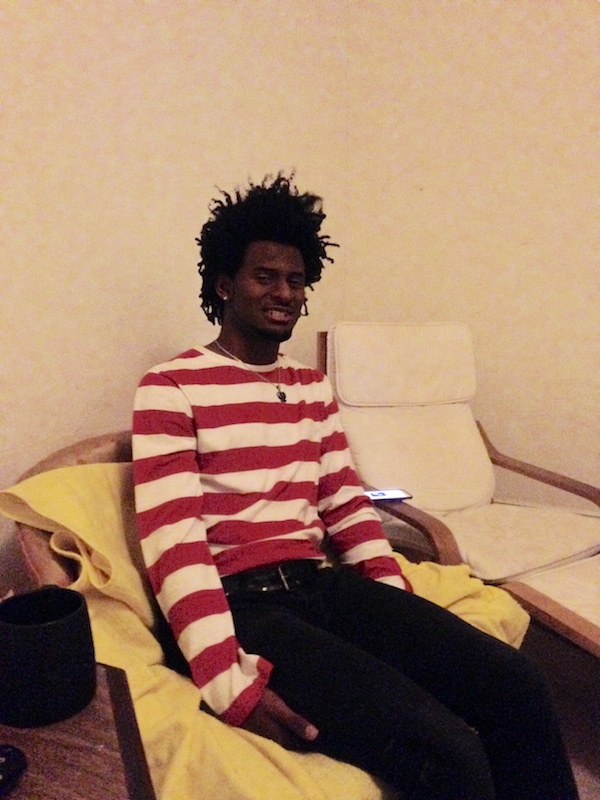 EZEKIEL "ZIEK" MCCARTER I met Micah [Dubreuil, Con Brio's founding keyboardist, replaced by Patrick Glynn] at a jam session. Micah and I would be watching these O.G.s play for like two hours, and then they would let us up for like the last two songs. He and I would spend a lot of time quiet together, just listening intently. He would also play with me at a residency at the Boom Boom Room called the Soul Train Revival—so we were playing Stevie Wonder songs.
I think I was at the Boom Boom Room with him, and Micah was like, "Xandra [the original lead singer] is leaving."And I was like, "Sure." I think I saw Con Brio once, on Halloween.
48 HILLS Where were you at that point in your life? You were really young, right?
ZIEK I was 20.
48 HILLS What brought you to San Francisco from Texas, and what were you trying to do at that point?
ZIEK It was music—music brought me here for sure. But I always wanted to live here since I was a kid because my mom's from here, like grew up in this house, and we came here a lot growing up. There was this music opportunity I came here specifically for, but it didn't quite work out. And then I was just here, and I moseyed my way into the Boom Boom Room.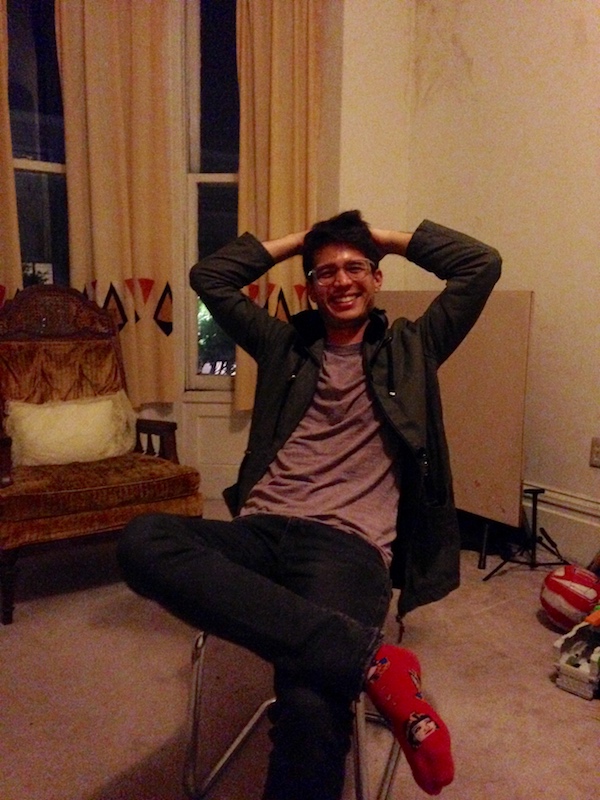 48 HILLS Andrew, where was the band at that moment? Were you trying to pull it back together?
ANDREW Micah and Jonathan [Kirchner], the current bass player, they put a lot of it together with the old singer, Xandra [Corpora]. Around that point when it kind of split up, there was this moment where the three of us were like, "Well, let's just keep doing it." And at that point, it was a conscious decision to try to pull people in.
A lot of times when you start bands, you're all friends, or you're all in the same music scene. This was really a bunch of strangers that were like, "Let's play some music and just see what happens." And there was just an immediate electricity to it. It just felt like, "We gotta put this out there."
48 HILLS The first time I saw you guys was at the Undercover Presents tribute to Sly and the Family Stone's Stand! at the Independent. I was in the crowd with one of the members of Guy Fox [a local indie rock band], and he was surprised to even see you on the bill. I think a lot of people assumed that the band died when the original singer left, and then saw it completely reborn with Ziek out front at the UnderCover show.
ANDREW It's funny you say that because—there's a lot of shows and stuff—but that's one of the moments in the band that I feel were really defining. It was like everything focused. It was suddenly like, "Oh, this is a band."
ZIEK Yeah, you saw us at a very special time.
48 HILLS After the UnderCover show, I probably saw you guys six times that year, and each show was just a little bigger than the last, to where now you only play the bigger venues locally: Stern Grove, SFJAZZ. It seemed like such a healthy way to grow the band. Was that intentional, or did it just happen that way?
ZIEK I'd say it's a mixture of both, but yeah, we're very intentional with the moves we make. You don't want to exhaust the fans. You want them stoked every time—want it to feel like a holiday every time we play.
ANDREW Next album, it's a song: "It's A Holiday Every Time We Play."[Everyone laughs.]
48 HILLS A lot of your songs have a "money can't buy me love" kind of ethic. But at the same time, you're touring a lot and trying to survive as musicians. How does that value system that's present in your lyrics play into the decisions that you make as a band?
ZIEK That's a very good question. I've thought about that specifically, since I wrote the song ["Money," from first album, Paradise]. Yes, we may endure trying times, and you need money, but how are you invested in the relationship with money? Are you investing your money in yourself, in your family's ideas, in your community's ideas? Like me being able, for example, to invest in my nephew if he has a basketball team he wants to put together. That type of relationship with money is totally positive. Not just seeing it as something that you have to do appease this value that isn't innately yours.
ANDREW With this record, we were talking to different labels, and there's different things we could have gotten from them, based on the size of the label. And some of them were really shiny and exciting, but in looking at it further, it was sort of like, "Well, what will we be giving up?" The labels we're talking with right now, they understand what we're trying to do. We're not trying to jump too many steps for the quick adrenaline rush of, "Oh my god, look at what we just got."
48 HILLS I've also noticed that—despite the fact that you've been touring—I still see you out and about a lot: at Smoked Out Soul at Monarch, or at Extra Nappy at Madrone. Why is it important to you to be plugged into Bay Area music and culture when you're here?
ZIEK It just feels good, you know? These are our homies—and not only are they our friends, but these are our friends who have spent years doing this, teaching within the community, been so consistent, and there's a respect for the craft that they have that we all share. Just going to support that, going to witness that—it keeps my fire lit.
ANDREW It's inspiring. It doesn't matter like where you come back from: sometimes we'll fly back from playing some festival or whatever, and then you land, and you go to some tiny little bar and there's a band in the corner, and they're just slaying. And you're like, "I need to rethink what's going on. These people, this is the truth right now, and we need to make sure that we're on their level." That's a beautiful thing that the city has to offer.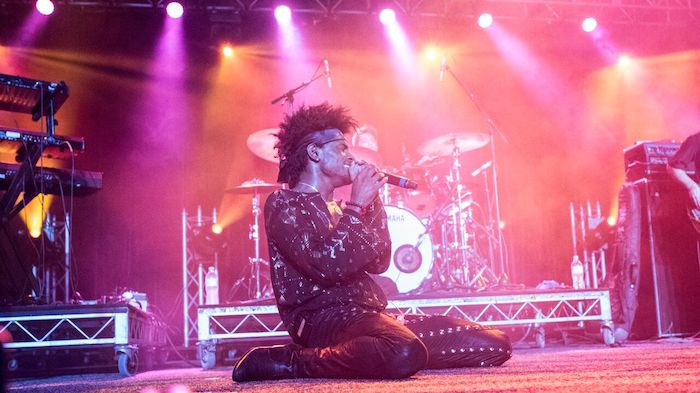 48 HILLS I wanted to get into the music a little bit, but right at the top of the liner notes for Paradise is the fact that Ziek's dad was killed at the hands of police. Do you feel like sharing any more about what happened that day and the impact that it has had on your family?
ZIEK What happened? Well. He was unarmed, and he was in the parking lot of his childhood church. The police were called on him, and the police officer was young, inexperienced—I think he was 20. He was my age. He said my father tried to reach for his gun. And he shot him. I found out in the morning. I woke up and my mom told me.
In Texas, that's so common. I just assumed that nothing was gonna happen, that the police officer was gonna get away—that everything that happened was gonna happen. My whole family is distraught, and like, "Where we go? Who do we hit up at NAACP?" But for me, as, I guess, the next "man" of the house, I just wanted to submerse myself in where my strength was, and that was in music and creativity. I felt like I could be effective—most effective—in that arena.
48 HILLS How do you work with that kind of tragedy? When you talk about those kinds of issues in your music, how do you think about it?
ZIEK Writing and performing music has always been cathartic for me, so in my music I just talk about the dreams and realities of my life, really. It doesn't haunt me—like we were working on Paradise, we had to record the Paradise outro, and my dad visited me in a dream like the night before we recorded it. I woke up the next day and just wrote everything out and recorded it that day. So that was a very positive push that I felt from that. I see that tragedy as a catalyst for many positive and negative things in my life. I choose to feed off the positive to empower myself and others along the way.
I was writing music and creating and performing—all of that was my essence before he passed away. His death does not immediately saturate everything musically that comes out of me. I'm still human, so I experience other shades and aspects of life. Speaking out against injustice—because the way he was killed was unjust—it comes through when it needs to come through, and there are some of those songs on the new record. 
48 HILLS Thank you for being willing to speak to that. It does come out in your music, and I think it's part of what draws me to the band.
ZIEK My hopes were that it would speak to those who were affected by it. Whoever it speaks to, I'm glad it speaks to, but that was really my goal: to create some momentum for those whose families have endured—maybe a son who was in my position, or daughter, or wife.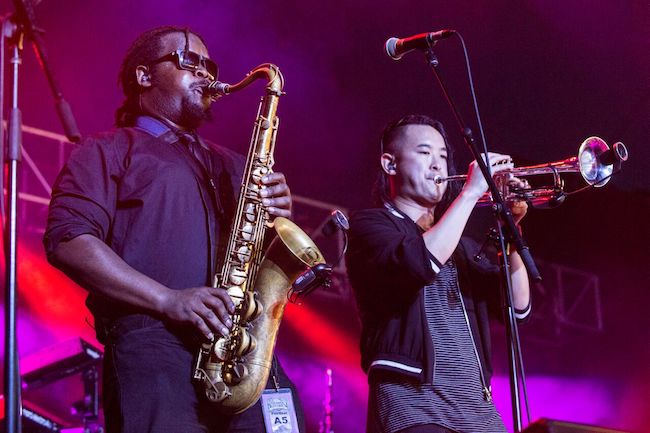 48 HILLS What was the inspiration behind the new album?
ZIEK We listened to a lot of Anderson.Paak, Tame Impala, Thundercat—all those guys who are doing soul and R&B and kind of funk-inspired music, but in a more modern way.
ANDREW People always say this to us when we go to make a record: "Your live show is so great, and we want to capture that energy!" And I think on this one, rather than actually capture the live show, we tried to figure out sonically: how do you create that excitement of seeing Ziek dancing, or watching Brendan [Liu, trumpeter] jumping around onstage going crazy?
It's very reflective, I think, of the last year of our lives. The first record, we were wide-eyed, and there's other realities now: different fears, and different excitement.
48 HILLS What are the fears and excitements that go along with this album?
ZIEK It's just getting back into the saddle at the time of so much affliction going on, that we're taking in as creators, and as human beings.
ANDREW We were in the studio the day of the election.
ZIEK That night, and wrote a song. That was all part of the creative window of working on this album: what's an antidote that we can create that will help people gravitate towards more of a positive, momentous energy? How can you feel motivated to address some of these issues?
Well, you gotta feel good, first. You gotta feel some type of confidence in yourself that you can face these things. Part of that is just simple things, like relationships, and so we've got some songs for that. Dance songs: you gotta dance, you gotta love your body. Travel: we got this song about traveling called "United State of Mind."
ANDREW When we left the country, it was a little nerve-wracking because you're like, "Is everyone going to hate us?" And then everyone was super—it's like we had to leave the country to get our heads right.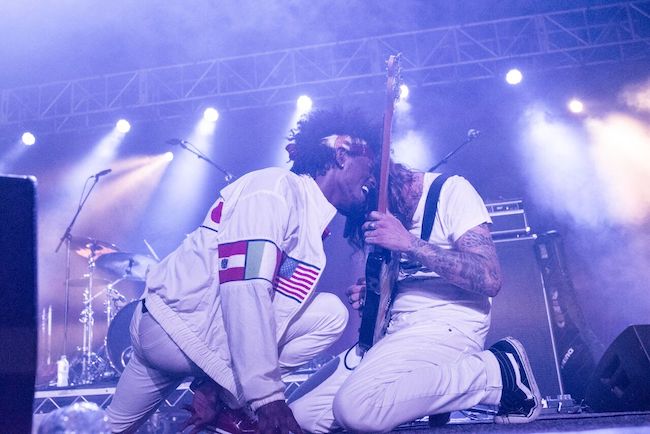 48 HILLS What does it feel like to be headlining the Fillmore for the first time?
ZIEK The Fillmore is…historic. We've opened up for bands there before, but headlining it is something else. And for me, especially, walking past it so much, it's like my neighborhood, so it's automatically a dream come true for me.
CON BRIO
Featuring Kelly McFarling, Lalin St. Juste, and others
Sat/5, 8pm, $25
The Fillmore, SF
Tickets and more info here.