ONSTAGE A couple years ago Leah Nanako Winkler and her colleagues at Youngblood, a collective of playwrights under 30, were looking at the season for the Manhattan Theatre Club and they noticed the plays were similar in a familiar way.
"My friend said, 'Oh my God, it's white people by the water,'" Winkler said.
Winkler decided to try and write one of these plays, where rich families meet in their houses by the water and spill their troubles over white wine. The characters—the manic depressive brother, the imperious mother, the supposedly-plain-but-not-really sister and a maid or assistant who gets no character development at all—came easily to Winkler. They were so much a part of the zeitgeist that the first day she worked on it she wrote more than 40 pages about the Donnellys, a dysfunctional, Caucasian family whose son, a famous actors, brings his assistant home on a visit. 
"I knew all the characters—they're archetypes at this point, and they're kind of presented to us as normal people gone crazy," she said. "They're rich and white and their problems are not necessarily relatable."
Winkler's play, Two Mile Hollow, is playing at the Potrero Stage until July 15. Winkler made a big change to it since she first wrote it: Now all the members of the white family are played by actors of color, in what she describes as sort of a "mean 'Hamilton.'"
Dramas about rich, white families are still very popular in New York, Winkler says. She had seen how lack of roles affected Asian American actors, and she didn't want to be part of shutting them out.
"My Asian actor friends all go in and they're all competing for one role," she said. "It's a travesty, and it doesn't let actors do anything different. I didn't want to perpetuate that." 
In Two Mile Hollow, the characters do it all. They drink white wine, of course—and Scotch. They eat coq au vin and cake. They argue over who gets their dead father's motorcycle. They break into song and a dance. They mispronounce words. They regret how the service at Jean Georges has slipped. They discuss gluten allergies. They have ideas for a Web series. They throw quotes from Tennessee Williams and Nathaniel Hawthorne at one another.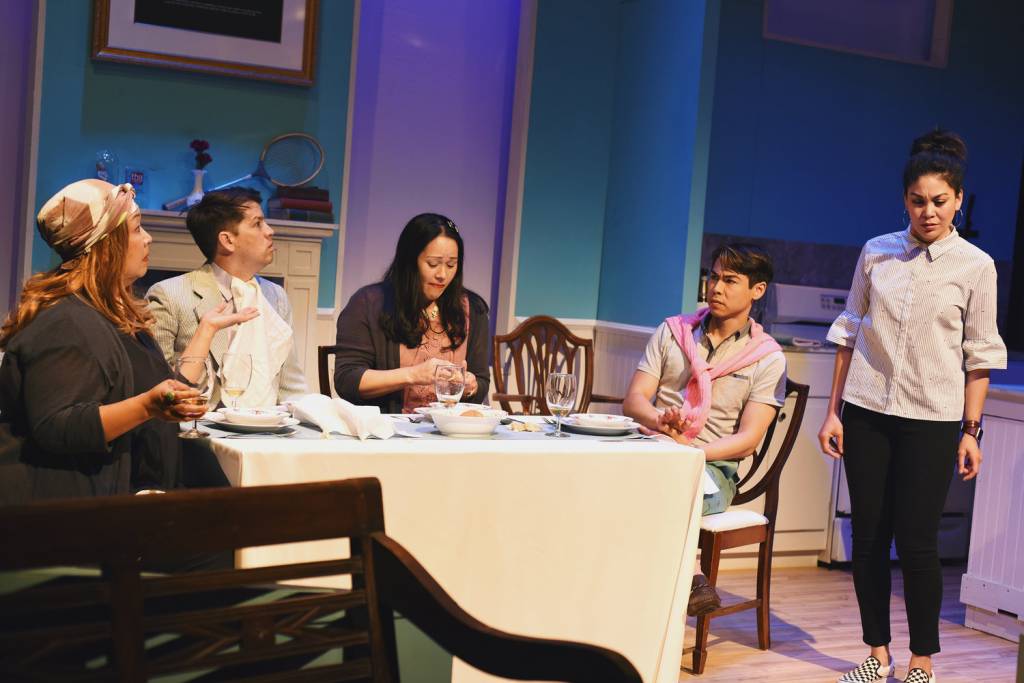 Winkler wanted to give Asian actors a chance to be funny and physical and not just the quirky sidekick. She credits Ferocious Lotus theater company founder and director Lily Tung Crystal with the success of the performances, which drew big laughs on opening night. 
"I wanted to do a few things," Winkler said. "Highlight under representation and toss up this tired narrative and at the same time have fun. Lily did an incredible of of grounding the performances."
Winkler's family moved from Japan to Kentucky when she was a kid. She got into theater in high school when she was thrown off the basketball team and went to a drama class with a friend to fulfill an elective requirement. Her teachers told the students theater was a place to try unsafe things. It made a huge impact on her, Winkler said. 
"I went from this aimless kid who wasn't doing so well in school to someone who was passionate about something," she said. "I don't think I would have gotten out of Kentucky and had a career if it wasn't for that."
Winkler, whose plays include Kentucky, God Said This, and the upcoming Hot Asian Doctor Husband, went to Japanese class when she was in grade school. The teacher didn't expect much of her because she was mixed, Winkler says, but when she assigned the class a personal essay, the teacher told her mother what a good writer she was. Writing became Winkler's favorite thing to do. 
She decided to completely dedicate herself to that a couple years ago. She quit the full-time job as a personal assistant she'd had for years when a play of hers got to Off Broadway, so she could go to the daytime rehearsals. She had to give up her apartment and couch surf, but after trying for so many years to write plays, she wanted to give everything to it. When she was down to about $300 in her checking account, she started getting recognition, including a Mark O'Donnell Prize, a Jerome Fellowship at the Lark, and recently, the Yale Drama Series Prize.  
"It changed everything," she said about the awards. "The only dream I ever had was to write for a living, and I thought as long as I can live extremely minimally, I can do it with full force. But I didn't think it was actually going to work out."
TWO MILE HOLLOW 
Through July 15
Potrero Stage, San Francisco
Tickets and more info here