PUFF My little Mary Lou is growing like a weed. Of course she is weed—she's the cannabis plant I have been raising from a seed from my www.apotforpot.com kit.
In April I wrote a column about the company and its kit which was a way for anyone, especially urbanites, to grow their own cannabis plant and harvest it. I started my own at that time and have been tending to Mary Lou (Mary Jane's cousin) since then.
At the time, I had reservations because I never had a green thumb or the urge to garden. Although all that may still be true, I am happy to report that I have been an avid and devoted caretaker to Mary Lou.
I have watered her, sprayed her with a special potion and carried her outside daily for a sun bath.
I've been posting pictures on social media about her growth like any devoted new parent would. "Isn't mine just the cutest!"
First she was a little seedling wrapped in a paper diaper. After a while I transferred her into her own pot. It was such a day of celebration. Then came the day she needed training wheels, so I slid two chopsticks in the earth on each side of her and tied her up with a piece of twine. Now she could learn to stand tall.
In the beginning I sprayed her every couple of days with a mixture of water, Neem Oil and dish soap to keep the bugs away. I was aware of every new millimeter of growth on that plant. I feared that I was a bad parent and my weed plant wouldn't grow any buds. Luckily, my friends in the cannabis community have calmed my nerves, kind of like a cannabis Dr. Spock.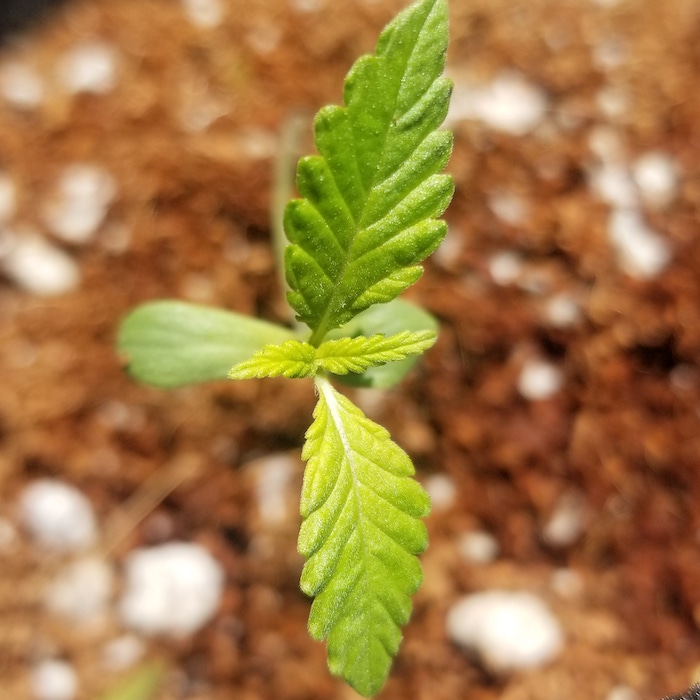 I am her Sunchaser, pushing her on a cart from sunny area to sunny area all day to insure her buds grow big and strong. I am lucky to have a backyard area to do this in, but a couple of sunny windows can have the same effect.
Of course it hasn't been all sunshine and happiness. A few days ago, someone broke through my security gate and ransacked through all my stuff stored outside. This jerk also assaulted Mary Lou! During the scuffle, he grabbed my beloved pot plant and yanked her up! When I found her, she looked bad. Luckily enough, the assaulter grabbed only the two chopsticks. The twine that had been holding her up was actually still on the plant holding her together at the top like a umbrella. Once I pulled down the twine, the plant was fine. The buds were safe! What a close call.
The last few days I have been watching her bloom into her adulthood. She no longer needs her training wheels and is standing tall. Puberty has brought mini buds under her leaves and they have begun to smell.
Now it is lots of water and sun and patience. I'm even leaving her under my oven light at night, just in case. I also talk to her and play beautiful music for her to grow to.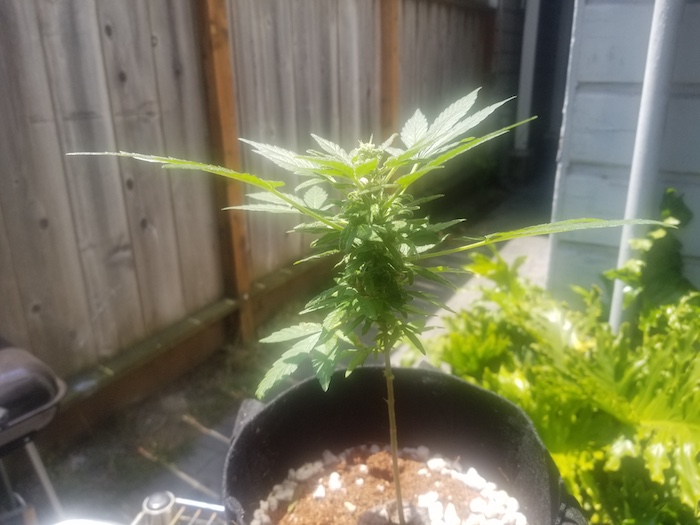 People have asked me whether I know the strain of the plant or whether I want to find out ahead of time and you know, I don't care. It's all weed to me. I will love Mary Lou if she is a sativa or an indica…or even a hybrid. I will love her, and harvest her, and smoke her like any proud grower would.
Of course, I'm getting ahead of myself. There are many exciting things for us to enjoy together before harvest. She has much more developing to do, and I more lessons to learn.
I will always think of these sunny days and nights in 2018 as one of the best times of my life because I am a first-time grower, and no one can ever be that again.
Now it's time to light up!