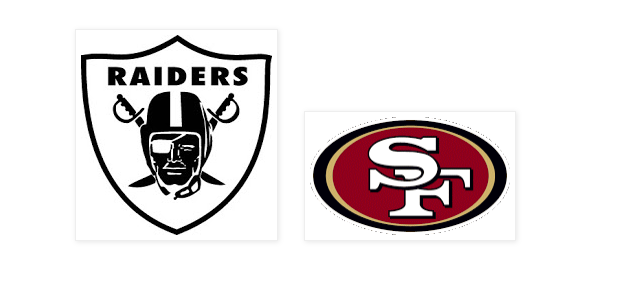 Now that the Raiders and 49ers have throttled the league into submission, it is only fitting that Thursday Night Doormat will feature the most unwatchable football game that you just gotta watch this week. They're 1-7 and 1-6, respectively, and looking like they can lose to anybody, the Whinos and the Faders will tee it up on three days' rest, which is all any crumbling franchise ask for, short of a 14-hour plane trip to London. Tops on the 49ers list is just trying to field 11 guys on a side for the tilt.  It'll be hideous, it'll be bad, it'll be Doormat football at its finest.  Be there.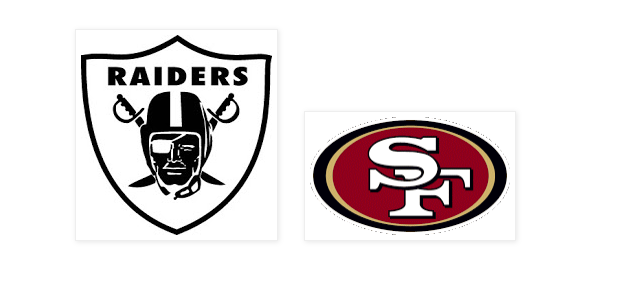 DOORMAT DIVISION WEEK 8
NFC            W-L        PF       PA       DIFF
Santa Clara   1-7         173      236       -63
NY Giants     1-7         150     205       -55
Arizona         2-6         110     199        -89
Tampa Bay    3-4         201     233       -32
Atlanta          3-4         190     233        -22
Detroit           3-4         201     186       -15
  
    
AFC            W-L        PF        PA      DIFF
Oakland        1-6         138       218     -80
Buffalo         2-5          81        175      -94
Cleveland     2-5-1      169      210      -41
Denver          3-5         188      194      -6
Jacksonville  3-5         134      170      -36
NY Jets         3-5         192      200      -8
THE GAMES

RAIDERS 21, COLTS 42
The Colts have a wide-open defense, built for this year's NFL. Wanna score?  Let us help you. As effective as that is, the Raiders have the real ace in the hole: being overmatched, having to give 150 percent effort just to be okay, and then running out of gas, completely, in the 4th quarter. Yesterday they coughed up 21 points in the 4th and took a close game and turned it into a blowout.  Raiders 1-6 and the worst in the AFC. It's amazing. 
49ERS 15, CARDINALS 18
I keep saying the Cardinals are the worst team in the league, and they are…but the 49ers have their number, so I have to switch gears.  Though… my gearbox doesn't go that low. 
I can't see the Whiners beating anybody now, except themselves, but the next two weeks will settle that lack of vision: the Raiders this week, on three days' "rest," and then the 1-7 Giants next week. How will they do it?  With a milquetoast defense and Doormat pro offensive line, keeping QB C.J. "Sackman" Beathard focused on evasion and quality of turf on most possessions.  
Somehow, the Vegas odds opened with the Raiders as underdogs to the Whiners.  This is only because it's a 49er home game. That's all it takes with this matchup.
JAGS 18, EAGLES 24
It just isn't London without the Jaguars taking the beery air out of Wembly stadium. The English have the best of both worlds:  A functioning parliamentary government, and imported football, where they don't have to fret over their kids or heroes getting head trauma injuries. They can just sit back and watch Americans beat the daylights out of each other, go home and make a nice spot of tea as a bracing rainstorm waters their chaotic English garden. Ah, the colonies are so quaint, and they don't cost us a dime anymore. Jags 3-4, have lost four straight and have barged into the Basement. The Jags are so bad they couldn't even pull off going for drinks in a pub, and then trying to waltz out as 'stars' and not pay. The Doormat Division does not pick up the tab in these situations. 
BROWNS 18, STEELERS 33
The Browns have now achieved the all-time record for consecutive road losses: 25. Having at made it to the mountaintop, they fired coach Hugh Jackson. Because, hey, MISSION ACCOMPLISHED.  Winless season AND most consecutive road losses.  Over the last 3.5 seasons, the Brown-outs are 6-49-1.  
GIANTS 13, REDSKINS 20
At 1-7 and tied for the NFC lead, the Gnats have to hang on for the bye week before the huge showdown with the 49ers, on Monday Night Doormat Nov. 12th.  Bye weeks for us basement dwellers is not a time for solving problems. It's a time to get further out of sync, forget the playbook, get in a fight at a club, catch your breath and…yes that's right, there are still EIGHT MORE GAMES TO PLAY. Rub on a little more Ben-Gay.
I have my doubts that the Gnats can lose to the Whiners. They both have porous offensive lines, but the Whines have no pass rush, and a shoddy defensive secondary, so my learned observation is:  Manning will have a throwback day, for one day, on the gridiron in Santa Clara Nov. 12th.  Or he throws his back out.
BUCCANEERS 34, BENGALS 37
It does not matter how many points the Bucs score. Their defense can outscore them.  There is no quarterback controversy when you need to score 40 points to have a shot at winning a game.
JETS 10, BEARS 24
Getting their total yardage down to 207, using eight timely penalties, and this week's low of 12 first downs (which will be shattered by the Bills tonight against the Pats), the Jets appear to be honing the losing down to simpler forms. Just don't do much.
The Doormat Division celebrates the down-trodden, and luckless, and the hapless. As much as we seem to be kicking them when they're down, we're just trying to find a way to ease the pain.  Our Commish's Raiders, my Niners, Fish's Lions…they're all at the bottom, or teetering dangerously near it, yet again. Remember to give your understanding and a hand of help, compassion and love to those less fortunate, and to come together for peace in this land. We gotta pull together.  
aaaAAAAnd THAT'S THE VIEW FROM THE BASEMENT!!!