Thousands of health care workers, service workers, and allies have walked off the job and are setting up picket lines and rallies at multiple University of California campuses across the state. These demonstrations are being led by the University of California's largest union, AFSCME Local 3299.
AFSCME local 3299 has been in negotiations with UC for their new contract covering patient care workers for over 20 months. But instead of providing real wage increases, benefits, worker protections, safe staffing, and ending discrimination in the workplace, UC imposed their own terms. Patient-care workers had their healthcare premiums increase by up to 61 percent, their wages flattened, and some of their jobs outsourced to private contractors.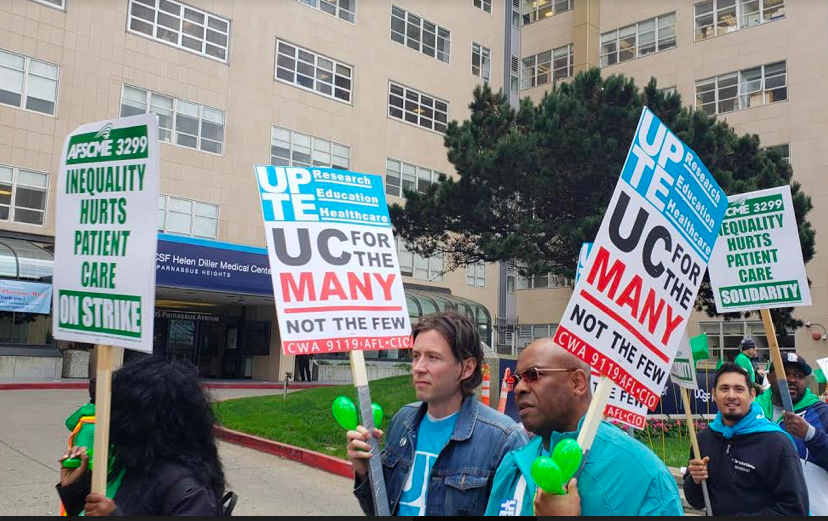 This is not the first time UC has exploited its workers. Earlier this year, UChad lobbied lawmakers in California for an extra $140 million,while sidestepping around the concerns of their most vulnerable employees. In addition,an analysis revealed the discriminatory practices and pay inequityinflicted on UC service workers, which ignited a fire and led to the authorization of a strike. The workers protested for three days in May to demand the UC provide both equal treatment for women and workers of colors and close the wage gap.
Not only has the UC system been able to disregard their workers' demands twice in one year, but there is also a lack of accountability on how school funds are allocated. The UCSF medical center's CEO Mark Laret makes about $1.1 million a year. In addition, UC administrators were given a 3 percent raise on top of their comfortable salaries. Yet, UC can't seem to pay the majority of their employees a living wage.
UC medical centers not paying their workers while expecting their hospitals to run smoothly may seem preposterous, but the workers being dealt an unfair deal are not nurses and doctors. They are the technicians, Nurse Aides, therapists, MRI technologists and others, which unfortunately makes it easier for UC to disregard their demands.
As of now, the workers on strike are demanding pay increases commensurate with California's rising cost of living, stopping the process of outsourcing jobs to private contractors, transparency, accountability and providing better work conditions. Standing in solidarity alongside them are the UC service workers and UPTE-CWA (University Professional and Technical Employees). There are actions at UC campuses over the next three days (Oct. 23-25) at UCSF, UC Berkeley, UC Davis, UCLA, UC Med and more.
This is the second major statewide strike to hit California within the last month. Marriott workers are still on the picket lines in San Francisco and San Jose.