Vija Celmins: To Fix the Image in Memory, currently at the San Francisco Museum of Modern Art, encompasses five decades of the artist's work with nearly 150 of her drawings, sculptures, and paintings of oceans, spider webs, night skies, and deserts. This is a show Gary Garrels, the senior curator of painting and sculpture at SFMOMA, has wanted to do for more than 20 years.
"For me, her work sort of stops me in my tracks," Garrels said. "You see a piece of hers, and it's not something you can say, 'I've seen it, I get it, I'll move on.' With Vija's work, you want to spend some time. It makes me very aware of my own process of looking and understanding."
Garrels first saw Celmins' work in 1982 at a New York gallery. He remembers particularly the arrangement of stones called "To Fix the Object in Memory". Her 1992 mid-career retrospective at the Institue of Contemporary Art in Philadelphia "kind of totally sealed it for me," he said.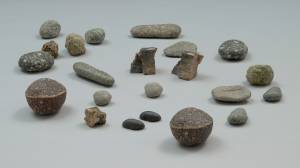 When he was at the Hammer Museum, Neal Benezra, the director of SFMOMA, asked him to come back to San Francisco, Garrels told him he would want to work on a show of Celmins and Benezra supported the idea.
The artist had not had a major U.S. retrospective in 25 years. When Garrels approached her with the idea, she was open to it, but was busy putting together a show with New York's Matthew Marks Gallery. Garrels says SFMoMA's "To Fix the Image in Memory" has been simmering for about 10 years and he's been actively working on it for four, meeting and talking with Celmins as well as working with Ian Alteveer, a curator at the Metropolitan Museum in New York, which is co-organizing the show.
Celmins is an exceptional artist, Garrels says, and in a world inundated with images, her work encourages people to take some time.
"Most of us are kind of grazing – we don't live in a culture that encourages slow looking," he said. "There's this, there's that, and you move on. We're kind of on cruise control. She's one of the artists that just slows it down and rewards spending time with any work. It's just fascinating and you get interested in the way they're made. I find it extraordinary that an artist like Vija can sustain that decade after decade."
Garrels says he enjoys the way Celmins thinks about art, her humor, her rare ability to consider a question carefully, without canned, pat response.
Garrels describes Celmins' work as intimate rather than big and showy. A lot of her work is in private collections and she's somewhat under the radar — a compelling reason to do the show, he thinks, and give people a chance to see more than just one or two pieces.
"She's not lost interest in what it means to make a work of art," Garrels said. "When she declared herself an artist, she felt compelled to grapple with fundamental issues of what a work of art is, and that's just as intense now as at the beginning of her career, and she's kept that intensity and invention, decade after decade."
VIJA CELMINS: TO FIX THE IMAGE IN MEMORY
Through March 31 
SFMoMa 
More info here.