Chocolatier Michael Recchiuti hears music in everything. It's in some of the machinery he uses to assist in the production of his luxurious candy confections which must follow a certain rhythm to work properly. A corner of the Dogpatch building that houses his kitchen is dedicated to jamming and making songs.
Classically trained with significant experience in jazz and experimental music, Recchiuti continues to push himself as a drummer — and the consistent pursuit of that creative outlet also helps him with ideas for his 22-year-old candy company.
"Sometimes when I'm playing, I get into that trance-like state where I can start thinking about other things because the groove is so repetitive," he explains. "You have to concentrate on what you're doing, but it's not like I'm playing live with anybody, so I can kind of drift off if I need to. Ideas always pop into my head and then I'll write them down. I'll have a little book next to me, I'll write down ideas, or sometimes I'm thinking about something before I start playing and when I go in there and play it helps me crystallize that idea. It's just like, 'Oh, I didn't think of that, let me write that down.' And a lot of times if I go out to see music, sometimes the music inspires me to think about what I'm doing in the confectionery world."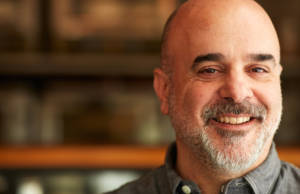 That helps to explain the rather melodic beauty of Recchiuti sweets, like the Platinum Collection. Like a piano's keys, Recchiuti's ultimate high-end offering sports 88 pieces of chocolate wonder.
Music from artists around the world are his near-constant companions while making confections.
"I was just doing this project for the last three days, so I was just in the kitchen by myself," he shares. "I was listening to music and I was playing certain types of music to help me inspire the creative process of creating new chocolate concepts and desserts. So I would either play things that were very atmospheric where it didn't muddle my thought process, it was just kind of almost background, and other times I played more motivated stuff, pretty high beats per minute [tracks] that would give me some stimuli to think about the energy of the piece that I'm trying to create. [I think about] what sort of energy do I want to put in it? And sometimes when I listen to music, it allows me to have energy that I transfer into the piece that I am creating."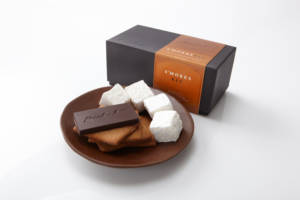 In chocolate, Recchiuti has found his ultimate freedom to improvise and experiment in the same way that gives him the most joy in creating music.
"I think one of the problems I had with playing music when I was in music school was that all of the students I was with playing were really talented players but the only thing that they could do comfortably was sight read music and play what was written for them, but they could just play something. And that where I'm really strong at improvising and playing all sorts of stuff. I'd say, 'Let's go out and busk the park in New York and let's make some money,' and they're like, 'What are we going to play?' And I'm like, 'Let's just play, they're like, 'What charts are you thinking of reading?'I was so frustrated. It's definitely a different mindset.
"I'm not a person of complacency," he asserts. "It's a word I don't even understand. So once I'm comfortable, I pull myself out of that realm of being comfortable. I like to be on edge and throw myself into situations where it's not that comfortable."