UB40 (playing Sun/5 at The Mountain Winery) is celebrating its 40th anniversary this year. But that doesn't mean it's "happily ever after" for the British reggae-pop group best known for their hit single "Food For Thought" and smash covers of "Red Red Wine," "I Got You Babe," and "Can't Help Falling in Love."
In fact, there's no love lost between the original singers, Ali Campbell and Astro and their former bandmates, since the pair left the group back in 2008 and 2013, respectively, and formed their own splinter group, UB40 featuring Ali Campbell and Astro.
"I was a fool all along for believing they were my mates," Astro (born Terence Wilson) told 48 Hills.
But how did the band, which together sold over 70 million albums, including the number-one-charting Labour of Love and Promises and Lies, get to the point of brotherly betrayal, diss tracks, and cyberbullying?
I spoke to Astro, who's currently on the 40th-anniversary tour with Campbell and their eight-piece reggae band, about the ongoing UB40 feud, their new album, A Real Labour of Love, and the supreme injustice of being linked in the press to Supreme Court Justice Brett Kavanaugh.
48 HILLS It's fair to say that UB40's covers have gotten more attention than the band's original material. Which of your self-penned tracks have been the most overlooked, in your opinion?
ASTRO There are only three Labour of Love covers albums and another 21 self-penned albums out there, so we have a lot of great work. But I think the albums Who You Fighting For? and TwentyFourSeven, which I think is UB40's finest work with the original lineup, are the best.
But TwentyFourSeven was an album that was greatly overlooked largely because of a stupid management decision to give the album away as a freebie in a Sunday newspaper and therefore it didn't chart at all. It's things like this that made the band start to unravel to the point where it was unbearable and people had no option but to leave.
48 HILLS Singer Ali Campbell left in 2008 and you waited five more years before leaving in 2013. Why did it take you so long to rejoin Ali?
ASTRO At the time, everything was unraveling and we knew that we were going to be made bankrupt, so if I'm going to be bankrupt because of band management decisions, then I'm not going to try to find the money for my court defense; that's got to be a company expenditure.
The final straw was once I realized that they weren't going to give my wife the money they owed her. I thought, "You could belittle me, but don't belittle my wife and don't cheat her," and they chose to cheat her. So I had to stand by my woman and I left. It was the best move I ever made.
48 HILLS What was the fallout from your departure?
ASTRO They've shown themselves to be the people that they really are. I stuck with them through blind loyalty and thinking they were true friends. But after I left, from all the vitriol that was coming from their camp about me, I finally found out what they truly felt about me.
Now I'm back with Ali and it's like those five years apart didn't exist. It's been smooth sailing since. There are no egos, and we have a great reggae band with us. It's the hottest show on the road at the moment and it's a pleasure to go to work every day now. I'm in a happy place.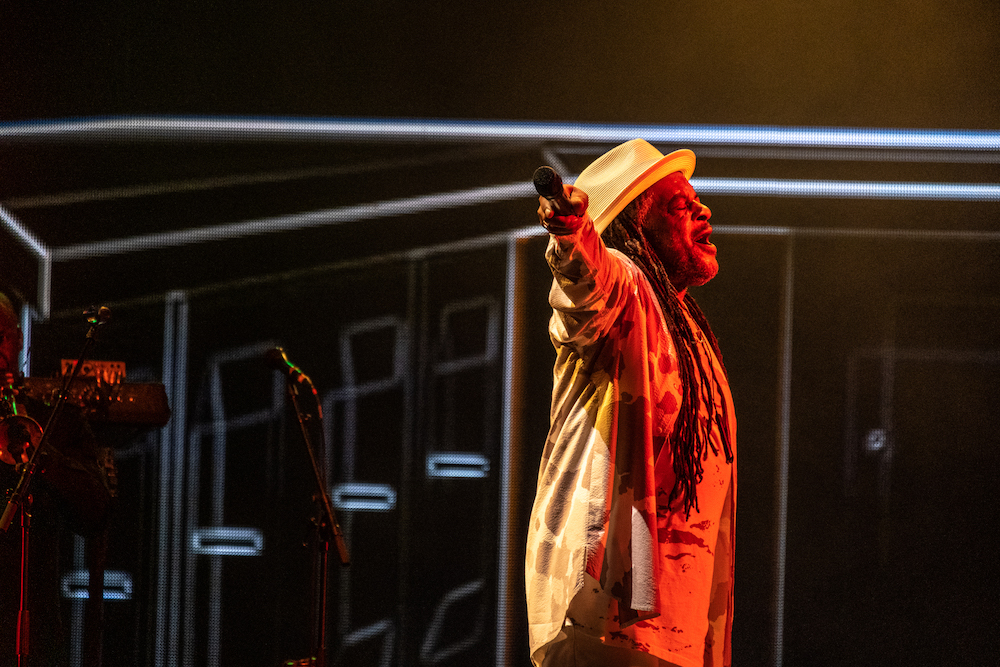 48 HILLS For Ali, I imagine that it's more complicated since his brother Robin stayed in the band and then his other brother, Duncan replaced him as the lead singer.
ASTRO Well, there is no relationship with them. Before Ali left, he was upset with how the management was running things, but when he was inquiring about what was happening with the money and wasn't getting any answers, he used to go to his brother for advice. His brother said that if these damn fools wouldn't give him the information he wanted, he should leave.
Then Duncan phones him to say he's replacing him as the singer, so you can understand why Ali doesn't want to speak to Duncan ever again. He feels totally betrayed, and you can't blame him, really.
But we're not dwelling on the past. We're just doing what we knew we were meant to do, which is carrying on promoting reggae music.
48 HILLS The other UB40 released a diss track called "What Happened to UB40″ mocking you and Ali. Did you ever respond to it?
ASTRO No, because it's a throwaway track and the lyrics are very juvenile. So it's like throwing stones in the playground, and I haven't got much time for it, really. And to me and the rest of the world, the remnants of the original band are just shells of their former selves. I've seen better tribute bands.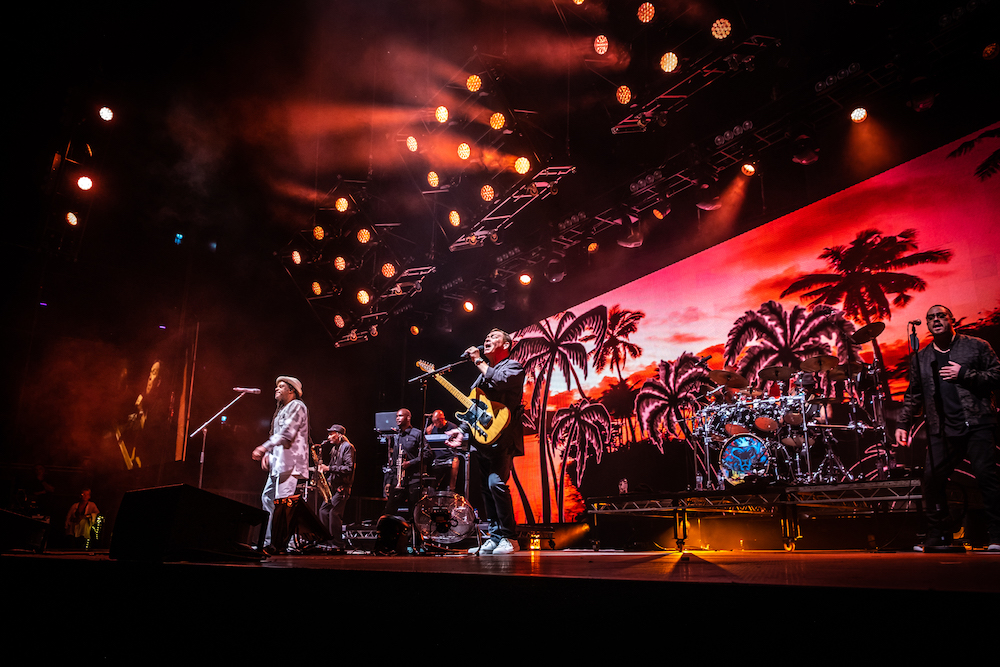 48 HILLS On your 2014 Silhouette album, you included a track called "Cyber Bully Boys." Was that directed at your former bandmates?
ASTRO Yes. That was important because of the betrayal coming from the others, which we called "The Dark Side." A couple of the others were being very vicious to fans cyber-wise, threatening them with violence. They should have known better.
I think that's part of the reason that our last album, A Real Labour of Love, came out at number two and their album came out at 92 and disappeared after a week. So I think the fans have seen through all their bullshit and see that they haven't had anything to offer. That's why they haven't toured much. They spent five years getting Duncan up to performing live and that failed miserably. Duncan may be a Campbell, but he's not a great singer.
48 HILLS One of UB40's founding members, saxophonist Brian Travers, announced that he had a brain tumor and would miss the other UB40's 40th-anniversary tour. Have you reached out to him?
ASTRO I'm not going to be a hypocrite and say "Yes." Because of how he's behaving and behaved over the years and how he's spoken to my wife and family, I haven't reached out to him. I wouldn't wish his illness on anybody, but I'm not going to lie and say I'm worried. In the same way, he wouldn't reach out to me. But may he get through it…that's all I'm going to say.
48 HILLS Tell me about your latest release with Ali Campbell, the covers album, A Real Labour of Love.
ASTRO We called the album A Real Labour of Love to differentiate it from the original three volumes [of covers, each called Labour of Love], which were tracks we listened to growing up, which made us want to be musicians. The latest album is a collection of 1980's reggae tracks—the massive dancehall classics from our contemporaries we listened to once we became a recording unit. It was an important time for reggae when electronic bass lines on keyboards became the norm.
It was number one on Billboard and iTunes reggae charts last year and it's being re-released on Island Records in the US and can hopefully mirror the same success it had in the UK.
48 HILLS While A Real Labour of Love was making the UK charts, your band was making it into the US press after it surfaced, in the wake of the Brett Kavanaugh hearings, that the then-Supreme Court Justice nominee had allegedly assaulted a man he mistook to be Ali Campbell at a bar, following a UB40 concert. All of a sudden, there were a bunch of memes mocking the incident on social media and Stephen Colbert even did a "Red Red Wine" parody, featuring Brett Kavanaugh on The Late Show. Was it odd to be linked to Kavanaugh in this way?
ASTRO We found out about this made-up story a year ago when it was all over the press. Maybe Brett wanted to make himself out to be a big man among his mates back in college, so he lied and said that he had been in a fight with Ali.
But we've been connected to things in the press over the years for various things and they've all been rubbish. But stuff like that, you don't spend much time giving it any credence or dwelling on it. You read the first paragraph and know it's nonsense and no need to continue reading.
UB40 FEATURING ALI CAMPBELL AND ASTRO
Sun/5, 7:30pm, $49.50-$89.50
The Mountain Winery, Saratoga.
More info here.