A sharpshooter in the Franco-Prussian War, a society painter, and a watercolorist who did hundreds of religious scenes that inspired filmmakers, including Steven Spielberg and George Lucas—James Tissot lived an extraordinary life.  
It would be hard to find anyone who knows more about his life and work than Melissa Buron, Director of the Art Division at the Fine Arts Museums of San Francisco and curator of the exhibition, James Tissot: Fashion & Faith, at the Legion of Honor. Tissot is the subject of Buron's dissertation for her doctorate in art history from the University of London, Birkbeck College, and she spent years working on this exhibit. 
Co-organized with the Musées d'Orsay et de l'Orangerie, Paris, the show has about 60 of Tissot's paintings, including 10 of the Irish woman he loved, Kathleen Newton. October, a large portrait of her wearing black with autumn leaves in the background, hangs in the entrance to the show. She and Tissot never married because she was divorced, and they were both Catholics.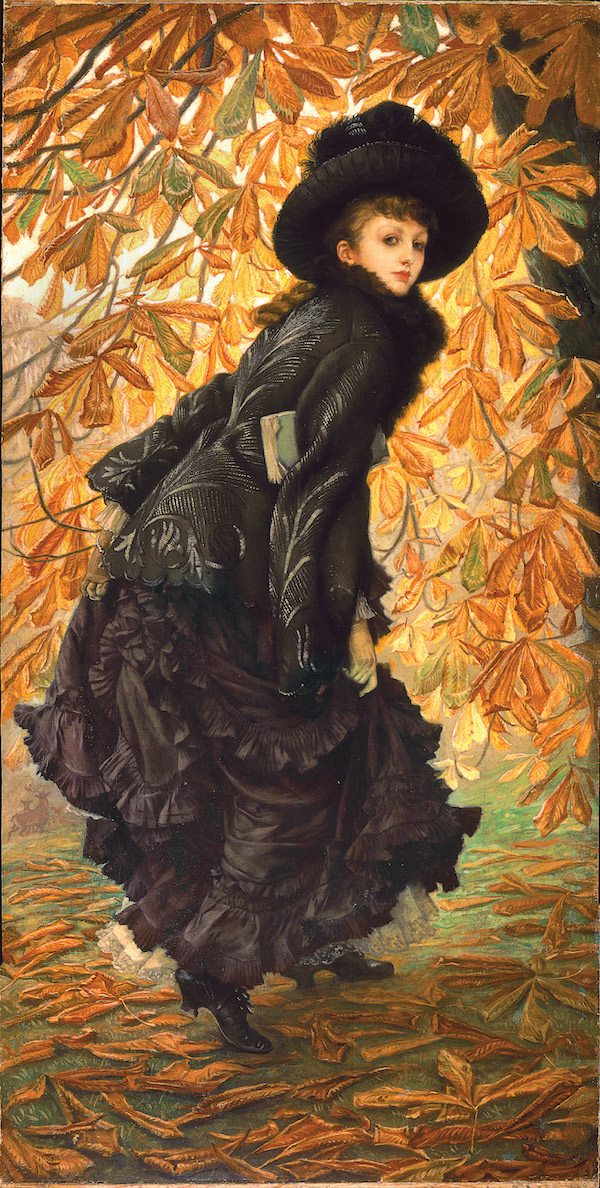 Newton died young of tuberculosis, prompting Tissot to leave London where the two of them had lived together and move back to Paris. Desperate for some kind of contact with her, he attended séances, wildly popular at the time. One of the paintings The Apparition, long thought to be lost, is from a vision he had at one and shows Newton with a spiritual guide, both of them in a celestial glow.
Buron jokes that she would be glad to work on a screenplay about Tissot in her spare time and that she has already cast the movie in her mind. His fascinating life is one of the three core themes she followed in organizing the show, she says, along with his immense talent and how after being an international superstar, he has been somewhat forgotten today – this is the first solo show of his work in the United States since one in 1999 at Yale.   
Buron has her own theory about why Tissot is not as well-known as his contemporaries such as Edgar Degas and Edward Manet. He had no one to carry on his legacy.
"He never married and no heirs," she said. "So he was a bit hampered in that there was no one to carry the Tissot torch."
Another thing that might have contributed to his fading from view, Buron thinks, is how difficult the painter was to categorize. He wasn't really an Impressionist, turning down Manet's invitation to be in their first big show of 1874. He wasn't a realist either, and he spent the last years of his life making hundreds of watercolors of religious scenes.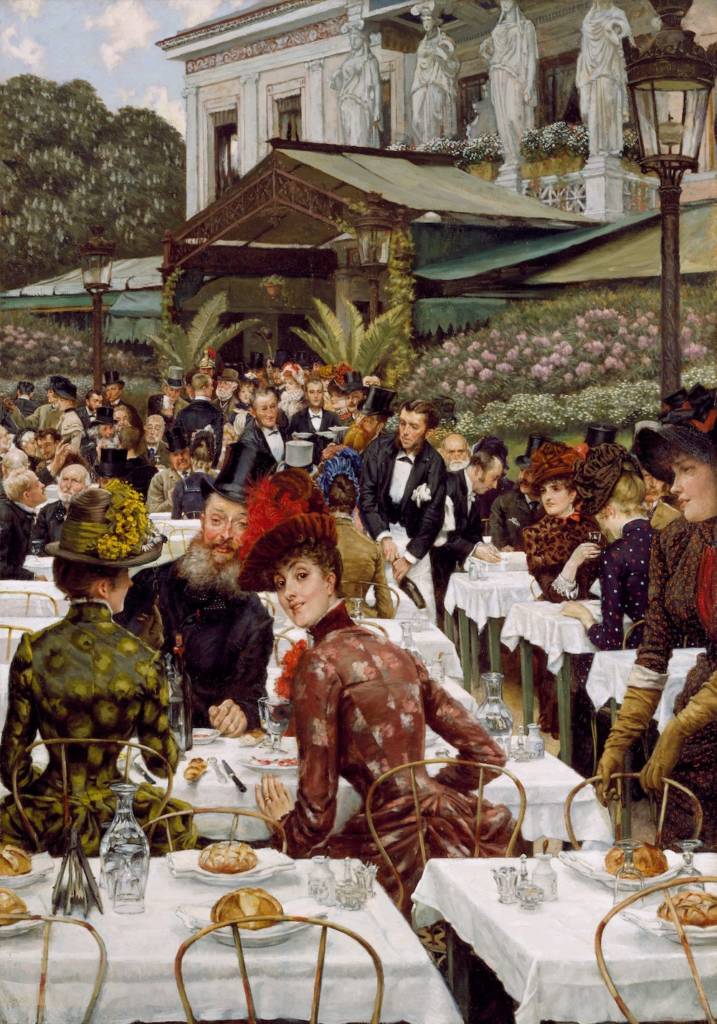 Also, after spending a little more than a decade in London, Tissot was viewed with some suspicion when he came back to Paris, Buron says. To combat that he decided to do something he thought was very French—paint Parisienne women.
This led to paintings like The Artists Wives, a detailed scene at an outdoor café. Tissot's father was a textile merchant and his mother owned a milliner shop, and the artist's love of fabric and fashion is evident in these paintings. 
Tissot worked in different mediums, including painting, watercolors, prints and enamel, and Buron says his work is both pleasing to look at and deceptively complex. He also had a sly sense of humor, she thinks, and during a tour of the exhibit, she points to an example: London Visitors, a painting with lots of blacks and greys that shows a family of tourists on the steps in front of the National Gallery, the clock behind them showing that it's 10:30, suggesting they are leaving a half hour after the museum opens, having raced through to check it off their list before going on to the next thing.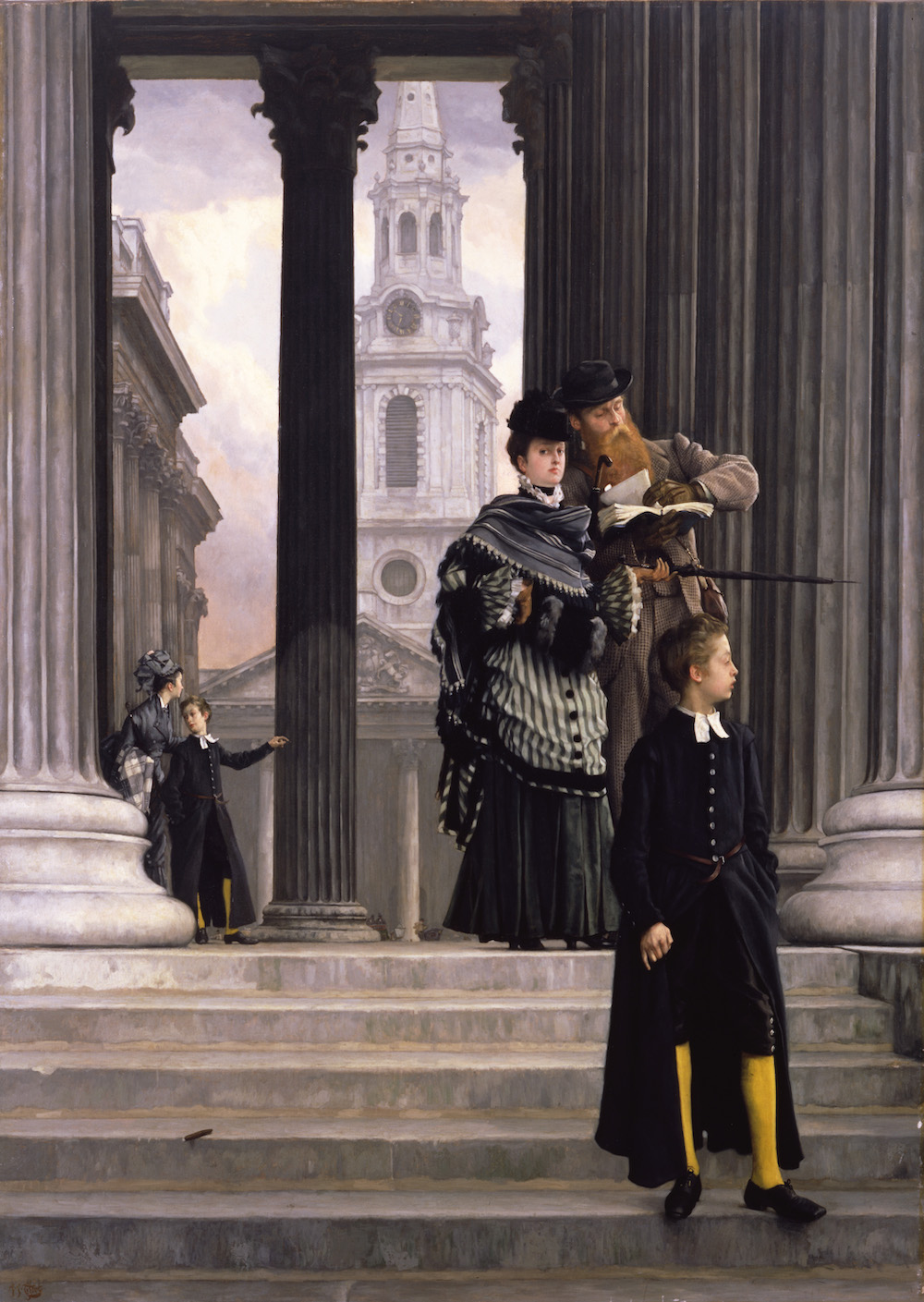 In what was considered scandalous at the time, the woman in the group looks directly at the viewer—or maybe at the man who left a still burning cigar on the steps in front of her. Tissot's storytelling and wit are on display here as they are in another painting in the room, Too Early, which shows a father and his three daughters arriving, well, too early, for an event. The maids, recognizing the social faux pas, are peering around the corner and laughing at the hapless guests. 
The show ends with 22 out of 700 of Tissot's ridiculously cinematic Biblical watercolors. They inspired filmmakers, including William Wyler, who in Ben Hur, used Tissot's What Our Lord Saw from the Cross, as a model for a scene where viewer see the crucifixion in a sort of aerial view. Spielberg and Lucas used the painter's version of the Ark of the Covenant, seen in Moses and Joshua in the Tabernacle, in their movie, Raiders of the Lost Ark.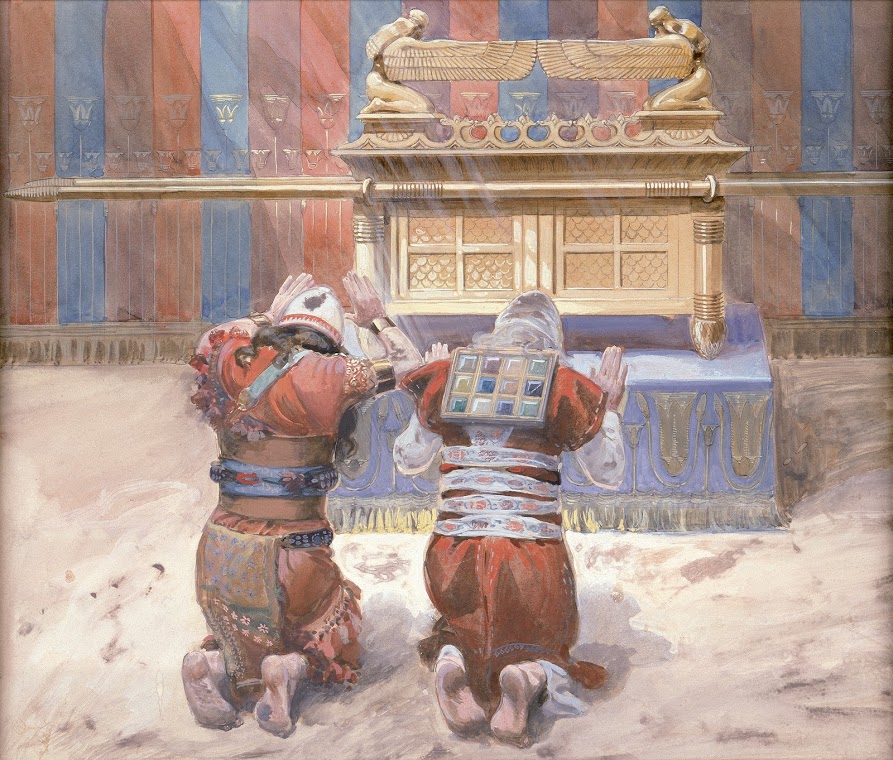 That Tissot's works exerted so much influence on filmmakers and are still seen in popular culture can't be ignored, Buron says. This series of watercolors were hugely successful when first shown in Paris and London before going on tour in the U.S. 
"There are reports of people walking through these galleries, falling to their knees in veneration, weeping at the spectacle of these images," she said. "They are so famous and well know that the artist John Singer Sargent, acting as an advisor to the Brooklyn Museum of Art, said you have to buy these works of art, you have to differentiate yourself from that other little museum in Manhattan- the Metropolitan Museum- because if you buy these works of art, people will come to your museum forever."
JAMES TISSOT: FASHION & FAITH
Legion of Honor
Through February 9
More information here