The call is out to help overstressed healthcare workers: If you have N95 masks that you have not used or other crucial medical supplies that can be donated to local hospitals, KQED has a helpful running list of places that are currently accepting them. If you don't happen to have these items to donate, feeding healthcare workers is one way to compassionately contribute to their frontline efforts, which are about to become unimaginable over the next few weeks. You can share community and kindness even if you can only spare a few dollars.
As of March 18, Andytown Coffee Roasters told Eater SF that $20,000 in donations had been raised to deliver coffee and pastries to hospital professionals. Now, the company has expanded the delivery efforts to include senior care facilities and have broadened the menu by partnering with local companies Nana Joe's Granola and Happy Moose Juice. Head over to the donation page, where you can make contributions of $3 or more. Check Andytown's Instagram page for updates on where the deliveries are going.
Butchershop, a creative branding agency from San Francisco, has launched Feed The Line to collect donations for restaurants to feed healthcare professionals. Donate any amount to their general fund or directly to restaurant partners like The Little Chihuahua, Daily Driver, Kitava and 4505 Burgers & BBQ and restaurants will make and deliver meals directly.
Because of the undisputed scientific evidence that pizza is life, Escape from New York Pizza is collecting $40 donations to buy pizzas for healthcare workers and providing updates on their Instagram feed. Each day, Escape from New York delivers to a different hospital, including UCSF Medical Center on Parnassus, UCSF Medical Center at Mission Bay, Kaiser San Francisco campus, SF Chinese Hospital, CPMC and Zuckerberg San Francisco General Hospital. Square Pie Guys has set a $3,000 fundraising goal to provide meals for hospital staff at St. Luke's Hospital. No minimum donation is required to help in the SPG fundraiser.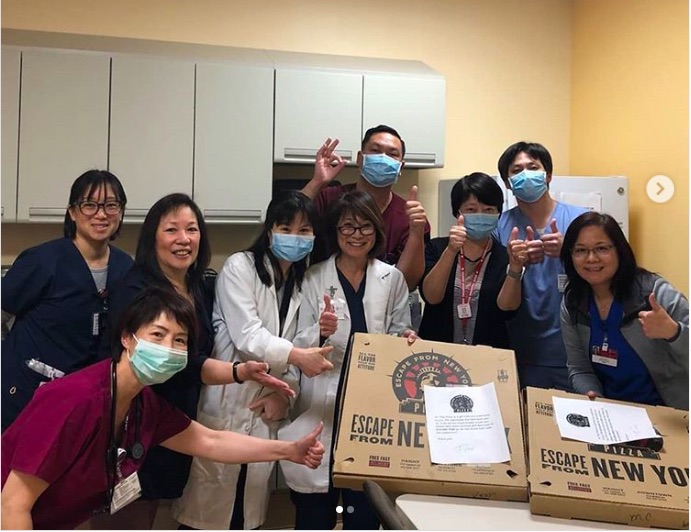 Off Their Plate launched in Boston to provide meals and grocery kits to hospital workers and has since expanded to San Francisco, Baltimore, New York and Pittsburgh. Every $100 donation provides 10 meals and restores three shift hours to the healthcare community and every $500 donation provides 50 meals and restores 13 shift hours.
For those who are able to make financial donations of $1,000 or more, please take a look at the sponsor form for The COVID Clinicians Meal Support Program and consider making a contribution. Each $1,000 donation pledged provides 50 meals to the ER and ICU staff at UCSF Medical Center at Mission Bay, UCSF Medical Center at Parnassus, Zuckerberg San Francisco General Hospital and Kaiser San Francisco. The program, which matches donors with participating restaurant partners so that the donations go directly to the eateries, has so far raised over $200,000 and is working to inspire programs in other regions. This initial amount raised will provide 175 clinicians with dinner for two months. 
Anything that the community can do to support the people who are fighting to keep us safe in this crisis period is appreciated. And please let us know if we've left any out: info@48hills.org