It's a pleasure to premiere a peek inside my forthcoming self-published cookbook Sriracha Snacks at tonight's 48 Hills Online Variety Show Gala. After going on one of the last public tours of the Huy Fong Foods factory in Southern California in January and seeing how the sacred spicy red sauce is made, I was going to devote an issue of my print zine California Eating to the photos and information I got on that visit. But now that the tours are on indefinite hold, I decided to turn the memory into a bigger project that taps into my growing love for recipe development. In the last few months, I've discovered how versatile Sriracha can really be.
The Sriracha Snacks book will be ready by early 2021 (if not sooner), but that's kind of a long time to wait without having a snack, so here are the easy recipes for the dishes depicted in the video mix:
Spicy Tomatoes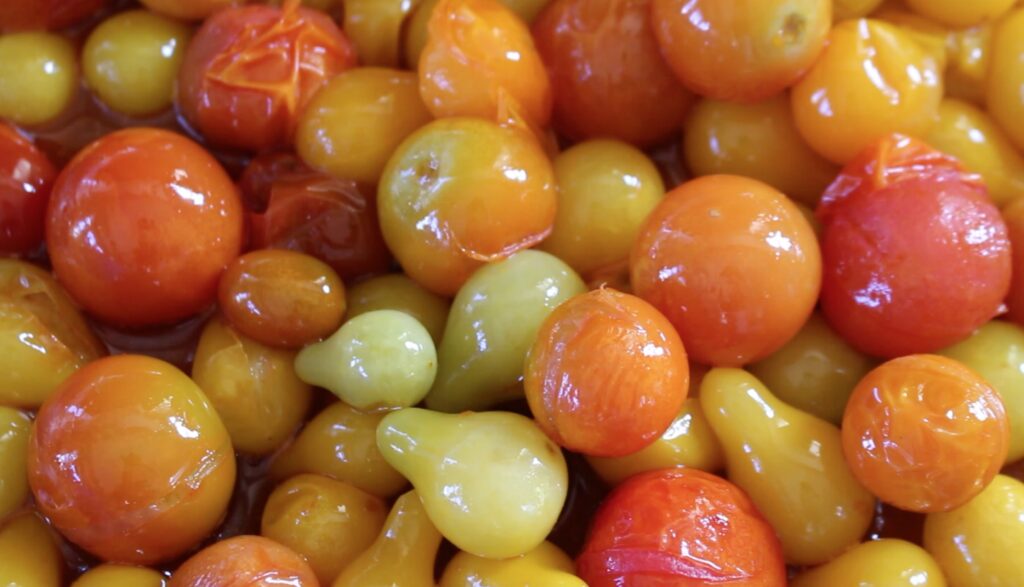 A "put that on everything" condiment that only requires a lil chopping and stirring.
1 pint cherry, sungold or mini heirloom tomatoes
2 tablespoons extra virgin olive oil
2 tablespoons Sriracha
4+ garlic cloves, peeled and roughly chopped
Salt Bae sprinkle of salt (optional)
Preheat the oven to 350°. Combine ingredients in a baking dish and stir to coat tomatoes. Roast in the oven for 20 minutes, stirring halfway through. Use in pasta, on toast or as the "T" in your BLT.
T$ Srex Mix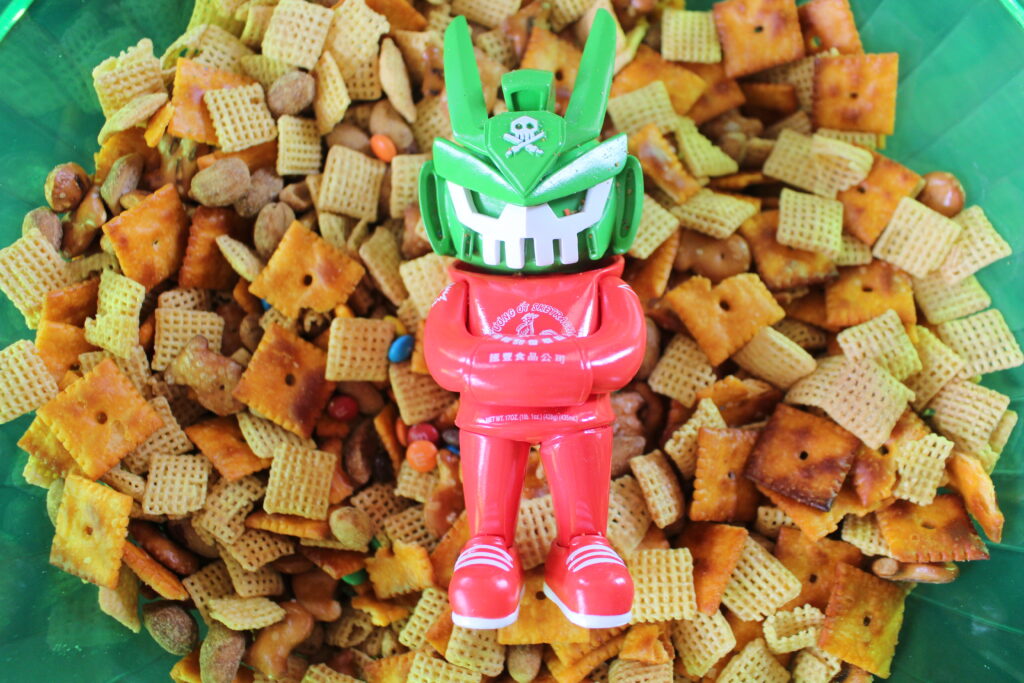 The Hot and Spicy Chex Mix that you can get in stores is one-note and eyeball sweating and I love the sugary Chex Mix varieties, so my no-bake mix is mostly sweet with a hint of heat. Secret revealed: Ass Kickin' brand Sriracha Peanuts really aren't hot at all. After many iterations, this is my ideal ratio:
2 C Peanut Butter Chex
2 C Honey Nut Chex
2 C Cheez-Its Extra Toasty
2 C Mini M&Ms
1 C Goldfish Pretzels
1 C Ass Kickin' Sriracha Peanuts
Pour into a party-sized bowl and shake (or mix with gloved hands).
Yes to Tots
When you really want tater tots, but should really have a vegetable and some protein at the same time.
1 lb. Impossible ground meat
4 T Sriracha
2 T pomegranate syrup
1 cup panko flakes
2 cups water
1 package frozen tater tots
1 zucchini, cut into rounds
Huy Fong Sriracha Ketchup (or boring catsup)
Preheat the oven to 375°. In a large bowl, glove up and use your hands to mix the Impossible meat, half of the Sriracha, pomegranate syrup and panko flakes until everything is incorporated. Stir the rest of the Sriracha into the water, pour over Impossible mixture and mix with gloved hands. Pour mixture into the bottom of a large baking dish and top with zucchini slices and tater tots. Bake for 20-25 minutes and top with a ketchup YES.
Ode to Swan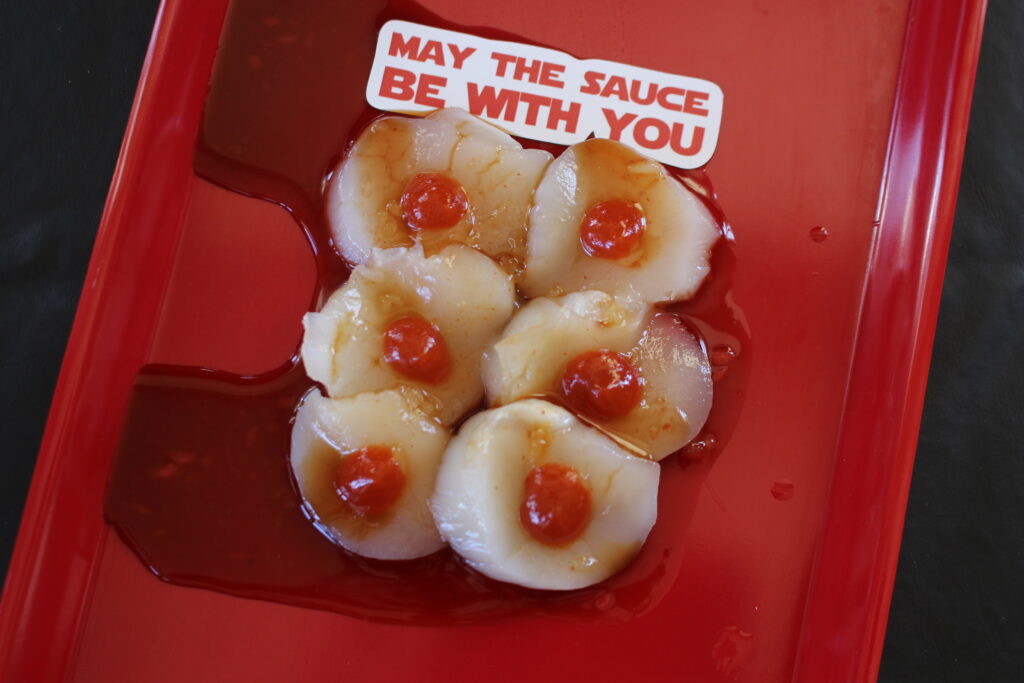 A tribute to the scallop crudo that's served at San Francisco's 117-year-old seafood counter, Swan Oyster Depot, with a spicier twist.
2 T soy sauce
1 T mirin
1 T Sriracha
Squeezes of half a Meyer lemon and orange (or use any citrus mix you have)
½ lb. raw scallops, cut into halves or thirds (I get mine from the wonderful local Japanese distributor ABS Seafood)
In a small bowl, mix the soy sauce, mirin, Sriracha and orange/lemon juice. Spoon over plated scallop slices and top with dots of Sriracha.
Hot Disco Salmon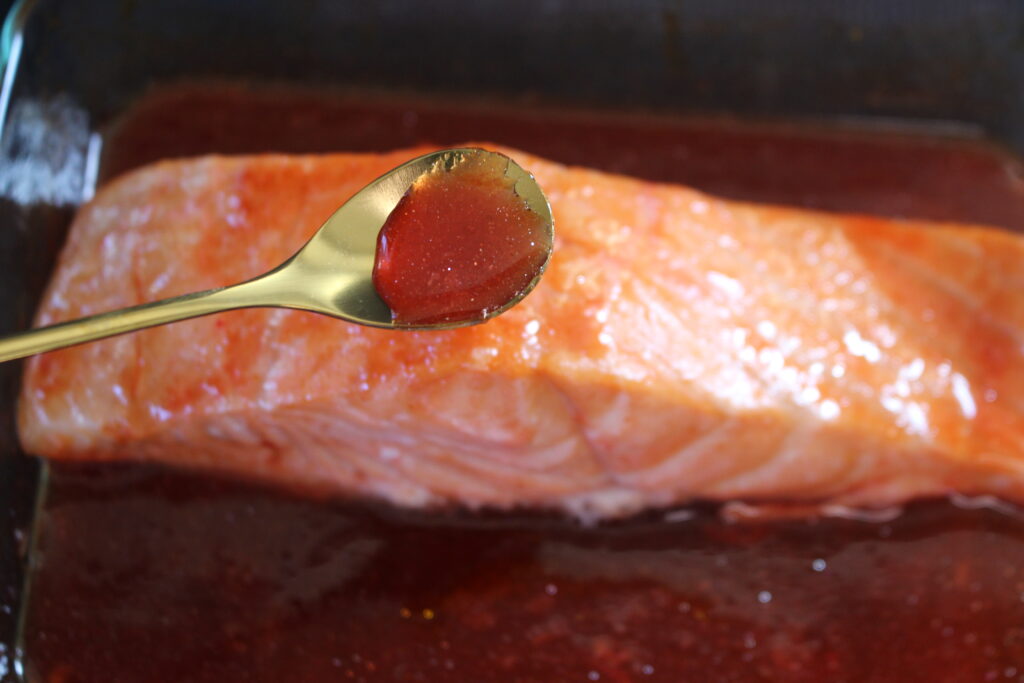 Try this dish even if you can't be bothered with the shimmer! The syrup is also excellent on pancakes.
½ lb. salmon fillet
2 cups pure maple syrup
3 T Sriracha
1 t edible glitter or luster dust
Preheat the oven to 375°. Stir Sriracha and edible glitter into a bowl of maple syrup to create disco syrup and pour over salmon in a baking dish. Bake for 15 minutes and then broil for 2-4 minutes. Drip with disco syrup.
Watch Tamara Palmer make all of the above in her cooking video mixtape, tonight at the 48 Hills online variety gala! Info on how to attend here.