Had I known that there would be a 10pm curfew this December 31, I probably wouldn't have gone to sleep before midnight last New Year's Eve! This year, despite the orders to stay home, it's worth staying up just for the pleasure of showing 2020 the door—and luxuriating in some bites and drinks from local restaurants, bars and pop-up/cottage vendors that will assist in improving the odds of their survival.
It's been an exceedingly tough year for neighborhood bars, and now is a good time to seek out and support the ones that you'd like to see on the other side by buying some NYE booze to go. One idea: pick up cocktails by the liter ($40), cocktail pouches ($12) and sangria Pop'sicles (five for $20) from the window at Pop's, which has been in the Mission since the end of Prohibition. Check the website for possible citywide delivery on Dec. 31, which the bar was considering at the time of this writing.
Feastin is a solid, non-gouging local app to order food from multiple restaurants in one delivery — and because delivery throughout the Bay Area is available, it's ideal if you want to send a gift to friends or family outside of San Francisco. The items available vary depending on which day you're ordering, but if you're looking for delivery on Dec. 31, I recommend ordering a shrimp ($18), crab ($50) or lobster roll ($65) kit for four from Burlingame's New England Lobster Company or a jicama shrimp taco kit for two (six tacos for $32) from Oakland's Calavera. Or all of the above, if you really want to celebrate.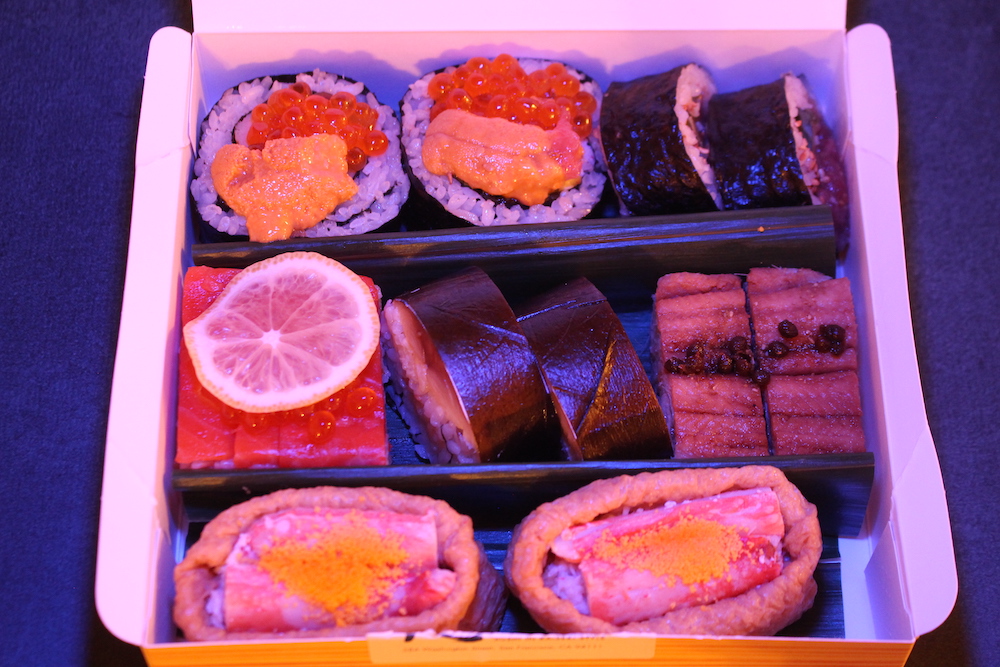 If you're a baller, shot caller, or simply in the mood for some more elaborate eating and imbibing options, I'll direct your attention to the Intu On Pop Up Pickup at Birba on Dec. 30 and 31 for Isaan fish taco platters ($75/feeds two or three people) and Champagne three-packs ($150). And also to Kusakabe, home of the World Sushi technical skill champion, for pickup or delivery of an omakase for two ($250), petit omakase for two ($90) or the pictured moriawase, which presents six kinds of Kyoto-style sushi that you won't see elsewhere (12 pieces for $75).
You'll find even pricier and more over-the-top pickup and delivery options (along with some more moderately priced choices) on Tock, including dinner for two from O' by Claude Le Tohic ($370 + supplements) and a "virtual Champagne experience" by San Francisco Champagne Society ($385). Cheers to a brighter and kinder 2021, however you begin it.