The abstract works of artist Susan Adamé have a calming effect on the eyes. With figures painted into everyday settings or against mysterious backgrounds, there is familiarity in the air. Her handling of white pigment is enviable as it balances expertly with color to render a scene tangible. This Time Around, a 36 x 36-inch oil on canvas, expresses a unity between figure, object, and background in this way.
Adamé is largely self-taught; her canvases seem to have their own language and we can almost hear the conversation. With line and forms between figure and background merging in balanced synthesis, her non-figurative works equally overlap and layer effortlessly within a harmonious and pleasing palette. Seeking to explore connection, balance, and an uplifting message with viewers of her work, it becomes evident that Adamé takes a spiritual approach with her process to achieve such contemplative pieces.
As a child, Adamé used to escape to her room to draw for hours. Whenever she felt scared or upset, she discovered that she could lose herself in a world filled with wondrous color and fine detail. This was the link to her future life. Other than a brief period of time in college, she never seriously imagined doing anything else other than making art. "It has always been at the core of my being and given my life meaning," she said.
For years, she created collages for hospitals and healing centers, but certain color limitations pushed her to move on. She was not allowed to use the color red or too much black, for example. Inspirations have shifted through the years and she doesn't assign any specific person as an influence. The spark comes instead from the ethereal plane.
When she created her painting, Guardians, Adamé says the figures seem to have shown up in her studio and made their presence known. "They felt as if they were personal guides who reassured me and gave me direction during a difficult time," she said. In fact, Adamé feels that ideas flow through her rather than from her, that she is a conduit for ideas and not the source.
The book Big Magic: Creative Living Beyond Fear by Elizabeth Gilbert has been a guiding light for Adamé. Gilbert writes that ideas are another form of life, like plants and animals, and there can be magnificent moments of magic if a person is receptive to act on them. For Adamé, the words felt familiar and true, urging her to create from her own spirit and to understand where her motivation comes from.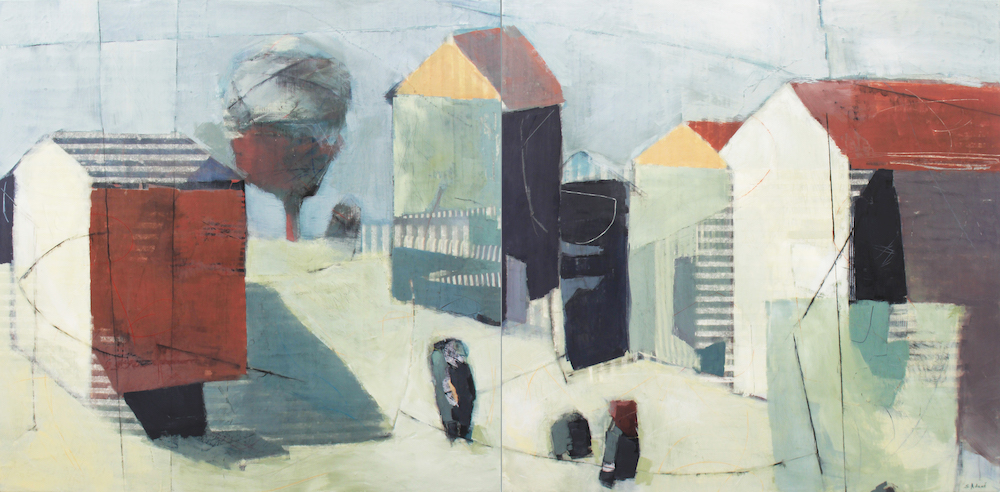 Great natural light from a huge skylight fills her Albany home studio, making it an inviting place to create. After setting up her materials, Adamé makes a point to pause for a ritual, a moment to make connection and give recognition to what guides her creative process. Closing her eyes and drawing a card from a special deck with words such as resilience, silence, clarity, and tenderness, she reflects upon the meaning before getting to work.
While subject matter has remained constant, Adamé's materials have varied over the years from twenty-three years working in clay to ten years doing collage and an overlapping twenty years of painting. These days, she's enjoying the buttery soft quality of oil paints and their relaxed, slow drying process. "It feels as if time has stretched out during the pandemic and oils are the perfect medium to express that," she said.
A gardener for decades, Adamé also cares for her six-month-old grandson within a pandemic bubble, two activities that have brought her great joy during this time of uncertainty. The pandemic has completely shifted her priorities so that she is making fewer pieces with more contemplation as an intentional part of the process.
"I have a large painting of Alexander Hamilton that has my attention. I love the subject and the image is powerful," she said. In the past, she would have rushed to complete work but now she aims to dig deeper. As deeply disturbing and distracting as politics have been of late to the artist, she also sees it as a rich fountain of source material. Its tangible influence has not yet percolated completely, but it's there to stay.
Due to the limitations of the pandemic, she has not committed to any gallery shows and recently gave away a number of paintings. With ample time, she paces herself with new pieces. Perhaps in a timely metaphor for what lies ahead, she has another idea she hopes to develop: "I want to paint birds at the moment of lift off to capture the work their bodies must do to get in the air," she said.
SHOH Gallery in Berkeley and Robert Allen Fine Art in Sausalito represent her work. To learn more about the artist, visit her website at www.susanadameart.com.