Magnolia's Dogpatch Pub has been refreshed…again. And let's be honest, in the post-COVID lockdown era, everyone is entitled to give things a reboot. In Magnolia's case, they had a promising thing going in early 2019 as they eagerly awaited the opening of the Chase Center a stones throw away, and the droves of pre-game crowds that would surely flock to their pub like the salmon of Capistrano.
With craft beer legend Dick Cantwell at the helm of the brewing operation shortly after New Belgium's acquisition of Magnolia, Magnolia's beer had a new flair that totally kicked ass. A year into a more inviting space with a massive new private event hall next door waiting in the wings, this was ready to become one of the spaces that defined the "new Dogpatch" and neighboring Mission Bay areas.
So I'm just gonna fast forward through all the bullshit that we all know happened to the world, to San Francisco, to the restaurant industry and—for the sake of this exercise—to Magnolia (which saw them rest their laurels on a sneaky convenient takeaway beer operation and rework the concept inside 3rd Street doors) and I'll just tell you what's new. And, if you clicked into this article because of the picture, you're gonna read about one damn incredible corn dog. Stay with me now…
First things first, Cantwell handed the reins of the brewing operation at Magnolia to Ramon Tamayo. We delved into Ramon's background at Anchor and Russian River Brewing in this piece about the nearby New Belgium brewpub, which he's also in charge of making beer for. We also highlighted some of Michelin-starred Chef Laura Ozyilmaz's food there and she's now the Culinary Director at Magnolia as well. (She'll soon be re-tooling the menu at Magnolia's classic Haight St location too.) The full bar program is gone at Magnolia, but former Comal and A Mano bar manager Matt Campbell has instilled a dandy low ABV cocktails and mocktails program. This is fine. The beer is the star of the show. After all, it is a brewery ya know?
Now for the good stuff. Ozyilmaz's menu is super-accessible and reflects the melting pot that is San Francisco cuisine. A hearty and crunchy Burmese salad ($13), a raw seafood menu arc ($12-$13), generously sized flatbreads ($12) including one very clammy spicy pie. And a range of modestly priced $6-$12 "munchies." Here's a link to their menu, go look at it…BUT NOT YET! Cause this is actually a story about a corn dog.
I can unequivocally say that this is the best corn dog I've ever had in my life. Move over cornbread battered hot link corn dog from the Sonoma Square Farmers Market. Magnolia's "Chaat Corn Dog" is a street food-inspired delight. The snappy beef frankfurter is covered in perfect cornbread batter, fried, then drizzled with a creamy yogurt and mascarpone blend before it gets topped with the crunchy mixture of mildly spiced chickpea and lentil flour noodles known as "Dal Mix." It comes with both tamarind chutney and cilantro dipping sauces, and holy crap was I in heaven with this thing. It seems pretty clearly constructed by the Acapulco-native Ozyilmaz to riff on an elote, but the confluence of Indian flavors play with your mind and are simply out of this world.
It's a really inventive item and best of all, it's only $7?! Remember when food in this town was affordable??? This is about as can't miss of an SF bar snack as I've had in the past year and coupled with the Schnitzel strips down the street at New Belgium, Ozyilmaz has shown a legit mastery of what people want to eat when they're drinking beer. It's much appreciated.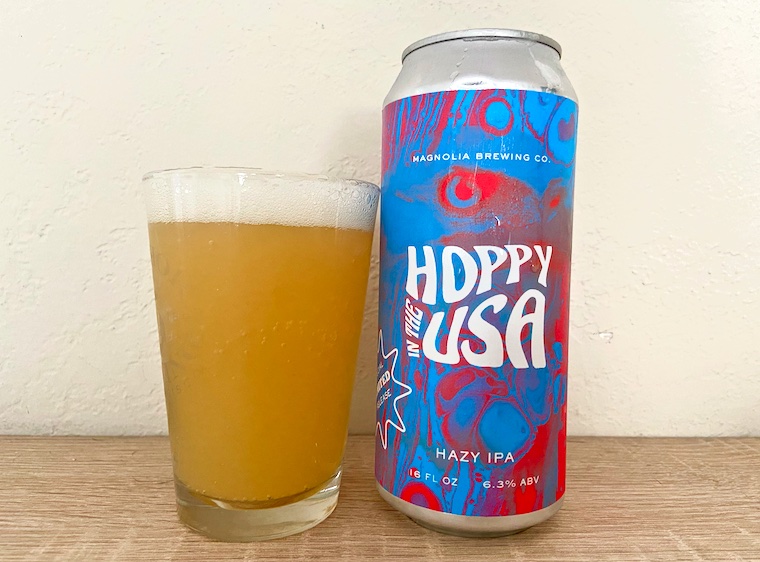 Speaking of which, I paired my corn dog with the new Hoppy in The USA Hazy IPA that was bursting with aromatic complexity from Sabro, Strata, Citra, Mosaic cryo, Amarillo and the new to the scene Talus hops, but didn't kick me across the face at only 6.3% ABV. The takeaway cans have a wrecking ball reference and with the overall Miley Cyrus motif, it's the kind of silly and delicious hoppy beer I like to drink; especially in the summer. Same goes for the lighter and crushable Infinite Sun Hazy Pale loaded with Mosaic and Mosaic cryo hops (fwiw, the cryo hops simply contain more aromatic oils than the raw hop; like a supercharged hop.)
So really, what I'm trying to say here, is that you should probably go by Magnolia Dogpatch and get that corn dog. And some beer while you're at it. Thank me later ✌️