Back in 2013, the Giants rolled out their plans to develop the Port of SF-owned Mission Rock—right in the backyard of AT&T… errr… Oracle Park. The crown jewel of the effort (unless you get excited about office and residential buildings) was a proposed Anchor Brewing production facility and taproom on Pier 48. It seemed so perfect: Take the most storied craft beer brand in the city, and possibly country, and situate it on the primest lot of your 3.6 million square foot, $1.6 billion mixed-use development. A well-thought-out nod to preserving local culture and institutions, you could say.
As some of you may know, this is not what happened. Yes, Anchor opened a shipping container beer garden at a pregame spot on Lot A known as The Yard in 2015, as a precursor to the big payoff. But ultimately, the costs of seismically retro-fitting Pier 48 to withstand the weight of a brewery (massive beer tanks, new buildings, people, A LOT of beer, etc.) proved way too costly—allegedly upwards of $25 million—and Anchor's inclusion in the project essentially fizzled. (Mind you, this was the before craft beer industry's over-saturation and the subsequent hard seltzer explosion that has since shifted demand).
Instead, focus shifted to efforts at Potrero Hill's Anchor Public Taps taproom and pilot brewery space across from Anchor's flagship brewery: Anchor was soon acquired by Sapporo. As for The Yard, it's gone and the space will soon be home to some of those aforementioned office buildings.
Now, however, you can view that plot of Parking Lot A where The Yard once stood, as well as the Pier 48 facade, from one of the floor-to-ceiling windows at New Belgium Brewing Mission Bay, a new 160-seat indoor-outdoor taproom and restaurant at 1000A 3rd Street. (We'll refer to it as NBMB moving forward.)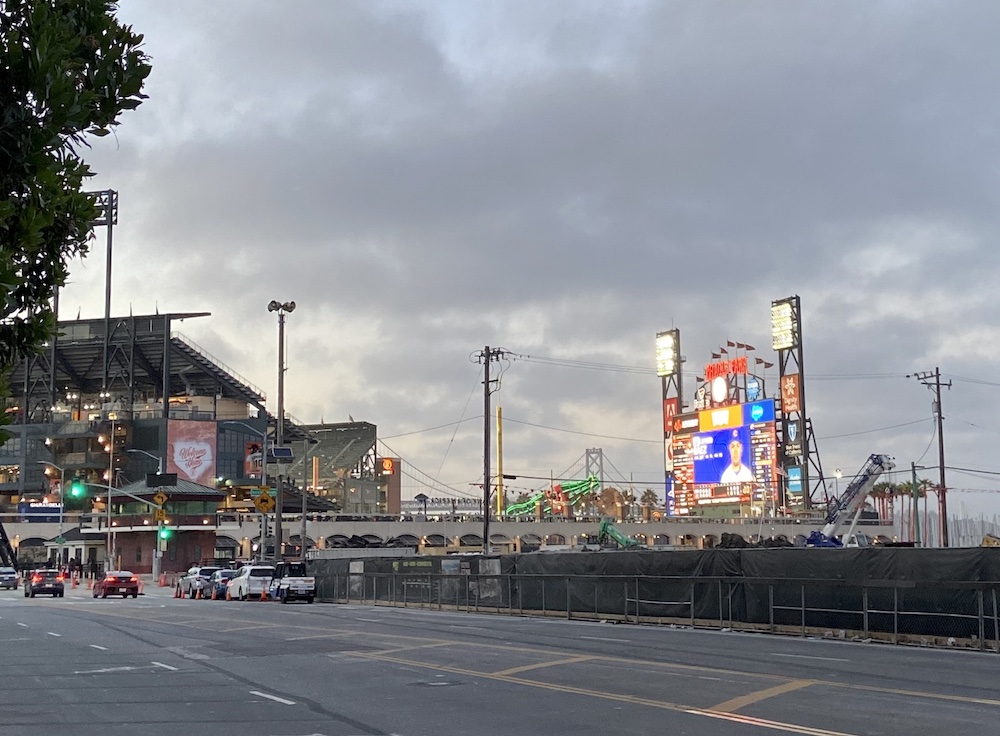 If you're keeping tabs, this is where the short-lived Little Creatures brewpub once lived, and Little Creatures is part of the Kirin-owned Lion Little World Beverages, which also owns New Belgium and other brands. And look…I'm not here to criticize what beer conglomerate owns what brewery. I'm of the opinion that all beer deserves to be consumed. Getting caught up in the "big beer vs. craft beer" debate is ultimately a fool's errand.
But I'm also a massive believer in drinking local, so we owe it to our local beer community to examine what exactly having NBMB across the street from Oracle Park and a stone's throw from the Chase Center—in the hottest development heartbeat in the city no less—means for both the Bay Area beer landscape and for the future of this incredible urban space.
New Belgium is hardly a newcomer to San Francisco. They purchased our dear Magnolia Brewing company out of bankruptcy in 2017 and head brewer Dick Cantwell made Magnolia's beers decidedly better in the process. They even hammed up Magnolia's Dogpatch location and built out a separate event hall next door in preparation for the incoming Chase Center events crowd. It's a great place to drink and eat. In fact, my first thought when I heard about NBMB was whether it'd be cannibalizing any business from Magnolia? The jury's still out, but something tells me Little Lion ain't no fools.
Here's what NBMB has done so far:
The Beer
NBMB features a slew of flagship beers on tap (Fat Tire, the Voodoo Ranger IPA series, 1554), but the best move was bringing in head brewer Ramon Tamayo to lead the operation and brew a number of rotational pilot beers. Ramon is a Bay Area lifer who brewed at Anchor for many years before jumping on at Russian River Brewing Company, closer to his home in Sonoma County. When you meet Ramon, his joy for life is palpable and that's already coming through in the beers he's brewing in SF and putting on rotation at NBMB.
Kia-Ora is an easy-drinking NZ Style Pale; the type of beer that causes you to put away the menu and keep reordering. Super Sport is a crisp Italian style pilsner, and we need more Italian style pilsners. Lefty is a West Coast IPA with all the best hops: Simcoe, Strata, Citra, Mosaic and Amarillo. Love Conquers Ale (a Pride month collaboration) is a gose infused with coriander, basil, sea salt, lime peel and blackberry and was the most interesting beer I've had there. It's also a benefit brew for GLAAD and will def make me go back this month for more.
A final note on the beer. I feel like it needs to be said more often, but New Belgium is the second largest producer of barrel-aged beer IN THE WORLD. Drink their sours, they're incredible. The Blackberry Black Tea Sour that's been on tap since the doors opened at NBMB is a fine example of what they do so well on such a large scale.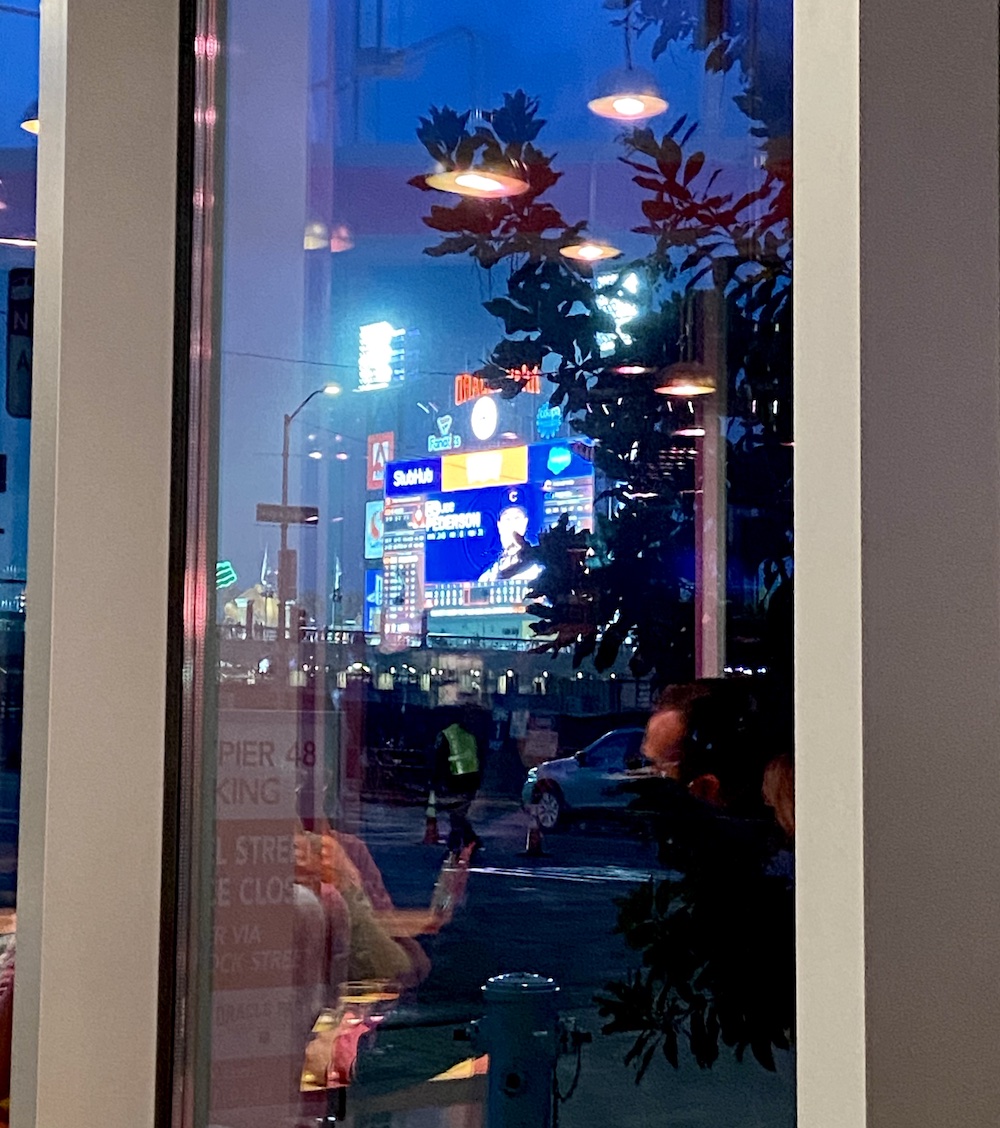 The Space
The large taproom has 100 indoor seats that are spaced out enough to be considered socially distant. There's a three-countered wraparound bar with multiple huge flat screens making the turn. It's a comfortable spot and the daylight pours in through the windowed walls—you can even catch a glimpse of the scoreboard at Oracle Park when the game is going on. The decor is bicycle-themed (it's the New Belgium trademark), but I would've liked to have seen some Giants or Warriors swag somewhere. I know the place just opened in March, but when you're banking on the Bay Area sports crowd to be part of your bread and butter, you gotta show that you belong. (More on this later.)
Lastly, the 60-person back patio faces up to Mission Creek, just off the Lefty O'Doul Bridge. For now, there's a less than ideal chain-linked fence separating the patio and the uncompleted park area on the shores of the creek that the city is working on. Once completed, I can see it having a setup similar to Beach Chalet's patio off of Great Highway: Where the patio ends, the park begins. It'll do, and I just can't help but think of what a prime San Francisco location this is.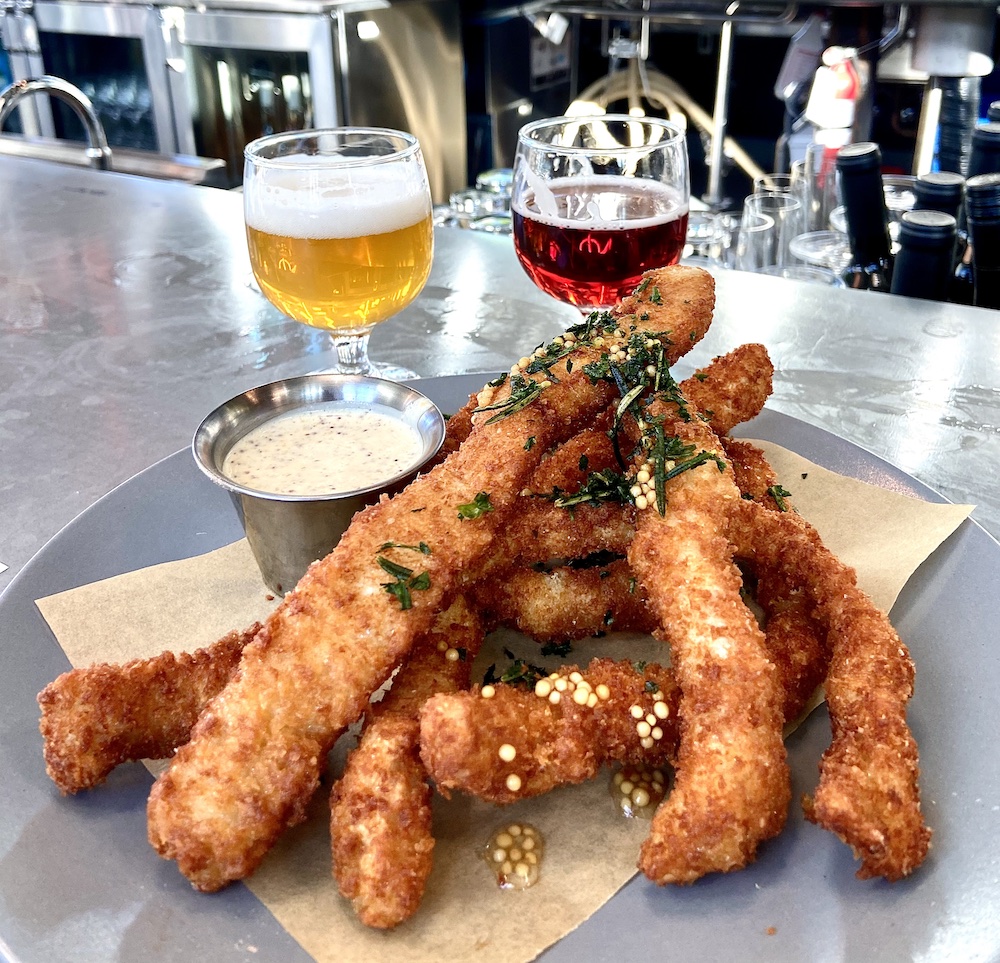 The Food
This is elevated pub fare from Chefs Laura and Saya Ozyilmaz, formerly of Noosh, with items like a stuffed wagyu burger for $18, a series of tartines for $11 (I had the wild mushroom and it was great), salads, etc. The shared apps are hit and miss though. The spiced Mexican peanuts ($5) are exactly what you want to mindlessly pair with beer, oily and flavorful. But some of them were stale, while less than half of them were crunchy. The battered and fried green olives ($7) stuffed with pepperjack and served with a yuzu aioli was downright weird. Olives are damn near perfect as is, and this just screamed of overthinking things. The Schnitzel Strips ($12) stole the show and were one of the best apps I've had at a brewery. The plate came loaded with more than a half dozen big strips of lightly fried and herbed pork cutlets served with a savory mustard. I ordered it every time I went.
But there's one item on the menu that speaks to the current pitfall of NBMB and something that MUST be overcome if they want to be in the good graces of more than just the Mission Bay tech crowd and sports fans looking to throw a dart at somewhere to drink before a game: A $15 "Mission Dog" wrapped in bacon "with jalapeno slaw and beer onions on a brioche bun." There's tone deaf and then there's this. When a number of low-income Latinx San Franciscans are selling pretty much the same bacon-wrapped dogs right outside your door around the stadium's perimeter on game days for $5—drawing at every straw to stay afloat in the most expensive city in the country—this is nothing short of a #gentrodog. There's no other way to say it: Get a clue and take this thing off of the menu.
The Foibles
Remember where you are. Having a brewpub on 1000A 3rd Street is a great business move for New Belgium, but it should also carry a certain sense of belonging to this city and this beer community. Patrons have a range of local brewery options to choose from in and around the sports venues that include, but are not limited to, Harmonic's ambitious new post in front of the Chase Center's Thrive City; Seven Stills' epicurean delight of locally made beer, spirits, and food right off of 7th Street; and Local Brewing Co elite level brews on the other side of King Street on Bluxome.
The first time I came into NBMB, the Warriors were playing a tenuous May game against the Pelicans as they vied for a playoff spot. It was inexplicably not on one of the big screens at the bar. Seriously? The bar staff seemed more concerned with side work on a not very busy day to really participate in the experience, which rubbed me the wrong way. On a subsequent trip, the home team was on the screens—where they should be. Again, I know they just opened, but establishing an identity as a local sports hub for the local teams needs to happen immediately.
Speaking of which, the music over the speakers came courtesy of reggae rock bands like SoCal's Slightly Stoopid and ska bygones The Mighty Mighty Bosstones. It was like a low-key Tony Hawk pro skater game soundtrack. And I can get down with that stuff sometimes, but this made me feel like I was in a pub in San Diego's Pacific Beach, not in the heartbeat of Bay Area sports.
At the end of the day, I love New Belgium. They were instrumental in the modern craft beer movement and were one of the breweries that I've personally learned a lot about beer from over the past decade-plus. There absolutely is a place for their brewing whimsy in Mission Bay. I'm not trying to tell them to be something they're not.
But it's important for them to take a look around and consider what's been happening on this portion of the urban grid for the past 10 years. Understand the changes that have been happening here, realize that they're now a part of it, and operate in a mindful way that doesn't add to the problems of blandness and gentrification that affect Mission Bay and beyond.