A narrative, insightful chronicle of the magical world of girlhood unfolds in the work of Oakland painter Christine Ferrouge. Like an anthropologist, her work is driven by our human instinct to survive and adapt to our social and physical environments. 
The artist has always used the people around her as subject, and right now the three main characters in her paintings are her daughters, delving deep into the psychology of identity. The figures, evocative in bold color rendered with a sketcher's gestural marks, are larger than life and take their space with confidence and strength.
"My inspiration is sparked by the imaginative adaptations in make-believe and their thoughtful gazes as they contemplate their surroundings," she said.
Ferrouge grew up in Minneapolis, and since childhood recognized art as a calling. She completed her BFA at the University of Evansville, Indiana and after one winter of teaching art in Chicago, she left for Los Angeles for the bright sunlight. A few years later, she was introduced to her husband and decided to call Oakland home, as it felt much more integrated than other cities. A resident of 15 years, the last seven have been in the Melrose neighborhood of East Oakland. Of equal importance to her is the neighborhood of galleries, artist spaces, small businesses, and her art studio on 25th and Telegraph in Uptown Oakland. 
A day in the studio is one of speed and intuition, applying paint then taking time to step back and observe. Seeing and responding to what is happening in a painting is the important and challenging part. Even on days she hasn't time to work in her studio, Ferrouge takes a daily check in with the paintings in progress, sometimes turning a painting upside-down to see it differently. Years of figure drawing and assessing with a critical eye has created a perceptive climate to be both accurate and fresh.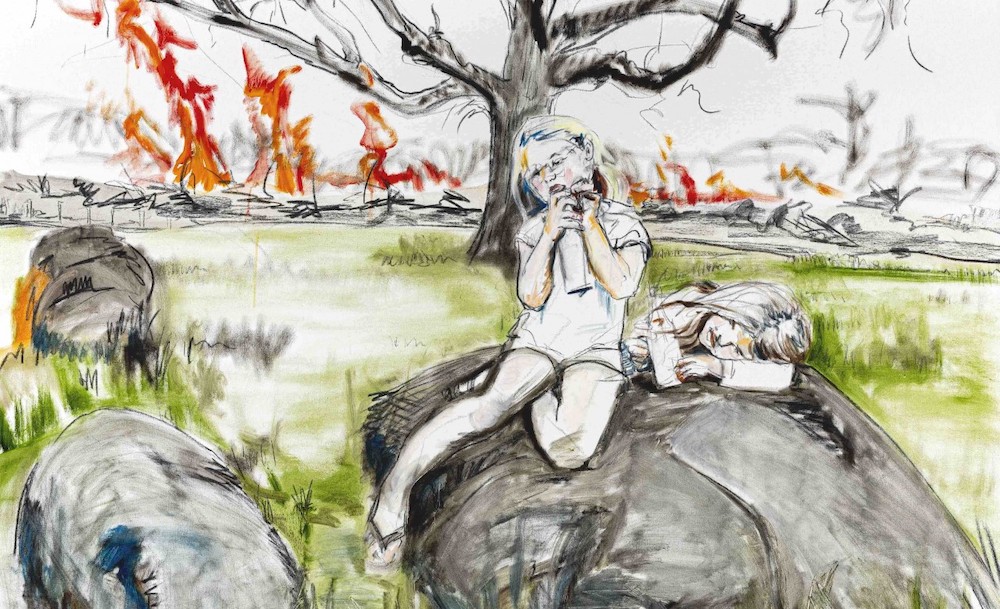 Her daughters have grown up in her studio, and Ferrouge says they understand her work and give great advice when asked. "We consider the people in my paintings as separate from the models who bear their likeness and refer to them in third person," she said.
Inside the natural light and big walls, Ferrouge admits her love for the seductive smell of linseed and works without solvents, taking safety for her body, her children, and the planet seriously. This awareness started long ago but was reinforced recently after reading a book by Kimberly Brooks called The New Oil Painting, a book she recommends as a resource for all painters.
"I worry about what is in the water, the air, and the food I feed my children. I wonder about social influences," Ferrouge said, amazed with how humans throughout all time creatively adapt and survive in a myriad of challenges and surroundings.
Ferrouge homeschools her three daughters and loves to share long road trip adventures with them to practice survival skills without her husband's influence. Though she could not live away from the city permanently, Ferrouge says having new experiences is good for reflection and creativity. Photo shoots for new paintings often occur when she is exploring new landscapes with her girls.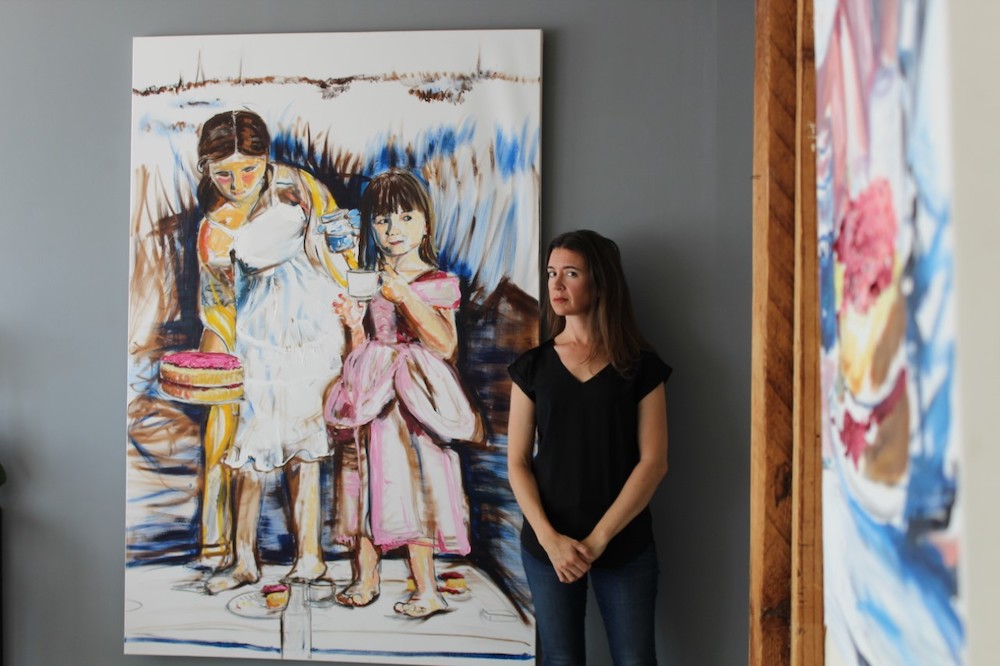 As an extrovert who loves people, the isolation of the pandemic was trying for Ferrouge. The cancellations of shows at Werkshack, a shared workspace in Oakland where she is head curator of the gallery and resident artist, the Oakland Art Murmur Saturday Stroll, and Art Route Oakland which she directs, all took a toll. 
"When doors closed, it was very sad. It was hard to create when it felt like there would never be an audience," she said.
Due to pandemic restrictions, her solo show at Gray Loft Gallery in Spring 2020 had a very limited number of guests. Picnic, the title piece for the show painted before COVID, was inspired by invisible threats, rendering a prophetic resonance. In the painting, young girls have a tea party in the desert next to junk. They wear protective gloves and have strange cleaning props nearby. 
The painting went on to the DeYoung Open, an exhibit highlighting the importance of continued support of local artists through the crisis, a sentiment for which Ferrouge feels much gratitude. When the galleries in Oakland re-opened to the public, the shows Ferrouge curated at Werkshack were well received and the most successful shows the space has had to date.
Ferrouge is currently at work on a series of paintings based on the Creek Fire in the Sierra National Forest in 2020. Visiting the site, she made source photographs with models clad in red drapery against the landscape of blackened trees, smoky skies, and ash-covered ground. The series addresses the topics of survival, destruction, and our human responsibility to nature. A two-person exhibit showcasing this work opens on Oct. 8 at GearBox Gallery, where Ferrouge shows her work monthly as a member of the collective. 
For more information, visit her website at christineferrouge.com, her page on Instagram, or visit her studio at Werkshack, 481 25th Street in Oakland.