A rhythmic sound emanates down the narrow staircase leading up to the main exhibition space. At the landing, viewers are met by a video visible through a wall opening: rectangular, monochromatic shadows sway and fade into each other, in time with the looped sound of creaking wood.
Nasim Moghadam's exhibition I Sprout on my Wound at Oakland's Aggregate Space Gallery (through October 23) is a haunting, immersive experience that brings together the interdisciplinary artist's sculptural, photographic, sound, and video practices in a single installation of new work.
A repeating motif and material in Moghadam's work is the artist's birth certificate from Iran, often transformed with sculptural gestures on scaled-up reproductions of the document. This thread is referenced at the exhibition's title wall, with a presentation of a single earlier work: SelfHood I (2018). A somber black-and-white photograph shows the artist at 16 wearing a black headscarf, with the face covered in staples. I Sprout on my Wound continues this thematic exploration, this time focused on just the artist's eyes. A mural-sized black-and-white print of this piercing gaze stands at the center of the exhibition to anchor the installation and draw in the viewer as they enter the gallery.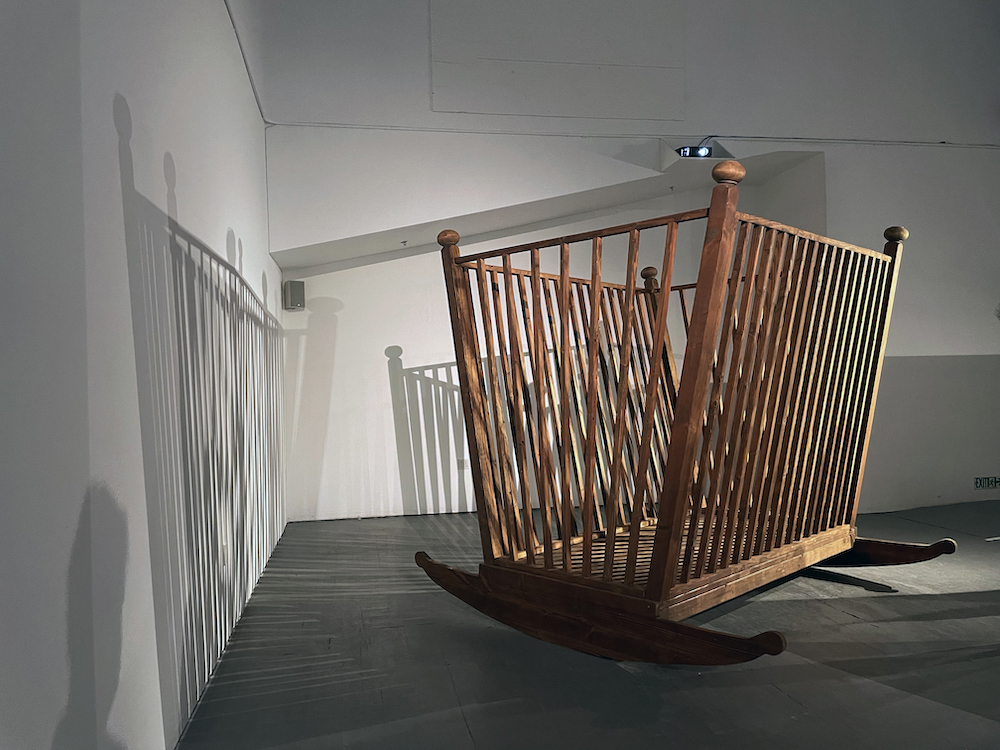 Behind the print rests a large-scale wooden cradle. This formidable sculpture is at once warmly familiar and tensely awe-inspiring. Viewers are invited to rock the cradle, which quietly creaks as it gently sways back-and-forth. At this monumental scale, the cradle invokes the potency of parenthood and the indelible impacts between parent and child. With its looming height, however, the cradle is also a warning. The wooden bars recall imprisonment and the potential for suffering from which a parent is unable to shield their child.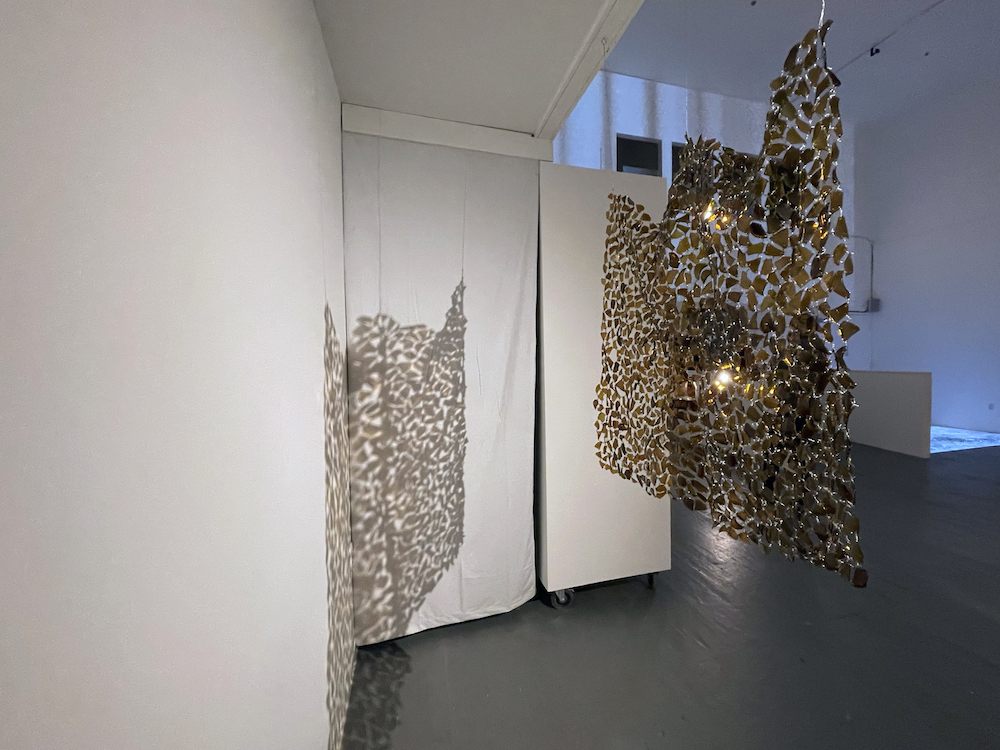 This precarious tension in I Sprout on My Wound continues through the artist's use and handling of broken glass. A floor-projected video shows the artist running a hand over piles of broken glass with actual glass shards laid atop the projection. Both mesmerizing and uneasy, Moghadam creates a space that somehow feels secure amid the risk of injury. This gesture continues in a hanging sculpture which appears like fabric and is instead made of broken brown-tinted glass shards that are tied together with sharp silver wire. Its shadow holds a softness, like a knit blanket, but the sculpture itself has a palpably menacing quality. It both beckons touch and warns of violence. Moghadam's practice explores the experiences of femininity in relation to memory and tradition, working with the pain and strength interwoven throughout. This sculpture echoes traditions of textile work and the sharp, sustained resistance of womxn against impositions of inequality.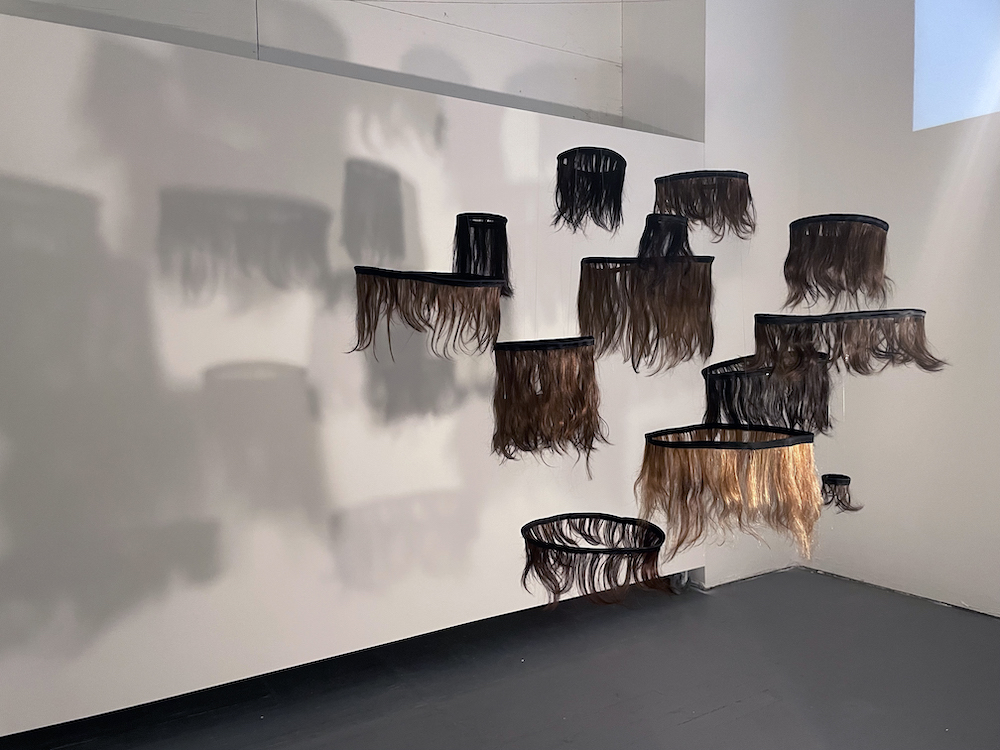 I Sprout on my Wound explores shadows as material, adapting the exhibition's lighting to emphasize spectrality. The wooden bars of the cradle are echoed by its shadows on two adjacent walls in reverberating layers. As they move back-and-forth when the cradle is rocked, it becomes clear that these shadows informed two videos in the installation: one looming over the exhibition towards the ceiling and the smaller video that viewers encounter as they enter the gallery. Moghadam's use of sound also embodies the qualities of a shadow. A single sound piece fills the gallery, whose presence follows viewers through the space, always present and yet just out of tangible reach. The audio work is an assemblage of Iranian folksongs and lullabies, which Moghadam has layered to evoke an illusory choir.
Moghadam often uses hair in her work, in the past utilizing her own hair in various forms. In I Sprout on my Wound, the artist instead uses hair collected from barbers in Iran to sew a series of hanging sculptures. These circular pieces evoke the body, becoming an assembly of strangers who are connected via the artist's hand. Shadows of these forms multiply on an adjacent wall, becoming a crowd. Instead of evoking the spectral, here the shadows become guardians. As if in a protective gathering, Moghadam draws connection, solidarity, and strength between womxn across oceans and borders.
Nasim Moghadam: I Sprout on my Wound runs through October 23 at Aggregate Space Gallery. More info here.