Satanic drag queen Peaches Christ has probably had a lot of tarot readings that included The Hierophant upside-down. It represents challenges to established authority and the rejection of family values, and possibly the drive to assemble a troupe of 80 actors for a month-long desecration of all that is holy.
All of Peaches' wicked antisocial tendencies, her obsession with occult imagery, and her irreverent love of nuns running around with doll parts come together in Immortal Reckoning, the 2021 iteration of Terror Vault, her long-running Halloween shriek-storm at the Old Mint with the Into the Dark production team.
Presented by Into the Dark and running from Fri/24 through Halloween, "Immortal Reckoning" is a gleefully problematic melange that twists various mythic traditions from the world over, the way a classic tiki bar smooshes the South Seas into the Caribbean to create an impossibly tropical, rum-spiked fantasy. In the basement of the Old Mint we have blood-spattered wallpaper, a cult devoted to an evil rabbit deity, and what might be called the Incineration of St. Sebastian, all set to Siouxsie and the Banshees.
It's tongue-in-cheek, of course, but also really, really scary. The basic conceit borrows from Fangtasia, the goth club staffed by actual vampires in True Blood, and you can get a drink before or after the show at Fang Bang, a real pop-up bar purporting to be that club. But "Immortal Reckoning" also makes several vertiginous detours through numerous horror subgenres, guided by the mind of a demented freak who loves schlock Victoriana and mystical gore in equal measure.
"This year, we really leaned into the more theatrical fantasy of what a horror show could be and have used inspiration from San Francisco itself," Peaches Christ says. "Including a moment from the late, great Lusty Lady exotic dancer owned co-op, and the SF Eagle Powerhouse—if they were for leather-vampires. Someone told me they were surprised by how queer the show was and I'm like, 'Do you know me?' Plus, horror is queer. It's always been queer! Not to mention, Elvira just came out as queer, so it's officially official!"
Indeed, in her new memoir, Yours Cruelly, Elvira, the Mistress of the Dark has announced that she's a member of the LGBTQ+ community. Little clues to Peaches' love of the horror hostess are sprinkled throughout the show.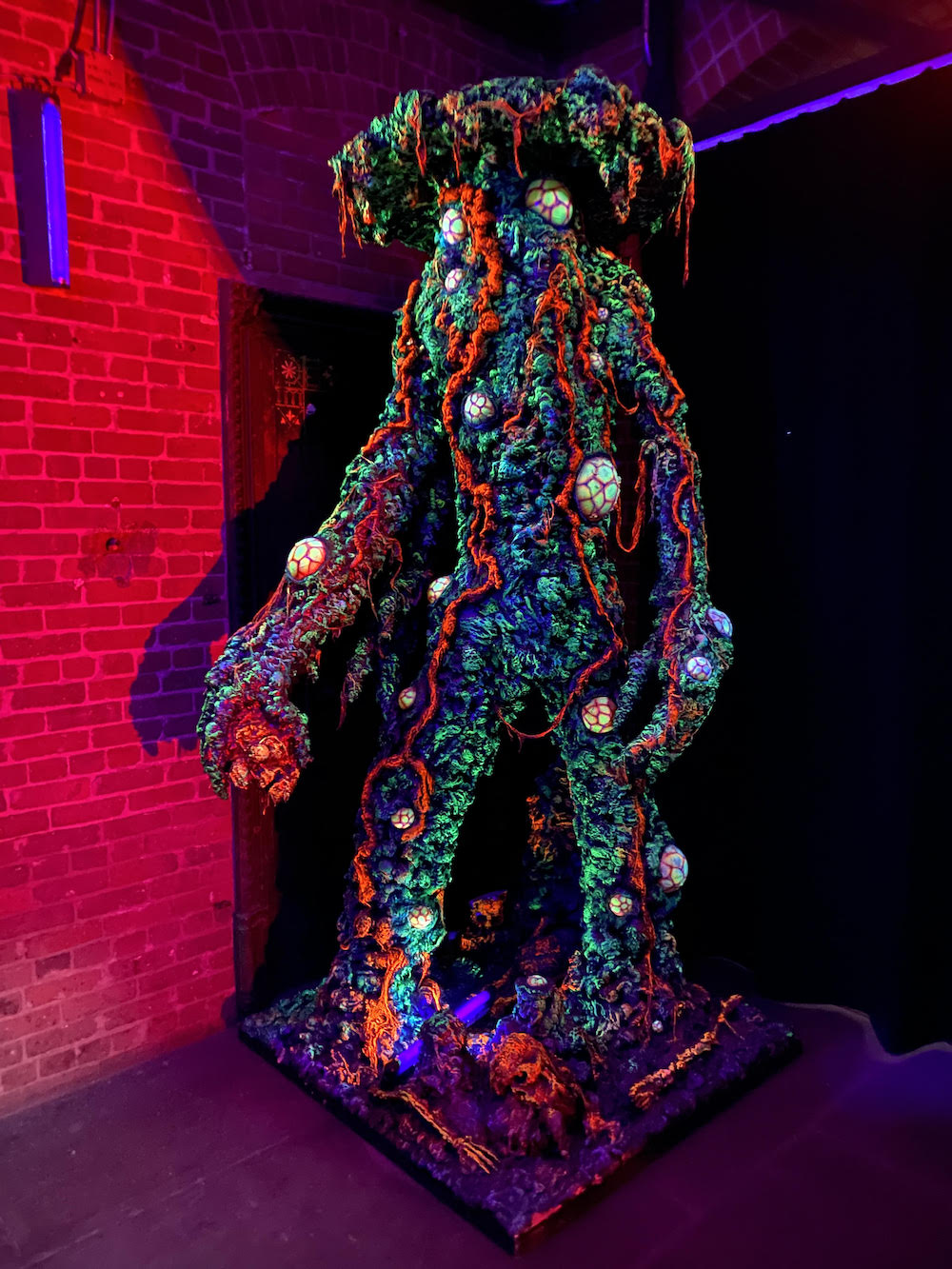 You might hustle through the maze a little quickly to appreciate the great care that's gone into the art direction, though. No spoilers here, but more than a few of the technical effects stand out for their wizardry. One or two of the characters' speeches goes on a little long (delivered by an actor who is having a lot of fun, and who can hopefully keep hamming it up night after night for a month). But the strength, as always, is the mood. Even when you're not outright scared, you're in a delicious state of near-terror because you just know some banshee, or Banshee, is going to pop out of nowhere. And you get to watch your friends shriek like toddlers, which is always fun.
There is one other terrifying thing that has nothing to do with jump scares or ancient Greek myths or a shaved lion that looks like Mario Batali. It's actually a demonic principle straight out of French nihilism: Hell is other people. After 18 months of refraining from human contact, you're going to experience quite a bit of it in the crypt of this 150-year-old bank vault. Whether it's a fanged androgyne flirting with you or a ghoul from the shadows screaming into your ear, you're getting up close and personal. (Guests are masked; the actors are not.) Several rooms are marked with X's for social distancing, but if you've avoided elevators since March 2020, there's going to be an extra layer of immersive intensity for you here.
While there's no scavenger hunt or strobe-lit chamber filled with clown punching bags and an actual evil clown—still the single scariest moment of any Peaches Christ experience to date—the commitment to detail is terrific throughout. By the end, even an antique sewing machine looks like it will cause you to dream of a small girl in a stained party dress, the scariest thing there is. There's also definitely more of a homoerotic, post-Folsom quality than in years past. Is "Immortal Reckoning" sick (in the scolding Church Lady sense) or sick (as in Gen Z approval)? Risk your soul and decide for yourself, fangbanger. Because this club has everything.
IMMORTAL RECKONING runs thought October at the Old Mint. More info here.