The Coalition on Homelessness Thursday released a scathing report that found that San Francisco's Healthy Streets and Operations Center, a collaborative effort across multiple city departments to address homeless encampments founded in 2018, addresses San Francisco's unhoused population far differently than it presents to other city departments and to the public—including confiscating and discarding property such as clothing and money without marking them for later retrieval and displacing people from encampments even when shelter beds are not available for them.
The report specifically cites a presentation given by HSOC Director Mary Ellen Carroll to the Local Homeless Coordinating Board on August 2 outlining the process where HSOC "resolves" homeless encampments. The presentation outlines a process where workers engage with unhoused people and transport those willing to shelter beds, while marking abandoned belongings for later retrieval by those formerly residing in the encampment.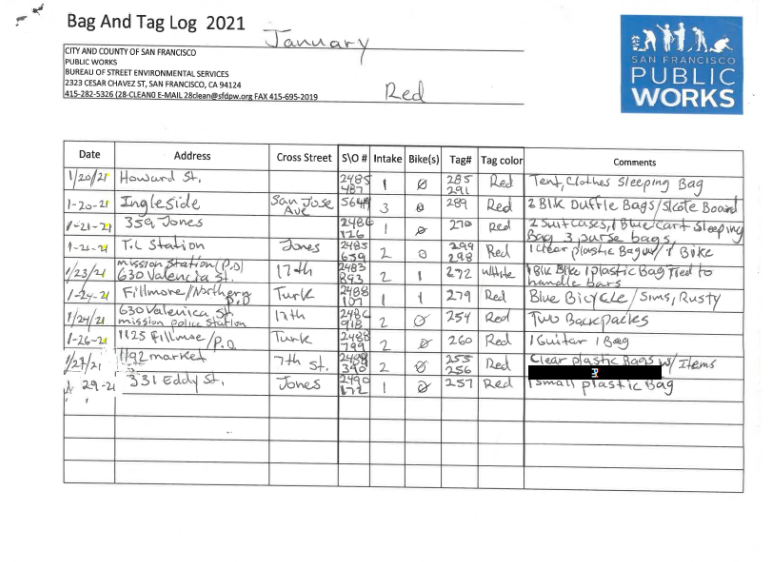 The coalition's report, however, states that HSOC's main priority is reducing the presence of tents on the street, regardless of whether their occupants actually get housing placement.
The report notes that, according to Caroll's presentation to the Local Homeless Coordinating Board, at best 35 percent of people displaced during HSOC encampment resolutions were given shelter beds between February and June 2021. This effectively shuffled unhoused most people to different blocks during encampment resolutions, often without connecting them to other housing options, according to the report.
"Overall, neither HSOC's own data nor the experience of advocates depict HSOC operations as being centered on public health and permanent solutions for unhoused people," the report states. "Rather, they depict a DPW-led model that prioritizes displacing people and tents as quickly and efficiently as possible, not leaving sufficient time to notice unhoused residents nor effectively connect residents with adequate and appropriate services."
The report also notes that HSOC workers, often from the Department of Public Works, will dispose of any property of unhoused people deemed "abandoned," meaning that the owner is not present at the time that the worker comes across it, often by putting into a dump truck, rather than "bagging and tagging" property, which is outlined in city policy as placing property into plastic bags along with a label with the contents, time, and area the property was found so that it can be retrieved later.
According to the "bag and tag" logs from January 4 to February 26 cited in the report, there are only 38 instances of bagging and tagging, none of which occurred at sites of HSOC operations, leading the Coalition to conclude that HSOC is not bagging and tagging property, something which advocates say is corroborated by their own observations from HSOC operations firsthand.
"Not a single bag and tag that was logged was corresponding with the location and date of an HSOC operation, and furthermore, if you look at the monthly bag-and-tag log, a lot of them weren't DPW logs, they were SFPD logs picked up from police stations," COH staffer Carlos Wadkins said. "What this tells us is that bag and tags, during this 37 day period at least, are not happening at HSOC operations. And what I know … is that when we go to HSOC operations on a daily basis for the past year, we don't see bag and tags happen, ever."
Toro Castano, an unhoused person previously residing near 16th and Market streets, described his interactions with HSOC during resolutions as chaotic and rushed, and that workers would sometimes ask unhoused people to simply move across the street so that the area could be cleaned, and if people were away from their belongings during a HSOC operation, they would lose them.
"Because they were on the clock, because they have 30 minutes to do their thing, they would ask us to move across the street, every day back and forth, back and forth, it's the shuffle game," Castano said. "There was this constant fear that if you stepped away for a second to use the bathroom, then DPW would take all the things you use to stay warm, to shelter, just to survive," Castano said during a press conference announcing the report's release.
HSOC director Sam Dodge said in a phone interview that the report contained "mischaracterizations" of the work that HSOC did when addressing encampments.
"I really appreciate that they try to understand what we are doing… I do also know that they know better sometimes, and it's helpful for them to make mischaracterizations, but I do think that they were trying to be accurate," Dodge said. "We do a lot of outreach before [a resolution] both through SF HOT and DPH teams, we're posting notices, so when we're there on the day of the work we're doing, they know we're coming, and we are giving people a lot of time to move their items."
Dodge said that the reason that bagging and tagging of belongings is because HSOC does not confiscate property.
"Their characterization of the operation is incorrect. They are shocked and disturbed that we are not doing bag and tag, but we're not seizing peoples' items. They are mischaracterizing the work and peoples' situations," Dodge said.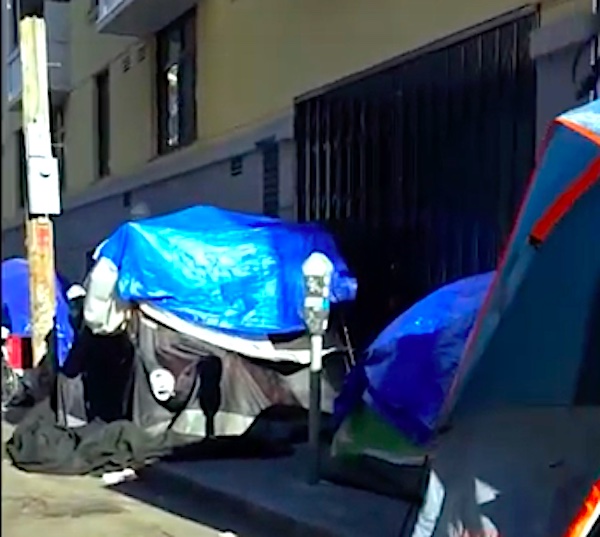 In response, Wadkins reinforced that people do lose property during HSOC resolutions, although the main way that this happens is when property is deemed "abandoned" by HSOC workers, usually from DPW, which is when someone is not present at their tent during an operation.
"People are losing their belongings because of HSOC operations. I've seen it on video," he said. "If the cops cite you, then they seize your property, and they bag and tag or they throw it away. At an HSOC operation, people aren't having their property seized in that way. However, property is taken in certain situations, such as when you are away from your tent; you're at the bathroom, you're staying with a friend, you have a job interview, if there's an empty tent, and no one's around during a resolution, DPW will grab it and throw it away," Wadkins said.
The Coalition made a list of recommendations about how HSOC can improve the way they serve unhoused people during their operations, including shifting the focus away from reducing the number of visible tents on the street, and instead focus on the needs of individual unhoused people, create a regular schedule for cleaning areas instead of basing actions on resolving complaints from residents, as well as building more affordable housing in general.
Although Dodge did not agree with the report's findings, he asserted that HSOC and the Coalition on Homelessness shared a common interest in ending homelessness, and that feedback from the Coalition was welcome.
"We have invited the Coalition to be a part of the oversight and advisory work group for the work that we do at HSOC, and the other street crisis and response teams, so I am looking forward to working together and their passion and their quest for understanding. I think it comes from a common place that we all have, looking for an end to street homelessness in our community," Dodge said. "It's fine if they want us to do better, we want to do better … I think in all ways we want to have better placement rates, and work with people that need other services, I think that there's a myriad of ways we can always improve."