On Halloween Sunday, the last day of Outside Lands—an event that packed an extra 200,000 people into the city on its biggest holiday—Oakland-based indie quartet Fake Fruit played a sold-out show at August Hall, dressed as Blue Man Group. With a line of people outside, some guzzling down White Claw before security performed vaccination checks and issued face masks for those without, it was the go-to event on an already eventful Sunday.
Led by Hannah D'Amato, who refers to herself in emails as "Ham," this buzz band of the moment, squarely putting San Francisco back on the rock and roll map, rollicked through their punk-inspired, jittery, guitar-pop sound before a sold-out crowd waiting for the main act Alvvays.
At one point a rude, nah just a basic, patron shouts out jokingly for "Stairway to Heaven" in-between songs. Ham and the band laughed it off and then somebody else from the crowd, at full-tilt, quickly corrected the moment.
"Shut the fuck up" bellowed from the floor of the venue causing the crowd, the band, and even the event staff to crack up at this real-time shared experience. The stuff empty live stream concerts can't produce. Humans going human. With redirected energy on the band's side now, Fake Fruit was assured, they were not just the opening act.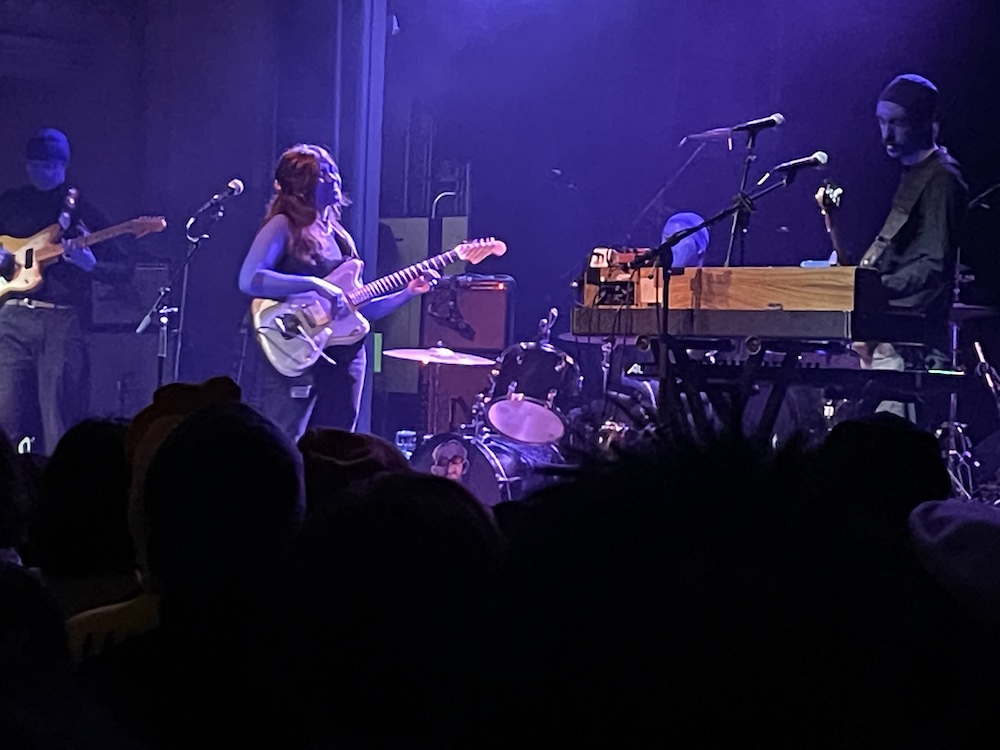 Ever since their s/t debut arrived in March on SF's Rocks In Your Head label, the question was evident. How would this Vancouver-formed, Bay Area-polished local band put their scampering sound down live?
Hannah led her band—Alex Post on lead guitar and vocals, Miles MacDiarmid on drums, Dylan Allard on bass—through a 10-song dispatch that featured recent and older arrangements. The performance resembled a rocking ship, hurtling through different sea tides. A wavy-edged Venn diagram where pop and punk can intersect, overlap, and eventually pass one another.
As Ham took charge of the most recent single "I Am The Car," sung with raw emotion, she propelled this pop-fueled anthem to the heights, with her blue soldiers supplying the gas. Contrast that to the guarded fragility that runs throughout the pleading "Stroke My Ego," where D'Amato sheds her sneering punk rock suit, and appears clearly. Fragile. Vulnerable before a throng of witnesses who take in that vulnerability.
Perhaps best-known song "No Mutuals," performed live, returns us to the sing-speak jangly art-punk brevity. With a certain '90s droner pastiche to boot. "Miscommunication" and "No Space for Residence" proved that other album cuts could just go off. This is Hannah's band. But it's a capital B, band.
All of that side-groove complexity from the rhythm section makes their variegated sound a worthy live show, no matter the slot. And they know it.
As I contacted the band for some information about the show, Hannah teased via email "the most trying part of the night was just my struggle to not laugh when I was looking around at my Blue Man Group bandmates. Also, we briefly got lost in the sprawling basement of August Hall after our set trying to get back to the green room a la Spinal Tap, which was hilarious."
Only a truly serious band—who's opening for Dry Cleaning at The Chapel on November 11—can freely make jokes about themselves.