While cutting through the Tenderloin Sunday morning en route to the shuttle for the "Halloween Edition" of Outside Lands Music and Arts Festival (estimated total attendance: 200,000), several iterations of Ted Lasso costumes made their way quickly—some sprinting, and not for character continuity, either—through the devastated neighborhood still reeling from lockdown.
Homelessness has made certain streets tent towns. The weird liquid exits the bottoms of the ramshackle awnings. Real-life problems these Ted Lassos had no Emmy-winning answers for.
Making my way to the air-conditioned buses that would shuttle costumed patrons deep into the forest of Golden Gate Park for their version of Coachella this year (since that desert music festival passed on it due to COVID concerns) I hoped to God the billions of dollars The City of San Francisco was making on this festival would go to so many who are without.
Upon taking another gaze at the skyline hovering over The Tenderloin, hope exited too.
Talking with a young gentleman from Arizona, who flew in with his friends, on the bus dressed in a spacesuit, he told me the weekend's events were "awesome and that The Strokes and Tyler destroyed it Friday night"—but "what the fuck is going on with downtown SF, how would a city book this type of event when it's apparent the living conditions for so many are sub-standard?"
I had no answer. But we all know, it's money.
It was nice to see all the Mom and Pop shops, restaurants, businesses along the route to the park, that survived the pandemic, loading up their stores on supplies in anticipation of the throng of tourists flying in for such a weekend of art and commerce. Maybe they could profit enough to stay open until next year's festivities.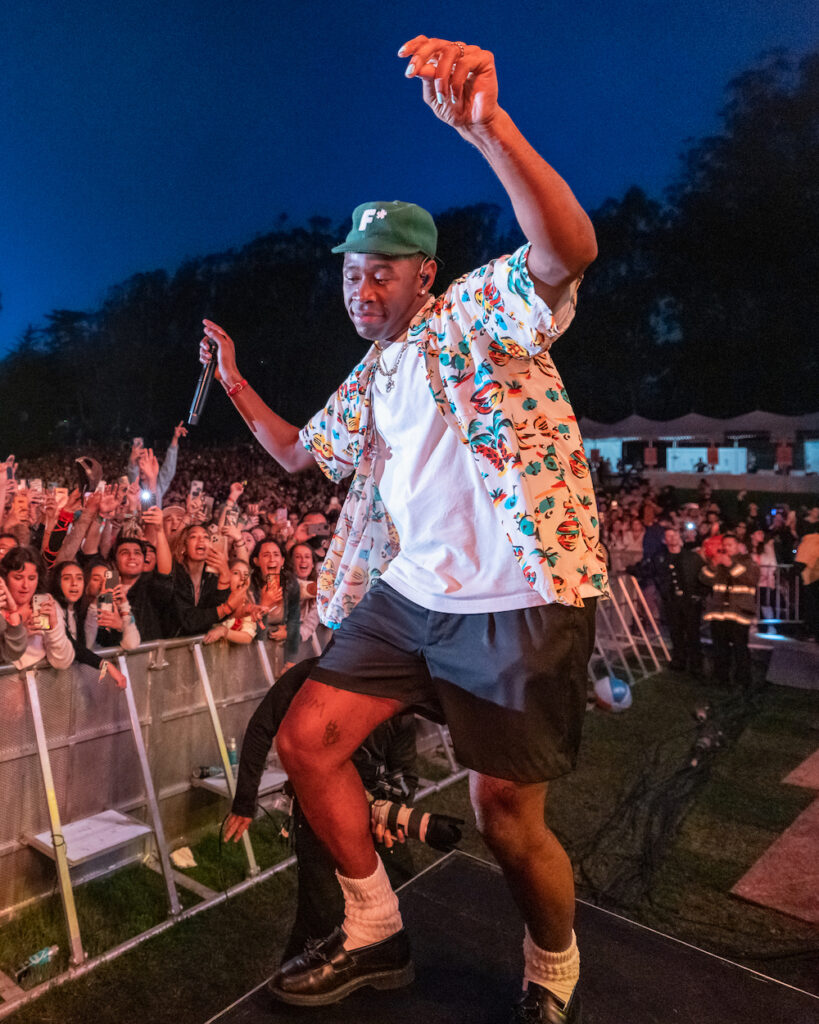 Over the 18 months of lockdown, several artists magically grew in stature due to the lack of touring opportunities. Without them being accessible live, in person, their stock flourished.
All of those Instagram, Bandcamp digital shows, Youtube, and Tiny concerts were nothing but reminders to the public:
"Just wait till we can kick live again."
Tyler The Creator, fresh off of winning a Brit award on February 20, 2020, just before lockdown, saw that acknowledgment push him over to the headline slot on festivals. And Friday night in San Francisco, deep in those woods, he radiated that love right back to the crowd.
It's by no mistake that Khruangbin, Thai for "flying engine", the little band with the big name nobody can enunciate correctly (it's OK, people know what it is when they hit the stage) kinda went through their medley version of themselves Friday afternoon. Catering to a larger audience who may not be fully fluent in their Thai-funk bouillabaisse get-down.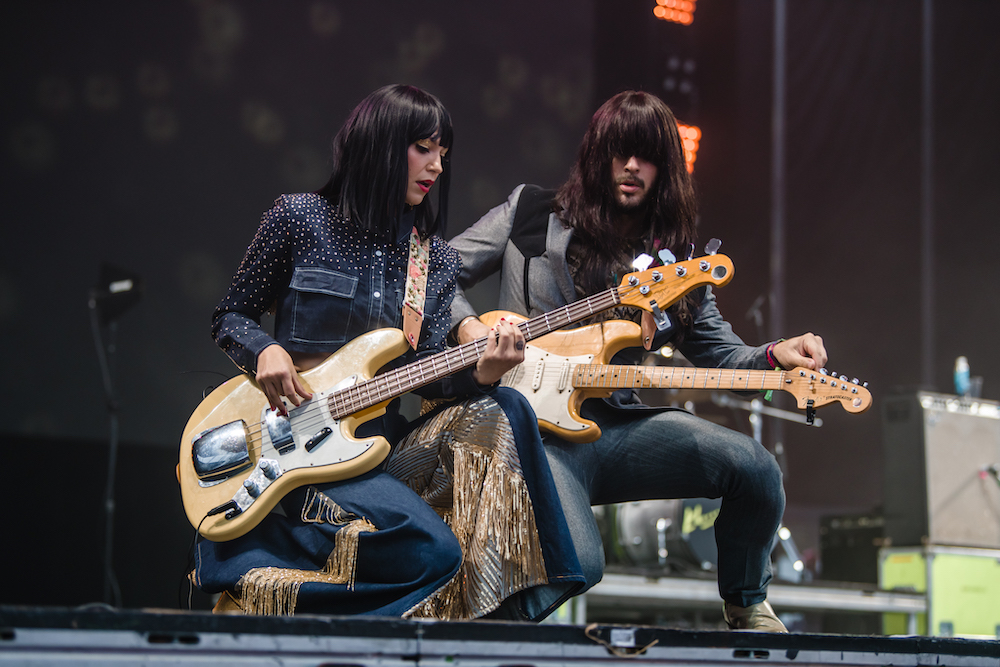 It's OK. The performance was an appetizer, for their Winter tour that officially kicks off this Wednesday at The Greek in LA. Where folks can get the Tapatio version.
One thing that became immediately apparent with this year's version of the three-day festival—you didn't need an aging legacy act to lock in the cashbox. That's a nod to patrons being thirsty and thankful for whatever they get upon returning to live music and a culture shift as well. Lizzo held down that slot (loudly) with ease Saturday night.
Walking across the Polo field Sunday morning you could hear the inspiring voices of the Resistance Revival Chorus, "a collective of more than 60 women and non-binary singers who join together to breathe joy and song into the resistance, and to uplift and center women's voices" holding informal service. Blessing the proceedings for the day. It was a good omen.
Neil Francis brought those classic rock vibes with the psychedelic shirts, long-hair guitar players aesthetic, smoke flowing from the stage, '70s rock pastiche to open the Panhandle stage knocking out an inspired version of his Changes album from 2019. It was a pleasant surprise and got the crowd moving before 1 pm.
Time to hit the club.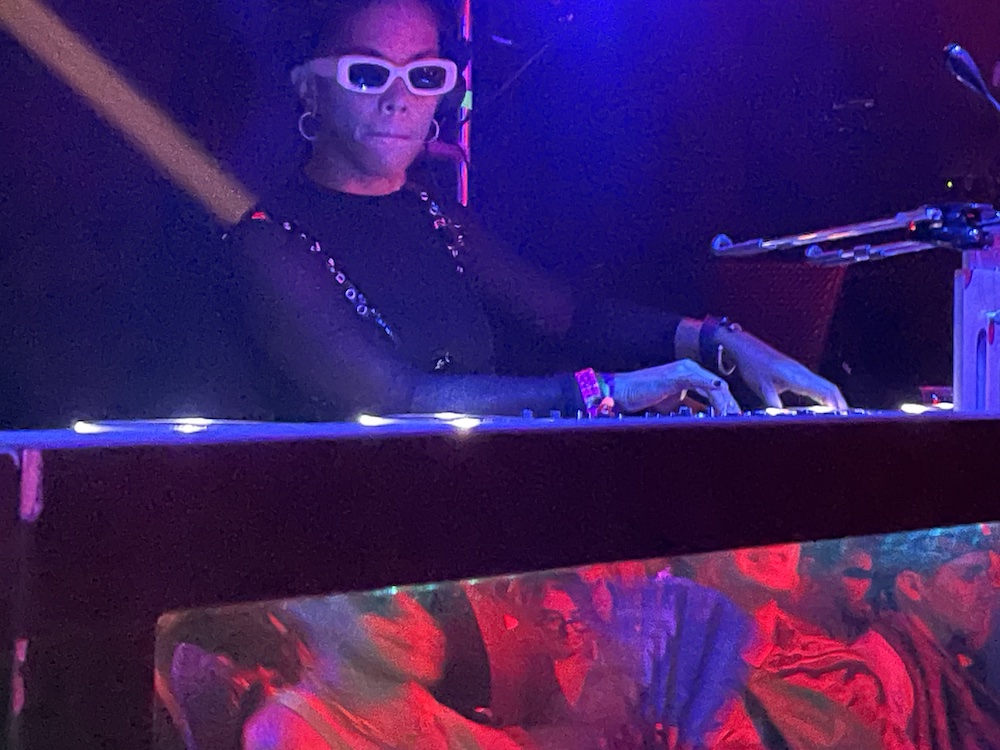 The addition of the Soma Tent—a live club event section with international DJs playing to a room fully equipped with impressive mood lighting and a proper nightclub soundsystem—is one of a couple of things this iteration of Outside Lands got really right. The self-proclaimed "Underground and Black", Detroit native Ash Lauryn put a capitol H, hurting on the packed tent crowd at 2pm. Can I just say how welcoming it was to hear those precious, my lovely, bass-bins get the damn business from all that low, sub-bass rumble Ash Lauryn was putting into play?
Oh, my gush. During several sections of her set, that ran from house to techno and into some ravey London breaks, not quite broken beat but in the ballpark, a very young mostly white crowd, loving everything she threw at them, would toss out the "Ooo-Ooo," "Ooo-Ooo" chant. Cute and respectful but not what Lauren generally receives in audible responses. But she rolled with it like the pro she is, seemingly happy to play for live attendees.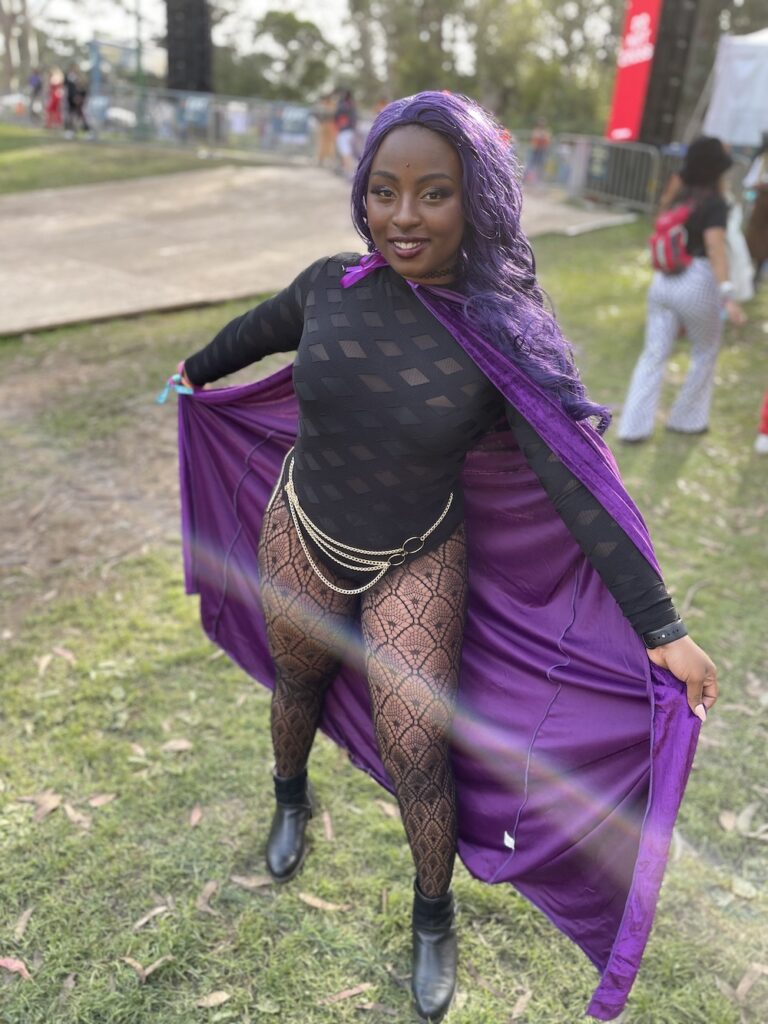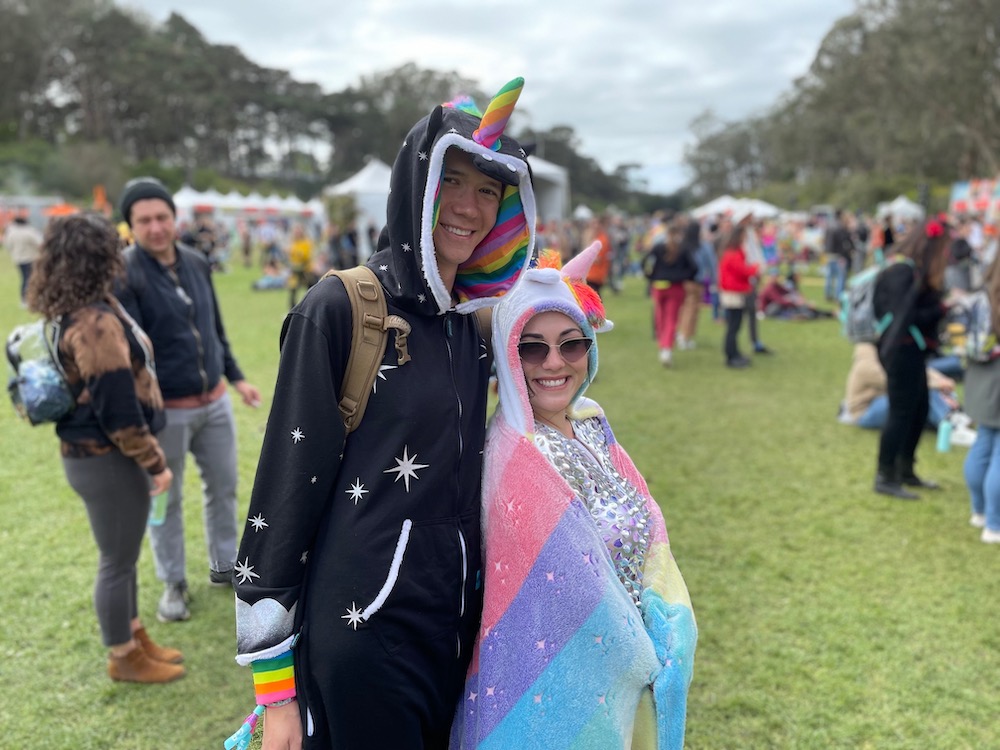 Back outdoors, I started running into patrons wearing fun costumes, asking them about how their experience had been over the weekend. And I gotta say, so many people were just generally nice. Not, I'm gonna tolerate it, let me put on this fake-ass smile nice. I mean sincerely sweet, truly thankful for live music and the human connection. Plus it's Halloween? Everyone gets to wear their costumes and have their photo taken. The vibe even permeated to those working, serving food, wine, beer. Staff members that gave directions, even the volunteers directed people where to compost.
That was just as impressive as the music.
Then Yves Tumor happened.
With fog machines turned up past 11, and the first real big crowd of the day moving quickly across the grass, responding to the "get at me" drums and horns at the top of "Gospel For a New Century," Yves Tumor in a corset outfit launches into their hit with fans cheering, yelling, waving hands, shaking it, phones and heads nodding in unison. It was a real concert moment for about a minute…. until I realized they, on-stage, were running it off a digital recording of some sort.
Not singing. Maybe the drummer and bass player were live. And immediately my interest floated out like Karl The Fog. But those opening 40 or so seconds was some serious walk-on music.
Suprise of the day? Evann McIntosh.
So a young blonde coiffed person, singing, dancing, making moves (they got some steps now) like somebody who has stage presence, backed by a band that was giving up the ghost, as if their lives depended on it. They delivered an R&B-infused set that felt loose and polished all at once. True musicianship from all members of the outfit and everyone having the time of their lives. Looking up McIntosh online, their recorded music does not do the service of the live show. Not even close. It pays to see people perform live. McIntosh is one to watch.
Walking over to catch Brittany Howard, I pass the Gastro Magic stage—the onsite hub for culinary heights (read Tamara Palmer's report here)— I hear this deep baritone voice coming from somewhere.
"Wait, is Jurassic 5 putting in that work too?" Sure enough, legendary emcee Chali 2NA of J Five fame was onstage with James Beard Award-winner Kwame Onwuachi discussing what temperature to deep fry fish.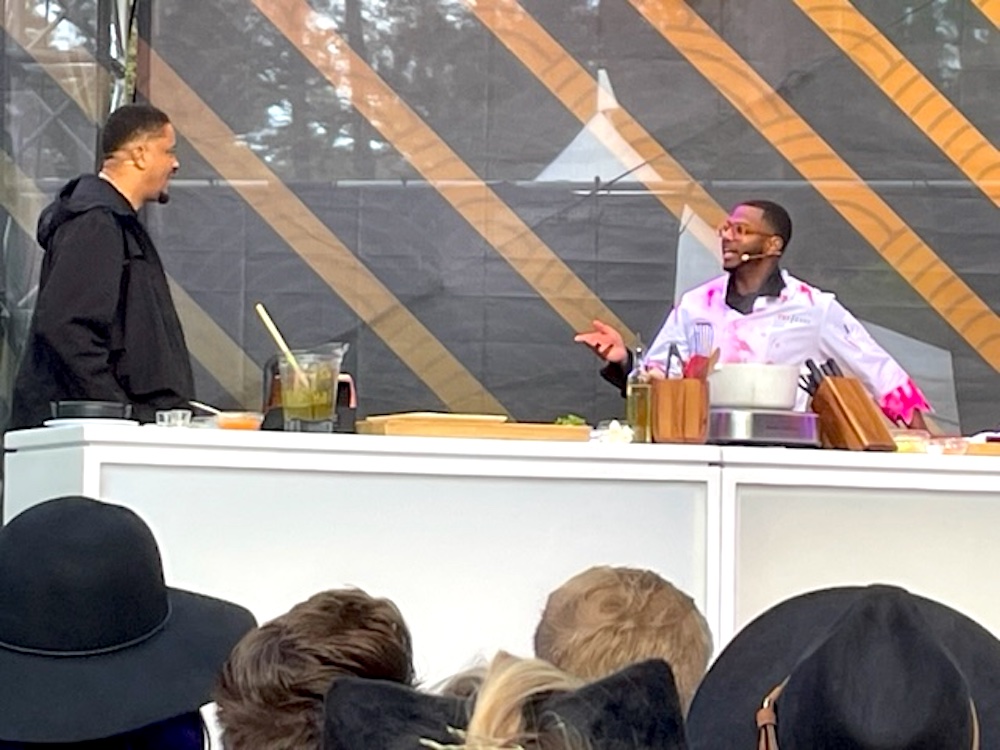 It is by far the coolest WTF moment of the day. A pretty packed crowd, snapping photos of the fish frying, held on to each word. That was a treat, a nice addition to the normcore slog of music stations.
So I'm cruising to the Lands End Stage at the Polo field to get my space right for Brittany Howard, I see oncoming 20,000 no mask-wearing people (everyone is vaccination checked before entering the event) just moving, swarming like it's Radiohead from 2008 Outside Lands.
And that's when I got uncomfortable, felt unsafe, and dipped out.
Walking towards Geary after crossing Fulton, exiting the main gate entrance I heard Howard open with a face-melting, ripping version of the Funkadelic calling card "Hit It and Quit It" from the Black Music funk-rock Bible that is Maggot Brain. I just smile, thinking of this amazing Black Woman and musician, putting her generation up on game, passing it on, as to say "do your history about me and my folks." It's a beautiful moment.
Then I hear the overreaching, massive roar of the crowd… And I'm pleased I left when I did.