The choice is yours: San Francisco's Black Sheep Foods has debuted its plant-based New Zealand heritage lamb, made with ingredients like pea protein and cocoa butter, at Souvla. They're having an event next week to introduce it to the press, but it's already on the menu in salads and pita bread sandwiches, so I just ordered a sandwich yesterday to offer you an opinion sooner.
Black Sheep reports that lamb is the "hardest on the Earth" of all domesticated animals in terms of water consumption and degradation to the environment. The company's plant-based alternative aims to preserve the flavor while conserving water and lowering carbon emissions. I don't eat lamb too often and have never found myself longing for a substitute, but Black Sheep's product has a truly convincing and enjoyable flavor and texture that I would definitely eat again. How do you manufacture lamb flavor? Trust it to someone in the Bay to figure it out!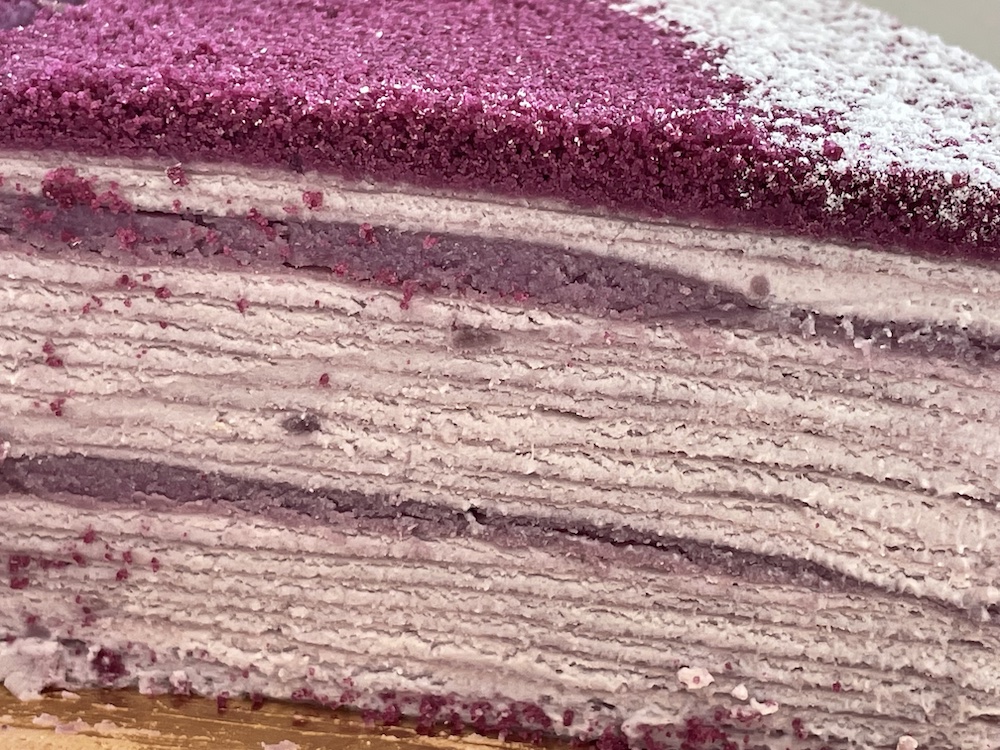 Hear my plea: I've long wanted the opportunity to publicly beg New York confectioner Lady M, which operates a cake boutique in Los Altos, to expand further into the Bay Area and open up shop in San Francisco. Though I don't know if that's wishful thinking or not, now's my chance, since I somehow lucked out enough to be offered a sample of the company's limited edition Purple Yam Mille Crêpes, which has 20+ layers of cream and crepês.
The Bay Area deserves all the credit in making ube a sought-after ingredient in sweets, but Lady M started the crêpe cake craze. Lady M's take is available online to be shipped frozen until Nov. 12 (and will return as a seasonal item in 2022), but there are many other flavors (including an option with three flavors in one box) that will stick around on the website and in the cafes. I was skeptical how a delicate creation like this would hold up to freezing and defrosting, but it's delicious and beautiful—you can still playfully peel off layers if you're 11 at heart, like me. One of these babies would be a super hit at a holiday table. Please, Lady M—come to the city!
Cracked is back! After a pandemic break, Tim "Buna" Babilla is bringing back his East Bay breakfast sandwich project Cracked, which was last seen at Draw Billiards and Spats in Berkeley with combos like brown sugar bacon with miso mayo and grilled onions, maple butter, sharp cheddar and turkey sausage, or pesto/mushroom/parm, all on luscious pandesal rolls. His first service in two years is planned for noon to 5pm, Sat/6 at Unkle Morty's Pop-Up (3630 Telegraph Ave. in Berkeley).
Buna is the type of underground chef who makes major moves that you'll never know about—it's tempting to throw out an insider hashtag like #IYKYK (if you know, you know), but everyone should really know about Buna. I hope this event also means that Cracked and its counterpart Buna Burger will be back regularly, because the people need it (man). But anything he touches in the kitchen both carnivorous and vegetarian is a delight that I can wholeheartedly recommend.
Cheesy brief: District Six is hosting a family-friendly Nachos Festival with specials (and regular menu items) from Chef's Truck, NUCHA Empanadas and Taqueria San Marcos from 2-6pm, Sat/6. Admission is free and presale tickets that ensure entrance are $5 (plus Eventbrite fee).
Consume more virtual calories at Tamara's site California Eating.