The Board of Supes Budget and Finance Committee will consider a plan by Sup. Dean Preston to immediately allocate $64 million that the city has in the bank to fund new affordable housing and the acquisition of existing buildings that are at risk for speculation and eviction.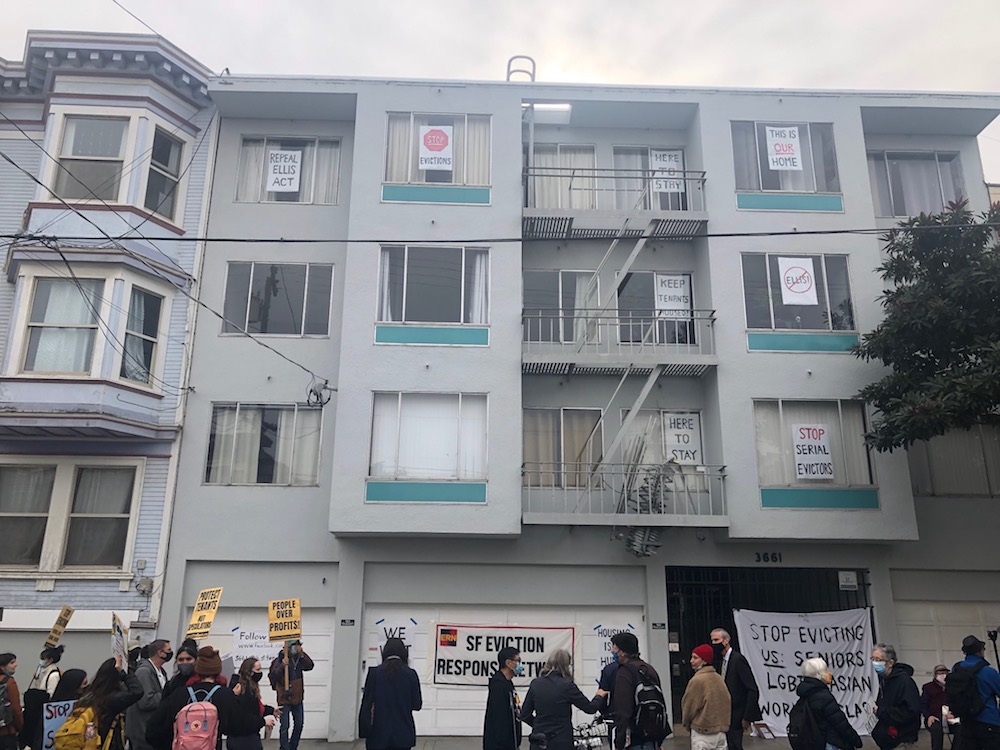 The money could, for example, be used to buy properties like the one at 3661 19th Street, where tenants, many of them seniors, are facing eviction under the Ellis Act.
A group of speculators bought that building for $6.3 million. That's so cheap that if the city bought it, preserving 12 units of affordable housing would be far less expensive than building new units.
There are plenty of models for the city to fund nonprofits, co-ops, and land trusts to take rental housing out of the speculative market.
The money is technically in the city's Fiscal Cliff Reserve, created as part of the current budget. But the money would actually come from Prop. I, the measure that raised transfer taxes on high-end properties to fund affordable housing efforts.
The reserve fund has $239 million, none of which has been spent.
In fact, the supes in the past have allocated money for rent relief and the purchase of buildings, but the Mayor's Office hasn't done anything with it. From the Budget Analyst report:
In April 2021, the Board of Supervisors approved an ordinance appropriating $20,100,000 from property tax revenues to MOHCD, of which $10,050,000 was appropriated for rent relief under the Rent Resolution and Relief Fund, and $10,050,000 was appropriated for the acquisition, creation, and operation of affordable, social housing under the Housing Stability Fund. According to Benjamin McCloskey, MOHCD Deputy Director of Finance and Administration, none of this appropriation has been spent to date.
The supes can't force the mayor to spend money—but at this point, this allocation is critical. More than 100 multi-unit rental buildings are now on the market in the city, and we have seen a clear pattern:
Speculators are buying these buildings, evicting the tenants, and flipping them at tenancies in common, in essence condos—making a fortune in the process.
In a housing crisis, the most valuable affordable housing is existing affordable housing, and keeping it off the speculative market is one of the best ways to preserve housing for working-class and low-income communities.
Right now, sales prices for rental housing units are softer than they were pre-pandemic.
There are seven supes co-sponsoring this proposal. It will likely pass out of committee and from the full board. Then it's up to the mayor to actually spend the money, quickly.
As Laksh Bhasin, housing coordinator of the SF Bernicrats, wrote urging support for the measure:
The SF Berniecrats wrote and supported November 2020's Proposition K to authorize 10,000 units of municipal social housing. We also campaigned for Proposition I to tax large real-estate transactions and fund rent relief and social housing. We were disappointed to see that not a single dollar of Proposition I's revenue was dedicated to social housing this fiscal year.

The pandemic has put extreme financial hardship on tens of thousands of working families, seniors, and other vulnerable households. While Covid initially depressed rents and rental property sales, rents and property prices are once again trending upwards. Unless the city significantly increases its capacity to acquire and preserve rental properties now, thousands of existing tenants will be put at greater risk of displacement. The city will lose a time-limited opportunity to remove housing from the speculative market and permanently preserve units at affordable rents.
The meeting starts at 10:30 am.